| | |
| --- | --- |
| | GREATMARTIN's Recent Blog Entries |




Thursday, July 03, 2014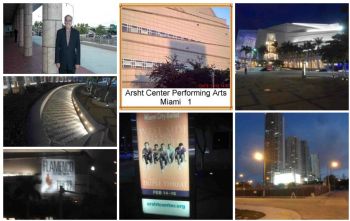 On March 4, 2011, I made my first trip to the Adrienne Arsht Center for the Performing Arts of Miami-Dade County (hereafter called the Arsht) to see "Jersey Boys" in their main auditorium called the Ziff Ballet Opera House. It had been over 40 years since I had been in that area as when I lived in Miami Beach in the mid 50s to early '60s it became a ritual every Monday for me, Joe and Albyn to come to downtown Miami, have lunch and go to the movies near what is called The Little Havana section.

Since that time, both Joe and Albyn, after being together 50+ years died a few years apart. My aunt Flo and I would come into Miami and have lunch at Burdine's department store before she did some shopping and that is where the Knight Concert Hall is now standing across the street from, and part of, the Arsht Center. In front, facing Biscayne Boulevard, off the Arsht plaza to the south on the corner is all that is left of the Sears building, their 7 story tower which is an historic landmark, and I don't see it without thinking of the 3 very important people in my life: Flo, Albyn and Joe and though the area may be completely changed they will always be the same.

To the south of the Arsht Center, going east, is the MacArthur causeway that takes you straight into Miami Beach and, also south, on Biscayne Boulevard, a few blocks down is the American Airlines arena where the Heat lost their championship bid and Bayside Park, the latter made up of shops and restaurants and, in front is The Torch of Friendship that was dedicated to the memory of Jack F. Kennedy. The torch was lit up until about a year ago when so much construction has been going on that it had to be turned off, hopefully temporarily.

Aside from the Ziff Ballet House auditorium, which sits 2,400 people and the Knight Concert Hall sitting 2,000 there is also the Carnival Studio theatre which holds 200, in which I saw "The Sparrow" which originated in Chicago . In addition there is an upscale restaurant called The Prelude. Surrounding the Arsht Center were 4 parking lots but now one has been demolished for more construction. The area surrounding the Arsht and the Arsht itself are in constant change. Recently there was talk of Beckman bringing his soccer stadium to the area but that was shot down.

Aside from Broadway in Miami the halls play host to the Florida Grand Opera, Miami City Ballet, New World Symphony, celebrity concerts presenting over 400 shows a year!

I have seen over 20 Broadway touring shows in the Ziff Ballet Opera House and this coming season on the schedule are: "The Book of Mormon", "I Love Lucy On Stage", "Cinderella", "Newsies", "Sister Act", "Wicked" and "Beauty and the Beast". I have seen most at the Broward Performing Arts Center but with different casts, and also being presented in different auditoriums, it will almost be like seeing new shows and I am certainly looking forward to seeing all of them.





Wednesday, July 02, 2014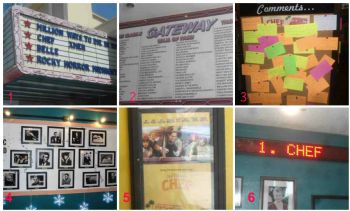 From my early days in the Bronx when I use to go to the Loew's Paradise on the grand concourse where the theatre had moving clouds and stars on the ceiling to the grand dame of all theatres Radio City Music Hall movie going has always been an exciting experience for me. When I moved back to Fort Lauderdale I rediscovered The Gateway Theatre which had been built in the early 1950s.

The first time I was there was in the 1960s when we drove all the way up from Miami Beach---hey it was a long 40 mile drive back then--to see "Where The Boys Are" and we thought of it as spending a day in the country!

I moved back to Fort Lauderdale in 1979 and one of the first movies I went to was at The Gateway Theatre which by now had been remodeled to a 4 screen theatre and I have been going there at least once a week ever since then with very few exceptions. In 1999 I moved into The Gateway Terrace apartments---no connection with theatre--and thankfully, since I haven't had a car since 2004, I am within walking distance of the theatre.

Their 4 screens always offered varied movies from what was called 'art' films to blockbusters, to the latest and best of gay themed films and many exceptional foreign films plus screenings of documentaries such as from Michael Moore. Now other new theatres are starting to offer the 'odd' films that once were exclusive to The Gateway but they don't offer the friendliness, concern and care for the movie goer that this theatre does. From the people behind the concession stand to George K. and Ray there is always a friendly hello and a feeling they have known you forever! And I don't dispute their claim of "the world's best popcorn"!


A couple of years ago new owners took over and they have spent a lot of time and money refurbishing the place with new carpets, updated restrooms, new screens with some of the latest technology and just this past month bought new seats with head rests for each of the auditoriums.

They have offered special showings of classic movies in the summertime along with film festivals and fun showings of the Rocky Horror Picture Show with emphasis on the 'show'.

They have also filled the place with pictures of classic movie stars, old album covers and on the outside of the theatre a board saluting those who made the film industry what it is today. Now I am just waiting for them to salute the customers who made The Gateway Theatre what it is today!

One of the features has always been their comment board on the left side of the theater where patrons put up cards with about what they thought of the movie they have just seen--and many are fun to read.

By the way did I mention they also have the best popcorn in town?? They have a reward card which can earn you free sodas, movies and that popcorn along with reduced theatre tickets Monday through Thursdays.

Now I am just waiting for them to erect a board listing their most loyal customers!

I always think of The Gateway Movie Theatre as a must see when you come to Fort Lauderdale as whether the movie is good or bad, it is just a fun place to go to.

For the record I am just a customer, don't own any part of the theatre!

If you are interested in more information about the Gateway Theatre just go to http://classicgateway.com/aboutus





Friday, June 27, 2014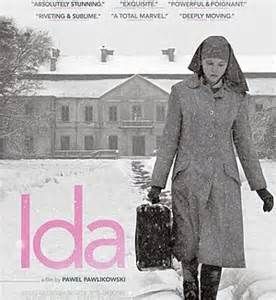 Not wanting to see "Transformers" or "22 Jump Street" or "Think Like A Man too" I was hoping I would see a gem going to The Gateway Theatre and seeing "Ida".

"Ida" is a Polish film photographed as if it was filmed in 1962 when it takes place. Three stories are intertwined with one being political regarding communism, Catholicism and being a Jew in Poland during WW2, the second regarding a novice about to take her vows and the third story regarding her aunt, who she wasn't even aware of, who is Jewish as her mother was making the novice a Jew.

Aunt Wanda (Agata Kulesza) drinks too much, smokes too and has too much random sex due to her past as a zealot communist prosecutor, now a cynical judge, and other happenings, the exact opposite of her niece, Ida, (Agata Trzebuchowska) who wants to learn what happened to her parents during the war and why/how she ended up in a convent, before she takes her final vows.

I wasn't interested in the political aspect of the film and except for one segment the story of Ida wasn't that interesting to me as I wanted to learn more about her parents just as I wanted to know more about Wanda, her life before we met her and her family during the war. I wanted the movie to be all about Wanda as I found Agata Kulesza a fascinating actress but it isn't my film but the director Pawel Pawlikowski who also co-wrote the script with Rebecca Lenkiewwicz.

In all fairness I must say most critics and people (oh come on, do you really think critics are people?) have been raving about the movie but then they liked Dawid Ogrodnil as a sax player in a band and I thought his part was just added on to show, not prove, a point.

Though a short movie for these days, only an hour and twenty minutes, the director lingered too long, too often, on many meaningless scenes such as cars on roads.



1 2 3 4 5 6 7 8 9 10 11 12 13 14 15 16 17 18 19 20 21 22 23 24 25 26 27 28 29 30 31 32 33 34 35 36 37 38 39 40 41 42 43 44 45 46 47 48 49 50 51 52 53 54 55 56 57 58 59 60 61 62 63 64 65 66 67 68 69 70 71 72 73 74 75 76 77 78 79 80 81 82 83 84 85 86 87 88 89 90 91 92 93 94 95 96 97 98 99 100 101 102 103 104 105 106 107 108 109 110 111 112 113 114 115 116 117 118 119 120 121 122 123 124 125 126 127 128 129 130 131 132 133 134 135 136 137 138 139 140 141 142 143 144 145 146 147 148 149 150 151 152 153 154 155 156 157 158 159 160 161 162 163 164 165 166 167 168 169 Last Page

Get An Email Alert Each Time GREATMARTIN Posts