| | |
| --- | --- |
| | GOLDCHOCOBO's Recent Blog Entries |




Friday, June 18, 2010
Tomorrow I am going to a ball game.

It's the Toronto Blue Jays Jays versus the San Fransisco Giants. The dietary fare isnt exaclty good there. Plus, Im going with Nitz and his boss. Im the only girl!!

I know, it sounds weird right? But Nitz is good friends with his boss. Plus, his boss is suffering from depression (the initial stages) so Nitz wants to take him out to do something non work related. Im going because Nitz bought three tickets, but his brother was unable to attend. Im the 'place filler'. I told him to find someone else and not to hold the place because of me, but his boss thought I was coming anyways. No one else could go, and I enjoy live baseball games and Nitz encouraged me to come.

I consider myself a cool girlfriend. I blend in well with the other guys, to the point where the guys forget Im someone's girlfriend. Sure, I paint my nails and wear eye makeup, and try to co-ordinate my outfits, but I can hold my own in a conversation in a variety of topics, and I drink the occasional beer. I can't hold my booze as well as the guys, that's my downfall, so I dont even try anymore. It's for the best anyways.

My boyfriend cant stand a girlfriend of a friend of his, to the point where it damaged their friendship. I told myself that welcome all of Nitzs' friends into our home. There's not a single one I dont like. I have all of their blessing. But none of them like this other girl. She's thirty years old and still clings to her parents for structure. I live 2 hours away from my parents. I talk to my mother every other sunday. I cut that umbilical cord years ago, but how can you be independent when you dont let yourself truly be independent? She hates Nitz because Nitz stands up to her. Maybe I will write a blog about Nitz later...

So tomorrow I will have a hot dog and a beer, but I will have a good breakfast and a good dinner. We'll be walking around a lot, which is good exercise, and I will drink plenty of water.

Oh well, I have to go. I feel really proud of myself this week! I met my goals!

Keep Sparking! ^_^






Thursday, June 17, 2010
You know, I didnt think I was working that hard, until the cardio was done and and I was sweating. It was like running down my back, seriously. Dante actually let me work out this time. He stood by and watched, patiently waiting for me to finish, then he escorted me to the shower, waited outside the bathroom, and escorted me to the bedroom to sort laundry and tidy up a bit.

Dante is a different breed of cat. I've never known a cat quite like him....well, that isnt entirely true. I had a cat named Sugar, and she died weeks before I went to college...in her favorite box in the basement, curled up nice and cozy. She was the gentlest cat I know. Always there in the background, happy to be a part of things. Our action figures crawled all over her (she was the rancor when we played 'Star Wars', we'd dangle a string to make it look like she was attacking Luke). She was very a good cat, and I miss her every single day, even now almost 10 years later.

I found Dante in an Animal Shelter. My boyfriend said it would be fine to have a cat in the apartment. I couldnt have one in my old apartment (no specific rule, really, but it was out of respect for my land lady's wishes). Nitz didnt care either either way. We didnt get a cat right away, but I eased the idea into his head and we agreed to visit the shelter.

Dante wasnt there the first time we went to ask questions. We actually went back the next week to find a tabby named 'Thunder', but he was already gone, a ginger tabby now in his cage. So I took him out and held him and noted how quiet and...well...*polite* he was. Like he was on his best behaviour. Nitz urged me to take that one (I dont think he wanted to be there anymore, we had hung out there quite a while without me realizing it). The kitty had no name, just an ID number, so we chose him.

They put him in a box with a blanket inside. We got to the car and Nitz set him in the seat in the back, choosing to ride behind me to calm the cat. He was indifferent to the cat for about 4 city blocks, then he was begging to let the cat out so he could cuddle him. By the time we got him that late September day in 2008, he had his name and he had made a friend. We took him into the apartment and he sat out the couch like he owned the place. Not once did he run and hide. He used the litter box like he'd always lived there.

Not much has changed since. We bought him a tree to perch on and claw, but he never claws the couch, he never pees outside of the little box, and he's only ralphed up like 2 hair balls. I got him a pet fountain too, which I clean every couple of weeks (what a chore but I dont mind) and we've actually had to upgrade his litter box a size bigger because he's so large!

Every day Dante greets me at the door. If Im home alone and reading in bed, he sits on the bed and faces the door. He sleeps on my pillow at night. Never Nitz's pillow! I think he plays favorites.

The other night I woke up and felt pressure on my chest. Turns out Dante decided to sleep across my chest, like a seat belt. He looked at me all happy like "Oh hai! SRY!"

Dante is a big part of my life. He charms everyone he meets and everyone asks about him. I tell my coworkers stories about his antics. You'd think I was speaking about my 2 year old son! Nitz loves him to death, he's been concerned for him and coddled him and played games with him. They love sparring.

However, he's an exercise saboteur, so Im surprised he let me work out at all. I gave him treats for letting me do my thing.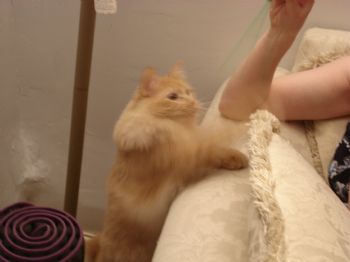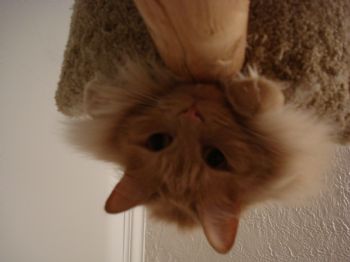 Tuesday, June 15, 2010
My boyfriend's mother is mentally ill. No, honestly, Im not just saying that, there's something in her brain that's clogged and keeping rational thoughts from getting the oxygen they deserve, then those thoughts just sink to the bottom of the tank and die. She calls my boyfirned at work asking if he can take a day off work in July to babysit his 12 year old brother. Nitz says that Brazil won a game so everyone's buying booze right now (he works in the booze business) and if they could just talk about this later...

Then she rounds on him, a complete 180, telling him that they dont ask him for much and blah blah blah and hangs up on him. All Nitz said was if they could talk about it when work died down! WTF?

She doesnt like not being in control. I find this very odd, because she has no control of anything. A meticulous planner, she wants everything penciled out to the letter, months before anything goes down. This day in July is just an overnight trip to Niagara Falls, it isnt A trip to Mars, relax lady.

As I was talking to my boyfriend on the phone, I was trying to calm him down. "You're AT work, and she's throwing a tantrum, so just deal with her later." But he says I dont have to deal with her so I dont understand. But if he just stopped letting her get to him, he'd feel better. I can predict with 100% accuracy that she will be sooooo mad for like a day and then STILL require his services, so she will try to talk to him again. Fine. Just apologize to your son. But no, she is never wrong, and therefore she never learned to apologize. This is what I least respect about her. This is why we will never be friends until she gets the counseling she needs. But no, my boyfriend is the a**hole, so heartless and cruel. If he's such a monster, why did he bring me flowers last night "just because" and told me not to do the dishes?

My boyfriend is a kind man who loves me and my family. I hardly think being busy at work warrants complete alienation from his family. I dont even want to know how she justifies half of the things she does in life. Not my call really. Thank goodness I live across town.



First Page
1
2
3
4
5
6
7
8
9
10
11
12
13
14 15 Last Page

Get An Email Alert Each Time GOLDCHOCOBO Posts