| | |
| --- | --- |
| | GOING-STRONG's Recent Blog Entries |




Sunday, March 20, 2011
First day of Spring today... Hooray! I think that Spring is actually my favorite season of the year. I love to see the new growth popping up and it is fresh and green. The grass is now growing in earnest ~ unfortunately the weather has been very rainy so haven't been able to mow. Hopefully we will get a break in the rain soon and I'll have a chance to take care of that.

A friend of mine sent me a digital e-booklet by Lyle McDonald called "A Guide to Flexible Dieting". I started reading it last night and found it pretty interesting. Chapter One discussed how most all "dieters" ultimately regain weight. Some studies say up to 95% aren't successfull long term. Pretty darn depressing to think about that. I know I have yo yoed many times in the past but feel that is now behind me. Losing weight is fairly simple... eat less... move more.. repeat. Maintaining that loss is a lot more tricky. It takes eating less.. moving more.. and repeating FOREVER.

I weighed in this morning and about fell off the scale when it registered a 2 pound loss. I just didn't think that was right so I scooted the scale around a bit and tried again. This time only a 0.2 loss which seemed more accurate so that is what I'm going with.

Here is what I recorded in my journal for food and fitness yesterday.

Breakfast - Regular Oatmeal breakfast with 6 peanuts

Lunch - 2 eggs over medium, Fat Free cottage cheese, Sliced Tomato, Wasa with wedge of laughing cow cheese.

Snack - 6 almonds. Love that salty crunch.

Exercise - No class at the gym today so did a Leslie Sansone "Punch it Up" 4 mile walking dvd. 45 minutes.

Dinner - Pork chop, Roasted Veggies (onion, carrot, potato fingers, broccoli) and Rosemary Cracker with wedge of Weight Watchers cheese. I really overcooked the veggies... they were barely edible. I thought I had the oven at 375 and accidentally had it at 475 degrees. Needless to say the broccoli in particular was pretty brown and crispy.

Snack - 6 almonds and 1/2 glass red wine.

That was it for me for the day. Thanks for stopping by and always love your comments. Spark on!

Hugs,
Rhonda








Saturday, March 19, 2011
Had a slight gain today... oh well... still in the 130's so no biggie. No reason for it other than normal fluctuations / water retention that sort of thing. I did have a teaspoon or so of gravy on my pork chop last night... you don't suppose? No, I'm thinking that wasn't a big deal. I didn't get all my water in yesterday but was only short a cup or so and I don't count my coffee or the one diet soda I have with dinner... so I know I really did get in enough liquids.

Here is what I recorded in my journal yesterday for food and fitness

Breakfast - same ol same ol... Oatmeal with raisins, chopped nuts, brown sugar, cinnamon and almond milk. Also 6 peanuts. This meals never gets old and keeps me going until lunch.

Exercise - Power Spin class at the gym. This is an hour class and a real sweat fest.

Lunch - Garden Salad with mixed greens, peas, carrots, onion, celery, boiled egg, shredded mozarella and Newman's Own Low Fat Sesame Ginger dressing. Wasa with laughing cow.

Snack - 6 almonds

Dinner - Pork Chop, Roasted Veggies (onions, tomato, broccoli, carrots), Rosemary Cracker with wedge of WW Cheese.

Snack - 6 almonds and 1/2 glass red wine.

That's it for me. Hope you all have a wonderful week-end and Spark on!
Hugs,
Rhonda





Friday, March 18, 2011
Woot Woot! Yes, today was the day! Hopped out of bed this morning, went to the bathroom and then stepped on the scale. Yee haw Sparksters... back to the 130's. Haven't been there since last August so feels really good to be back headed in the right direction. Here is the living proof!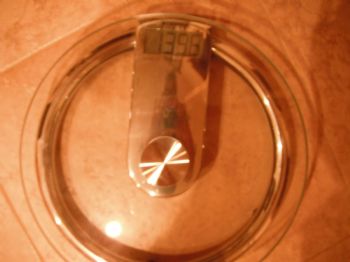 My DH came in the bathroom and said "just what the heck were you taking a picture of in the bathroom when you are half naked". I guess that would seem rather weird LOL. Told him I took a photo of the scale. He knows I have been working hard but I told him I saw a number today that made me smile so I took a photo. He thinks I'm nuts.

My March plan is paying off. I wanted to limit my choices and try and stick to basics. I haven't had any fruit but have been eating lots of veggies. Thinking ahead to my April plan, I am going to add back in a little fruit and see how I do. I want to limit my desserts and stay off the popcorn as that seems to stall me to a dead halt.

Here is what I recorded in my journal for food and fitness yesterday.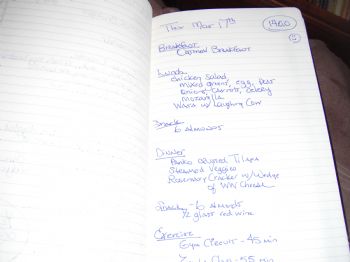 Breakfast - my normal bowl of oatmeal with nuts, raisins, cinnamon and almond milk.

Exercise - Gym Circuit Class. This class uses various machines in the gym circuiting through six stations two times. The circuit changes every month and this month concentrates on arms and legs. A good strength session.

Lunch - Chicken salad,with mixed greens, hard boiled eg, peas, onions, carrots, celery, shredded mozarella. Wasa cracker with laughing cow.

Snack - 6 almonds

Exercise - Bonus session! Went to my first Zumba Class. The instructor is new at zumba so she incorporated a lot of dance aerobic moves... but that is fine as it is all new to me. It was a fun class full of a lot of energy and I plan to add this class to my weekly schedule.

Dinner - Panko crusted Tilapa, Steamed veggies, Rosemary Cracker with wedge of Weight Watchers cheese. Got the Tilapa at Costco and both DH and I really liked it. 160 calories per piece and it turned out nice and crispy and isn't fishy at all. Not anything like the fish sticks I ate as a kid lol.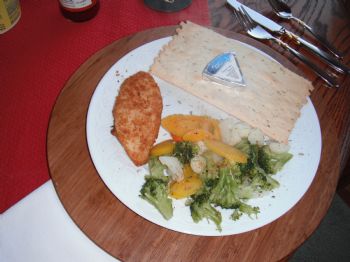 Snack - 6 almonds, 1/2 glass red wine

That sums up the day.. Hope you all have a good one and Spark on!

Hugs,
Rhonda





First Page
1
2
3
4
5
6
7
8
9
10
11
12
13
14
15
16
17 18 19 20 21 22 23 24 25 26 27 28 29 30 31 32 33 34 35 36 37 38 39 40 41 42 43 44 45 46 47 48 49 50 51 52 53 54 55 56 Last Page

Get An Email Alert Each Time GOING-STRONG Posts