| | |
| --- | --- |
| | GOALOFLOSING's Recent Blog Entries |


Wednesday, July 15, 2009
It's been an entire week without blogging, exercising, and well... without being consistant with anything really! Wedding plans took me by surprise and I haven't gone a whole day without thinking about the wedding since they took me by storm last week!

My bridal shower is in three days and I am getting really anxious! It should be fun, but I hate sitting in front of a bunch of people while opening presents. Its a nightmare for me! Other than that, it will be a good time!

My fiance and I are going to look at houses tonight, as if I wasnt stressed out enough we are adding house hunting on our list of things to do. We aren't going to be very agressive until after our honeymoon, but there are a couple of houses that have sparked our interest and they might still be around come October.

I have been feeling extra stressed lately and I think that its because I haven't had "me" time... aka running for the C25K... in a week. I really miss running and I am anxious to get back at it... right after I find the time. Then I realize, I will not "find" time at this time of year, I have to make it. There is so much to do this month... three weddings, three graduation parties, three birthday parties... make that four. My fiance and I are running around non-stop and not even making it home after work until 10 p.m. some nights! And thats just as far as the weekdays are concerned!

I love summer, and I like being busy... just not THIS busy!




Wednesday, July 08, 2009
So last night I completed W3D1 of the C25K program! I was really nervous about the two 3 minute runs, but I decided to just go out there and give it a shot! I managed to complete the whole session and I returned home very proud of myself! The weather was perfect while I was out there on the track. There were the big puffy white clouds with rays of sunshine peaking through along with the perfect room-temperature breeze. It was one of the best days I have run on yet! I will never forget my first run on W1D1 though. I decided that I would give this program a shot at like 10 p.m. one night and went out there and did it! It was raining a light consistent rain, yet I still pushed myself to see the whole session through! It was a night I will never forget. Very empowering!

Today is Wednesday, and that means its wing night at the local bar. My fiancé really wants to go; he was kind of convinced to go from our friend that we hung out with last night. We had a Wii tennis match that lasted a looong time with our friends last night and my arm is in a little of pain today from it! I really want a Wii and I think that I might make that one of my weight-loss rewards! I have been patiently waiting for them to go down in price, but they aren't budging much! I think that it would be a good investment. It is a fun group activity and promotes health in a way! Along with Wii Sports, they also have Wii Fit in which I think I would enjoy as well! I am really talking myself in to this purchase!

Tonight, instead of going to the bar, I am going to grill chicken tenderloins on the grill. I also have to go grocery shopping. I actually have not eaten breakfast yet and didn't pack a lunch because of the lack of groceries! Not good!! I am going to probably run up to McDonalds on my lunch break for a salad for lunch. I have an apple to eat this morning to hold me over and I am probably going to start munching on that shortly!

Since I ran my W3D1 yesterday, I do not want to go out for a run tonight. I should let me muscles rest for a day before getting back out on the track, but I know that I will not be able to do W3D2 tomorrow because I am meeting my Maid of Honor right after work to go shopping for bridesmaid jewelry. My next run may have to wait for Friday.

Tonight I am going tanning for the second time this week! I just started tanning for my wedding and I bought a really expensive unlimited package but its going to be worth it because the tanning salon is really close to my home and I will get more use out of it! I still hate spending $80.00 on a tan that I could get out in the sun, but tanning in the booths is safer than the actual sun! When I arrived at the tanning salon on the first day I told the cashier that I had not been tanning in 3 years and she was absolutely shocked and said that she couldn't go a week without tanning! I was in turn shocked because wow, that's just not good for you to go that much for that long! I only tan for major events… prom was the last time I went tanning, actually. It's just too expensive to do on a regular basis like that!

Well, here I thought that I wouldn't have much to say in todays blog but it turned out pretty long. Anyhow… if you are reading this, which you are… have a GREAT day and keep working toward your goals each and every day!!





Tuesday, July 07, 2009
Well, I had a one pound gain on the scale this week but it's ok... really... it is! I would like to be losing this weight faster, but its not just about losing weight right now. It's about making good decisions each day, and ultimately... its about MY health and happiness.

I am pretty happy right now and with all of the exercising I have been doing I am heading toward a healthier me!





It's all about the positive attitude!

Anyways, last night I made a fantastic bruschetta chicken with grilled veggies on the side. It was so healthy and so good! Here is a picture of the chicken that I made below: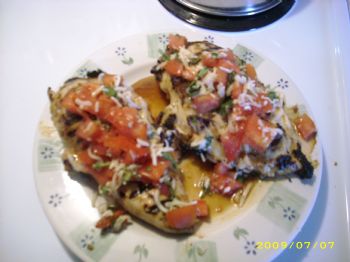 Tonight I am planning on making Capellini Caprese! Yummy! I am also planning on doing my W3D1 for the C25K program! Eeek! We'll see if I can do it! Wish me luck!








Sunday, July 05, 2009
Well... I could have sat inside and felt bad for myself since I did a horrible job at keeping on track these past few days. Instead I worked out for 79 minutes and burned 587 calories!








I did a great job and I am proud of myself!!





Sunday, July 05, 2009
I have been doing horrible the past few days!! I know that tomorrows weigh in is not going to be good! Oh well... what happened, happened! Now its time to get back in gear! I say this now, right after having a rootbeer float from Dairy Queen. Geesh!

I went to a wedding yesterday and it was absolutely beautiful. It was an outdoor wedding. It was breathtaking! The bride was stunning! The groom was truely amazed as she walked down the isle. I hope its like that at my wedding... *sigh*

Anyways, I am feeling really "blah-ish" today. My fiance and I went shopping and I bought two dresses for all of the weddings coming up and bought him some clothes as well. Even though I have lost some weight since he proposed, it still isn't enough. I'm not sure if it will ever be enough. I am making the old mistake of talking down on myself, so I am going to stop here.

All-in-all... I think that I am feeling blahish because I haven't been exercising. I am going to go out for a run tonight. I know that it will clear my mind. I need some mind clearing for sure!






First Page
1
2
3
4
5
6
7
8
9
10
11
12
13
14
15
16
17
18
19
20
21
22
23
24
25
26
27
28
29
30
31
32
33
34
35
36
37
38
39
40
41
42
43
44
45
46
47
48
49
50
51
52
53
54
55
56
57
58
59
60
61
62
63
64
65
66
67
68
69
70
71
72
73
74
75
76
77
78
79
80
81
82
83
84
85
86
87
88
89
90
91
92
93
94
95
96
97
98
99
100
101
102
103
104
105
106
107
108
109
110
111
112
113
114
115
116
117 118 119 120 121 122 123 124 125 126 127 128 129 130 131 Last Page

Get An Email Alert Each Time GOALOFLOSING Posts