| | |
| --- | --- |
| | GNISULA's Recent Blog Entries |


Wednesday, January 29, 2014
I'll admit it, I have a sweet tooth. More like a full set really. So, as part of my work's biggest loser competition, I figured I could and should get a leg up by taming that damnable sweet tooth of mine.
The week 1 action steps require a bit of writing, so here goes.
According to the "short" assessment (in quotes because I had to Google something called a sugar detox which I'd never heard of) I have "Situational struggles with sugar" which makes sense to me.
Some of the reasons I want to get the sweet stuff under control more is because it is expensive. Candy costs a lot, and I would like to be able not crave it so much. Thinking about candy drives me nuts.
I'm also going to be tracking my sugar habits this week. I'm sure it will be a long journal all about sweets. Just the thought of how long it will be kind of sickens me and disappoints me. I know I have a problem, and rubbing it in my face all the time myself will suck.

Looking forward to results, but not the journey.





Wednesday, May 01, 2013
Well, I slid into maintenance mode apparently. I go up, I go down. I sorta track what I eat, but I'm not making an effort to lose anymore.
I don't understand how I fell into complacency so easily. I noticed my motivation disappearing months ago and tried again and again to get it back to no avail. I'm disappointed with myself for not hitting my goal.

Here's a picture of me brainfarting.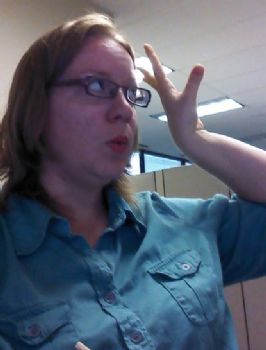 I'm still working out 3 days a week though, and with that I do know I'm getting stronger. I can now curl 50 lbs (I started at 10) and squat 250 (started at 190) which I really enjoy. Lifting weights is fun for me. I also still run as my cardio those 3 days. I don't do the same thing, like day 1 I might run 1 mile, day 2 I might walk fast on a high incline, and day 3 I might run and walk at an incline.

Sunday I managed to run 1.5 miles straight through. I've never done that. Ever. Not in my 29 years, even in track in middle school (when my event was the 1.5 mile) have I ever run 1.5 miles straight without walking in the middle.

I'm quite proud of that. However, was I able to do it because I'm getting healthier, or because I didn't eat breakfast and had a single cup of coffee an hour before gym time? Guess I'll find out today as it's gym day and I want to try to do that again.

Um, the baby is crawling now. He likes to get over to something and pull himself up standing and bounce up and down while screaming. it's great fun, he acts.
Here's a pic of him sleeping: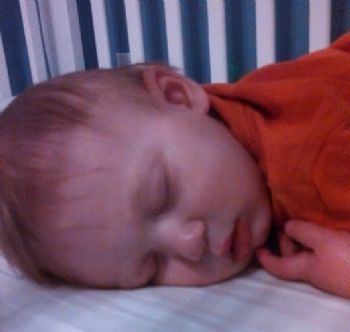 Summer is here (I live in Texas, it starts early) and I have to buy a bathing suit this week. We have a swimming party Saturday, and my old suit is quite baggy. It's sad. I'm looking forward to suit shopping, but am dreading it at the same time. While I have a bikini-able body, the lighting in the rooms makes every slight bulge accented. Oh well.


So there's my update. What can I do about complacency?
Thanks for reading!




Thursday, April 25, 2013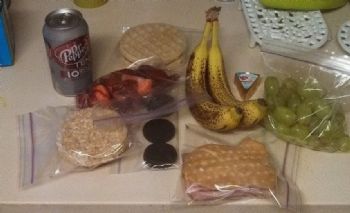 Dr Pepper Ten, 8 medium strawberries, eggo low fat nutrigrain waffles, 2 bananas, laughing cow cheese, grapes, ham sandwich (pepperidge farm whole grain white sandwich thin, land o lakes honey ham 6 slices, mustard), RF oreos, and 2 apple cinnamon rice cakes. Total around 950 calories

And I'm going to be really hungry by 2 pm. Le sigh
I've been eating crappy dinners and over my calorie range for what seems like months now, but i'm always hungry and i'm a bored eater. What can I do?





Thursday, April 18, 2013
www.xojane.com/clothes/spring-fatshi
on-guide-how-to-look-skinny-when-you-a
re-enormously-fat-secrets-revealed

This woman is my hero. I truly love her writing. It's funny, it's full of attitude and good fuzzy feelings. I've read all her articles.

I posted a blog about her fat acceptance articles before, but the one today really made me lol.
And she's totally right. You shouldn't give a damn about how you look. Be happy, and if wearing certain things makes you happy, wear them more.
Personally, I'd never wear the galaxy dress, but that cartoon dress I could completely rock. Maybe with my zombie stompers?
www.tumblr.com/tagged/zombie%20stomp
ers
I seriously own that pair of shoes, and when I'm in them, I'm 6'5. Bam!




Friday, April 12, 2013


eggo Nutrigrain Lowfat waffles, land o lakes honey turkey with mustard sandwich on pepperidge farm whole grain white bread, apple cinnamon rice cakes, bananas, RF oreos, rold gold pretzel sticks, and 2 cups of strawberry quarters. Total calories around 1065



1 2 3 4 5 6 7 8 Last Page

Get An Email Alert Each Time GNISULA Posts