GLENMORRISGIRL's Recent Blog Entries


Friday, May 09, 2014
Okay, so I'm writing away, even though my previous blogs probably have under a dozen comments in total. C'mon people!!!! I don't want to become a "regular", to have my blogs featured every day. But..... some support and feedback would be much appreciated :) Thanks!!!!
Okay, so over the winter I gained a bit. Okay, it was 15 lbs, I admit it. Why? Two really good reasons, well, if by good I mean obvious. First, I gave up exercise during this dreadfully cold winter that lasted FOREVER into spring. I hate the cold. By hate I mean it actually causes me physical pain - ceases up my muscles, creeps up my back, seeps into my joints..... you get the idea. So, bc it was sub-arctic for most of Dec-March I spent very little time outdoors. Well, yeah, almost none. I tried. I tried but in the end gave myself permission to stop bc I was just so miserable out there. Which, I know accept as an okay thing to do. Where I failed was in not having a back up plan. You can quit any activity you want to - but you need to replace it. So - I am adding videos and Wii zumba to my repertoire. Done.
Second, I ate like pig. Well, not like a pig bc I was fairly discerning about what I ate, so many fabulous treats and I enjoyed EVERY one of them. But...... maybe could have pulled up on the portions and the frequency. No one needs Epicure's Three Cheese Dip more than twice a year, just sayin'. Second lesson- TRACK, TRACK, TRACK!!!!!! Seeing that I've gone a kajillion calories over cements reality - it's hard to pretend it's "not that much" when you can see it before you. Other half to that? Knowing you have to write it down later "shames" me into not taking it in the first place.
So, if you had a great winter, congratulations!!! I really am happy for you and admittedly jealous :) If you didn't, here's to getting back in the saddle and reclaiming our journey to healthy bodies!!!!!!




Thursday, April 10, 2014
I've worn out my running shoes! To be perfectly honest, they are a pair I've had for many years but just started wearing around a year ago - about the time I began walking diligently. Having not worn them through this brutal winter, I have noticed how worn out they are - hole starting in the toe box where my baby toe might pop out one day, tread bare and colour worn out of the sole = pride. I am so proud of these shoes and of me for having worn them out.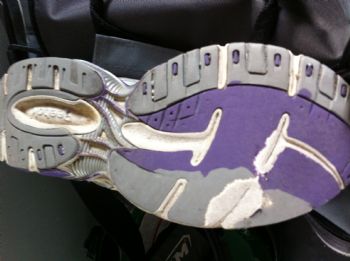 Of course it's time for a new pair - what a treat!!!! But I will wear those new ones out with determination. They will one day testify to my effort; to the time I've dedicated to my health! Happy Spring Sparkers!!!!




Monday, March 24, 2014
I've recently slipped, fallen, let go, got lost, fell off - pick a metaphor for haven't been tracking, have been eating whatever, and have exercised only sporadically. That's me. Since before Christmas. It's not like I wasn't aware, oh I was quite aware of what I was doing. At first I was amazed there were now consequences. For a week or two I'd go up a pound or two but then lose it. Over Christmas I gained 5 pounds - considering what I was eating and how little I exercised, that is quite a blessing.

For the first while, my knowledge staved off the damage - I didn't track but I had a rough idea of what I needed to do to get back on track. So I'd stumble, get back up for -a day or two, and then re-stumble. For a while it worked - adequately. But in the last few months I've put on 10 pounds. I had a goal to be at 240 by May - instead of closing in on that or even exceeding that - I'm farther away. Beginning at 254, I'm now at 269. That was my wake up call. I did have 15 pounds to lose to get to that interim goal now I have 29. And so it goes.

I'm writing this for anyone who reads it, but also for myself. I tend to romanticize my efforts - "last time it was sooo easy, I had so much will power". Wrong. Last time it was a lot of determination and EFFORT - the fitness and nutrition trackers show me this. There was in fact no magic wand, the weight did not just fall off. I was walking a minimum of half an hour a day and up to 1.5 hours twice a week. I was staying within my calorie range. I was tracking. I was reading Success Stories, health articles, and logging into SparkCoach. I was consciously making my health a priority. That is so much better than a magic wands. There are no magic wands, and if there were, we'd have so little control over them. But we do have power over our choices and our behaviour - we have true power!

Good luck to all you Sparkies today and every day. The road is bumpy, windy, and slippery- but you have control of the running shoes! :)






Tuesday, February 25, 2014


I found this picture on Twitter today and am inspired by it's power. This is not a political post. Disregard the politics. Imagine two nations torn apart by civil unrest. Both pushing back against their governments. After many months of fighting, one has reached it's first major goal - to oust their totalitarian government. Amongst these heady and uncertain times, Ukranians reach out to a nation half way around the world, facing very similar circumstances. It would be so easy for this man to focus on his own struggles, the plight of his nation - Ukraine has much work ahead, many more mountains to climb. Rather, he reached out to Venezuelans and offered them hope. How encouraging is support!. How powerful is hope!

A spark friend - a friend really - reached out to me this week. She sent me a Sparkgoodie "pedicure". This is especially touching to me because I have not been faithfully "sparking" since before Christmas, yet she was thinking of me, encouraging me - offering up hope. I needed that ~ needed to remember this wonderful community where I have found nothing but welcome and encouragement.

And so it is: we have the power to change lives through simple gestures of support. Whether its a message on social media "Ukraine is with you: don't give up!" or a sparkgoodie; hope is powerful. Best wishes for a great week spark friends - may you kick butt this week!!! And too our human families all over the world, may peace be with you, may you walk in hope, may freedom reign!




Monday, December 30, 2013
So my daughter got spinning plates for Christmas. Yes, the kind you see at the circus or street performers use. She attended a circus camp offered at a local theatre and mastered the art of spinning, more or less, in a day :) Which, has been interesting - a goose egg on her forehead where the plate landed - FOUR TIMES - yesterday!!!! You have to know her though, she iced it each time for a minute and persevered. In fact, she is fiercely proud of her perserverence (which, sometimes is really just stubbornness, lol) Anyway, the school has a talent show each spring and she has big plans. She's downstairs practicing right now. Not practising until she gets it right, in her own words she is practising until she can't get it wrong!

I'm thinking about my own journey and the lesson I can take from this. Spark People isn't a destination, it isn't a skill to be mastered and left. It's a practice - to be mastered until we can't get it wrong. Oh sure, we'll all "slip up" but if we get back on track we haven't really failed, we've only strengthened our skills. She's a smart kid that girl of mine ;)


1 2 3 4 5 Last Page

Get An Email Alert Each Time GLENMORRISGIRL Posts