| | |
| --- | --- |
| | GINAKINA's Recent Blog Entries |


Sunday, August 21, 2011
I think the title says most of what I need to say.

I'm back at it.

I have a baby :)

My husband and I welcomed our first little one, a boy, in February of this year. That makes him over 6 months old now. And it means that I only have 3 months left of my loose goal of losing baby weight (I figured, 9 months to put it on, 9 months to take it off). I went from 135 to 170 pounds, and I would say right now I have 10-15 pounds lingering (although 5 of those unwanted pounds were already there when I started!).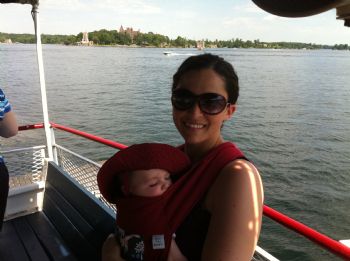 I think in this case, it might be easier said than done. I am breastfeeding him, so still need to keep my calories up, because feeding him is really more important than losing weight, but eating healthier is at the very least an important goal. He has started eating solid foods this month, and I want him to see us eating healthy food the majority of the time.

So, here goes!




Monday, January 04, 2010
So, I officially survived a weekend. I guess it helped that I worked on Saturday (easier for me to stay on track if I am at work because there are less choices. If I can keep it together for the rest of the week, I am going to treat myself to some avocado and cucumber sushi from Whole Foods this friday. Not that its really a big stretch from what I normally eat, but I have tried making sushi and failed, and as far as it being a treat, that has more to do with the money than it being a "bad" food.

Anyway, the internal struggle is hard, because I looked at myself in the mirror yesterday and thought I looked fine. But, my pants still don't fit. Oh well. Losing a ton of weight this time around isn't that important. What is more important is getting back those healthy eating habits.

So far, so good. Powering on!




Wednesday, December 30, 2009
I have been thinking about this a lot lately: "Why I need to lose weight".

As my husband said, I have never been "fat". As in, people may have not whispered comments about my weight as I walked down the street and I never had to shop in the plus-sized section of the department stores. But at 5'4'' and over 150lbs, there was no denying that I was overweight. College was good to me, as far as meeting new people and learning new things, but it also opened me to a world of different foods. I grew up drinking skim milk and diet soda. Suddenly, I was drinking beer and hot cocoa every weekend. Breakfast used to be a cereal bar and some orange juice. In college I could have Belgian waffles with real butter, real maple syrup, and real whipped cream. With sprinkles. For breakfast. My sophmore year, I met my husband, who had a car, and we ate out with friends. A lot. Chinese food and IHOP were weekend staples of ours.

Luckily, a lot has changed since then. I haven't been to IHOP in over a year because the last few times I've went, someone leaves feeling sick. I lost a lot of weight after college, simply by diet and exercise. I went from that 152lbs to 122lbs. A weight loss of 30lbs, and I looked good. I looked really good. I was doing a lot of weight lifting, could run a solid 8 minute mile (for me, that's fast), and I don't think I have ever looked better in my life.

But life gets the best of you. That weight was hard for me to maintain, and when my husband was in Iraq, the weight crept on. Right now, I am hovering around 138lbs. Not a place I want to be. More than half the weight I lost after college, is back. The difference now though, is that I know how I should be eating. Back in college, I didn't know. Now, I've done enough research to know how I should be eating, what I should be eating, etc. But then one day, something in me will say "But, I look fine. Its not like I'm huge."

How can I let that be okay though? Just because I don't weigh so much that people make fun of me, its okay to not lose this weight? Just because I wear scrubs to work so I don't need to buy a new wardrobe, its okay to keep letting the pounds creep up?

So, its not okay. I have a good 10lbs to lose. Ideally, before my cousin's wedding this coming July, but really for myself. And this is why:

I am not healthy. When I eat bad foods, my body knows it. If I have too much of any simple carbs, whether it be sugar and candy or soft white pretzels, I actually wake up in a fog. I call it the "food hangover", but its really unpleasant. Needless to say, I've had way too many of these recently. Also, eating too much has been making me really tired. I've been getting plenty of sleep and I still wake up groggy. I've been tired on my drive to work, which is a really terrible way to start the day. Lastly, my husband and I are planning on having kids soon. I don't want to be out of shape when I am finally pregnant.

I don't know if this is going to be enough for me. I keep stepping on the scale and seeing it go up and down between 136lbs and 138lbs, and my motivation to get it lower wanes every time it is on the low side. But I am tired of being unhappy with the way I look, and knowing that I have it in me to look much better, to feel much better, to be much better.





Sunday, January 04, 2009
A blog post? What?

Sorry spark friends...if I even have any left. I have still been around kind of regularly, but haven't been blogging at all. Mainly because I spend a lot of my time blogging at my personal blog: www.veganstrong.blogspot.com. Okay, no more shameless plugs.

Anyway, I haven't exactly fallen off track, I think I just stepped off the train for a bit to wander. I haven't logged my food in quite awhile, but have been exercising very regularly. I haven't gained any weight, but I haven't been trying to lose weight either. I've been trying to keep at this weight, actually, so I could try and gain some muscle. See where I'm going with this? My husband is going to be leaving Iraq this month, and we'll be moving and starting REAL life together in May (even though we'll have been married for three years at that point, yikes), and I want to look awesome again. Yes, I look fine now, but I don't want to look fine.

My goals:
1. Log food at least 5 days a week, either on sparkpeople or elsewhere (sometimes I just do it in an excel spreadsheet).
2. Lift weights 3x a week
3. Do yoga 2-3x a week
4. Do a headstand without the wall
5. Run a 10K
6. Run 2x a week
7. Have one rest day per week
8. Have one light day per week (this means riding the exercise bike in my basement and not driving to the gym
9. Balance this with student teaching, finding a job, cooking good food, moving, keeping up with my blog, and managing the military spouse website I co-own.

Its going to be an exciting year. And, I think I will go on active.com right now and find a 10K to sign up for!





Thursday, October 30, 2008
I started a blog on google blogger yesterday. I've been wanting to do it for awhile, but something was missing...and after eliminating dairy and eggs from my diet, I feel like this is right time.

I'm excited about it! You can find it here: veganstrong.blogspot.com/

I only have one post so far, I literally just started it, but it is going to be all about the food I make/eat on a high protein, active, iron-pumping, vegan diet.

Visit!!



1 2 3 4 5 6 7 8 9 Last Page

Get An Email Alert Each Time GINAKINA Posts