Friday, September 09, 2011
Well this past week was a nice stay-cation which I'll try to remember as I begin my whirlwind road adventure starting on Sunday.

Yep I'll be airborne on 11 Sept, flying to Norfolk, VA with SWMBO and #2 son...I've got meetings out the wazoo next week as does SWMBO. #2 son is our Special Needs boy, perfectly capable of taking care of himself in a hotel room while we're out during the day, but we're not ready to let him stay at home by himself for a full week.

After 5 straight days of HIIT, I took yesterday off from exercising which was just what I needed. Of course SWMBO had her gal pals over for a luncheon, so I got booted out of the house and took myself (and the Kindle) out for the afternoon and spent 3 nice hours reading and drinking coffee at the local Starbucks.

Maybe it was all that caffeine, but on my way back, I cruised in to a Sears across the street and snagged up a sale on a Dyson DC25 Vacuum Cleaner...the kind that specializes in animal hair!

You see we have a cat, Princess Lilac-tips, a pretty decent cat that I'm happy to say keeps the house free of pests. But she sheds like a demon and this has always bugged me. Well this Dyson is friggin' amazing!!!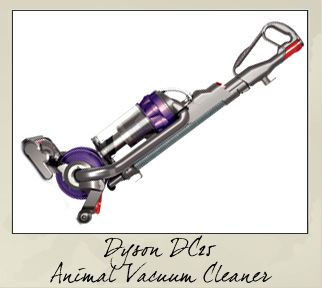 SWMBO had just cleaned up after her luncheon, but then I ran this thing over the living room carpet, over the couch cushions, and in the folds of my favorite chaise.

Well apparently, I've been living in a dusty, hair-infested hell-hole all my life! After 10 minutes SWMBO and I were fighting over who got to drive it next. We were extending hoses, snapping on attachments, moving chairs & tables.....we're a little weird like that.

Anyway today was much calmer....especially now that I know deep in my soul that our house really is clean, I was able to relax and read some more this morning before having to go into work to put out a minor personnel crisis. Must be the times, seems like people's emotions are very edgy these days. But I mediated the crisis successfully (I told them all, "We're fixing this today....and I am walking out that door at 3:30 to get to the gym so let's get everything on the table now"...turns out that these yahoos had been talking past each other all week....once in the room with me, I asked a few questions, everyone soon agreed that there was no problem....sheesh, if I wanted this kind of crazy, I'd adopt a few teenagers!)

Needless to say, I got to the gym just in time to meet trainer guy....then life was alright again.

Tomorrow I go for a bike ride, then we're on the road from Sunday through Friday. The week after that I fly to Salt Lake City for 3 days, from there to Melbourne, FL for 2 days, back home for the weekend, off to Vegas for a week, back home for another weekend, then up to Charlottesville, VA for a week...I think I stabilize sometime around 8 Oct

Lots of potential for overeating and slacking these next 4 weeks Sparkfriends....don't let me do it....keep me honest as always!

Have a great night!