| | |
| --- | --- |
| | GETSTRONGRRR's Recent Blog Entries |


Saturday, September 10, 2011
Well I'm putting off packing as long as I can....soon my procrastination will time out and I'll have to get going, but until then.....

You see I'm taking SWMBO and #2 son along, and they are not light travelers, so once they get done, I can do my customary "stuffing of the underwear and gym clothes" in a bag routine and be done with it (actually this one will be a little tougher. SWMBO and I have 3 formal events to go to on this one, so I've got to pack more and pack neatly)

Regardless, my procrastination today consisted of; laundry, finishing up a sci-fi novel (SPIN), getting a haircut (threw a manicure in there too, SWMBO has been complaining about the shape of my hands....claws she calls them), and hitting the gym for an HIIT workout.

My last High-Intensity routine was Tuesday, so a 4-day break was just right. After a 10 minute warmup, I did 30 sec intervals with 60 seconds in between. Did that 6 times and felt pretty darn good. But that was just a warmup because what I really wanted to go hardcore on was the rowing machine....

....which turned out to be broke! AARRGGHHHHHHH!

What to do? I still had some juice left and felt cheated by not being able to do my whole planned routine....so I improvised.

I didn't feel like doing the standard Lifecycle Stationary bike again, so I went over to the Spin classroom and hopped on the neat little Schwinn with a 40 lb flywheel and did a modified Tabata routines; 10 secs all out sprint with the resistance cranked up, followed by 20 secs slowed down.

Man that was tough! I pedaled like there was no tomorrow, and those 10 secs seemed like an eternity, while the 20 sec break seemed like the blink of an eye....what kind of a wormhole had I been sucked in to?!?! I can't imagine what the full routine (20 secs all out with a 10 sec break) would feel like....except for totally exhausting

But here's the beauty of it....many many moons ago, I would have easily looked at the repair ticket on the rowing machine and said "screw it, I'm done" and gone home. Today, I'm looking for reasons to workout and ways to make it happen....no excuses, I will not be deterred!

Anyway, it's almost 6:00 PM, I've got a nice post-gym buzz going and I can't put off folding shirts and jackets any longer. From this, I would like to be deterred.

Have a good night Spark friends!




Friday, September 09, 2011
Well this past week was a nice stay-cation which I'll try to remember as I begin my whirlwind road adventure starting on Sunday.

Yep I'll be airborne on 11 Sept, flying to Norfolk, VA with SWMBO and #2 son...I've got meetings out the wazoo next week as does SWMBO. #2 son is our Special Needs boy, perfectly capable of taking care of himself in a hotel room while we're out during the day, but we're not ready to let him stay at home by himself for a full week.

After 5 straight days of HIIT, I took yesterday off from exercising which was just what I needed. Of course SWMBO had her gal pals over for a luncheon, so I got booted out of the house and took myself (and the Kindle) out for the afternoon and spent 3 nice hours reading and drinking coffee at the local Starbucks.

Maybe it was all that caffeine, but on my way back, I cruised in to a Sears across the street and snagged up a sale on a Dyson DC25 Vacuum Cleaner...the kind that specializes in animal hair!

You see we have a cat, Princess Lilac-tips, a pretty decent cat that I'm happy to say keeps the house free of pests. But she sheds like a demon and this has always bugged me. Well this Dyson is friggin' amazing!!!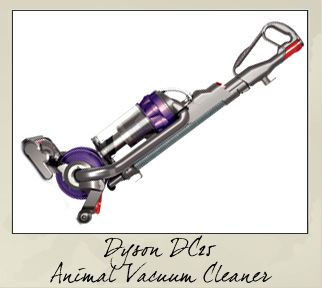 SWMBO had just cleaned up after her luncheon, but then I ran this thing over the living room carpet, over the couch cushions, and in the folds of my favorite chaise.

Well apparently, I've been living in a dusty, hair-infested hell-hole all my life! After 10 minutes SWMBO and I were fighting over who got to drive it next. We were extending hoses, snapping on attachments, moving chairs & tables.....we're a little weird like that.

Anyway today was much calmer....especially now that I know deep in my soul that our house really is clean, I was able to relax and read some more this morning before having to go into work to put out a minor personnel crisis. Must be the times, seems like people's emotions are very edgy these days. But I mediated the crisis successfully (I told them all, "We're fixing this today....and I am walking out that door at 3:30 to get to the gym so let's get everything on the table now"...turns out that these yahoos had been talking past each other all week....once in the room with me, I asked a few questions, everyone soon agreed that there was no problem....sheesh, if I wanted this kind of crazy, I'd adopt a few teenagers!)

Needless to say, I got to the gym just in time to meet trainer guy....then life was alright again.

Tomorrow I go for a bike ride, then we're on the road from Sunday through Friday. The week after that I fly to Salt Lake City for 3 days, from there to Melbourne, FL for 2 days, back home for the weekend, off to Vegas for a week, back home for another weekend, then up to Charlottesville, VA for a week...I think I stabilize sometime around 8 Oct

Lots of potential for overeating and slacking these next 4 weeks Sparkfriends....don't let me do it....keep me honest as always!

Have a great night!





Wednesday, September 07, 2011
I freely admit, I take things to extremes and have a tendency to push things to their limits. Most of my life that's led to a fair amount of success. Every now and then, I push a little too hard and need to re-evaluate.

After doing what research I could about Hi Intensity Interval Training, I jumped on the bandwagon and hit it late last week, adjusting my routine and loved it. Short, hi intensity intervals interspersed with moderate cardio...pretty cool when added to my Strength Training routine.

The part I blew past in my research was where they said, "These types of workouts are very intense and should only be done 2 to 3 times a week"....I did them 5 days straight, even on days when I did ST. You see the rules of mere mortals don't apply to me.....

Hence I sat in front of the laptop last night and felt like I was hit by a truck

"These types of workouts are very intense and should only be done 2 to 3 times a week"

OK, OK, it's always good to be reminded of our mortality, it helps us appreciate life, it reminds us that all our time is precious....but does it always have to hurt like that?

So I've relearned that age-old lesson that just because a little of something is pretty good, that doesn't mean that a lot of the same thing is great.

Today I did a very light warmup for 20 minutes before lifting with trainer guy....life was a lot better and much less painful.

All things in moderation, including moderation

Good night Spark friends!






Tuesday, September 06, 2011
Talk about a beautiful day!

We woke up to a cool DRY morning here in the FL panhandle. Temp in the 60s, clear blue skies, and NO HUMIDITY!

Happy, happy, joy, joy

So I stuck around the house this morning while SWMBO got ready for lunch with some gal pals. I had already arranged to have the bug guy come out and spray around the outside of the house (ants) and roof guy to repair some shingles that blew off in the storm. I also tackled our home office which I've been putting off since we moved here in May. I put the whammy on some bookshelves and a closet....this will be a week long project while I'm home.

I was going to take the bike out for a ride, but made a last minute change to hit a new gym nearby. I wanted to do some more Hi-Intensity Intervals, but I also wanted to stretch. I blogged about this super-cool stretching "cage" a few months ago:
www.sparkpeople.com/mypage_public_jo
urnal_individual.asp?blog_id=4242122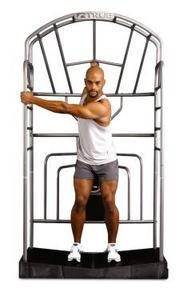 I knew they had decent cardio equipment as well as the cage so, since it wasn't too far away, I went there.

After a 10 minute warmup, I did 6x 30 second intervals on the stationary bike, with a 60 second break in between. I pumped up the intensity to about 7-8 on the Borg RPE (Rated Perceived Exertion) scale. I was drenched in sweat after the 3rd interval

I cooled off, hit the stretching cage, then went over the Concept2 Rowing machine. I knew these would be tougher (and they were) so I did the same 30 sec intervals, but took a 90 sec break in between. But during the hi-intensity part, I pushed the RPE up to 8-9.

Cooled down, stretched some more, then hit an elliptical machine for a steady 20 minutes of cardio.

In no time at all, 70 minutes of cardio were over, and they were (except for the last 2 intervals on the rowing machine) quite enjoyable. The stretching was like having a good dessert after a great meal

And here I am 3 hours later blogging about it, still feeling a burn from the exertion!

Good night Spark friends!





Monday, September 05, 2011
Well it turned into a busier labor Day than I had planned...but it went very well.

I started out the morning at Starbucks to have coffee with a 30-something friend of a friend who wanted some career advice and mentoring (I think he wants my job....Ha! Old age and treachery will always overcome youth and skill!) We talked for about 2 hours until SWMBO called and told me the wind was gusting to 40MPH, that sheet rain was whipping around the house, and that the waves were crashing into the backyard...."Are you coming home soon?!?"

So I told 30-something guy to finish his degree, work even harder, get out of his comfort zone, think hard about the kind of boss he would really be and to give me a holler in 6 months, then drove back home....

....right into the heart of the Storm! I forget what the meteorological term is, but as a rotating storm moves from the water over the land, in it's trail is a low pressure front that pulls and sucks ocean moisture in it's wake, generating some very impressive winds...it was pretty cool. SWMBO however doesn't enjoy nature's fury as I do and had prepared for the worst; Cat was in it's travel kennel, bike helmets were arrayed in the hallway (in case tornado blows roof off), lanterns lined up in an interior hallway with no outside walls, and a case of water in the bathroom....she's my little disaster response queen!

But our little home survived, just a few roof tiles blew off. So after stir-frying up a quick lunch, I drove on over to the gym for Monday's ST session on legs & back.

Now those of you who have read my past few days' blogging have seen my recent obsession with Hi-Intensity Interval Training (HIIT). Well, note to self....HIIT is not a good warmup routine for Strength Training!

I got to the gym early and hit a stationary bike to get warmed up. After about 10 minutes, I thought, "Hmmm, I can speed this up a little with some intervals, and still have time to recover before we start lifting."

Yeah, if I were 20 yrs old, maybe. But at 51, it's probably a better idea to not combine intense cardio with intense weight lifting.

Overall the session went fine, I was just a little tired going into it. But a few months ago, it probably would not have been fine....it's about the consistency. I've seen great improvements these past 3 weeks since I've been home long enough to do the ST 3x/week (Duh, winning) and the months of regular cardio and ST have helped me build a strong foundation. I'll just tone it down so that I do cardio on cardio days, ST on ST days....the two shall never again meet on the same day!

That's all for now Spark friends....good night!



First Page
1
2
3
4
5
6
7
8
9
10
11
12
13
14
15
16
17
18
19
20
21
22
23
24
25
26
27
28
29
30
31
32
33
34
35
36
37
38
39
40
41
42
43
44
45
46
47 48 49 50 51 52 53 54 55 56 57 58 59 60 61 62 63 64 65 66 67 68 69 70 71 72 73 74 75 76 77 Last Page

Get An Email Alert Each Time GETSTRONGRRR Posts