Tuesday, July 12, 2011
Well I can resist anything but temptation....and peer pressure.

So there are actually more people I know at this conference than I expected, some folks I haven't seen in quite a long time....and when we get together, as hard as we are at it during the day, we revert back to some juvenile state when we're all together.

So instead of coming back to my room, working out, and eating in like I planned, we piled in our cars and went to a nice Mexican joint in downtown San Antonio.

Smartly, I volunteered to be the designated driver, and watched them drink up beers and margaritas all night, but I kept right up there gulping down big 24 oz glasses of water as we snacked on tortilla chips and some wickedly spicy salsa.

I also opted for a nice big bowl of tortilla soup for dinner which was perfect....a nice clear chicken broth, with jalapenos, avocado, chunks of chicken breast, cilantro, and some tomatoes (no cheese). My slightly inebriated peers tried to steal it away from me, especially when their sauce and cheese-laden enchiladas, burritos, and chile rellenos arrived. "Back off you monkeys, the soup is mine and so are the car keys....let me know how you feel when you're done eating that slop ¡Buen provecho!"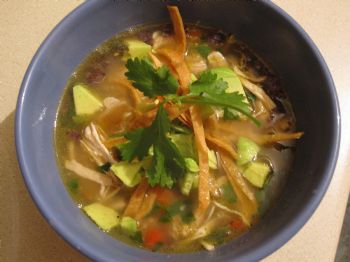 So all told, I stayed within my calorie limits today...minus my workout. I'll see about getting one in early tomorrow AM....apparently, we're going to be working till pretty late tomorrow night, so I might not get time in the afternoon.

That's all for tonight....buenas noches Spark amigos!