| | |
| --- | --- |
| | GETSTRONGRRR's Recent Blog Entries |




Tuesday, July 12, 2011
Well I can resist anything but temptation....and peer pressure.

So there are actually more people I know at this conference than I expected, some folks I haven't seen in quite a long time....and when we get together, as hard as we are at it during the day, we revert back to some juvenile state when we're all together.

So instead of coming back to my room, working out, and eating in like I planned, we piled in our cars and went to a nice Mexican joint in downtown San Antonio.

Smartly, I volunteered to be the designated driver, and watched them drink up beers and margaritas all night, but I kept right up there gulping down big 24 oz glasses of water as we snacked on tortilla chips and some wickedly spicy salsa.

I also opted for a nice big bowl of tortilla soup for dinner which was perfect....a nice clear chicken broth, with jalapenos, avocado, chunks of chicken breast, cilantro, and some tomatoes (no cheese). My slightly inebriated peers tried to steal it away from me, especially when their sauce and cheese-laden enchiladas, burritos, and chile rellenos arrived. "Back off you monkeys, the soup is mine and so are the car keys....let me know how you feel when you're done eating that slop ¡Buen provecho!"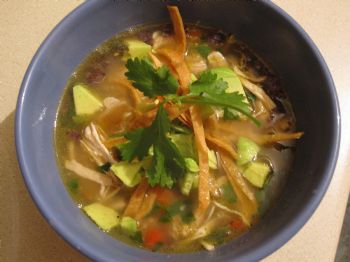 So all told, I stayed within my calorie limits today...minus my workout. I'll see about getting one in early tomorrow AM....apparently, we're going to be working till pretty late tomorrow night, so I might not get time in the afternoon.

That's all for tonight....buenas noches Spark amigos!





Monday, July 11, 2011
Well I walked out the door of the San Antonio airport and felt like I had crawled into a convection oven!

It was a 104 and humid! What is up with that?!? I could barely remember my name let alone the Alamo.

Anyway, I made it here on time, which is fairly uncommon during these summer travel months. Stopped off at the grocery store to get some vittles (I only know a handful of the folks here at this conference, so I'm avoiding the restaurants & socials, opting to work out and eat in the room). I've grown to like these Lean Cuisine Market Creation meals in a pouch (Shrimp scampi, garlic chicken) they're all under 300 calories. I nuke it up, then add some Green Giant veggies in there, and I get a nice tasting meal for around 400 calories. Grabbed a couple of Fage yogurts, some fruit, and a six pack of water, so that should get me through Thursday night.

By the time I was settled in the room, the "I don't feel like going to the gym" tape started playing in my brain. So I just let it. I unpacked my clothes, stored the food in the fridge, setup my laptop, and heard the familiar melodies; "it's been a long day, you can get up early and workout in the morning, it's too hot, the gym's too far....and the final straw....Hey nuking up dinner would taste real good right about now!"

Yeah, yeah, yeah, yeah, yeah....I looked at myself in the bathroom mirror and said, "work for your food dammit!"

That got me over the top. I suited up, strapped on the heart rate monitor and made the 5 minute drive to the gym (It wasn't really that far....my lazy side feels anything that is not across the street is too far). When I was done 45 minutes later, I felt just right with the world and was very glad I didn't have to bear the guilt of not working out.

That's all for tonight Spark friends....good night!




Sunday, July 10, 2011
OK, so I'm pushing the literary allusion meter a little to hard with the title, but I'm home just long enough to do some laundry, ride the bike, get in a blog entry or 2, and re-pack, so I winged it

I was in Albuquerque Thursday & Friday. The trip went well, especially when I was able to convince my team out there that if we went to out to dinner, it had to be at a good place, which doesn't necessarily equate to a restaurant that heaps 2000-calories on an oversized plate. Last time I was there, we went to a place called Saidie's. Good food, but even the waiter kept bragging about how they purposefully give you more on your plate than you can eat.....I didn't need any of that!

So they picked El Bruno's Restaurante y Cantina where I had a wonderful grilled trout with sauteed spinach and I bought the crowd a guacamole appetizer which the nicely skilled waitress made right there at our table....kind of like a New Mexican Benihana.

It's amazing how my thinking has changed from "more is better; buttery, sauce-covered dishes are the good things on the menu; yes, add some extra cheese please". Now I'm looking for calorie counts, "clean" protein, dishes "unplugged" from sauces, cheeses, gravies and the like.

But it was barely 6-months ago that I was like the 20- and 30-somethings I went out to dinner with in ABQ (not the 20- 30-somethingness as much as the "get all the food you can for your money when you go out to eat" mentality). It's a good and welcome change.

All that being said, I'm back on the road Monday. Off to San Antonio tomorrow, fly from there to Vegas on Thursday, 2 days there, then back home Saturday. But what I'm really excited about is our vacation out to Santa Fe at the end of the month!

I'm still waiting to finalize our whole itinerary, but I got a bead on some good deals in town. Now SWMBO and I like to sample local foods when we travel and we love hot & spicy, so we're looking forward to some nice finds there. Which all means I need to make firm plans to workout....can't leave it to chance

So I'm renting a road bike for the week!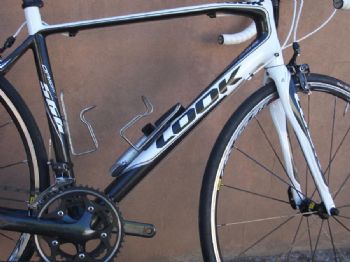 This will work out perfectly,,,,the first real payoff from the travel agent I hired. She suggested it and found this place for me after I told her my concerns. So now, while SWMBO is off getting her Aloe Vera Body Wraps and Desert Fusion Essential Oil massages, I'll go cruise around town on a nice carbon-framed bike....without the 95% Florida humidity I've had to deal with lately. (Today's ride was fairly brutal...even with the wind, today was the first time I really felt sapped by the heat/humidity combo....that's what I get for riding at high noon....it really did feel like my sweat was boiling and bubbling!)

How's that for Spark living...planning workouts into a vacation package! Now we'll still do some family day hikes and such (hell I might even sign up for deep tissue massage while I'm at it.....one place even does it inside a Teepee!), but I need an aerobic outlet or I'll go mad. SWMBO is also into afternoon naps when we're on the road, so while she's catching up on her Sonoran Siesta, your spark blogger-buddy here will crank up the cadence to make sure those Sopapillas get burned off.

Well that's all for now Spark friends....tomorrow's blog will come from San Antonio!



First Page
1
2
3
4
5
6
7
8
9
10
11
12
13
14
15
16
17
18
19
20
21
22
23
24
25
26
27
28
29
30
31
32
33
34
35
36
37
38
39
40
41
42
43
44
45
46
47
48
49
50
51 52 53 54 55 56 57 58 59 60 61 62 63 64 65 66 67 68 69 70 71 72 73 74 75 76 Last Page

Get An Email Alert Each Time GETSTRONGRRR Posts