| | |
| --- | --- |
| | GETFITNLEAN's Recent Blog Entries |


Tuesday, January 15, 2008

I have not exercised in probably.........2+ years!!!!! This was the first time I have ever did an exercise class at a gym with other people. I've only ever exercised in my house, by myself, with an exercise video. I must say that having others around you makes you want to keep up with the instructor as best as you can.

The class started out with 20 minutes of cardio. I hate cardio. Always have. I have asthma and took 2 puffs of my inhaler before I left for the gym. I did find myself breathing a little heavy, but after the cardio was over I was relieved and much better. The next 20 minutes were using the exercise ball. I've had an exercise ball for 2+ years and the only time I have used it was when I was pregnant for back pain relief. Well, now I know 2 things: 1) My ball is inflated too much----it's way too big for me, so I need to deflate it some more 2) I now know some exercises to do using the ball. I've also recorded some of the moves we did from photos I've seen here in the fitness area and added that to my exercise for the day. The biggest challenge for me in using the ball, was keeping my balance. The last 20 minutes was strength training. Weights, leg lifts, wall sits (Ouch!) and stretching. I felt energized when it was over!

As I said before, this was a free class (which is going to be held again next month, and I will go to again). My plan now is to incorporate some of what I did today at home. Not so sure about the cardio though. (Did I mention I hate cardio?)

After I got my 1 yr old down for her nap, I decided to look high up on my shelf in my closet. That is where I keep some 'Goal' clothes. Jeans, jean shorts, pants I'd like to fit into. I tried them on. LOL! I'm guessing I'm probably a Size 15/16 right now because the Size 14's don't even fit me! I wouldn't know though because I practically live in loose fitting sweats all the time. I put some of the jeans in a bag on the lower shelf and am hoping within 3 months 'maybe' I'll be able to fit into those 14's. My body has changed so much after having 2 babies and right now it feels like all my weight is being carried in my stomache, butt and thighs (in that specific order too!) I also tried some bras on (I've been nursing for a year and am still nursing only at night time) and some of them I finally fit back into. Others, well, lets just say there is some overhang on the sides and I need to work on that!

So what have I learned from today:

-I can enjoy exercise if I just do exercises I enjoy and have others to do exercises with.

-I'm not happy with not being able to wear a lot of my clothes because I don;t fit into them and I would love to be able to buy some new things! (I will not buy new things at the size I am now, because I do not want to remain the size I am now 5'1/159 lbs).

-I truly need to make time for myself and may even start doing exercises once and awhile during my 1 yr old's naptime and having my 5 yr old do the exercises with me.

-Losing weight & maintaining can be done, but it takes work and dedication. The woman who taught the class is the former President of my MOMS Club.
She didn't used to be as fit as she is now. It's very impressive to see a real life person you know, transform themselves. (You always see those before and after pictures on TV and you know they've been digitized to make the person look better or the person doesn't even look like the same person!) It has given me hope to do this for myself. I know it is a long road that requires dedication, self-discipline and sacrifices, but I need to do this! I must keep the frame of mind that this time I won't give up on myself.....even if I do mess up and have a bad day now and again.

Thanks for readin!




Wednesday, January 02, 2008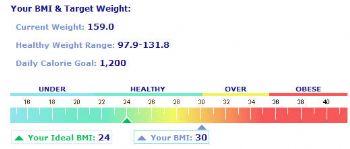 I went to http://www.biggestloserclub.com/ and entered my information and did a screenshot of my target weight & BMI. (Yeah, like I'll EVER weigh 97 lbs!)
Then, of course they try to sell you a subscription to their online club.





Wednesday, January 02, 2008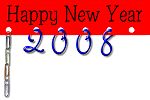 Here I am again. Another new year with some more lbs. to lose! I've been here before and only succeeded once with weight loss. And that was in my mid-20's when I was single and before I had kids. Huh, I thought it was hard then! The past 6 years I've progressively gained weight. One miscarriage, 2 children, and being a stay-at-home-mom has added to my lack of time, energy, and poor eating habits.

I keep telling myself, yes, it is a new year, but if I mess up, just to start over again and promise myself to do better. I really, really want to do this once and for all.

Here is a REMINDER LIST for myself of why I want to get this extra weight off of my body:

-have energy
-fit in clothes comfortably & look good in them
-be self-confident once again
-be a good role-model to my 2 girls (I'm very concerned about passing on my bad eating habits & lack of exercise to them; no better time to start than now to incorporate better habits in their life)
-not have to wear a Maternity bathing suit again this summer!

To start off these are things I need to remember to do DAILY:

-take my VITAMIN
-drink 8 glasses of WATER
-take 30 minutes out of the day to do some sort of EXERCISE
-be aware of what I am EATING (try to stop myself when I start 'stress' eating)
-try to go to bed EARLIER (it is very difficult to get adequate sleep with my 1 yr old being such a bad sleeper, but I must try to do the best I can to get as much sleep as possible!)

Some steps I have taken for MOTIVATION:

-joined a BUDDY TEAM here at SP (Married Life)
Team Members: MJENKINS3084 - MOTIVATOR
ANNALILLIES CHRISTINE86 GOLDER35536C
RAGE2588 SANREN

-SP EASTER CHALLENGE @ Married Life-
goal is to lose 10 lbs by March 23rd
-If I reach my Easter goal, I will reward myself with a new Spring outfit

As I've said before, I've been at this point before. A new year, being optimistic and then a month later, having it all go back to the same 'ol same old thing. Well, this year I am promising myself that even if I do mess up, I will try again to continue to eat healthier, exercise more and get back to a healthy place in my life. I realize there will be bad days.....there always is. But this time, my outlook is to look beyond the days that are not so good and focus on what I am capable of. I can do this. I have to do this for my health!
----------------------------
I drank 8 glasses of water today!!!! WoW, was I ever running to the bathroom! LOL!




Saturday, December 22, 2007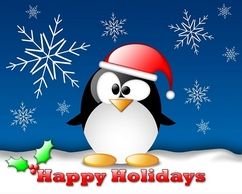 I have been so busy & stressed the past month, I haven't really bothered to come to SP to do much of anything.

My oldest daughter turned 5 on 12/13. We had a family bday party the week before, a kids party (which I had been planning & buying things for since the beginning of November) last Friday and of course after her birthday, then it's a scramble for Christmas!

So all this week I've been trying to wrap presents after the kids go to bed. They were both sick at the very beginning of the week and that changed their sleep schedule (bed later), which messed up my wrapping plans. So the past 3 nights I've been spending wrapping gifts. I'm hoping tonight is it.

Today I promised my 5 yr old daughter that we'd make chocolate chip cookies. It was the 1st time I've ever messed them up. I followed the recipe on the back of the chocolate chips and doubled it. I noticed the dough seemed to be really smooth, but didn't think too much of it. Well, the cookies spead out thin & burned. I added a bit more of baking soda to the batter, still, browning around the edges and going flat & real gooey in the center. I just covered up the batter and put it in the fridge because I am at the end of my rope. Done. I am kind of taking this as a sign that we're not supposed to have these goodies in the house anyway. I originally wasn't going to make any cookies, but my daughter said 'Santa needs chocolate chip cookies.'

Ayhow, here I am, taking some 'me' time on my laptop before my 1 yr old wakes up from her nap. (Ahhh, there she is now....end of 'me' time.)

I am nowhere near eating healthier, and that is what I wanted to work on over th epast month. ITnstead, I'm stressed, have stomache troubles here of late, and binge eating. It's just terrible. I saw a picture taken of me at my daughter's birthdya party and I just want to crawl under a rock because it makes me sad and angry to know that is truly what I look like right now.

I'm starting to think maybe I'll start the gym in February instead of January. I don't know. What do you all think I should do? I want to at least be drinking more water and eating better before I start the whole gym thing.

I will try to blog a bit before Christmas. I think I need to type out my feelings to help me deal with my issues. Thanks for reading today.





Monday, November 05, 2007

I have been really trying to drink more water. I had no problem drinking water when I was pregnant or when I nursed more than I do now. Over the past few days the most I've been able to drink is 3 glasses, but the glasses I drink out of are 16 oz glasses, so that's pretty good right?

Today I did a lot of cleaning & straightening up around the house. My eating habits weren't great (to say the least), but I am not giving up on this. I need to lose weight and get healthy! And I am getting a sore throat now......so I am about to drink a cup of tea with some honey in it to soothe my throat before bedtime :)



First Page
1
2
3
4
5
6
7
8
9
10
11
12
13
14
15
16
17
18
19
20
21
22
23
24
25
26
27
28
29
30
31
32
33
34 35 Last Page

Get An Email Alert Each Time GETFITNLEAN Posts