| | |
| --- | --- |
| | GENESIS2012's Recent Blog Entries |


Sunday, July 14, 2013
First, I have to tell you all that I had over 200 responses to my last two blogs: "In Memory of Trixie" and "So Much More Than A Diet." Although I began trying to answer each person who commented on these blogs individually, I soon found it impossible to keep up with the responses. Therefore, I decided to write this blog to tell everyone how absolutely wonderful you all are! All the things I stated in my "So Much More Than A Diet" blog were reinforced by your outpouring of compassion and support when I had to put my dog, Trixie, down after 15 years of memories with her.



I was so heartbroken that I was beyond tears. Several people sent me Rainbow Goodies and told me about the poem The Rainbow Bridge, where our dear pet companions play and romp - and wait for us to join them when our life is over. I had never heard about the Rainbow Bridge before and it gave me a feeling of peace when I read it. So many others expressed their empathy with kind words and thoughts - many of you knew what I was going through because you had experienced the loss of a beloved pet, or had to make that terrible decision to take them out of the pain and suffering they were in. Reading all these responses, I started to understand that I wasn't alone. I had friends, and they understood what I was feeling. It really helped me get through those awful first few days when I was beside myself with sadness and, yes, guilt. Even though I knew keeping Trixie alive with drugs would be selfish and wrong, I felt like I had betrayed her. Even though I had been fighting to keep her alive since last November, I knew that all the drugs did was keep her breathing - but, in truth, she had no life any longer. I knew I released her but it hurt sooooooo much.



Many people, including my Vet, told me to go and get another doggie right away and not wait. I didn't think I could do that. I hung Trixie's collar and leash on the hook by the front door where her leash always hung. I kept looking at them hanging there and I would cry so, finally, after 4 days, I took them down and put them away in a cupboard in the garage. The house just seemed empty to me. I found myself looking at the spot where her bed used to be in the living room. There was a time she would jump up from her bed and come running to greet us when we came home from being out. Toward the end, we had to gently shake her to wake her up when we came home, because she couldn't hear us come when we came into the house.

This week, DH and I both felt the loneliness of walking into this empty house. I started looking at the dogs available for adoption at the local shelters. If I ever got another dog, I was going to get a shelter dog - one who needed a home and love. The first time I pulled up the dogs for adoption, I cried and had to get off the computer. I looked again the next day, and the day after that. Then today, 7 days after we kissed our sweet baby goodbye, we decided to go over to Pet Smart after church because they have adoptions there on Sundays. We weren't going to adopt a dog - we were just going to look. We walked over to the penned in area and this adorable little girl trotted over to us and stood on her rear legs to be picked up. I picked her up and - you guessed it.



Polly is now the newest member of our household. She is a darling Apple-Faced Chihuahua - 2 yrs. old - and a totally loveable little baby. I cried right in the Pet Smart when I picked her up. I was totally overwhelmed. Polly will not replace Trixie in my heart, but I have enough room in there for Polly to have her own special place right beside Trixie's.

Right now, Polly is laying down next to me as I sit in the recliner writing this. I think Trixie is looking down on us from the Rainbow Bridge and smiling that Puggy smile of hers. I believe she's happy that I have a new friend and companion to fill that empty hole in my heart that losing her left. Trixie will never be replaced or forgotten, but I can dry my tears now and give Polly the love she never had before. I'm so glad we were able to get Polly out of the shelter and into a loving home.

Thank you - each and every one of you for helping me get through the worst week I can remember in a long, long time Spark People are the BEST! I'll be posting photos of Polly soon!



from Trixie, Polly and Carol





Monday, July 08, 2013
July 8th will always be a day I remember because today I lost my Pug, Trixie - my friend, my companion and my loyal doggie of 15 years. Sadly, I had to make the decision whether to let her continue with her pain or let her go.



Trixie was over 100 years old in dog years but she'll always be that 10 week old puppy I brought home in October 1998. Her once black muzzle was totally gray. Her springy gait had been replaced by an arthritic limp and legs that slid out from under her as she tried to negotiate her way to the door to go out. I can remember how excited she used to get when I put on her leash and said "out!" Now she couldn't get excited because she couldn't hear me when I called to her. She would be walking beside me toward the door and would walk into a wall or a piece of furniture. Many times she would fall onto the porch because she could no longer negotiate the small step down from the front door to the porch. Trixie was a dog who would wait for you to get home to go potty - even if you were gone for 12 hours. Never would she mess in the house. Now here she was unable to control her bowels and so foggy from doggie dementia that she didn't know what she had done. Trixie was almost blind; just about 100% deaf; had lost almost all her sense of smell and only got up from her dog bed to eat. She slept and ate and had no control over anything anymore. She was leading a life without any quality left in it, and she deserved better So, today, I made the hardest decision I ever had to make. My Vet, who is not one to take putting a dog to sleep lightly, told me I made the right decision - that it was the time to end her suffering and let her go.

I stayed with Trixie until they put the IV that would deliver the twilight sleep into her before that final injection. I kissed her and hugged her and left the room in tears. My husband stayed with her through the process and came out of the room with tears in his eyes, along with my Vet. We all hugged and I cried some more, and we left. My husband said Trixie fell into a deep sleep before the final injection was even given, He said she died so peacefully and so quickly, it was like she was waiting to be free of her struggles in this life. I will be getting her ashes in about a week and I think I will bury them in my garden. I have a ceramic Pug head with a hook next to my front door where Trixie's leash always hung. Her leash and collar are hanging there now as a memorial to my beloved little doggie who stood by me through thick and thin and, at times, when no one else was there for me. I think God has a place for these dear little angels and I know my little angel is there now. Rest in Peace, Trixie.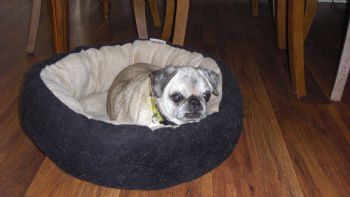 Thursday, June 27, 2013
There's an old saying, "You never miss the water 'til the well runs dry." I can attest to the truth of this because, while I did exercise, I never liked it much, or looked forward to it. Then I fell on my back and, over a period of time, I started having more and more lower back, leg and hip pain on my right side. I have almost no range of motion in my right hip and I can't get up and down off the floor without something to hold onto as I lower myself, and hold onto as I pull myself back up. About the only exercise I can get is a limited amount of walking. Things I used to take for granted: hiking; long shopping days with my friends; getting on my hands and knees to really scrub the kitchen floor - those are all thing of the past. Lately, you can find me picking up things on the floor with my "Grabber" and walking my little dog with my big old hiking stick as support for my aching back and leg. I would give anything to be able to walk on the treadmill or the track again - to go shopping without being near tears driving home because the pain is so bad. Yes, that old saying is very true - I miss terribly what I once looked at as a chore.



I have an appointment this weekend with a chiropractor who comes very highly recommended to me by someone I trust, and I am praying that I will be able to get back to "normal" with the right plan of recovery. I am always hopeful and I like to look at my glass as being "half full" - no matter what. So, I'm going to do what I have to do and if and when the day comes that I can go on a 3 mile hike again, I'm not going to look at it as a chore but, rather, as a blessing.



Let's never lose sight of those blessings in disguise that are ours - and that can be taken away in the blink of an eye.







Saturday, June 15, 2013
It's been a while since I wrote a Blog Entry but I felt the time was right to express some thoughts about my life as a Spark People member. Over the years I've been on Spark, I have made a lot of friends. I have seen people come and go and I, myself, have dropped off the radar for periods of time - depending on what was going on in my life. The thing that amazes me is that I always find my way back and, when I do, I make some new friends as well as reconnecting with some old friends. It has been a comfort to me to know there are all these wonderful people out there who share my happiness; my worry; my sadness; my pain and always know just what to say to support me and let me know I'm not alone. Recently I've been having some problems with my little dog's health and have been worried that I may, one day soon, be faced with making a decision regarding her life. She is very old - 15 years in real time and well over 100 according to my Vet. I wrote about my sadness and got so much support and so much comfort from my Spark Friends: these wonderful people who I have never met in person - and probably never will. Yet, they were there for me - even when people I see every day didn't really understand what I was feeling. As it turned out, my dog is doing much better and I am just going to enjoy her for as long as I have her.

My hope is that I have been there for my Spark Friends when they've needed that person to share with and find some support and comfort from. When I joined Spark People years ago, I thought I would get support on my diet and health goals and interact with people like myself who are dealing with weight issues. What I got was much, much more. Spark People are about health and nutrition, but they are also about "people" and all the things that shape us and make us who and what we are, and who and what we strive to be. I'm a Believer and I truly believe that the Lord led me to Spark People for more than just diet support. I am very thankful for this place where I can just be me and know that I will be accepted and never mocked or ridiculed. The weight loss I've had is like the cherry on top of the friendship sundae I've enjoyed here!





Saturday, November 10, 2012
Yesterday, my DH and I experienced a miracle. A nodule that was seen by Pt-scan in my hubby's left lung was to be biopsied to see if it was cancer. That is scary enough but, in this case, DH is a 5 yr. lung cancer survivor. He also had a battle with cancer in some lymph nodes 2 years ago. So, just based on his history, we were concerned when the Pt-scan was ordered as a follow-up to a Ct-scan. A few days after the Pt-scan we received a call from his pulmonologist asking us to come into his office to go over the results of the scan. At that meeting, this doctor informed us that there were three areas of cancer showing on the scan and that in his experience this kind of cancer was terminal. We were sickened by this news, but we decided to keep praying and go on with our lives. I immediately contacted all my friends and relatives and requested that they pray for us. A couple of days later, DH got a call and a biopsy was scheduled for yesterday, Friday, November 9. We arrived at the hospital and after they got DH settled in the pre-op area, the doctor who does the biopsies came in to talk to us. He painted a rather different picture then the one the pulmonologist had painted for us. This doctor - who is a radiation oncologist - said that the three areas were not significant because they were "defused" - meaning they had no solidity or substance. He said an infection in your system can cause that to light up on a Pt-scan, as can various other things. What he said they were concerned about was "the nodule" they saw on the Pt-scan in the top lobe of his left lung. The doctor said it could be a benign nodule but with DH's history, they have to check to see if it is cancer. Needless to say, we were somewhat relieved because we had some hope now that we didn't have before. A short while later, DH was taken into the room for the procedure and I went and sat in the waiting room, reading a book. What I think was about 25 min. later, I felt a tap on my shoulder - I say 25 min. but it could have been 35-40 min. later because time was not even in my consciousness during this whole ordeal. I turned to see who was tapping me on the shoulder and it was my husband - standing there! I must have just looked at him in disbelief with my mouth open because people in the waiting room started laughing. He told me they put him on the CT machine and were getting ready to give him some anesthesia when the doctor told them to stop proceeding. The doctor looked up and said, "I can't do the biopsy because there is nothing there for me to stick the needle in to!" The nodule was gone!

For all my dear Spark Friends who were praying for us and who had their church congregations praying for us, I want to say 'THANK YOU FROM THE BOTTOM OF MY HEART!" DH and I believe this was a miracle. It was there - we saw the scan - and it was gone 2 weeks later! You hear about things like this but until it happens to you, you cannot know how it impacts you. I left that hospital in a state I can only describe as sleep-walking. I was in awe of the blessing we received. I have always believed in the power of prayer - even when the outcome is not what we would want - because we are heard and we are not abandoned - no matter what the outcome.

I read this work of Helen Steiner Rice this morning and I wanted to share it with my friends:

We Can't ....but God Can!

Why things happen as they do
We do not always know,
And we cannot always fathom
Why our spirits sink so low....
We flounder in our dark distress,
We are wavering and unstable,
But when we're most inadequate
The Lord God's always able...
For though we are incapable,
God's powerful and great,
And there's no darkness of the mind
That God can't penetrate...
And all that is required of us
Whenever things so wrong
Is to trust in God implicitly
With a faith that's deep and strong,
And while He may not instantly
Unravel all the strands
Of the tangled thoughts that trouble us -
He completely understands...
And in His time, if we have faith,
He will gradually restore
The brightness to our spirit
That we've been longing for...
So remember, there's no cloud too dark
For God's light to penetrate
If we keep on believing
And have faith enough to wait!


Carol





1 2 3 4 Last Page

Get An Email Alert Each Time GENESIS2012 Posts