| | |
| --- | --- |
| | GEMLADYONE's Recent Blog Entries |


Sunday, March 16, 2014
The 5% challenges are a fun way to meet new friends, learn how to incorporate healthy habits into your lifestyle, and lose weight.

Team members will work towards losing 5% of their starting weight in 8 weeks by participating in team challenges that focus on exercise & healthy lifestyle habits.

The upcoming Spring challenge starts in a few weeks, and it will be my 6th one. I've found the 5% challenges to be a great way to stay motivated as well as learn tips and tricks on healthy living from others.

Are you up for the challenge??

All you need to do is click the link below and join the Spring 5% Challenge team. In that team, you'll find all the information about how the challenge works, etc.
www.sparkpeople.com/myspark/groups_i
ndividual.asp?gid=62656

During the open signup period, there will be pre-work assignments (goal setting, etc.) that you will complete before the challenge starts. After the signup period, you'll be invited to join a team that you will join to compete in the challenge. The individual teams are private, so what you post there cannot be seen by anyone not a member of that team.

We compete by traveling virtually all over the world. Our starting point for the Spring challenge is Mumbai, India (our finishing point from the Winter challenge). I hope to see you there!





Sunday, February 02, 2014
On our New Mexico trip last week, we went for a hike / climb at a place called Tent Rocks. This was a redemption hike for me. Two years ago we were there also in winter and went to Tent Rocks with the family to hike the canyon and climb to the top, but I could not physically do it and had to wait part way up for the rest of them to go to the top and return. That was not a good feeling...embarrassing at the least. So, last week we did it. It's not a long hike, about 2.5 miles round trip with a climb at the end of about 700 feet, and I did it easily!

First the trail goes through a slot canyon, which I think is really neat. It is shaded from the sun which is nice in summer but made it cold in January. Here's a look:


The slot gets a little narrow in places but not uncomfortably so: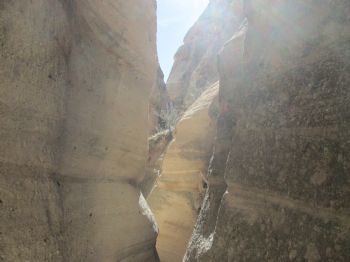 The site is called Tent Rocks after these rather unique rock formations that resemble tents from the erosion of the softer layers under the hard cap stones. These are some of the "tents":

After the slot canyon, the trail starts to climb and is quite steep for the last bit: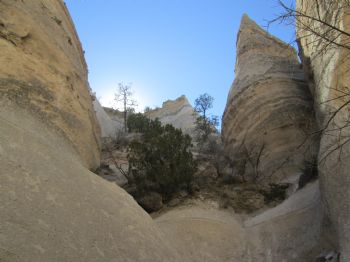 This is about where I had to stop 2 years ago....but not this year! On to the top!

Here at the top, the view is fabulous (and it was hot after the climb...I'm cooling off in this pic: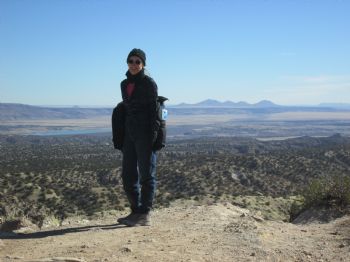 It was a beautiful day and I love sitting up there and just enjoying the view and listening to the silence...no cars, engine sounds of any kind, no people, etc. Fabulous. You can see Santa Fe and Albuquerque from there. (The white on the mountains in the distance is the ski area at Santa Fe where we skied the day before):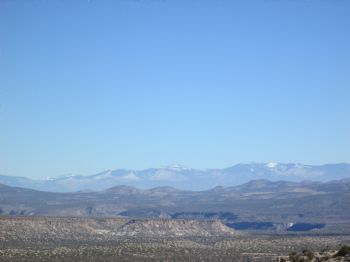 The mountain in the background in this one is Sandia near Albuqurque: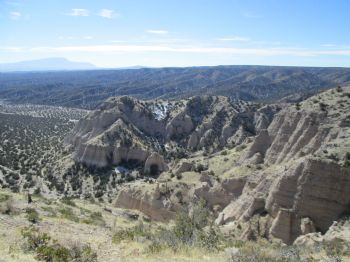 You can also get a good view of the tent rocks and the canyon climbed on the way up: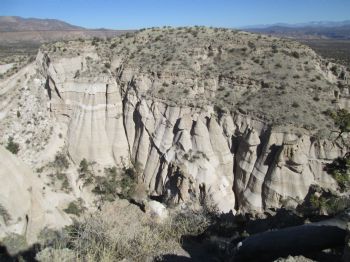 I really love the high desert. It has a beauty that is ever changing and never looks the same. The pictures don't do it justice, but hopefully can give an idea of the attraction of this area of the country.

It was very gratifying to be able to enjoy this day as I wanted to...to be healthy and fit enough to make the hike and climb without any problem. The elevation at the car park is 5500 ft and 6400 ft at the top (according to my Garmin watch). Later that same day we hiked another 8 miles or so across the mesas....just because!






Friday, January 10, 2014
During December 2013, I reached final goal weight after a year of religious tracking, staying in range, and exercising. It all paid off! I posted a blog a couple of weeks ago summarizing my journey in 2013: www.sparkpeople.com/mypage_public_jo
urnal_individual.asp?blog_id=5574967 Check it out if you haven't seen it as it tells more about what that journey accomplished and more importantly how it worked.

Now I want to share some "before" and "after" pictures with you all. Most of you know that my husband and I set out on this journey together and that made it much easier for both of us. Together we changed our lives, one step at a time, encouraging each other and finding ways to make a healthier lifestyle fit.

The catalyst that made us say "enough is too much" and make a commitment to do something about our weight and our health was looking at pictures from a cruise that we took at the end of November 2012. So, take a look at our hall of shame......
Here's one pic of us from that trip: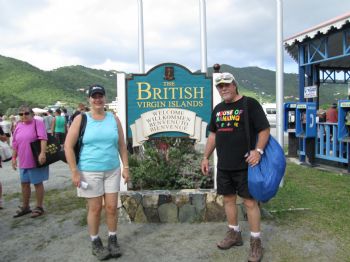 And here is the worst one (I think) taken on the beach from the same trip:



Now, for some pictures that I'm happy to share…these are all from New Year's Eve 2013. In the first, we were setting out for a run before heading off for our evening festivities: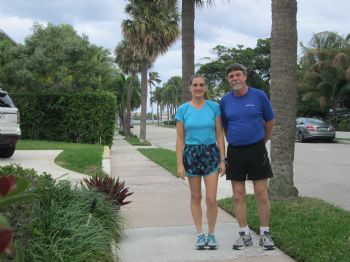 And the second one later that evening: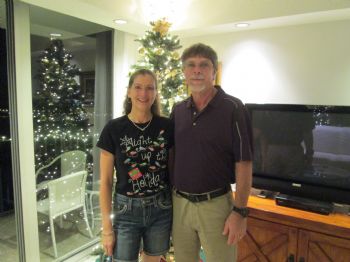 And finally I just like this one just because we look so happy…and we are!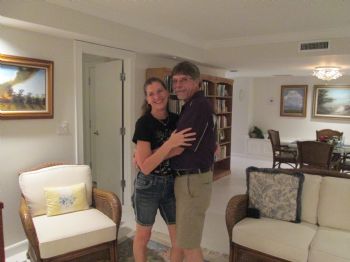 Now, our challenge is to learn how to successfully maintain....I'm NEVER going back, and we WILL do this! 2014 will be even better than 2013!







Sunday, December 29, 2013
This month marks the one year anniversary of my return to Spark People and a commitment to do it right this time. I reached final goal this month and have transitioned to maintenance, so I wanted to recap the year's progress. Anyone can do this, so I hope that maybe my story will encourage someone who is still thinking about doing it (as I was for 5 years previously).

Here's what SP helped me do in 2013 (by the numbers):

Weight: 193 lbs to 120 lbs – shed 73 lbs (38%) !
BMI: 31.2 (obese) to 19.4 (healthy) !
Body Fat: 39.3% to 19.3% - cut in half !



Chest: (8.0 in)
Waist: (13.5 in)
Hips: (9.5 in)
Thigh: (5.0 in)
Neck: (1.75 in)
Arm: (3.5 in)
Total lost: (41) inches !!

In 2013 I've logged over 3,000,000 steps and 1500 miles according to my Fitbit (which I love).

I've gone from a size 16 pants to size 4 and from XL tops to medium or small. My shoes fit once again (who knew your feet get fat too, LOL!). My rings and watches had to be sized down (twice during the year!)

But the best things aren't really shown in the "numbers", and honestly I saw many of these well before I got to final goal. Seeing how just a bit of progress improved my life was so important to keeping me motivated and determined to stay on track throughout the year. Here are some of the simple things that last year were impossible for me and that I now rejoice in:
• I can run and play with my grandsons (they get tired before I do!)
• Last year, I couldn't walk a mile without being tired, with my feet hurting and wanting to rest. This year, I ran a 5K race in April (after only 4 months) and a 10K in December. In training I have done a half marathon distance, and have a 10 miler race scheduled for March 2014. I'm slower than a lot of people but I can finish and it feels good! I want to mention here that I've never run before in my life, and it was SP articles that gave me the idea and a dear Spark friend, (thanks GWINNER1), who convinced me that yes, at 49 years old and 190 pounds, I could start!
• I now regularly find that I've walked 10 or 15 miles in a day without even realizing it!
• On vacations in the mountains, I can hike any trail up or down, and any distance I want. I'm limited only by how much food and water I can carry and the daylight…woo hoo!
• I can go up 5 flights of stairs in my office (without stopping twice or more to rest), and can actually breathe normally when I get to the top!
• I spend a lot less money on food, and actually eat a lot more than I did before I learned how to change my diet.
• I don't have to find excuses to not do the things I really want to just because I'm afraid I just can't do them. I can walk any distance, and can go all day.
• I feel strong and confident in myself.
• I can do anything now!!

I've often been asked in the last 6 months by friends and co-workers "how did you do it"? The bottom line is that it is simple, but not easy. I started with a commitment and some small goals (that weren't easy in the beginning) and kept adding new ones while learning how to make adjustments to my lifestyle to fit them all in. The SP plan gave me all the tools and information I needed both to start and to continue to progress along the path.

So, here's the big secret of how to do it:



All I did was make a decision that I wanted to start improving my diet and fitness. That's it! I made tracking an absolute priority and set goals and schedules for myself that I could reach most of the time, adjusting them from time to time as I progressed. I'm not always at goal, but I always am honest about what I did manage to do. The quick start goals were a help in the beginning (drink water, get enough sleep, eat freggies, and track, track, track. The 5% challenges were a big part of keeping me accountable for meeting my goals during 2013, and I think they are an excellent way to learn to incorporate new healthy habits into your lifestyle.

I have tracked all my food every day without fail for the entire year. (This is the ONE thing I made non-negotiable for myself). In the beginning the goal was to find ways to stay in the SP recommended calorie range, and it wasn't easy, nor did I manage it every day until I learned to make adjustments. Later I worked to also be in range for carbs, fat, protein and fiber. With all in balance, I find that everything works better. I had to figure out how to do it and still have the things I really wanted (ice cream most nights, etc.) and how to manage it while traveling for business (not easy but with some planning and creativity it CAN be done so no more excuses).

For fitness, I started tracking steps and other activities and set schedules and goals as I progressed. My step goal in January was 5,000 per day and I didn't make it every day. Now it's 10,000 per day and there are still days I'm short, but having a goal and working to get there each day is important. If you do it perfectly every day, it's time to move it up! For me it was important to incorporate exercises that I can so at home, take when I travel and do anywhere (hotel rooms, a guest room when visiting, etc.) I used Zumba DVD's and SP videos in the beginning along with walking and later on added running and a more comprehensive ST program that is nearly equipment free. You don't need a gym membership or expensive machines to get and stay fit, there are lots of options available at little or no cost!

So, what's next? My 2014 will be all about maintenance and enjoying life. I'll keep tracking (it's now a habit anyway) and stay in my new maintenance nutrition ranges. I have 2 races scheduled so far for 2014. I'll stay active with the 5% challenges as a maintainer and will continue as the challenge leader of the Awesome A team, at least for the upcoming Winter challenge. I've changed my lifestyle and will never go back to where I was!



So, do you want to get healthier, lose weight, and be able to do what you want in life? A great quote from Coach Nancy says "Don't waste your time with 'could've', 'would've' or 'should've'. Focus on 'can,' 'will,' and 'do.'"

What are you waiting for?! SP gives you all the tools you need and 2014 can be your year!






Saturday, November 09, 2013
Today is the halfway point of the 8 week Fall 5% Challenge and for me it's measurement day, and time for a goal check.

Here's how the first 4 weeks have gone for me by the numbers:
Weight: (8.3 lbs) (6.1%)
Chest: (2.5 in)
Waist: (2.0 in)
Hips: (1.0 in)
Thigh: (0.5 in)
Neck: --
Arm: --
Total Inches lost: (6.0 in)
Waist to Hip Ratio: (0.05) I'm finally a pear !! So sick of being an avocado, so this is a big



My overall goals for the 8 weeks of the challenge were:
1. Get to final goal weight (loss of 10.4 lbs or 7.7%)
2. Complete training for and run in my first 10K race (December 6)


At the halfway point, I'm on track to meet those goals, and committed to keep pushing through to the end!



I want to thank all my

A team members for keeping me accountable to my goals, and for the support and encouragement to keep going.





1 2 3 4 5 6 7 Last Page

Get An Email Alert Each Time GEMLADYONE Posts