| | |
| --- | --- |
| | GEMINIAN1's Recent Blog Entries |


Sunday, January 29, 2012

"Outfits Re-Visited"




Well hello there, fancy meeting you here.

When my husband, Charles, arrived home, on the night of Thursday, January 26, 2012, I asked him if he would take pictures of me (real quick, before a dinner of: deer steaks, skillet fried in butter, with steamed vegetables) in outfits that I knew I had previous pictures of me, in the same outfit.




I took the time to dig up the old photos, today; so, lock and load.





- 9/2006 - 30 Years Old -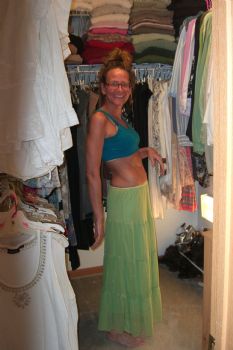 - 1/26/2012 - 35 Years Old -
The waist is the same as my ¾ Jeans, UN-stretched out.
GO ELASTIC!!!
I have been a Size ¾ since ... August, 2011.
I do like this green and gold skirt.




- 5/12/2007 - 30 Years Old -
(Not that it matters; just want to share.
This is at my first house; now, my Rental Property.)
Also, the plant died; wah wah wah [sad trombone].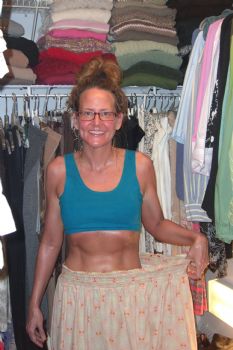 - 1/26/2012 - 35 Years Old -
I wore this skirt … a lot; it was even coined, 'My House Skirt' because I'd change into it when I got home.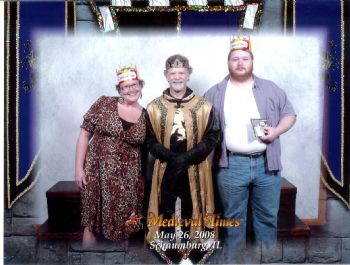 - 5/26/2008 - 32 Years Old -
OMG. I don't even recognize my husband there. Wow. What the what? What is happening?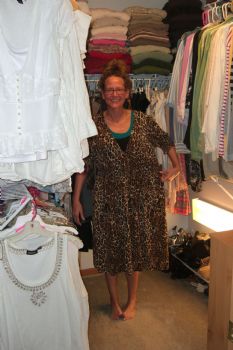 - 1/26/2012 - 35 Years Old -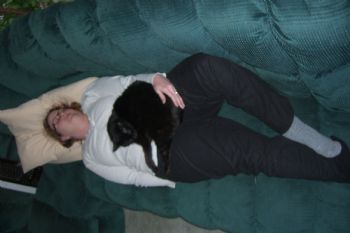 - 2/27/2010 - 33 Years Old -
(In 2009 I lost 40 pounds-ish.)
I am taking a cat nap with Greta.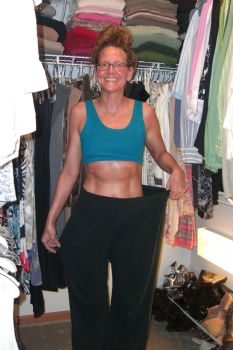 - 1/26/2012 - 35 Years Old -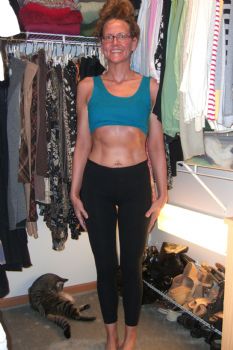 - 1/26/2012 - 35 Years Old -


I hope to continue to maintain my progress, like I have been since August 2011, and to pack on muscle.
My Thirty-Sixth Year is coming up here in May.

With your support, I feel like I can continue.
Even on the days when I don't feel like it.
You touch my heart everyday.
I feel like I cannot thank you enough.

Thank you for taking the time to stop by.
I really, really appreciate you. Know that.













Wednesday, January 18, 2012
Measurements … Dec. 2010 – Dec. 2011 …


Prior to becoming a Spark Member, I lost 40 Pounds; so, very unfortunately, I do NOT have my "starting starting" Measurements.







However, I do have Measurements from 5 days AFTER starting Spark.


+

+

+

+

+

+

+

+

+

+

+

=



Friday, December 31, 2010 to
Tuesday, December 27, 2011
-9" = Waist
-9" = Hips
-13" = Thighs (-6.5" * 2)
-10" = Upper Arms (-5" * 2)
-1" = Neck


9" + 9" + 13" + 10" + 1" = 42 Total Inches Lost
(Charles is down 44.5" Total)




I am writing my, "2012 Take Measurements Plan" down here, as a reminder that I want to "make it happen" …

I will measure: The Last Saturday of Every Month
(verses 3 times: December '10; June '11; December '11)


I hope that I have passed on:
The Baton of Spark, Measure Yourself, Motivation








Do you already have a: Set Measure Schedule?





Tuesday, December 06, 2011

Good Day Everybody!


Back-Story ("Cliff Notes" for 6 years, I could write a novel) …

I had a Root Canal extracted, in '05; the surgeon "left stuff behind".
It wreaked havoc on my body and still, somewhat, is … to this day.
The, amazing, human body was able to heal "to a certain point" over the years; but, I have to get the stuff out of there, if I want to heal my body the rest of the way.
There are no pills, or whatever, "surgery to fix surgery" is the answer.

In September I found this out with absolute certainty; scientific fact.
However, I knew it, in my: heart, mind, and soul, for all of these years; from about 2 weeks after the surgery, in '05, that something was majorly wrong. The list of Severe Symptoms (incontinence, rashes) I was experiencing, for months, was running 19 long.
Now it's 4-ish.

You guys have no idea how much I'm kicking myself for believing (and staying loyal to) my Dentist telling me, "Oh, there's no way 'it's' connected."

Have you ever trusted a Doctor and then later regretted it?


… finally … fruition … six 'n' a half long years later …

After over a month of appointments and phone consultations I found an Oral Surgeon, and scheduled surgery, on 11.7.11.
3 Dentists weren't interested in, "cleaning up someone else's mess."
3 Dentists were; but, I wasn't feeling them.
(When I was interviewing them, deciding whether to hire them or not, they didn't answer one, or more, of my medical questions right.)

The seventh one was a charm; it was worth all of the searching.
The Dr. and Staff are a perfect fit for my philosophies and otherwise.


… 12.5.11 …

I'm a little nervous. The Doctor called me at 1:00 and the Anesthesiologist called me at 7:00 to see how I was feeling.
I really appreciated hearing from them both.


… 12.6.11 …

(They've had me on several supplements since 11.7.11.)

We have to wake up around 3:00AM to get to Surgery by 5:45.
(The Practice is 2 hours away.)
They are doing:
Lymphatic Massage; Acupressure; Intravenous Vitamins; Surgery

They have On-Site Compounding.

… Sidebar …
I am also getting DNA analysis done.
(It takes the Laboratory a while to get to it.)
I am chomping at the bit to see the results!!!!
I'll probably Blog about the DNA results?

Afterwards, we're checking into one of, the five, very close hotels.
(DH is getting a room squared away, while I'm getting worked on.)
The Surgeon gave me his cell phone number; so, lock and load.


… 12.7.11 …

We check out of the hotel; I am scheduled, at a facility, for:
Another, 3 hours of an, Intravenous Vitamin Drip
An Exam for "clearance" to go into a Hyperbaric Oxygen Chamber
Hopefully, go into a Hyperbaric Oxygen Chamber, for 90 minutes

Assuming that I get "clearance", I hope to schedule additional Dives.
I would love to purchase one of their "packages".
(They told me that the Dr. that I am going to meet at the Hyperbaric facility is a "mad scientist", like the guy off of "Back To The Future". I know that I am going to love him.)


For a couple weeks, I can't:
Crunch food; bend at the waist; lift anything; raise my heart rate

I am so ready to kick 6+ years of "health limbo" to the curb!
I want Pre-2005 Diana back … bad.


That's my story, and I'm sticking to it.
I will "Current Status" when I get to the hotel, via the:
Up To The Minute Live Breaking News Friend Feed

Thank you for taking the time to stop by my Blog.
It is a pleasure and an honor to share with you.
I hope that you're doing awesome in all of your awesomeness.






1

Get An Email Alert Each Time GEMINIAN1 Posts