| | |
| --- | --- |
| | FUSCHIA6's Recent Blog Entries |


Tuesday, October 11, 2011
I felt like giving up this morning. Really, just throwing in the sweat towel. I had eaten more than half the days calories at breakfast. The scale is frozen & I felt like crap. I wondered if I should blog about it or what I should do. I decided to go to the motivation section & read until I found some of that motivation for myself. Read, I did, then I posted about all the non-scale victories on a message board, made a small, nutritious dinner & went to pilates. Someone offered me a ride home from pilates because it's raining. "No" I said, "I've already logged those 4 minutes." When I got home, of course, the dog needed a stretch. If I walked just 22 minutes more, I would be at 90 minutes for the day. I set the timer & off we went, returning in 22 minutes & 22 seconds. Now I'm feeling fantastic. What was the problem this morning?
I have been hovering at the minus 25 pounds point for about 3 months now. I have tried to be very committed this Fall challenge, but at times I have been very hungry. I'm not sure how to balance the increased exercise & my level of satiety. Right now, what I need is sleep.









By the way, when I subtracted my calories burned, from my caloric intake, I was barely over in spite of the crap breakfast.





Thursday, October 06, 2011
My brother is a retired gym teacher. There is a steep road near my house. Last year, when that brother & his family were visiting, I told him about how my friend Leslie's running club would train on that hill. They would run up to the first street light & run back to the bottom, then they would run to the second street light & back to the bottom, then they would run to the third street light, etc., etc. (I was in agony to walk to the top even once, so I generally avoided it. ) My brother said, " you could do that too, if you wanted, it would just take you a while to work up to it." I remember thinking, "ya, sure."
But, I have been regularly walking that hill. It isn't easy, but it is entirely doable. In this last week, it hasn't been enough. At the top, I have been turning & taking another road that goes about twice as far up the mountain, to the very end. I like it. I am proud of how far I can go & how far I have come. I am getting this feeling that soon, I WILL be able to do the street light thing.
Maybe, just maybe, my brother was right.

























Tuesday, October 04, 2011
I keep losing this blog! It's lucky for you as it keeps getting shorter each time!

I made 3 new vision boards today:

1. My weekly health goals: Exercise & Weight Loss for the Fall Challenge - 1.07 pounds.



2. My goals of Healthy Nutrition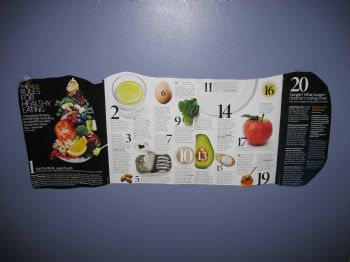 3. My goal for a Clutter Free, Organised Home. That's what I'm working on right now - chucking junk.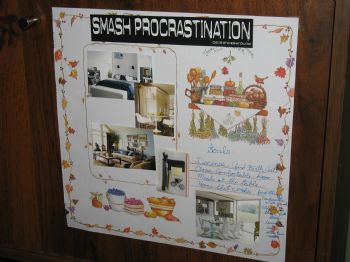 And while we are at it, here are my 3 generations of family, from a picnic in late August: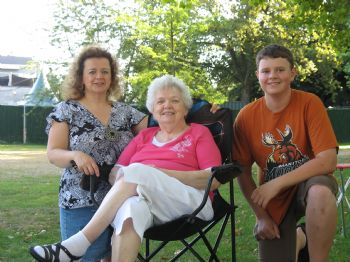 Happy Sparking Friends!















Tuesday, September 27, 2011
I've always heard that North Americans eat too much protein. Now, why is it that I have such trouble getting mine? I'm not a vegetarian. If I eat nuts, my fat goes over. What is my problem? There isn't room in the freezer for a cow.


















Monday, September 26, 2011




My book club has been together for 10 years (me, 8 I think.) They are a great bunch. My friend Deb bought a cabin a couple years back & since then, we have been thinking about having a meeting out there. Well it finally happened on Friday night.

Most members are quite health conscious (marathons, cycling vacations, etc.) so the food was quite healthy. We ate like kings with some fresh garden veggies, grilled chicken burgers, grilled corn on the cob, berries etc. We did indulge in Skinny Girl Margeritas.

We sat outside for hours & then went inside to do the book. Afterwards, at midnight, some of us (are calling me a ring leader?) encouraged the others to go for a "Skinny Dip" in the lake. Okay, so I'm still at the "Chunky Dunk" stage of my life. It was a riot.

In the morning, we ate by the fire and then went walking. When the others left, at noon, Deb asked if I wanted to have a nap. "No, lets go kayaking" and we did. Then we swam.

I certainly got my 24 points. What a fantastic time!

Next year, we'll be ready for pictures.















First Page
1
2
3
4
5
6
7 8 9 10 11 12 13 14 15 16 17 18 19 Last Page

Get An Email Alert Each Time FUSCHIA6 Posts