| | |
| --- | --- |
| | FUCHSIARASCAL's Recent Blog Entries |


Sunday, March 18, 2012
i… lost 4.3 pounds this week.

i am flabbergasted. i don't think i've ever lost that much weight in a single week, and especially not without doing lots of cardio. strength training is awesome! anyway, this makes up for the two lackluster weeks i had beforehand and brings my weight loss total to 6.5 pounds, an average of about 2 pounds a week [which is a great average! my super-hard-to-reach goal relies on losing 2 pounds a week!]. i know this week's number was big because my body was catching up to the previous weeks' efforts, just like i said it would, and i don't expect a huge loss like this every week [nor would it be healthy], but it's exciting all the same! this puts me back on track for my vaguely-defined-because-sparkpeople-made-m
e-set-one goal of being at my target weight by my birthday.

also: just 2 more pounds to go until i'm at 10% of pounds i need to lose, and i've recently never made it past the 10 pounds lost mark so that's something i'm aiming for. usually i make it to 5 pounds lost, if that, before something derails me. i've passed that and am just going to focus on the next 5 pounds. if i break it down into bits like that, it's not so intimidating.

besides that, today's my scheduled DOR which is good because I somehow managed to hurt my shoulder last night. it's just a little sore [and only when i move it one certain way], but it didn't go away with sleeping so a full day of rest will definitely help with that. ankle-wise, i've got full range of motion again but i'm still going easy on it. i just keep telling myself that the more rest i give it now, the more time i'll be able to spend running on it later. that's just barely keeping me from going out for a run in this PERFECTLY BEAUTIFUL SPRING WEATHER.

i hope everyone else's week is off to a great start!




Saturday, March 17, 2012
okay, i wrote this morning about my ankle causing yet more problems, despite being absolutely fine when i woke up and me resting it a LOT. i had this whole entry about perseverance and even though my ankle was testing my will, i was going to succeed.

well, it turned out to just be a cramp [that lasted about twenty minutes, but whatever] that went away with a little massaging. so that entry is scrapped. on the other hand, we can focus on MY BRAND NEW RUNNING SHOES!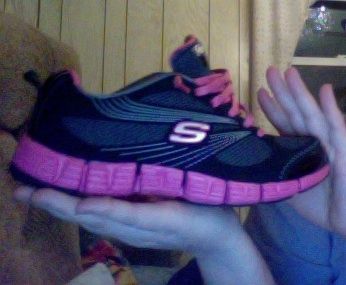 say hello to… wait, do people name their running shoes? do i care? anyway, say hello to my new shoes that will have a name at some point, possibly. i am SO excited about them, despite being wary about skecher making running shoes [apparently they're surprisingly good, from reading reviews on running blogs…]. i've never had a pair of skechers shoes, running or not, in my life, so it'll be an experiment to see how they hold up [most shoes rarely pass the three month mark with me. i'm notoriously destructive with shoes, for some reason]. also, they were only $35 [yay for my mom and her coupons!], which is a price that fits nicely into my budget [i have $100 for the foreseeable future] but… also makes me even more wary. look, i've never bought a pair of athletic shoes for under $80 that held up well. but, for $35, they seem nice enough. for all that my feet are destructive of shoes, they're not really fussy when it comes to different models. my ankle, especially, enjoyed the change from my falling-apart-and-offering-no-support-what
soever shoes. i can't wait to take them out for a proper spin… but my ankle's not up to that challenge yet.

i did do some light cardio today, and i mean *light*. burned 50 calories in a half hour. i'd say it almost wasn't even worth it, but… burning any calories is always worth it. my ankle held up through it, but i'm not going to stress it just for the sake of getting a good calorie burn. i know fully too well that that would end up with me being unable to use it for another week or more! anyway, i'm hoping that if everything goes well, i'll be able to go for a trial run [and by run, i really mean "fast walking with the occasional slow, painful jog" because it's been almost a year since i ran properly] on tuesday, before i head down to new york for some house sitting. while i'm in new york, i'll be taking care of a huge great dane/pitbull mix who's VERY energetic, so i'm sure we'll be getting lots of exercise in!

anyway, my mom dropped off wii sports last night when she came over to go shopping, so i plan on getting some boxing in on it now. that'll work up a good sweat, if i remember correctly. it was always one of my favourites!





Friday, March 16, 2012
okay, so i know that my ~official~ weigh-in isn't until sunday but unless i really screw up the next two days [and i won't!], this morning's weight has passed the five pounds lost mark. i've been having a GREAT week, despite injured ankle, and the scale's been steadily moving downward. i've been hitting all my nutrition targets, especially protein [six days in a row! this is a HUGE improvement for me!], and getting in plenty of strength training while my ankle rests. and it's definitely all paying off.

anyway, i was planning on going shopping on sunday for new workout shoes [my five pound reward, if you'll remember] but my mom said she can only go tonight, so i'm claiming an early victory over these pounds and buying new shoes tonight. after all, it's not like i don't need them. i do, desperately. so away we go! [in six hours.] hopefully i'll find a good pair and won't have to wait some more to go to another town to the store i've always gotten my shoes from in the past [i love that store but it's in the complete opposite direction of everywhere else we need to go tonight].

last night i went grocery shopping and let me tell you, if anyone feels like their weight training routine is lacking... come carry my groceries home. my arms are getting stronger and yet this was STILL a struggle. [i also think i bought heavier groceries than usual, oops.] but i *finally* managed to find quinoa at this store, so i was excited. i also stocked up on dried beans [cheaper AND lighter to carry home!] and lots of vegetables... oh yeah, and lots of tofu! i get a look from the cashier every time i bring up my six packages of tofu [well, six usually, only four yesterday because of the lack of silken tofu] but whatever.

my ankle didn't like carrying the extra weight home, but it didn't protest too loudly and seems to be fine today. so i think it's almost ready for cardio again. hopefully the new shoes will improve it further, but i'm not going to force it when it's not ready. as this week has proven, i can still lose weight without cardio exercise. i just... really miss it. AND I WANT TO START RUNNING!

okay, time to go do my strength training while i impatiently wait for the day to pass faster.

oh, and one more thing, speaking of rewards: remember how i was stuck for a 75 pound lost reward? well, i've thought of one. A NEW BIKE! i love my bike but back in chicago, i had five [three road bikes, one hybrid and one cruiser] and it was great to always have a spare [definitely came in handy when i got hit by a car and my bike was in the shop for a couple weeks]. anyway, it's probably time for this bike to get relegated to spare status and get a new bike that hasn't been beaten up by cars. or at least, to start thinking about retiring it. so i'm going to save up for a new bike as i lose these pounds. YAY I LOVE BIKES! you can never have enough, i swear.





Thursday, March 15, 2012
i had a revelation the other day: i can actually afford to eat healthy.

this shouldn't be that shocking, since i've been eating healthy for a few months now and have obviously been able to do so. but it was something that i was carefully budgeting, counting every penny in my head as i shopped. after my last trip to the grocery store, however, i realized that i've been consistently going way under budget, month after month. by that, i mean a quarter of my budget wasn't spent at the end of every month. that's a lot!

for years, living in chicago and under the poverty line, i couldn't afford to eat healthily, especially while maintaining my vegan lifestyle. although at least one of the neighborhoods i lived in could be described as a food desert, it was the city and larger grocery stores were just a few miles away. i biked past them every single day and was well familiar with them… and, unfortunately, i was also well familiar with the high prices they charged for produce and tofu, staples to balanced vegan diets.

there was one summer where i literally lived solely off of black beans and rice. that's it, for three months. that's all i could afford to buy. it was *years* before i could eat rice again without gagging. i was flaunting plenty of deficiencies and barely keeping myself alive. friends helped when they could, but most of us were in the same situation. a lot of my friends were receiving food stamps and i soon joined their ranks. somehow, despite having a job that kept me running all day [including most weekends], i couldn't afford to feed myself. and yet, even with food stamps, it wasn't enough. i was granted $150 a month for food but with chicago's high prices, i was still struggling. i loaded up on cheap, high-calorie foods to keep me going day to day instead of expensive vegetables. sadly, it was what i had to do to survive. needless to say, i gained a lot of weight in these years.

i finally left chicago and, although things haven't improved much, the food prices are much lower in rhode island and i can make my food stamps go much further here. i do still live in a food desert, but i'm lucky to have one moderate sized grocery store within walking distance [bonus: carrying 30 pounds of groceries a mile home is great strength training!]. the food, especially the produce, is cheap and i can usually get a few weeks' worth of groceries for $50 or less [sometimes this is two weeks' groceries, sometimes three; it depends on how often i feel like going to the store]. plus, they must've heard that a vegan moved into the city because this regularly not-vegan-friendly store has started selling tofu [for cheap!], soy milk and even almond milk in the last few months [but still no vegetable broth, for some reason]. the produce is limited to what's in season, relying on local farmers, so it's not always the most varied selection but it's not too shabby, either.

i've been so used to not being able to afford healthy eating on my food budget that i was shocked to find that it's no longer the case. i can finally buy produce at decent prices [usually about half of what the average price was in chicago!] and although i can't get /everything/ that i desire, there's a great selection for me to choose from. i think, in the last three months, i've eaten more vegetables than i did in the last two years of living in chicago. that's not an exaggeration at all.

also, since i'm eating healthy and filling up on low calorie things like produce instead of eating non-filling empty calorie crap, i'm actually buying less. as i mentioned, i spend about $50 every two to three weeks, plus another $50 to maybe $75 once a month [i'm lucky enough to have a mother who drives over and takes me shopping to the far away grocery stores once a month for things i can't get in my city]. whereas $150 barely got me through a month in chicago, and often didn't even go that far, i rarely spend that much in one month here.

i'm just as sick as the next poor person of people saying blanket statements that you /can/ eat healthy and vegan on a small budget. that relies on location, season, and exactly what money you have to spend. [that summer i relied on rice & beans? it wouldn't have been any different here than it was in chicago, just because i literally had no money to spend on food.] but i'm happy that i finally can do so, and i'm definitely going to continue doing so because i missed it. i LOVE vegetables, okay? you can't separate a vegan from her vegetables without consequences! [these consequences were usually me walking into the produce section and crying… now i walk in and load up my cart!]

now, if you'll excuse me, i better go to the store while the weather holds up.




Monday, March 12, 2012
it's sunny and in the low 70s today. for early march in new england, weather like this is pretty much unheard of. but we had a mild winter [and i think mild is an understatement!] and signs are pointing to a hot summer. i guess we're starting early with the summer weather, as well. seriously, weather like this is may-june weather, not march!

but it means that i'm getting antsy for full spring, days filled with sunshine, and fresh fruit. i want consistent weather like this so i can start planting my vegetable garden. just a few more weeks... if it doesn't suddenly drop in temperature again! that happens a lot, come april. silly new england weather.

anyway, the cats and i spent some time outside in the yard, enjoying the sunshine. ginny just wanted to lay down and sunbathe, while avocado wanted to roam around... he even tried to climb a tree but his indoor-all-winter muscles weren't up to par. how i understand, avocado! i also did a few loads of laundry and hung them out to dry. if the weather stays like this all week, i might finally be able to catch up on my laundry! [i don't have a dryer so in the winter, i can only wash what fits on my one drying rack... which isn't a lot, and it takes 2-3 days to dry.] also, bonus: i have a manual washing machine, not electric, so i get plenty of arm exercise while doing laundry.

summer plans are brewing in my head. i'll hopefully be buying new workout shoes this weekend [i hope i hope i hope!] and then i'll start running. i've yet to decide whether to do couch to 5 k or not, i tend to just go with "run until i can't run anymore and then push myself a little bit further" and that's worked well for me in the past... but we'll see. summer also brings my vegetable garden, as i mentioned. this will be my first time planting a garden entirely on my own and truthfully, i have absolutely no clue what i'm doing so if anything actually grows, it'll be a miracle! but it'll be a fun experiment all the same. and i plan on cleaning out part of the basement to use as a workout area, i couldn't do it during the winter because the basement is unheated. but it's full of junk [i'm from a family of packrats who has owned this house since the 1940s, i swear nobody ever threw ANYTHING out], i plan on going through it, organizing, and clearing one part of it for working out. this will be perfect for when those really hot summer days hit. my body doesn't deal with heat very well and if i don't have somewhere cool to work out, i just won't do it for fear of passing out. so, i'm already planning well in advance of those days to guarantee not giving up on my exercise.

as far as today goes, the ankle is doing much better, i'd say it's at about 80% [whereas yesterday it was 40% and saturday, 20%]. i can walk on it, although i'm very careful about doing so. i've already resigned myself to giving it the entire week to heal completely, so i'll be able to pick out proper sneakers with a fully functional ankle. [plus, i have a sneaking suspicion that working out in my current sneakers had more than a little to do with these prevalent injuries.] instead, i'm going to spend the week working on my abs and arm strength. i barely made it through 5 minutes of my ab dvd yesterday so it's crystal clear that i need to spend some time on that. push ups are getting easier, although not yet /easy/. once they get too easy, i'll stop doing them on my knees. that'll challenge me again! but, i'm not even near there yet. it'll take time... good thing i've got plenty of that!


First Page
1
2
3
4
5
6
7
8
9
10
11
12
13
14
15
16 17 18 Last Page

Get An Email Alert Each Time FUCHSIARASCAL Posts