| | |
| --- | --- |
| | FLYCHRISTI's Recent Blog Entries |


Wednesday, December 18, 2013
One week left until Christmas day.


A day with family and friends

and my three cats

and delicious foods

.
In order to keep myself on track, I decided to do a one-week mini challenge until Christmas day.

My goal is to keep on track and give away 2 kilos.
How will I do do this?
- Exercise at least 30 min per day.


- Swimming at least 30 min per day


- Sleeping at least 7 hours per day


- Drinkink at least 4 herb teas that boost metabolism per day



- Eating only the food with low glycemic index
http://www.sparkpeople.com/resource/nutrit
ion_articles.asp?id=498

- Eating also only the "non-calories foods"











Let's start and play!!!!!







Sunday, December 01, 2013
This is a trip of 2 days in Nafplio with my best friends. We use to go there every year and we always have fun!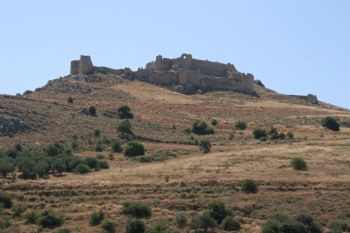 The Larissa Castle of Argos.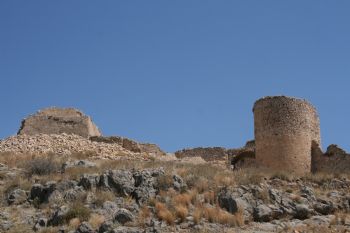 Built during the 12th century, this castle was captured by the Crusaders, but in 1388 the Republic of Venice took possession. The Ottomans plundered the castle in 1397 and most of the population were taken as slaves. Later on the Venetians came back and settled in with settlers from Albania.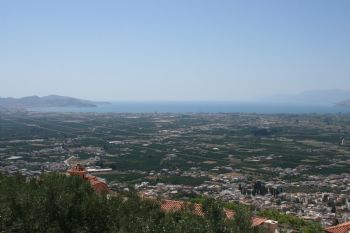 Argos from above.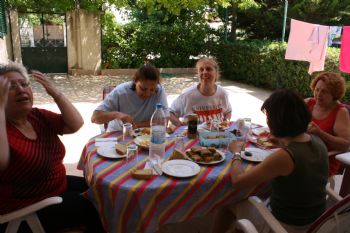 Our first lunch in the yard of Irini's house, near Nafplio.




Irini and Vilma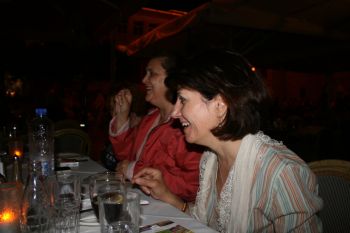 Angeliki and Elisabeth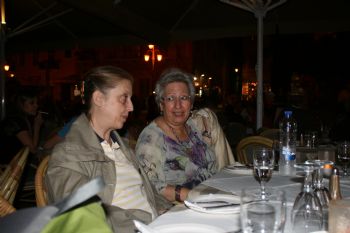 Irini and Afroditi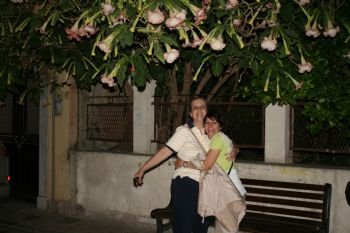 Ageliki and Afroditi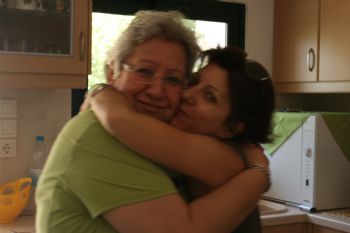 Irini and Angeliki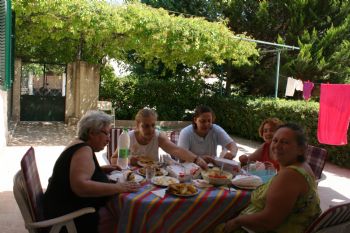 Our second lunch in Irini's yard.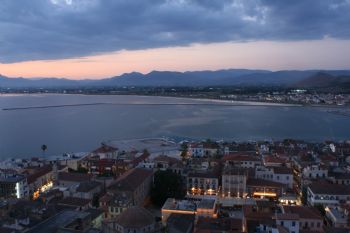 Nafplio from above. This town worth a separate blog to describe it.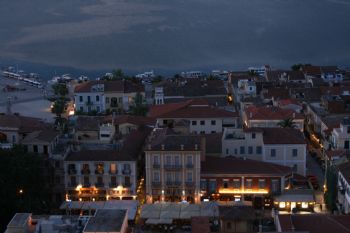 The Syntagma square in Nafplio from above.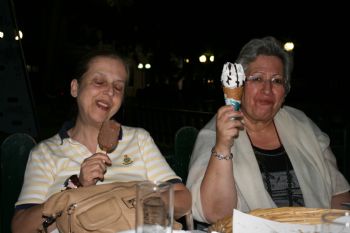 Dieting in Nafplio!!!





Friends!!!!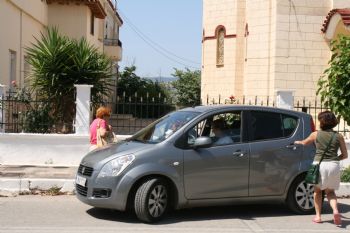 Sunday afternoon. The end of mini vacation!




This blog was not about to describe a trip, was about to meet my friends.







Friday, November 29, 2013
This is the second part of my first journey of 2013.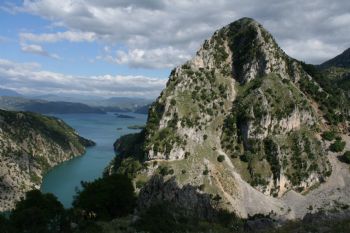 The kingdom of God Acheloos. As it was a very big and strong and difficult to manage river, ancient greeks believed it was a god, a god that never was satisfied and made their life very hard.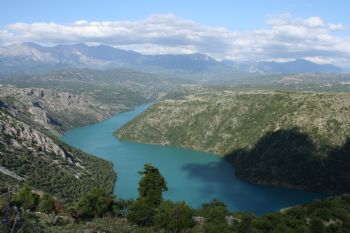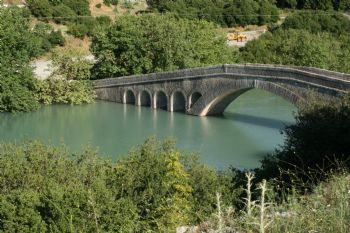 The Templa bridge in the Acheloos river, built on 1909.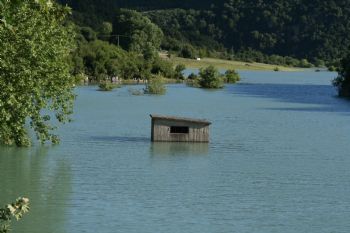 Acheloos again!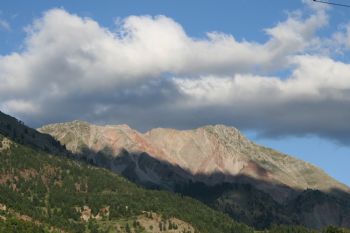 Mountains of Evritania.




13 January 1963.
The winter of 1962-1963 the rain began in October and stopped in March. The result was several landslides in the region of Evritania, with the worst in Mikro Horio( Little Village), during which cast a huge piece of the mountain and 13 people died.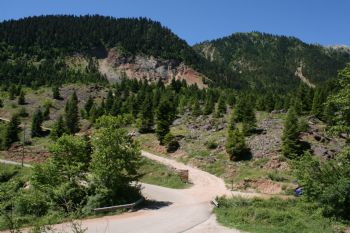 The cut mountain.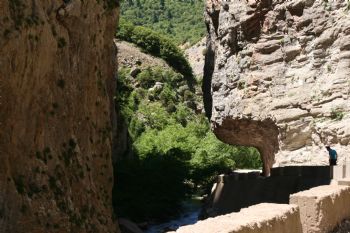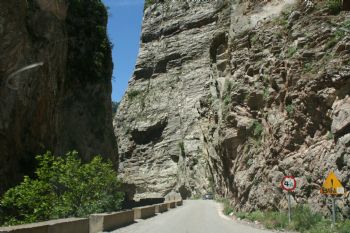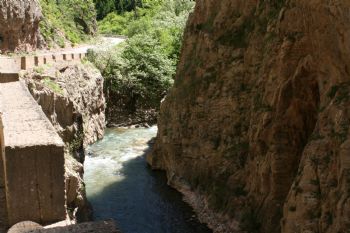 On the road to the Monastery of Proussos, by the Karpenisiotis river.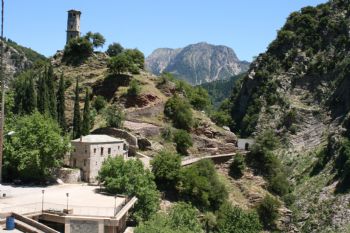 One of the few monasteries still standing in Evrytania, the Proussos monastery has frescoes dating back to 1785 as well as some from the 13th century, while the church itself is from the 9th century.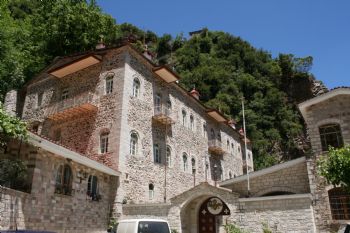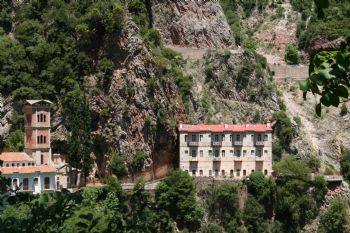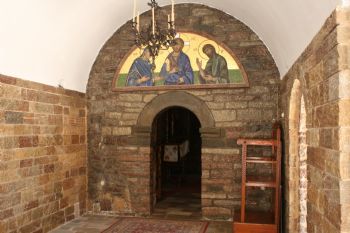 The monastery was built practically in the wild where weather conditions can get tough. There used to be a crypt which now functions as the church, with an allegedly miraculous icon from the Middle Byzantine period. Relics of saints are guarded here, and the decoration in general is remarkable. Old books and manuscripts are also among the relics. A sword from 1821 is said to belong to Greek hero Karaiskakis. The monastery was also set on fire many times through the ages, the last time being by the Nazis in the Second World War, who probably discovered that it was a base for the resistance.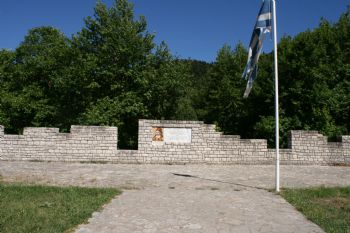 The Battle of Kefalovriso was fought in 1823 during the Greek War of Independence.

In August 1823, the Ottomans under Mustai Pasha of Skodra and Djelaleddin Bey, marched to western Rumeli building up their forces at Karpenisi for an attack at Mesolonghi. They had managed to muster some 12,000 men, mostly Muslim Gek Albanians with some 3,000 Albanian Catholics.

Markos Botsaris and his force of 1,250 men marched against them. En route, they got some local kapetanei to join them, adding another 2,000 to their number.

Botsaris then led a surprise attack with some 350 - 400 of his men on the Ottoman camp on the night of August 8 to August 9. In the ensuing battle, the Greek forces inflicted heavy casualties and captured much loot but Botsaris himself was shot in the forehead and killed. The Greeks withdrew as Zygouris Tzavelas failed to co-ordinate his attack with the men of Botsaris.

Ottoman casualties numbered around 1,000. The Greeks lost fewer than 50 men.

Botsaris' body was taken to Mesolonghi and buried on August 10. All Greece mourned his death.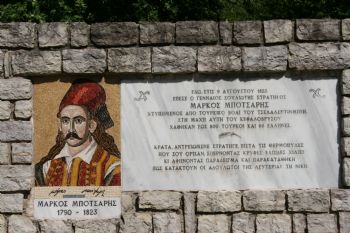 When Markos Botsaris died he was 33 years old.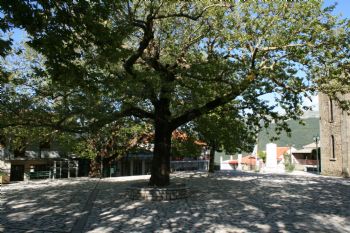 Krikello in the mountains.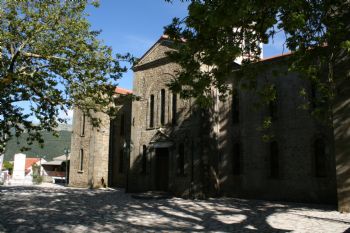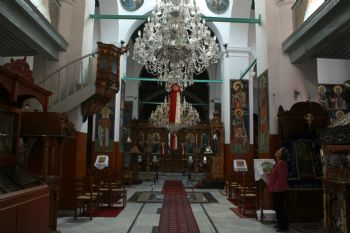 Inside the church of Krikello.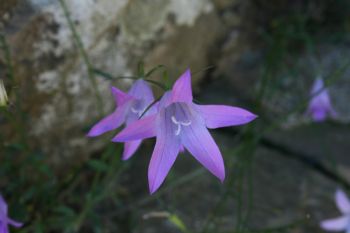 A beautiful wild flower of the Greek mountains!

Thank you all for reading my blog



See you in the next trip!













Friday, November 29, 2013
Many days ago,I promised to write a blog about my recent trips.
Better late than never!
I have done many things from May 2013 till now and I want to share it with you.
Here is a summary of what will follow:

- MAY: Valtos Mountains-Evritania
-JUNE: Nafplio
- JULY: Acheloos River
-AUGUST: Cape Maleas.
-SEPTEMBER: Navarino-Pylos
-OCTOBER: Tinos Island.
-NOVEMBER: Nafpaktos Mountains.
Lefkada Island.
Mystras-Kalamata-Messini.
-DECEMBER: Ancient Korinthos (will follow next week).

Not so bad!...


I am soooo grateful about it!

So,let's start from Valtos Mountains and the Evritania district.
Valtos, is a mountainous area in central-west Greece, with many mountains of course, artificial lakes,beautiful forests and a lot of rivers with the bigest one Acheloos.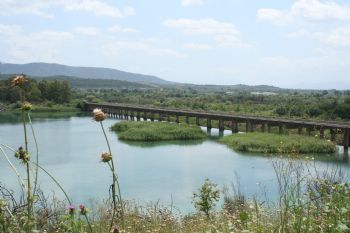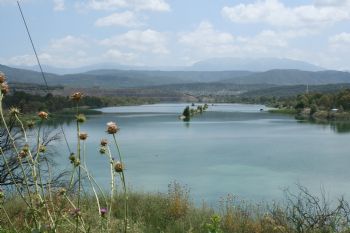 The little artificial lake of Stratos. Stratos was a big city of the Ancient Greece and his history begins in 1600 BC. Today you can find here an important archeological site.




The artificial lake of Kastraki and the Babalio village.Half and more of the old village lies beneath the waters of the lake.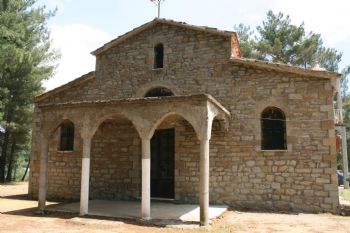 The center of the old village is today a small island with a church and a beautiful forest.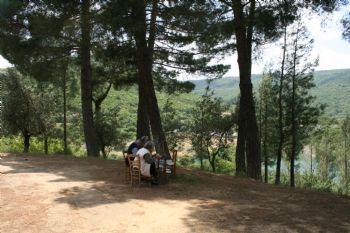 We had a wonderful pick-nick there!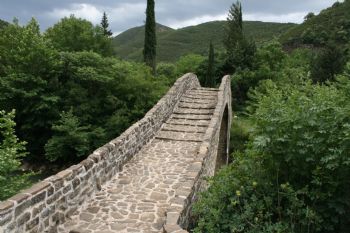 On the road with the Inahos river on the side. Inahos was a mythical king of Argos town, son of the god Ocean, who saved his people from the flood and collected all the water in a riverbed, creating the river Inahos.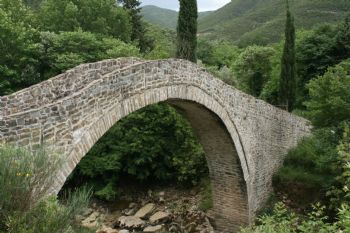 The Verga bridge, built on 19th century from a Pasha in love, in order to be able to cross the river and meet his love!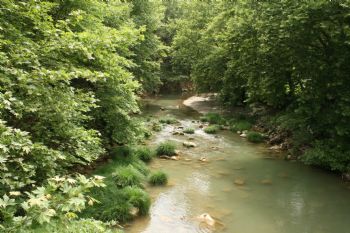 The rocky mountains of Valtos. The photo is much inferior to the reality!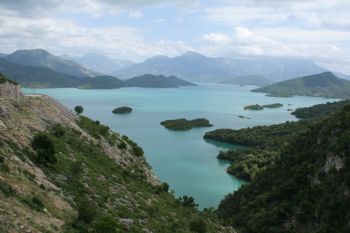 Lake Kremasta is the largest artificial lake in Greece. The construction of Kremasta Dam was completed in 1965 concentrating waters from four rivers: Acheloos, Agrafiotis, Tavropos and Trikeriotis.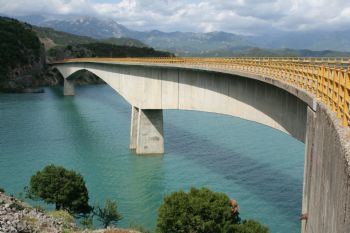 The Tatarna Bridge is a road bridge over the Kremasta artificial lake in northwestern Greece. It was designed by Aristarchos Oikonomou, and built between 1971 and 1973. It is a box girder bridge with three spans; the largest span is 196 m.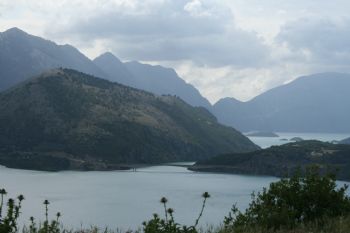 In the same place there was a 17th-century arch stone bridge over the river Acheloos. Near the old Tatarna bridge the first battle of the Greeks from Roumeli against the Turks during the struggle for independence (1821) took place.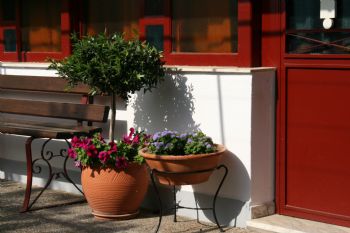 The Monastery of Tatarna has a very tumultuous history. It was originally built in the 11th century, destroyed 3 centuries later, then rebuilt in 1556.
It was again destroyed in 1823 by the Ottomans as it harboured numerous rebels, to be built again under King Otto in the 1840s. Once again it was destroyed completely in 1963 because of a landslide and was rebuilt 500 meters away where it stands today. Despite all this, its valuable relics and holy objects where saved, including a library which holds 633 texts.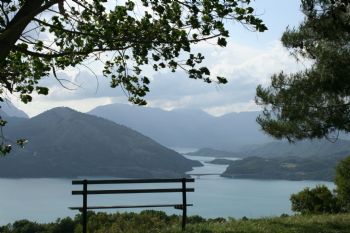 magnificent view of Tatarna Bridge from the Monastery.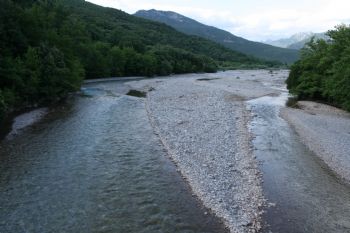 Agrafiotis river.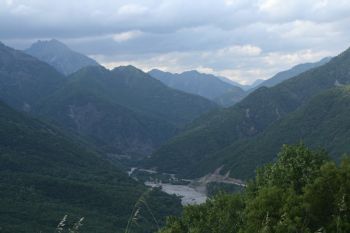 The Agrafa region is famous for its complete autonomy throughout the entire 400 years of Ottoman Turkish occupation of Greece. The word agrafa literally translates to "unwritten" or uncharted; because the Ottomans were unable to conquer this region, the area and its population were not recorded in the Sultan's tax register. As a result the people were usually free to conduct their business and customs as they pleased without Ottoman influence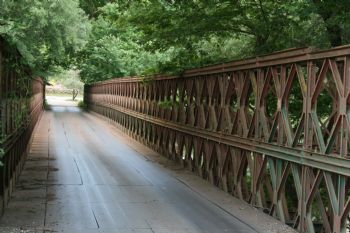 The Megdovas also known as Tavropos begins in the Agrafa mountains and passing into Evrytania, it flows through a deep, forested valley with a few little villages and stone bridges. Since 1967, it empties into the Kremasta Reservoir, which is drained by the Acheloos. It forms the border between Evrytania and Aetolia-Acarnania.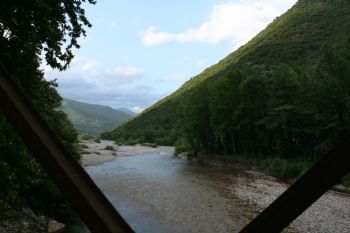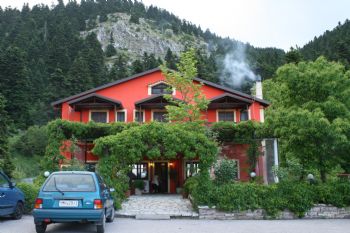 End of the first day and we had dinner in this beautiful restaurant near the town of Karpenisi.





Mountains, always mountains... I adore mountains!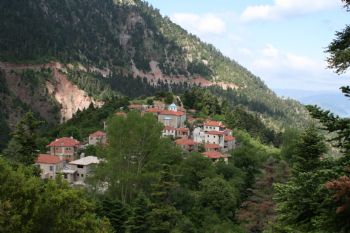 The Fidakia village.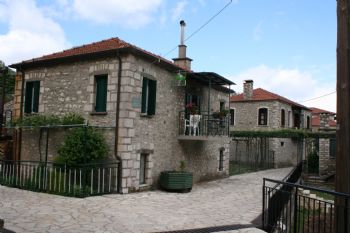 A village made of stone.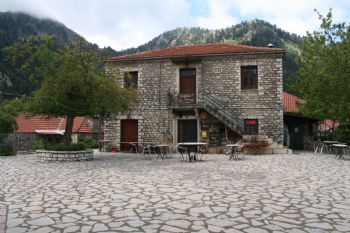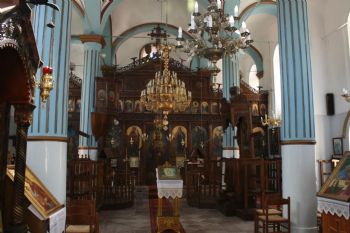 Inside the church of the village.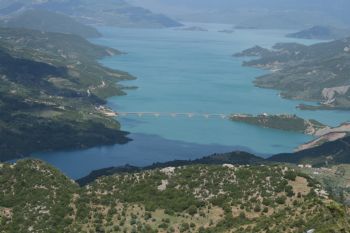 Episkopi bridge in the Kremasta artificial lake.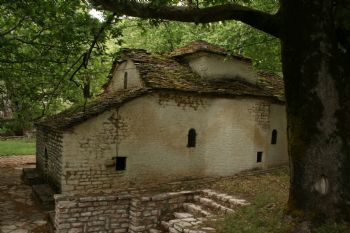 The Katholiko (means the principal church of a monastery) of a very old monastery, that does not exist anymore.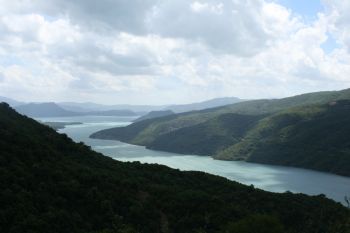 River Acheloos entering the lake of Kremasta.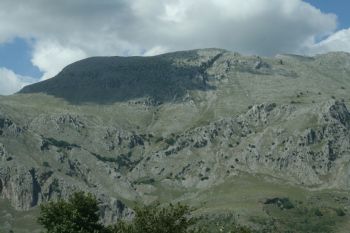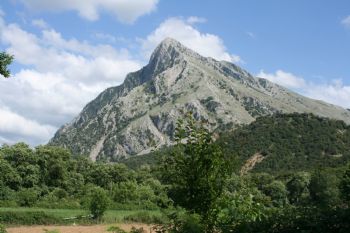 Mountains of Valtos district.







Saturday, October 12, 2013
Fall Challenge begins today






This is the list of all the pre-challenge activities. It was hard for me to accomplish it, but I did it!

1-Exercise Plan
* Walk 7 days/week at least 30 minutes..


* Swimming 3 days/week at least 30 minutes, aim for 40 minutes.


* Strength exercises 3 days/week for 30 minutes


* Learn to do nordic walking


* Be active every day and have fun!!!




2-Nutrition Plan
* Drink 10 glasses of water every day


* Drink beverages that boost metabolism


* Use the SP Food Tracker


* 1st week: My Dietitian diet


* 2nd week: The Pineapple diet


* 3d week: Diet with the "No Calories Food" ( eating foods that burn more calories than contain)
* 4d to 8nd week: My dietitian diet



3-Update my Page




4+5- The lists are ready. The important is to follow them.

6-Motivation/Reasons to get healthy
* Prevent re-occurence of cancer.
* Prevent diabetes
* Feel fine in my own skin
* Feel strong
* Feel confident
* Feel and look beautiful
* Wear nice funky clothes
* No more pain in knees,heels,hips,ankles
* Trekking without getting out of breath
* Fight osteoarthritis
* Run a 5K
* Allow my kids be proud of me
* Change my life
* Enjoy my life
* Grow-up with style!!!



7-Trigger Foods
* Nutella
* Chips
* Butter
* Bread
* Ice cream
* Big portions
* The pleasure of chewing
I eat all the above when I am:
* Boredome
* Stressed
* Sad
* Tired
* Alone
* Depression
What can I do about this:
* Built new habits
* Go out for a walk
* Call my daughter to discuss about it
* Thinking that food is no company
* Thinking that food is no joy
* Thinking that the bite I will eat, deprives me from many pleasant things

8-Numbers
* Current weight = 107 kilos
* 5% Loss = 5 kilos
* Target weight = 102 kilos
by December 7,2013

* My daily calories = 1200-1550
* My burned calories per week = 1300
* My walking distance per week = 20Km

9-Measurements
Bust = 120cm
Chest = 106cm
Waist = 119cm
Hips = 137cm
Lest Thigh = 30cm
Upper left hand = 35cm
Lest forearm = 29cm
Neck = 41cm

10-Strategize/Reasons this hasn't worked in the past:
* No consistency
* Let food became substitute of joy
* Let food became my companion
* Let food became a habit
* No tracking food
* No feed back of myself

What can I do about this:
* I do everything early in the morning
* I track everything
* I built new habits with consistency
* I find sources of joy out of eating
* I fill the house with light during evening
* I invite friends to my house more often
* I look forward to a companion

11-Am I prepared to meet my goals?
* According to SP:
Prepared for Success!

Congratulations! It sounds like you know a thing or two about goal-setting and that you've taken steps to ensure you'll be successful, supported and highly motivated along the way. Just be sure your motivation stays strong even when the going gets tough.

12- I will read blogs of two spark friends per day.


Your blogs are fascinating my Friends!!!

Have a good start all of you.













1 2 3 4 5 6 7 8 9 10 11 12 13 14 15 16 Last Page

Get An Email Alert Each Time FLYCHRISTI Posts