| | |
| --- | --- |
| | FLATROSIE's Recent Blog Entries |


Sunday, March 27, 2011
It's been a crazy month and even though it's Spring, wintry weather still lingers.

I had a busy work trip out to Calgary and Banff - even did some skiing at Sunshine. My ankle held up as best as it could but it wasn't used to the constant pressure of changing to inside and outside edges and it soon became tired and achey so I only got a half day of skiing in. All good though.

It's also my first day home in two weeks after so much work. Even though I'm exhausted and it's chilly outside, I successfully made it out to start my Couch to 5K program. And it wasn't that bad. I need to figure out where to put my water bottle in future, but I'm looking forward to getting healthier and fit through this program. Combined with my two nights a week of roller derby, I should soon be a force to be reckoned with!!!!

My healthy dinner of salmon cakes and vegetables is calling my name, as is the mountain of laundry that magically builds up when I'm not here.

Hope everyone is feeling as accomplished today as I am!




Sunday, February 13, 2011
Surprise! Today it was plus 3. Watching the melting snow and ice warmed the cockles of my heart. It's been a long, cold, snowy winter and it makes me happy to know that spring is trying to make an appearance. I'm getting excited about getting outside for some walking, and to start running. And oh how I yearn for some outdoor roller skating. My outdoor wheels are screaming to be used soon.

I did try to go roller skating today, but when I got to the arena there were fire trucks everywhere. Apparently there was a gas leak. So back home I went and I proceeded to make cookies, download some music, update my ipod, do three loads of laundry, and I will do some yoga tonight before bed to help me wind down.

Last night I went to bed early and slept for ten hours, It was sheer heaven. I'm trying to listen to my body more; and it is telling me to slow down. I'm pretty bruised up from roller derby on Thursday night - bruises on both my arms, and even my knuckles. Given this and the ache that goes along with it, slowing down is probably a good thing for me.

The scale is freaking me out. Even though I don't weigh myself that often, I jumped on it yesterday and was dismayed to see I've gained five pounds even though my waistline and thighs are continuing to shrink. Building muscle. Which is great since I've been doing so much skating in the past month, but it's disconcerting nonetheless. Will my muscle start kicking in and burning calories more efficiently? If I continue with my current exercise and eating, will I start losing again?

Does anyone have any words of advice?






Wednesday, February 02, 2011
And aside from being pummelled by another Winter storm (this time it was officially classified as a blizzard), Wiarton Willie has declared that Spring will arrive in a mere six weeks! Yahoo!
I didn't go to work today because the drive home from roller derby last night was crazy with snow drifts. I happily worked on the couch in my pyjamas, sipping tea and uprooting the snoozing cat on my lap every so often for bathroom breaks. It was a relaxing day, and after last week's hectic business trip in Vancouver, it was much needed. I even ventured out for a drive across the city to pick up my xrays from my broken ankle surgery. Having done this playing roller derby, it's a badge of honour to display our broken bones and cuts and bruises. So I figured out how to configure them to jpg files and uploaded them to Facebook.. another menial task off my to do list.
Today was the first day of my home yoga routine. I cleared space in the living room and the cats were immediately suspicious of what was about to go down. I did the 20 minute routine successfully albeit for one small restart when I had to scramble to find a brick. At one point I had two cats on the mat with me looking me in the eye in wonderment. I would have loved to know what was going through their minds. And although I would like to think they were encouraging me, they did make it hard for me to relax and be at one with my breaths. I suppose they will get used to it now that I'm incorporating it into our daily routine!
I've noticed my body shape is changing again - I'm noticing weight loss in my abdomen. All good. My t-shirts are even starting to gape and I'm noticing I have more flexibility at derby practice. Even though the scales say I haven't lost weight in over two months, I know my clothes are getting bigger. Look at all the muscle I must be building. :)
Happy Groundhog Day everyone - six more weeks until roller skating outdoors once again. Happiness is just around the corner!!!

Namaste.

A little souvenir of my journey through the past year.......






Sunday, January 23, 2011
It's been a busy month and I'm heading to Vancouver tomorrow for a work trip and I haven't started to pack yet, but you bet my new running shoes will be coming with me. It will be nice to leave this -22 degree weather for some balmier above zero temperatures.

I was just reading FitWhit's blog and have been motivated. I've been toying with taking up running and her exciting transformation has inspired me to get on it. So, I'll be adding that to my goal list for the year.

I was in to see my doctor this week for some medical forms for my upcoming trip to Peru and my flu shot. He was so excited to see how great I look. He insisted on weighing me. I did it to make him happy, but I really don't like to measure my success by the scale. I know I'm losing weight, I can tell by my clothes, and from comments from those around me. I told him my goal was to lose 20 more pounds. He told me to just start at 10 and see where it goes. Ha ha! Little does he know. Mark my words, I'll be down 20 the next time I see him. Hee hee.

Some obstacles and accomplishments that I got through and achieved over the past few weeks:

Obstacle
Girls ski/spa weekend. Lots of drinking and rich eating on this trip. Yes, I did some skiing, skating and yoga but I know it didn't touch the amount of calories that went in. No guilt though (except for the nasty hangover Friday morning) and I'm back on track. I do laugh at the fact that I feel I have a better alcohol strategy when I drink martinis. At least am getting a few nourishing olives!!!! Alcohol remains on my "for special occasions only" list.

Obstacle
I did a yoga class and was disheartened at how much strength and flexibility I have lost since practicing Iyengar yoga every week. I was pleased to see my core balance is back given the extent of my broken ankle and how much it wreaked havoc on my balance at the time. Hence, the need for more yoga at home - it's going on the goal list.

Accomplishment
I'm now at roller derby practice two nights/per week, and I try to fit it an optional skate when I can. A great way to burn calories and I'm noticing that I feel the muscles in my legs. Still need to lose more fat and tone em up, but I'm getting there.

Accomplishment
I made my first Sparkpeople recipe yesterday - Chef Meg's Slow Cooker Lasagna. It was the first time I cooked with eggplant (is that bad?) and I added spinach to the recipe and used ground chicken instead of ground beef. Very, very yummy. And six individual portions have gone into the freezer for future lunches at work.

Upcoming Obstacle
So, Vancouver next week - entertaining my donors with receptions, lunches, and dinners. Thankfully, I will be able to nom nom to my heart's content on some Pacific salmon.....and sushi. Moderation will be my strategy. And of course, exercise. Wish me luck!

Off to update my Sparkpage with my new goals!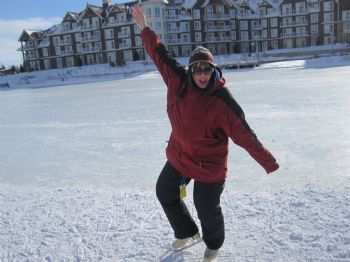 Monday, January 03, 2011
It's back to work tomorrow and I'm getting myself organized with some laundry on the go - and I made a turkey chile today for my lunches for the week. Healthy and yummy!
Earlier today, I reviewed my 2010 goals that I set last year and noticed that one thing I had on my list that I completely forgot about was keeping my journals. I absolutely love to travel, and tend to keep a journal on my adventures, but I thought that by starting to blog on Sparkpeople, it would be a great opportunity to share my thoughts - and I could go back and remind myself what I was thinking at different points.

So, here I am. I must celebrate my achievements for 2010. In no particular order:

- made my roller derby debut as Sister Wrecktomy
- subsequently broke my ankle and leg
- recovered from said injury without gaining weight - in fact losing weight! Yay me!
- re-debuting as Sister Wrecktomy - reinforced with two "Derby Worthy" pins holding my ankle back together
- Losing another 20 pounds in 2010 (I'm guessing on this one but I've gone through several wardrobes). This is a big accomplishment for me considering the amount of travelling I did for work this year. It's hard to eat healthy when I'm entertaining people with food and drinks. I tend not to weigh myself alot - I like to see how my body feels as I'm shrinking instead of getting freaked out by the scales.
- Turning 40 and looking the best I ever have :)
- Celebrating my year of growing (and shrinking!) with a trip to France. Oh la la! And I didn't hold back on any food or wine while there - and again, didn't gain weight!!!
- An awesome adventure filled vacation in Costa Rica including zip lining, rappelling, and hiking. My first athletic adventure and I loved it!
- Embracing my new lifestyle that Sparkpeople has been instrumental in getting me there
- Loving me for me.
- Seeing myself in photos and saying "wow - that's really me - I look great!"
- And as an added bonus, I even wore fishnets and booty shorts at my last roller derby game...showing off my wares to over 600 fans! I would never have had the confidence to do this a year ago!

Onward and upward, here are some of my goals for 2011:
- lose 20 more pounds.
- hike the Inca Trail and Macchu Piccu and take in the sights of Peru and the Amazon.
- start my journals.
- re-decorate my kitchen.
- more active searching for my soul mate.

They are written down, and therefore I must be accountable for them. Here's to a fresh new year, and a new set of accomplishments to tackle. I can't wait!

Happy New Year to me :)



First Page
1
2

Get An Email Alert Each Time FLATROSIE Posts