| | |
| --- | --- |
| | FITFABJENN's Recent Blog Entries |



Sunday, January 01, 2012

Today I am celebrating one year on Spark People!



Join me as I look back over the first 365 days on my journey to better health, wellness, and fitness:

On Day 1 of my Spark journey, I weighed 245 pounds. I had no energy and suffered constant pain in my joints. Worries about my overall health finally led me to make a positive change. I did not realize at the time how much my decision to join SP would change my life forever.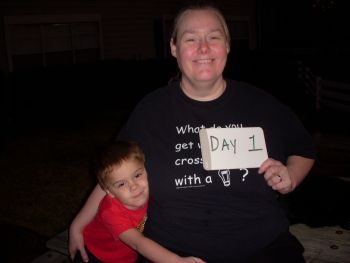 Fully committed to making a healthy lifestyle change, I already looked and felt better after only a month on SP. By day 28 of my journey, I had lost 14 pounds.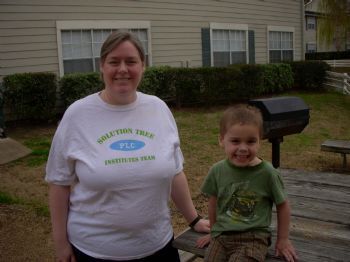 As the weight started to come off, I became more active. I enjoyed hiking with my family and long days at the zoo. I was 26 pounds lighter by the 64th day of my journey.




By the end of my third month on SP, I had lost 37 pounds and already began feeling like a new person. Over one-third of the way to my 100-pound goal, my confidence began to grow. I also had to start buying new jeans because everything I owned was way too big.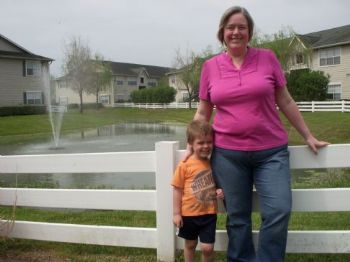 After losing 45 pounds, I took on the challenge of completing a 5 mile charity walk for the March of Dimes. Soon thereafter, I finished the Making Strides Against Breast Cancer walk. I began to realize I was capable of much more than I ever thought possible.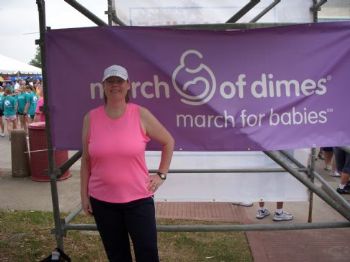 Armed with greater and greater confidence, I started the SP "5K Your Way Rookie Running" program and completed my first 5K race! I had never run before but finished my first race in just under 45 minutes. At this point, I had lost 59 pounds, so I was officially well beyond the halfway point of my journey.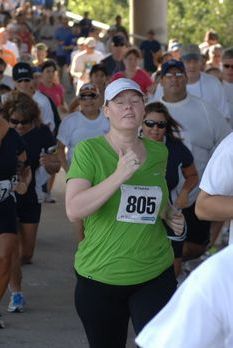 By day 194, I was down 65 pounds...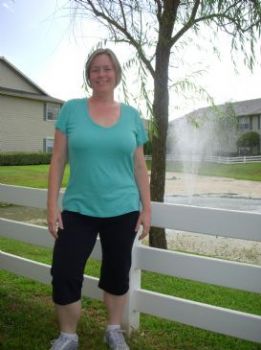 ...and ran my second 5K race (42:26 finish).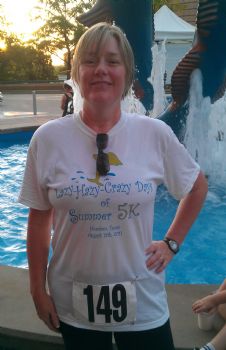 And I was down 75 pounds by Day 243.




Then came my third 5K (41:35). I was 84 pounds lighter and officially hooked on running.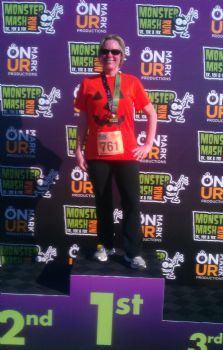 Then I ran my fourth 5K race on day 327 of my journey, down 90 pounds from my starting weight! I finally finished in under 40 minutes (38:15).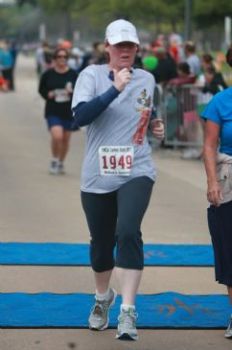 This brings us to today...Day 365 of my Spark Journey. I have lost 94 pounds so far, which is over 38% of my total body weight. My BMI has gone from 42.1 to 26 in the last year. And instead of AVOIDING mirrors and cameras, I LOVE gazing at the NEW ME!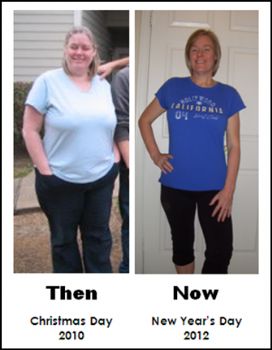 I am now only six pounds from my target weight and am preparing for the next challenge. I will be running a HALF MARATHON at the end of this month.





Yes, my decision to join Spark People changed the trajectory of my life forever. I have made PERMANENT lifestyle changes that will both extend my life and create incredible opportunities for enjoyment and fulfillment.

As rewarding as it has been to see the numbers on the scale drop...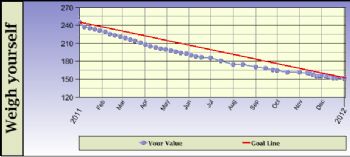 ...it is EVEN SWEETER to watch the inches melt away. Check out the little chart below that compares my measurements on Day 1 to those on Day 365: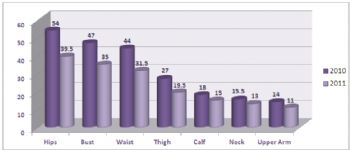 So if you are beginning your own journey to a healthier you, please know that it IS possible to reach your goals. It does take commitment, persistence, and consistency. But it does not require perfection. We all have off-days and do stumble sometimes. Fortunately, I enjoyed the incredible support of my family and my Spark friends, and access to all of the SP resources to help me stay on track.





Although the weight loss portion is nearing an end, my journey will NEVER END. The reasons for my past weight gain are ever-present and I will likely fight those demons forever. But I will never give up. The healthy habits I've adopted to lose weight are the same healthy habits that will keep those pesky pounds off forever.





Finally, I'd like to share my personal "secrets" for success:

1) Set realistic goals in small increments and reward yourself along the way.

2) Track, Track, Track your food and your fitness.

3) Practice portion control, not deprivation.

4) Choose healthy lifestyle changes you can make CONSISTENTLY over time.

5) Be active in the Spark community and enlist the support of Spark friends.

6) Document your journey with journaling, blogging, and by taking regular pictures and measurements.

7) Get moving! Find ways to get physically active within your fitness level.





Thanks for sharing the first leg of my journey with me. I am confident that 2012 will be even better!



Happy New Year!







Friday, December 30, 2011
2011 is nearing its end, so naturally I am feeling reflective. There are so many changes and so many celebrations to ponder, indeed.

A great place to start is the beginning. Here is my "Day 0" SP blog entry (written 363 days ago):

"As the New Year approached and everyone was talking about resolutions, my thoughts returned to the elephant in the room: my weight.

My weight started to creep on in my '30s and now, in my early 40's, I am 100 pounds overweight. I am in constant pain from arthritis, I get out of breath for the least bit of exercise, and have trouble keeping up with my 3-year-old son. I'm at an age where I'm starting to worry about my health, and fear if I don't change I won't be here for my son while he's growing up. I'm in urgent need of a change.

So here I am. I'm taking the first step today by joining SparkPeople and setting my "Fast Break" goals for the first week.

Okay, here we go!"





Now, nearly a year later, I am so different from the person who wrote that original blog entry. Although I still have arthritis, 93 pounds lighter, I am no longer in constant pain. I can now run for 2 miles without stopping and have completed four 5K races.

In fact, I have never been more optimistic about my overall health and wellness. It's still a struggle to keep up with my son, who turned four today, but I am so much more active overall and get much more enjoyment from my life with him.

And routine tasks that were difficult a year ago (rolling over in bed, putting on my shoes, drying my feet after showering, climbing stairs, etc.) are now effortless. It is the overall improved quality of my life that I am celebrating most.

I know that 2012 will bring more rewarding experiences and opportunities to reach additional goals. Yes, 2012 will be the year I reach my goal of losing 100 pounds. I WILL BE FIT AND FABULOUS IN 2012!





Thank you, Spark People, for giving me the tools to succeed. And thanks to my fabulous Spark friends who have supported me and cheered me on along my journey. Your encouragement has meant the world to me. I have loved celebrating your victories and look forward to many, many more in the coming year.

Keep on Sparking!





Hit "Like" if you are committed to making 2012 your best year yet!





Saturday, December 24, 2011







Wednesday, December 21, 2011
I was never a "runner," not even as a kid. In fact, I grew up viewing running as a form of punishment. Goof off in gym class, "take a lap!" Mess up in marching band, "take a lap!"

My band director would send the entire band around the football field if just one joker got into trouble. But one time I told the band director he could kick me out of band, but I was NOT going to run. (Note, he did not kick me out, but I did not run the lap either.)

I was so adverse to exercise in general, but especially running. That's why it is HILARIOUS to me that I now consider myself to be "a runner."

Thanks to SP, I decided to try running for the first time last June. I read so many inspiring stories and envied my Spark friends who were running 5K and 10K races, or training for a marathon. So, I gave it a go and was pleasantly surprised to learn that I LOVE running.

Now I honestly view my running as a reward. It is my "ME" time. While I'm running, it really is all about me, and the worries of my day seemingly melt away (along with much of my stress).

And I get real joy from pushing myself to achieve a new goal or reach a new personal best. I love what running does for my mind, body, and soul.

Although it is not always easy, running no longer feels like punishment. Running is my reward for making healthy choices and taking care of myself. After all, a year ago I was challenged to walk even short distances without becoming out of breath. Now I've got four 5K's under my belt and am training for a 10K in 2012. I actually see running a marathon in my future.

So I suppose the lesson learned here is the importance of keeping an open mind.

So, my Sparkly friends, what new challenge have you conquered (or plan to conquer) since you started Sparking?





Friday, December 16, 2011



My much anticipated winter break from school teaching is FINALLY here. Thus far, the school year has been fast and furious, filled with stress and never enough time. But starting tonight, I get to enjoy a well-deserved rest.





But at the same time, I have thrown down the gauntlet to challenge myself to get back to the gym. I have been a major slacker this fall. Oh, yes...BIG time! I rarely go to the gym any more, and the only exercise I've gotten recently are a 5K on Thanksgiving and a run run last weekend. Not enough! I need to get moving, folks!





I'm ready to kick those last few pesky pounds to the curb for good. I only have 8 pounds left to goal, which is utterly awesome!





A shout-out to my fellow school teachers out there in Sparkville: Anyone else start break today? Any special plans?



First Page
1
2
3
4
5
6
7
8
9
10
11
12
13 14 15 16 17 18 19 20 21 22 23 24 25 26 27 28 29 30 31 32 33 34 35 36 37 Last Page

Get An Email Alert Each Time FITFABJENN Posts