| | |
| --- | --- |
| | FITFABJENN's Recent Blog Entries |


Saturday, November 19, 2011
Good morning, Sparkers.

I often receive messages from Spark People members wanting to know exactly what I eat to achieve the great results I've had. I do try to continually make healthy choices, but I do NOT sacrifice taste and enjoyment for calories. In fact, I sometimes opt for a higher-calorie version of a food if the low-cal one does not taste good to me, as long as the choice fits into my nutrition plan for the day.

So I thought it would be fun to share my typical meals with my fellow Spark members. Breakfast, the first and most important meal of the day, kicks us off.

DISCLAIMER: I am not advising anyone to adopt my choices or even agree with them. I am just sharing what works for ME.





Actually, I am pretty boring when it comes to breakfast. Most days I have the exact same thing. My favorite breakfast is one serving of Kellogg's Fiber Plus Berry Yogurt Crunch cereal with three-fourths of a cup of 2% milk. I top it off with a half cup of fresh blueberries. Delicious! Plus the blueberries help me meet my daily goal of getting 5+ servings of fresh fruits and veggies.

Then I enjoy my guilty pleasure, which is two cups of coffee (Starbuck's Espresso Roast or Verona) with a dash of Cinnamon Dolce Cream. I tried the no-sugar and no-fat versions of the coffee creamers, but they just do not do it for me at all. So I've stuck with the regular kind.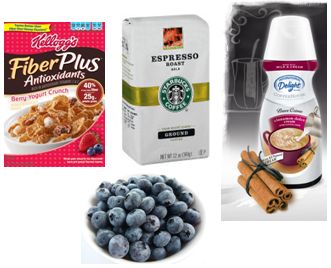 My favorite breakfast (377 calories, 8 grams of fat)

There are some days where I just do not feel like my usual cereal. On those occasions, I have either oatmeal (also mixed with fresh blueberries) or a whole grain waffle spread with chunky peanut butter and a side of fruit. But I always have my coffee. Honestly, I tried giving it up but just kept coming back.








Tuesday, November 15, 2011
Oh, that is the dreaded question at the end of the day in our home. We never seem to plan ahead and then have to make a decision after work, which ends up leading to the same few meals, over and over.

I'm looking for some fresh, quick, and easy healthy ideas to add to our dinner rotation.

What is your top healthy dinner that your family really enjoys?






Saturday, November 12, 2011
Good morning, Sparklers!





At the beginning of my journey, I set five medium-term weight loss goals, each representing a loss of 10% of my total body weight.





This morning I reached goal #4! I have lost 18 pounds since goal #3, and am celebrating a total loss of 85 pounds.

My fifth and final goal is actually my target weight.



10% Goal 1: 220


10% Goal 2: 198


10% Goal 3: 178


10% Goal 4: 160


10% Goal 5: 145

Sure, sure...the scale is not the only (or even the best) progress measure, but it sure feels great when the pesky scale cooperates from time-to-time.

Make healthy choices today, my Spark friends.








Tuesday, November 08, 2011
"Without continual growth and progress, such words as improvement, achievement, and success have no meaning." ~ Benjamin Franklin





For better or worse, so much of my focus during this journey is external. What is the number on the scale? What size jeans can I wear? How do I look wearing them? But tonight I caught a glimpse of the change that is happening inside.

I am currently away from home, traveling for work. After checking into my hotel tonight, instead of collapsing on the bed in front of the TV (exactly what the "old" me would have done), I immediately went out for a walk with no particular destination in mind.

I ended up walking to the grocery store to buy some salad and fruit for dinner, and then headed back to the hotel. Although only 25 minutes round trip, it was terrific having that "ME" time and getting some exercise to help destress after a long day.

It's such a little thing, but this is the sort of change that really matters.

Good night, Sparklers.








Saturday, November 05, 2011
Over the summer, I really got into running. I completed the "5K Your Way Rookie Running" program and ran my first (and second) 5K. Sadly, after the new school year started, I sorta fizzled out. Bleh...

Then last Sunday I ran my third 5K race. Although I had done no preparation at all, I still beat my prior time by 51 seconds. But that spurred me back into action. I started going back to the gym and running on the treadmill again. I have my fourth 5K on Thanksgiving morning, and I really want to get my time under 40 minutes.

And this morning I was happy, happy, happy! Because, after a 10-minute warm-up walk, I ran for 30 minutes non-stop. Yep, I'm back, baby!

Run, Jenna, Run!






First Page
1
2
3
4
5
6
7
8
9
10
11
12
13
14
15
16
17 18 19 20 21 22 23 24 25 26 27 28 29 30 31 32 33 34 35 36 37 38 Last Page

Get An Email Alert Each Time FITFABJENN Posts