| | |
| --- | --- |
| | FIT-WHIT's Recent Blog Entries |


Sunday, March 23, 2014
I suppose I can admit that I must have been living under a rock for the past year or so, as I have yet to see the Disney movie Frozen. Yes, I know. Shocker. But I'm not so out of the loop that I am at least familiar with / have heard the popular song "Let It Go." And yes, I love it too.

What does this song have to do with anything on this blog? Well, I think that the central chorus and title have particular importance in my life, and probably yours, right now. So I'd like to explore that idea.

As you have probably noticed in my blog writings to date, whatever I write about tends to deal with something I'm currently experiencing, have been pondering, or have dealt with personally in the past. I believe that unlike reading about studies, conflicting diet and nutrition information, or arguments for or against a specific way of eating, the most impact comes from relating to another person's reflections and experiences. That is why I share them here today.

Last week, while I was between running high-intensity bursts on the treadmill, I was huffing and puffing my way through an article in O Magazine. It was an outdated issue from before the New Year, but had a good feature on how to live 2014 to the fullest, and increase your happiness. Part of what struck me so in this article was the tip to practice letting go. The author wrote about the practice of mentally and physically letting go of negativity, behaviors, and lines of thinking that keep us paralyzed in self-doubt and loathing.

Huh. Panting and sweating away, I slowed down the pace on the treadmill. I was irritated that just one minute of running 8 mph was seemingly killing me. Wiping sweat from my brow, I decided to give this notion a little practice. Here I was in the middle of pushing my body in a workout, and my mind was obsessing over how inadequate I felt, worrying about how gross I was looking, and that my butt jiggles as I run.

Breathing in, I thought to myself, Let it happen…and as I exhaled I thought, Let it go…

Again, let it happen… let it go.

Let it happen… let it go.

This small shift in my mental energy helped me push through the rest of my workout and focus on being glad for what I was capable of, rather than critiquing what I felt were my inadequacies.

Over the past week, I've been trying the implement this little practice. Breathing in, let it happen, as I catch myself in a negative, self-abusive thought, and breathing out, let it go, as I release the thought from my mind. Amazingly, it has helped me to not dwell over the little insecurities I still harbor with my body.

A couple instances in the past few months have me reeling in self-doubt and easily slipping into some derisive and abusive thoughts about my body. Last month, while shopping for my evening gown for the International Pageant in July, I was insulted by a rude sales clerk when he told me that I should "lose some weight in my hips and butt" to help my dress fit better. It has been hard for me to not obsess over this stupid and inconsiderate quip, even though I know better and see his words as a reflection of his own obtuseness and not my health or attractiveness.

With these words ringing in my mind, as a million other more important things demand my attention each day, I have felt trapped back in a pattern of belittling my body and not appreciating all it is capable of, merely from the verbal critique from one stranger. Stupid, right?

As I go forward, attempting to refocus and direct my energy on mental and physical health and happiness, I'm trying to let it go… I see how wasteful this mental energy is to harbor each day, and how counterproductive it is for me physically.

When I mentally abuse or mistreat my body, by way of thinking negative things or saying things about myself like, "My belly is so swollen" or "I wish I had bigger breasts" or "I hate my thighs," I begin to manifest these statements as my reality, and turn back to my old vices. Like many of you, I have a history of emotionally eating, eating for escape, eating to feel happy, eating to feel nothing, eating as a substitute for dealing with whatever really needs my attention. Being emotional abusive to myself in any way lowers me to the level of one who is verbally rude or abusive to anyone else… because I do it to me.

Looking in the mirror, I'm practicing positive affirmations, acknowledging that my body is a good body, that it is capable of doing so much and affords me a wonderful vessel in which to experience this amazing life. My body gets bloated sometimes, it feels sore oftentimes, it gets tired, it gains weight, it loses weight, it gives me unbelievable pleasure and sometimes inescapable pain. My body protects me from harm, cleanses me from toxins, and keeps me moving and speaking and thinking and breathing every single day.

My body is a good body. And so is yours – in every way.

So when I start feeling those icky, negative thoughts bubble up inside, I will breathe in, let it happen…and breathe out all that yucky stuff, let it go…

Maybe after that I will burst into song, Frozen style. ;)





Friday, June 14, 2013
Hey Spark friends,

It's been a while since I've shared a couple updates about what's been UP in my life lately, so I thought I'd swing by and say HI and share!

First of all, this past month I redesigned my website and have been learning so much about the world of web-management -- I feel like I have Conquered All Things, if ya know what I mean! LOL. It's so incredibly satisfying to have a place that I know I've put my time, energy and thoughts into online for all to see.

Also, relating to the website updates, I'm going to start posting regular Vlogs where I answer reader/listener questions about health and nutrition. I'm pretty stoked, and hope that it goes over well. Posted my first one today (and it got a little longer than I planned... about 9 minutes. Whoops. I talk too much!).

In addition to staying busy with my health coaching biz, I started working PT at a local health food store in their supplements department a couple months ago! I'm only doing a few hours per week, but have been learning SO MUCH lately, and I really love answering customer's questions and shopping with them. I'm being consistent with taking a few standard supplements (multi, probiotic, omegas, etc) and have noticed a big difference in my energy. There is so much to learn!! I actually just had a training call this morning with Genesis Today and learned more about superfruits. It's great info to utilize in my coaching, AND at the health store!

I don't think I've shared this little tidbit here on Spark yet, either.... WE ADOPTED A PUPPY! If you follow me on facebook, you have probably already seen pics of her adorable face, but if not, here ya go: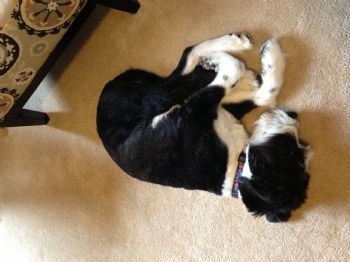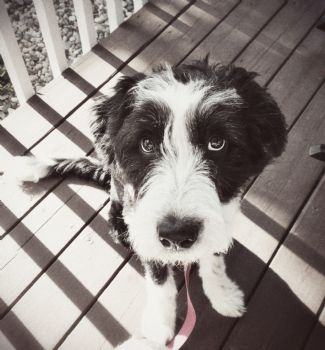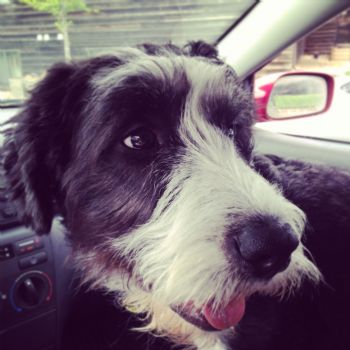 Can I get an AWWWWWW???? She's friggen cute, I tell ya.

We adopted this girl back in February, when she was only 9 weeks. Of course, she's grown a ton, and is almost six months old now. Her name is Elenore (or Nori, as her nickname), and she is a humane society pup... they said she was a border collie mix - we think mixed with a sheepdog or Tibetan terrier. I got her hair cut a few weeks ago, but before then she looked SO SHAGGY and mangy! It was pretty funny.

Other new happenings: I'm running in the COLOR VIBE 5K RACE tomorrow morning with my husband! I've seen plenty of pics from color runs, and they look so fun! I hope it's a great time. I'm thrilled that my husband (begrudgingly) agreed to run with me. Will share a few pictures afterward.

This morning I tried a new exercise class at the yoga studio: Barre Sculpt. It kicked my @ss. Seriously. I'm a hurtin' unit. Hopefully I'll be able to pound out 3 miles tomorrow morning... The class incorporated some yoga-type moves + sculpting/weight lifting and body weight exercise + cardio bursts + barre (ballet/dance) moves at a bar by the wall. Seriously crazy. I was panting and dripping sweat all over like a nasty wet rag. Had to take a few breather breaks to keep from throwing up (the smoothie before class was a bad idea).

Anyway, that's a little sneak peak into my life as of late! I hope you enjoyed, and will continue to swing by to check in occasionally. I don't spend much time on Spark anymore, but am really active on facebook - find me there to keep in contact, or check out my other blog!






Monday, April 15, 2013
I am a beautiful woman.

I say this not to sound arrogant or narcissistic, but to point out a reality that I often struggle to acknowledge and accept with humility. I am beautiful, and so are you.

We as women have such deeply rooted self-esteem battles, that are ever aggravated in the bombarding of daily media we face. We're constantly measuring ourselves against the woman next to us, the face on the magazine cover, the girl in the commercial, the blogger, the facebook friend whose Instagramed "selfies" are filtered over unrecognizably. There is no shortage of ways to fall short in the measures of beauty we hold ourselves to. It's obscene, really.

And it's bull. It's utterly insane, self-degrading and abusive, and makes no sense at all. How can we live a life of health and happiness if we are constantly beating ourselves down? Constantly comparing ourselves to the appearance and standards of others? There is no safety or self-esteem in a life like this. Only self-hatred and a constant feeling of lack.

I've been struggling with this on and off for my whole life – much like you have, I'd guess. When I decided to embark on a journey toward a more fit body and mind, I knew that losing weight wouldn't solve all my problems. (And it didn't.) Sure, I felt better in a healthier, smaller and stronger body, but the mental hurdles I faced still kept me cycling in and out of self-abuse and talk. I'd look in the mirror and ONLY see the cellulite. I'd scour magazines for health tips and beauty tips and the best workout to "tone my abs." It didn't matter that my weight was healthy, my body strong and capable, or that my husband adores me—only that no matter how hard I tried, I could never get those six-pack abs, that cellulite-free butt or that tiny waist. I could try on a pair of size four jeans in one store—and feel like I was on top of the world!—then go to the next and barely squeeze into a "juniors" (ha!) size 11, and then feel like I was fat and gross.

Admittedly, I sometimes still have these feelings. I have low-self esteem days here and there, and wonder if I'll ever just be OK and happy in my skin.

But those days are few. And I am proud to say that MOST days, I truly do believe I am beautiful and don't need to measure up to any of the other women I see. Because I'm me, and I'm healthy and worthy and good as I am.

I've had these thoughts on my mind a lot in the past few days since I read this very inspiring blog post by Fit Mama Training. Check it out here: fitmamatraining.com/what-i-really-lo
ok-like-a-perfectly-healthy-body-in-mo
re-and-less-flattering-photos/

She posts a chain of photos of her real, beautiful and healthy body in some unflattering and flattering angles. It was so inspiring to read her words of confidence and truth – I felt the desire to do the same.

So, my friends, today I share with you some real photos of my healthy body, in more and less flattering angles. They're not filtered or edited, just real unprofessional quick shots from today.

We start this morning… post-shower, wet hair and no makeup. I have a few blemishes, and usually do. I've always struggled with feeling ugly whenever I get breakouts (which has been almost always, from about age 12 to 25), and I'm trying to be more gentle with myself and not "attack" my skin at night (since abusing it by picking only makes it angrier and worse!).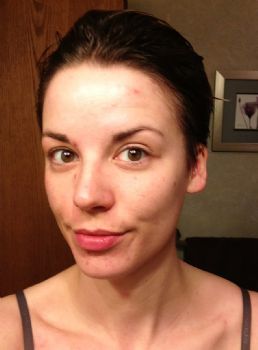 Torso shot… not flexing, not slouching… just standing. I don't have a "perfectly toned core" and no matter how thin I've gotten in the past, I can't get definition or much for a defined waist. It's just how my body is shaped and that's okay. I can "pinch an inch" around my hips and tummy. I also have stretch marks on my hips and thighs and butt, and I have tiny breasts. All these things are okay, and don't make me less beautiful.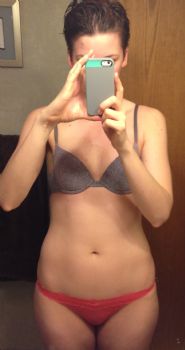 Here is a more flattering angle, in my yoga booty-shorts and sports bra. I weighed myself after breakfast and workout today, and I'm around 150 pounds (5'10"). This is on the high side of maintenance for me, but it's easy to fluctuate between 147-151 without effort. When I try to keep my weight between 143-145, it takes more effort—careful eating and more rigorous exercise. For the few pounds difference, no one notices but me. And I don't care that much anymore.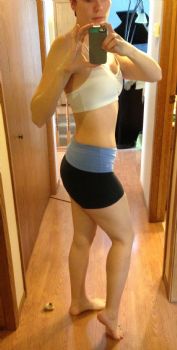 Squattin'! Leg muscle definition, strong booty.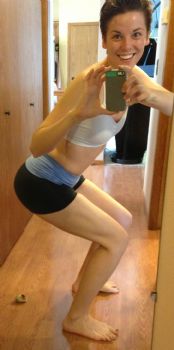 More flattering angle. Sucked in, flexed tummy. Not much definition, but lots of muscle!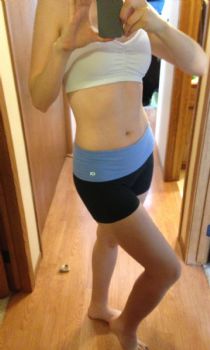 Less flattering angle. Different lighting, slumping down, pooching out over shorts. Baby-love handles and soft pooch. Still okay.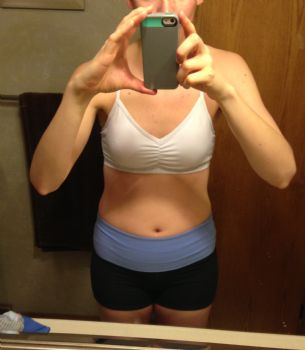 Less flattering angle. Slumpy slouchy. Intentionally pooching out belly and hunching over. Not so cute? Still okay.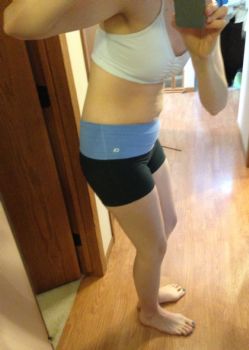 GROSS FACE! Slumpy hunchy. Rippled "belly fat."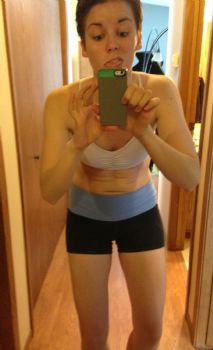 Pulled the shorts waistline down a bit, and I can REALLY stick out the belly. Looks like I could lose a little fat here, doesn't it? Could make a good "before / after" photo, even just compared to some of the more flattering pics above!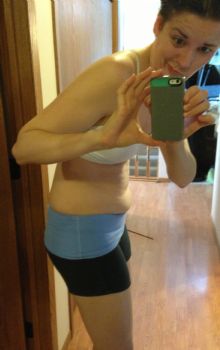 Booty-shot. Not perfectly toned. I have cellulite. That's okay. This booty can squat, balance in yoga poses and run me far!



More flattering shot, differently lighting. Flexing abs.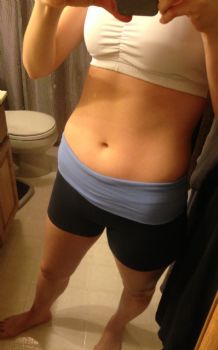 Difficult behind-the-head-mirror-back shot. I have muscle back there.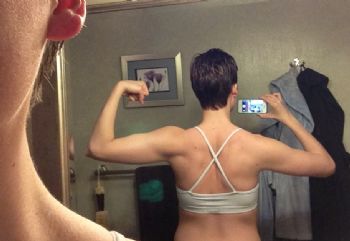 All dressed up and made-up! Normal day look for me. Flattering lighting and angle.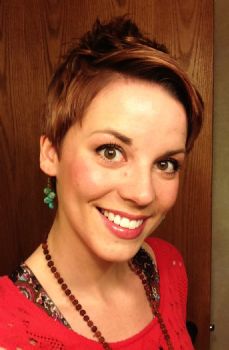 Unflattering face. Double chin!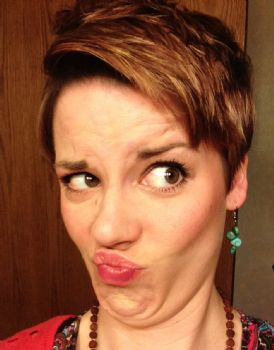 Big grin! Less cute angle, but real me. I have little wrinkles and blemishes.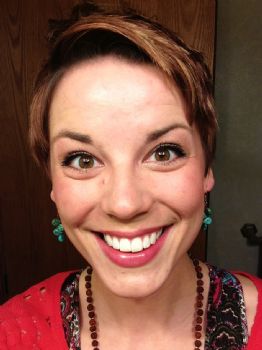 Different lighting, different look. Still okay!



Full body shot, all dressed up and accessorized.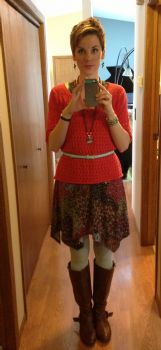 That's me, folks. Lots of angles, lots of realness. And I'm beautiful, and so are you.

My hope in sharing these photos and thoughts is not to give myself an ego-boost. I don't need that from you, as I'm learning to boost myself in a healthy way each day. I'm hoping to give YOU a shot of confidence, knowing that you are gorgeous and worthy, with or without a filter or photoshop. Don't compare yourself to me, because you're NOT me. Ya get what I'm saying?

You are uniquely and perfectly YOU. And that's enough. Because you're enough.

Stop all the comparison. Stop trying to make your body like someone else's. Stop the "fitspiration" pages collecting photos of people with totally different genetic makeup than you. You won't look like them, even following their workouts and diet plans!

Today, I challenge you to see through the judgment, through the comparison, and the unflattering angles. See that you ARE enough, you ARE beautiful, and you CAN be healthy and happy in your skin.

Be beautiful. Be you!





Monday, April 01, 2013
What defines your success? How do you find happiness and purpose, and feel like you've truly accomplished something of value?

I'm learning a challenging lesson about this in my own life lately.

I have written about my struggles with perfectionism in the past – the ever consuming "all or nothing" mentality that I coach so many of my clients through, assuring them that perfect isn't possible, and that is okay. Slip-ups happen. That is okay. Mistakes and failures push us toward our great potential.

I say this stuff… and I know this stuff… but I honest to God have a very hard time putting into practice in my own mentality sometimes. Especially when I feel like I'm continually slipping, tripping, and falling flat on my face. Like now.

When I was a student, I got straight A's. Surprising? Probably not. Unique? Nope. I was your typical oldest child, over-achiever and goodie-two-shoes. I learned that when I worked hard at something and gave it my all, I was rewarded. Rewarded with a good grade. A scholarship. A solo in choir. My art featured in a show. A leadership position. Student of the month. A good tip from a satisfied customer. Positive accolades and praise from my professors and teachers.

I am beginning to see now in these clunky adult years of growth [aka – my 20's] that I must have really attached my own success and worth to all these outside credits. I have always believed I was only as good as the report card or another person told me I was. This realization is slamming me in the soul lately, as I grapple with my perceptions of failure (be they accurate or not) in my life and attempted ventures.

As an adult, I don't get graded quarterly. I don't have superiors praising me, or opportunities to showcase my talents or passions for all to acknowledge and celebrate like I used to. I have had a diverse past few years of work-experience, with some not so great bosses and unhealthy work environments that left me feeling broken and worthless. I am paying off my student loan debt, I pay my taxes, I'm an honest person, and I'm working hard at pursuing a life of passion where I inspire and help other people and live according to my beliefs and virtues… I feel like I've done everything right… but yet…

… I struggle over and over with feelings of failure.

Have you read the book The Five Love Languages? It's a book that I often discuss with my clients when we talk about relationships and easing communications with others. The five "love languages" proposed are: Time, Touch, Words of Affirmation, Acts of Service, and Gifts. When my husband and I read the book several years ago, I discovered (not to my surprise) that I am overwhelmingly concerned with Words of Affirmation. It is how I feel loved and valued more than anything else!

Recognizing this as a primary need of mine, I can see how I've always tied my self-love to the affirmation of others in my life. Whether it be in school or in the work place, I've always sought approval that I'm enough. That I'm good. Worthy.

Successful.

It's no wonder I've been battling feelings of failure and disappointment recently. I'm all too dependent on the approval and recognition by others to validate that I can do this and I am talented and capable and valued. And I haven't been receiving it. Like, at all. [In fact, I've been receiving the opposite of it… criticisms and dismissals.]

I am definitely being tested. My faith is being challenged, and God keeps trying to teach me patience and help me to see that my worth is not in the words of others or the dollars on my paycheck. My worth is in the light of God within me, the love of Christ that gives me hope and strength to carry on.

All these feelings of self-doubt and old mental abuse have been screaming at me these past four days. As you may know, back in the fall I took a part-time job working at a chiropractic office to help supplement my income as I continue to work on building my health coaching practice. (I am a part-time gal, piecing together a collection of jobs to make up a somewhat pitiful and undependable income, while keeping me running all over each day.) I was hired as a Chiropractic Assistant, under the impression I would be primarily working in-office with patients, doing rehabilitation exercises and therapies, and assisting at the front-desk. The job turned into a two-part position – where the majority of my responsibilities were as a Practice Representative, and I was to do networking and sales for the business through lining up speaking engagements at local businesses. While I'm comfortable talking to new people and public speaking, the sales pressure was too much for me, and had me very stressed. I expressed this concern to my superior, and came down with an awful cold. Last week, I departed the office and the job.

This most recent "failure" feels like a validation of my own deep seeded fears of inadequacy: that no matter what I attempt, I seem to fail. I know this fear is illogical, but unfortunately emotions are not dictated by logic. The emotion is real, and the self-doubt has been consuming me.

I don't really have any sage conclusions about all these feelings and musings, other than I know I'm growing, and growth is sometimes quite uncomfortable. (I have the stretch marks from my youth spurt to prove it.) I have a lot to work on, and many realizations about myself and how I define my worth to keep me turning inward and upward – putting my faith in the journey and my God.

Somehow, I have to believe that even if I can't see it and no one is telling me outright, I must be doing the homework necessary to earn my "A" in this career venture soon. I am filled with such passion and desire for goodness and revolution – I want so badly to be a beacon of light and change for others, to radiate truth and compassion and health. Even though my entrepreneurial efforts are taking more time than I had hoped, I have faith that all will be well. Bumps in the road help shape the journey, and help me to redefine what success really comes down to in my life. Because it can't be about dollar signs – or about report cards or accolades.

It has to be about the peace I feel with my place here in this world, and the joy in living, speaking, and acting upon my truth. Blessed be this beautiful life.






Wednesday, February 13, 2013
During the week of flowers, chocolates, stuffed animals, and incessant advertising by jewelry companies, I thought it might be an appropriate time to sit back and consider what this holiday of love means outside of commercial pressures. Sure, it's a blatant opportunity to remind those in our life that we love and care for them, and a glaring day of loneliness to those who may feel unloved without a romantic partner… but isn't it more? Can't it be more?

I think it should be. And is. And so is every day. It's an opportunity to truly turn inward and show ourselves the love and care we need and deserve.

Have you ever hated yourself? Or, if not hated, perhaps berated? Chastised, verbally or mentally abused, physically abused through harm or guilty, angry eating? I know I have.

I know I've done a poor job of actually treating myself with the same love and respect I treat others. I have been a poor friend to me, been abusive and degrading, and really loathed my very existence on occasions. I've felt unlovable, beaten down inside, and unworthy of happiness. I thought that if I punished myself enough for my failures and ineptitudes it would somehow motivate me to improve, to suck less, to be a better person.

What I've learned over the last several years is that hating myself and dishonoring my body and mind has done no good at all. In fact, it's only held me back, and made bumps in the road feel like mountains. When I started to honor myself, to love and nurture and pamper the internal and external me, I realized I could be a better person. I felt worthy. I felt like I was competent and resilient, and that I DO deserve happiness.

I have been thinking a lot about these things lately, particularly after I was feeling overwhelmed and overstretched with my to-do list, and posted a facebook status wondering how parents handle it all with children. I immediately got a whole chain of responses by parents saying things similar to "your children become your life" and that it's all about "putting yourself second to them." When I expressed my understanding that yes, children do become and ARE a main priority, but I think it's important to balance the self in a life with children, I felt immediately "mommy-shamed" (and I'm not even a mom yet!), as if my admittance that self-love is still important somehow made me a selfish person and unfit to be a good parent.

Something occurred to me when I was pondering this interaction and social norm – self-sacrifice for the good of others: Loving yourself less does not mean you can therefore love others more. You do not better the world or others around you – be they your children or strangers in another continent – by self-sacrificing, self-deprecating, and self-abusing. Love is not a tangible thing (like money), where you give less to yourself and you have more to give to others. Love is endless, intangible, ever expanding and conceiving. The more you give, the more you have.

And the more you honor and love yourself, the better person you can be to others. You will feel valuable. You'll feel honored and respected. And when you feel that way, you want others to feel it too. So you share of yourself, your time, your possessions, and love.

Now, I'm not saying that you should love your children less or love others less – I hope that's clear. And I'm certainly not saying that you should put your "beauty rest" or personal pampering wants before the immediate needs of a baby's diaper changing or tending to hungry children (i.e. being a responsible and loving parent). But what I am saying is that there is a way to keep self-love in our lives without it being selfishness. These things are not the same at all.

Self-love is about honor and respect of life. It's about seeing God within you – precious and good – and allowing that light to shine forth to others. It's about modeling a behavior of treating your SELF the way you want others to treat you, and you want to treat others!

Selfishness is about denying others and seeing no value outside the self. It's a callous armor of cowardice, a refusal to open and be vulnerable or share with others. It is not love, and it disrespects the value of others in your life.

Can you see how these things are sooooooo not the same thing?

When you make a practice of including time and activities in your life that honor your talents and interests, and nurture both your body and soul, you can truly be a better person/parent/sibling/friend/etc. You earn no medallions and save no lives by disrespecting and belittling your self and your own worth in your life.

So, I ask you this today: Will you be your own Valentine? How can you choose to honor and love yourself in a way that makes you a better parent, and a happier, more conscious person? What gift will you give yourself this week—and next week, and the week after –to renew the love you have for you? For many of my clients, even a simple 30 minutes set aside for a bubble bath or a designated activity they enjoy just for them can be the perfect way to nourish and refresh the body, mind, and soul.

I would love to hear what you're going to do this week as your act of self-love and care. Please comment below, or share on facebook (/shelivesfit) or in an email. You are worthy of love. Even by you.





1 2 3 4 5 6 7 8 9 10 11 12 13 14 15 16 17 18 19 20 21 22 23 24 25 26 27 28 29 30 31 32 33 34 35 36 37 38 39 40 41 42 43 44 45 46 47 48 49 50 51 Last Page

Get An Email Alert Each Time FIT-WHIT Posts