| | |
| --- | --- |
| | FIDESVIVA's Recent Blog Entries |


Monday, July 27, 2009
I feel like I'm on a giant sliding board right now - the weight keeps going down, down, down! I especially like a weight tracker that I've found that uses a weighted average of the the past week to plot your weight trend, rather than simply plotting all those day to day variations. It's the line on that graph that is my sliding board, going smoothly downward despite numerous and regular hiccups in my actual day to day weight.

The website is called "the Hackers diet", and you can find the weight tracker here: https://www.fourmilab.ch/cgi-bin/Hac
kDiet?s=9900F4FJ40W9890J699JKG776FK1Q0
G6K7G6Q13Q&q=logout&HDiet_tzoffset=unknown

The diet itself starts here: www.fourmilab.ch/hackdiet/
Scroll down the page to the heading "Acrobat PDF Edition", and you'll see there a link to download the file.

I don't necessarily recommend the diet because I haven't read the entire thing through critically, although I did find some useful insights about why weight can vary widely from day to day when you're surely not gaining and losing that much fat!). But I dearly love that graph!

I wanna keep on sliding!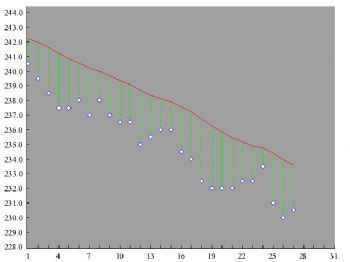 Monday, July 20, 2009
Well, I did it: I have acheived my first mini-goal, I made it to (and now beyond ) 235 pounds. That's 15 pounds since I decided I needed to lose some weight (11 on Sparkpeople) and as of today I'm down 18 pounds. 18 pounds! And to think I'd come so very close to deciding I just couldn't lose weight anymore.

Now I've set my next mini-goal at 220 pounds - only 12 more pounds to reach that one. That's not so very much. I'm sure I can do that! But what shall be the prize? I'm not ready to buy clothes yet. What then? I'm thinking about a book, perhaps, and a couple of hours dedicated to reading. Or maybe a jaunt to somewhere nearby for a couple-hour hike (a thing I haven't taken the time to do in a very long time). That may be just the thing. I'll think about it for a few days - don't want to be too hasty!

Anyway, I highly recommend the setting of interim mini-goals when you are working to achieve something really BIG. That way, you can mark specific achievements along the way, and recognise the smaller steps it takes to get there as the successes they are!




Thursday, July 16, 2009
Yesterday was a tricky afternoon - I really thought I might die of hungry if I didn't go get some yummy carby-fatty treat ASAP. Like maybe a quarterpounder... with cheese... and make that a value meal since its such a value... and supersize it! That's what happens when you don't keep something in your "tank": you can get just a bit crazy.

Fortunately, I had a snack with me to staunch the craving. One of my favorite things: vanilla yogurt with fresh blueberries. It was no quarterpounder, but it took the edge off, replenished the system, and allowed my brain to resume a more normal level of functioning. It let me be smart enought to remember that those big burger and fries binges often just make me feel ill later. And to remeber that "I WANT THAT PEDICURE!", and I won't get to 235 (my first mini-goal, the reward for which is the pedicure) if I eat like that.

And which is better, after all - the momentary tastebud titillation of hastily snarfing down a bag of McD's food? Or the hour-long pedicure process - foot soak, massage, pampering, in a lovely quiet and peaceful spa, away from the world, and getting a "sparky" new paint job to remind me of what I've done so far? I think I'll have the paint job!

And... since I was able to find some restraint yesterday, today I am rewarded with a weight that gone PAST 235. I'm sure that the scales will dither a bit in the next few days even if I follow the plan perfectly, but I've been so close for long enough that now that I'm under - I'm counting this as a win!

And so, I called the salon this morning to schedule my little slice of heaven. Definitely better than a cheesburger!




Wednesday, July 15, 2009
My body is now getting irritated with me! I was feeling so good, the first couple of weeks that I really paid attention to sprakpeople - not really hungry, losing weight, all's right with the world. Now that I'm getting close to 15 pounds down, the troops are getting rebellious: Hunger has reared it's ugly head, and it's companion and partner in crime, Cravings.

Even as I type, I'm thinking of things I could pick up on the way home - awful, wonderful things I could stuff myself with that no one (but me) would ever know about. How much harm could one little cheesburger do, after all? And it's not like I haven't been eating enough - I've been at the top and even slightly over the suggested range for some days, but the hunger and cravings persist. I'll never get my pretty pink pedicure if I cave in, but right now I "almost" don't care.

I'm going to go have my snack, maybe go get a diet coke, and try to distract myself until dinner time. Wish me luck!





Monday, July 06, 2009
I've now lost 8 pounds since starting with Sparkpeople, 12 since I started thinking about rethinking my lifestyle in May, and my first mini-goal is getting very close: to weigh 235 pounds.

I'm yearning for that first little triumph! What shall I do? How shall I reward myself? Obviously not with a pound of macaroni and cheese or a whole extra-cheese pizza (cheese with bread/pasta is my weakness)! What, then?

How do you reward yourself for reaching weightloss milestones along the way to your ultimate goal? It's important to mark these waypoints - so that when things get harder later, you already have some specific concrete successes you can draw on. All of your self-esteem cannot rest in reaching the one big, far-off goal. You have to love yourself now, encourage yourself now, reward yourself now.

As for me, when I reach 235 - hopefully in the next week sometime - I think I'm going to go have a pedicure. I'll let someone pamper my feet, and paint my toes a bright, bold color that will remind me, as summer sandal season continues, that I may not be "there" yet, but I've made a good start so far!



First Page
1
2
3
4
5
6
7
8 9 Last Page

Get An Email Alert Each Time FIDESVIVA Posts