| | |
| --- | --- |
| | FATHINSN's Recent Blog Entries |


Thursday, September 16, 2010
After reading closely an article from acne.org, I decided to try the suggested regime, whcih is simple but need to be careful. So, starting from today, Thursday, September 16, 2010, will start with twice daily:
- wash face with cleanser and dab face dry gently
- with dry, clean fingers, put on anti-acne product
- wash hands and put on moisturizer

For more details on the regime, try google acne.org and you get the ideas. So, prepare yourself, below is my face on week #1. I think I've nice smile but can't help it with those face blemishes! Hmm, can't help to notice that my lips have same colour like my some of my big acne, haha.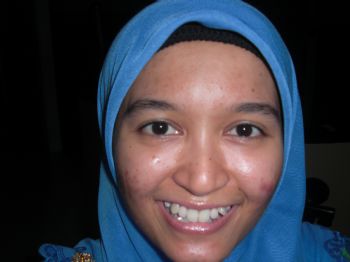 Thursday, September 16, 2010
Wednesday, September 15, 2010

It was last night with my brother's growing family (before they fly back to their town) - himself, my sister in-law, two nieces. Quite sad as who knows when will I see them again, can't predict the future, right?

So, my dad bought us three large Pizza Hut pizzas, Super Supreme, Thai Supreme and Hawaiian Chicken - we rarely eat pizza, almost once in blue moon, so usually we first oggle then eat, haha

. I took three slices at one go, didn't want to overlimit my stomach capacity if I took one by one and end up five, hehe. Thought want to get one more then last minute decision, I wanted to keep one slice for tomorrow, hehe. And I somehow managed to not keep asking - or glancing - at my brother's plate as last times, I did that so that I would have as much as he had!

Bonus: I wanted to do a quick cardio at early evening as I usually do but spending the last moments with my bro's family was more priceless. Especially since I had to work and the only time I could see them was mostly at night. So, I did a quick pushups and squats after my Zohor prayer (noon prayer) at office,





Wednesday, September 15, 2010
Tuesday, September 14, 2010

Just randomly search for acne treatment (using SP Websearch to get point, haha) and found this website, www.acne.org/ As suggested by Daniel Kern (the founder, I think), The Regimen, a simple three steps, to help clear up acne with smart way not the hard way (that what I think when I read through). It did sound simple but need to follow very closely the instruction for a beginner - wash, put on lots and lots of 2.5% benzoyl peroxide then moisturizer. Hmm, a bit hesistant to use the benzoyl as there are so many reviews that claimed it will bleach hair and clothes - so scary! So, I figured, maybe I can try use my existing salicylic acid (Clinique Spot Treatment Gel). So, for a trial time, starting Thursday, September the 16th (coincidentally, Malaysia's Day, getting national spirit, hehe), I'll do (daily, morning and night):
- wash my face with my SkinFood Parsley and Mandarin Mild Foam
- put on my Clinique Anti-Blemish Solutions Spot Treatment Gel very lightly all over my face My brother once used this technique with acne spot treatment product from NutriMetics and it worked!)
-moisturizer - just finished my Bobbi Brown moisturizer, Vitamin Enriched Face Base so I'll use SkinFood Parsley and Mandarin Emulsion, much much cheaper and supposedly deal better with my skin, dunno why Korean and Japanese products almost always worked well with my facial skin.

So, goodbye (temporary) my dearest serums (for regenerate skin faster, reducing pores, brightening), sunblock (this is the hardest goodbye but had to coz mine might be clogging,

) and lastly, all my makeup

So, tomorrow, will take a special photo shoot for my starting face for this new skincare regime then end of October, will take another picture and see the difference. By that time, I'll probably have gone through twice period-acne time and hopefully no scary, big pimples!

By the way, while waiting for the Pizza Hut order with my father, I wandered to SkinFood shop and got more information about the Parsley and Mandarin and about new product called Acorn Jelly Mask (remind me of squirrels, haha). A bit broke, so I think I'll buy just cleansing foam early next month, the mask probably after I returned from Hajj as my birthday gift and might can get freebies as end of year, almost all stores will give freebies related to new year. I hope will get table calendar!

Bonus: No bonus, just feeling bad as I felt asleep after my prayer at dawn and not helping my mother with cooking



Question: What's the different between blemish and acne?




Tuesday, September 14, 2010
Monday, September 13, 2010

I managed to non-stop jumping 80x in 1 minute, an upgrade from 30-rest-30 per minute

Monday, 13th day of September 2010, marked my record of 80 jumps-rest-80 jumps-rest-80 jumps in 3 minutes, so total is 240! And I think my jumping rope endurance (if there's such a thing, hehe) is getting better, I still needed to take long, long breath after 1 set of 80 but my calves muscles were doing fine, not too much "fire" after finished my jumping and by the time I wrote this, I didn't have terrible aches like last Friday, the day after jumping rope battle with my brother (blog MPR1 Day #18 Battle of Jumping Rope www.sparkpeople.com/mypage_public_jo
urnal_individual.asp?blog_id=3624490 )

It's time for me to take next step - add one more day of jumping rope (now is at 2 days weekly).

Bonus: I gave Eid homemade biscuits to my colleagues and the comments were good! Flattered by the praises on behalf of my mom, haha. (Of course I also contributed in baking the biscuits, hehe)





Tuesday, September 14, 2010
Sunday, September 12, 2010

(Still in my dad's hometown) As my parents, aunt (father's sister) and me plan to do our Hajj this year, we had a family gathering where we pray for our safe trip and complete our Hajj with no obstacles then ask for forgiveness from relatives and lunch. It was packed with relatives from my father's side, no surprise as we are quite a lot, noisy bunch, more like a clan instead of normal family, haha. I've lost count how many were there and my head just swirled with faces and names - one of my weakness is hard to connect names with faces, haha. There seemed to be more offsprings, additional to our already big Akhbar Khan Clan and some women were pregnant, one even 8 months! Lots of gossips and info to be shared, trying to eat safely without getting knocked down by some running kids and lastly, photo sessions! It was for offspings for the Akhbar Khan 's eldest child and daughter who was my grandma (passed away in 2004) and that side is keep growing bigger and bigger. Just imagine if we managed to take picture for all relatives, I don't think we can do capture all inside the house, had to be somewhere more spacious, haha.

Back to my hometown, the whole family was so tired - stuck in a cramped car, even though just 3 hours, never a fun experience, haha. But my dad, ever a busy guy, on his computer till very, very late - reported by my brother, hehe.

Still managed to drink 3 litres of water (or maybe more!) as if to wash off the sweet taste from my mouth. Unfortunately, not much fruits and veggie, even though I helped to cut the watermelon for lunch. I should sneakily eat some of the fruits while cutting but didn't think it hygenic, haha.

Bonus: My cats seems to still recognize me after a day and night away




First Page
1
2
3
4
5
6
7
8
9
10
11
12
13
14
15
16
17
18
19
20
21
22
23
24
25
26
27
28
29
30
31
32
33
34
35
36
37
38
39
40
41
42
43
44
45
46
47
48
49
50
51
52
53
54
55
56
57
58
59
60
61
62
63
64
65
66
67
68
69
70
71
72
73
74
75
76
77
78
79
80
81
82
83
84
85
86
87
88
89
90
91
92
93
94
95
96
97
98
99
100
101
102
103
104
105
106
107
108
109
110
111
112
113 114 115 116 117 118 119 120 121 122 123 124 125 126 127 Last Page

Get An Email Alert Each Time FATHINSN Posts