| | |
| --- | --- |
| | FANGFACEKITTY's Recent Blog Entries |


Thursday, March 15, 2012
FANGFACEKITTY: 1
Best Buy: 0

My daughter dropped of the phone for repair almost 3 weeks ago. The repair was supposed to take 3-5 days; they said they would call. After nearly 2 weeks I still had not received a phone call. She went in and they couldn't find my account, couldn't find the phone, had no record of the phone. I both called and went in the next day and they still couldn't find my account, couldn't find the phone, etc. I expressed my displeasure and hoped they would be able to find it by Tuesday. They promised to find my phone and call; I promised to return. Once again they never called; I, however, keep my promises.

After allowing them an extra day I went back in.

The Geek Squad did not stand a chance.

I pick up my new phone after work today.

But I suspect they are putting my picture on their wall as a warning to be extra careful in any future dealings with me: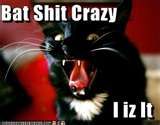 Wednesday, March 14, 2012
Just when you think you're with the program...



Friday I reconnected with an old friend I had lost contact with, "Mr. L" who is no longer married either; had some impure thoughts

but it turns out Mr. L already has a girlfriend. OK, no big deal, this is no reflection on me. I've still reconnected with an old friend, life is still good.

But Old Me launched a sneak attack and sucker punched me yesterday. Second guessing everything, lots of negative self talk. It's like being married again to my emotionally abusive ex-husband. Mr. L was from that period in my life and is the only thing I can think of that would have triggered this attack, prompting old memories and emotions.

I fought long and hard to get out of that mindset but I just can't seem to shake it right now. Old thoughts, old habits are fighting to start again and I don't seem to have the energy to beat them down again. It took everything I had last night to go to karate and not speed dial the pizza place and eat myself into a food coma. It is taking everything left of my reserves not to go shopping right now; for a partially recovered shopaholic this is the material equivalent to a food binge. I'm not sure I'll be successful, but I'm sitting here blogging during my lunch hour so I won't have the time to find a store.

The little badge on my page says I'm a SP Motivator. I certainly don't feel very motivating right now.

But at least this time around I have the tools to fight back.

I decided I will have my little pity party of 1 for today. I will feel sorry for myself, I will let that evil little voice tell me how horrible everything is. I will store up all those hateful words.

Then I will program my playlist tonight with a lot of very loud & angry music. I will go to the gym for my speed run and push myself harder than originally planned. If I can't sweat this out of my system I will pound that evil bitch voice in my head into pulp and do a victory dance on its broken lifeless body.

Then I will go to Best Buy and "discuss" my missing phone, which they have lost. The wrath of FFK is a mighty thing, I almost feel sorry for what they are about to experience.






Sunday, March 11, 2012
March 7th was my 1 year gym membership anniversary. I looked back at some of my first training logs and wow!

When I first started SP in January last year it took me almost half an hour to walk just 1 mile and I thought I was going to die by the end. When I joined the gym in March I was jogging; 2 miles in over 27 minutes and I thought I was going to die by the end. A 5k took me over 41 minutes and I wanted to die by the end. My weights on most of the machines was about 30 pounds and I had to rest every couple of reps in order to get to 15. I could do only 15 pushups in January, and only 19 by March.

I remember thinking that a 10 minute mile pace was SO incredibly fast and there was no way I could sustain that for 2 miles, let alone get to the minimum 9 minute mile required for black belt testing. I would secretly check out the stats on the treadmills next to me and feel discouraged inside because it looked so easy for them and I KNEW I would never be able to do it.

But still I kept plugging away, going to the gym at least 3 times a week throughout the spring. I signed up for a 5k race in April, kept track of my progress, remained upbeat and determined in my blogs...and still secretly believed I would never be able to get where I needed to be.

Until May 16, 2011. On that day I ran 2 miles on the treadmill in 17:42! Yes, I had to hold on to the treadmill for part of that run but I did it. That was the first day I actually thought that maybe I could really do the run in under 18 minutes. The voice of Old Me, constantly doubting and undermining, took a big blow on that day. www.sparkpeople.com/mypage_public_jo
urnal_individual.asp?blog_id=4237342

Shortly after that I remember walking from the treadmill area to the back of the gym to the ab machines, seeing a woman in the mirror and wondering to myself who she was; she was curvy in the right places and looked strong and confident. Then I realized it was me. I truly did not recognize myself initially; my mental image of who I was no longer matched the reality of who I was becoming.

My times continued to improve. I started training outside in June. I started training in July for a half marathon. By August I was regularly coming in under 18 minutes on the timed runs. By the end of the year my 5k time was just over 27 minutes....more than 10 minutes faster than my 2 mile time in March. A 10 minute mile pace is now my easy run. I have run 3 half marathons so far and have more scheduled for this year. I plan to run a full marathon in October. I had increased the weights on the ST machines to 50 lbs and no longer needed to rest between reps; now I am up to 70 lbs or more, depending on the machine. I can do 50 consecutive pushups and have the stamina to last several rounds of sparring (and win many of them).

And a few weeks ago I noticed the people on the treadmills on either side of me secretly checking out my settings and stats.

I have arrived!





Saturday, March 10, 2012



All purshups are military style unless otherwise noted.

Sunday - 4 sets of 20 pushups each
Monday - 4 sets of 20 pushups each
Tuesday - no sets, 25 consecutive pushups in class
Wednesday - 4 sets of 20 pushups each
Thursday - 4 sets of 20 pushups each; in class 35 consecutive pushups, 15 consecutive girl pushups, 7 sets of 5 pushups each during circuits (165 total for the day)
Friday - 4 sets of 20 pushups each
Saturday - 4 sets of 20 pushups each

Total for week - 590





Friday, March 09, 2012
And skies of blue above,
I'm shouting so, the world will know
That I'm in love
(Brian Setzer)

Ok, not really, "love" is not the "L" word I had in mind.




Today I reconnected with someone I used to work with at another company, who now works for the main division of the company that bought us last year. When we used to work together there was an attraction but we were both married at the time so nothing good could ever have come of that. I eventually left the company, we stayed in touch for awhile but lost contact a few years ago. In one of those twists of fate he wound up at the main division, which was one of my company's parents until they bought out the other parent, and now the 2 headquarters are consolidated into one building and we work for the same company again.

Today we had a "meet & greet" bowling event so all of us in the 2 divisions can get to know one another. Imagine the surprise when we ran into each other. Only now I am single...and so is he, only much more recently. So...we shall see what we shall see as time goes by.

In the meantime Best Buy has lost my daughter's phone that she left with them 2 weeks ago for warranty work. They have no record of it or idea what happened to it. My ex went all pyscho on them last night because he wants his deposit back for the loaner phone they gave her and got asked to leave the store. I was much politer and gave them until Tuesday to locate the phone or replace it before my claws come out. The wrath of FFK is a mighty thing, I hope they do not have to experience it.

I'm making fish with tomato and artichoke for dinner tonight and then off for my long run and ST, which is now much needed as I discovered I truly stink at bowling unless beer is involved; needless to say my 2nd game was much better than my first but now I have extra empty calories to account for. No regrets though and I got my pushups done for the challenge this morning, tomorrow is more light switch and outlet replacing and putting in a new bedroom door for my son's room.

Happy Friday!



First Page
1
2
3
4
5
6
7
8
9
10
11
12
13
14
15
16
17
18
19
20
21
22
23
24 25 26 27 28 29 30 31 32 33 34 35 36 37 38 39 40 41 42 43 44 45 46 47 48 49 50 51 52 53 54 55 56 57 58 59 60 61 62 63 Last Page

Get An Email Alert Each Time FANGFACEKITTY Posts