| | |
| --- | --- |
| | FANGFACEKITTY's Recent Blog Entries |


Sunday, July 24, 2011
The Proving Grounds DIY Challenge assignment

Our assignment for this week is to post proof of exercise and healthy eating.

On the exercise bike Friday after work before heading to the Rob Zombie concert. Because I didn't have time to go home first (I live in the opposite direction from Pine Knob) I drove around until I found a local to work gym that had a day pass at a reasonable price so I could do my exercise and not break my streak.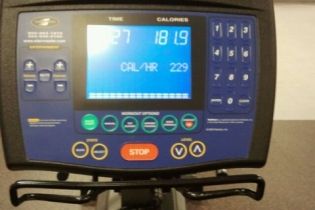 Today I got my daughter 3 month membership at a local hotel gym so she can use the pool to start getting ready for her youth triathlon next month. I came as her guest and went swimming too. I haven't been swimming in 2 years but am pleased that I was able to swim 400 meters today (with rest breaks between every 25 meters).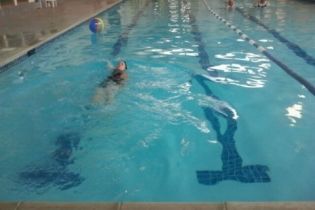 I haven't actually cooked anything yet this weekend so I have pictures of my shopping trips.

The first shopping expedition today was into my garden. Luscious red ripe raspberries and various veggie & herb goodness.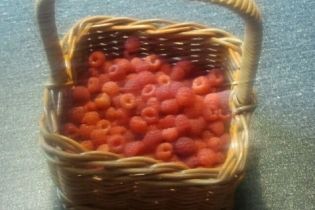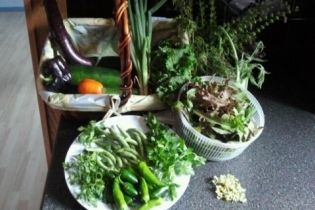 In the basket I have zucchini, an eggplant, 2 chocolate bell peppers, my first tomato!, green peppers, mustard greens. On the plate is cilantro, green beans, jalapenos & chile peppers, & parsley. The little pile of white is chamomile flowers to dry for tea. The green container in back has lemon basil, tarragon, purple basil, marjoram, sage and thyme. The salad spinner has various types of lettuce & greens.

My second shopping trip was to the farmer's market to supplement what I don't have ready yet myself.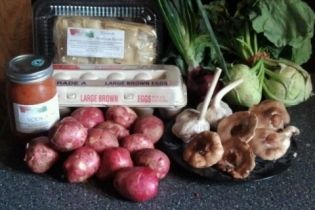 I have fresh mushroom ravioli and vodka sauce, brown eggs, new potatoes, a red onion, kohlrabi, garlic & shiitake mushrooms.





Tuesday, July 19, 2011
The Empire of Fangfacekitty has grown complacent 'lo these last few months since banishing the scale gremlins to the Land of Freakishly Thin Supermodels.

But the scale gremlins are nothing if not tenacious. The have been sneaking back across the border an ounce at a time in the dead of night so as not to arouse suspicions. This morning, at dawn, they attacked with a 4 lb. weight gain!

General Treadmill retired after winning the last battle yet all is not lost. Fangfacekitty has a new General in charge, General Becky, aka Crazy Me. General Becky has marshaled the troops and is putting together the battle plan while the combined forces of scale gremlins and pizza dinners attempt to breach her defenses. They shall not succeed!

Fear not concerned citizens of Spark People! The scale gremlins shall be stopped and routed once again!





Monday, July 18, 2011
A gym rat that is. According to my log I have been to the gym 9 times so far this month, or 50% of the time. Does that qualify me for gym rat status?

I've been coming here since the beginning of March. It is nothing special as gyms go. At least 1 treadmill & exercise bike has been out of order that entire time and none of the equipment is brand new, or even always works (like the fans and heart rate things on several of the treadmills). But it is 1.66 miles from home which is why I chose it. No excuses to skip when it is close enough to run / walk there, which is how I know how far it is. If I had to travel any real distance I wouldn't be as dedicated.

As is to be expected there are a number of regulars. I get a kick out of watching some of them, they are so cliche. It's like having a front row seat watching the games in high school without the drama of being a participant.

There are a few like me of both genders, who come in, get it done and leave. No fuss, lots of sweat. Low maintenance all around. We dress for comfort, zone to our music, try to be efficient in our workouts.

There are the teens / 20 somethings who travel in gender specific packs. They are mostly here to see and be seen. The girls travel in twos, the boys in packs of three or more. Girls stay on the cardio, make a show of adjusting their shorts, busts, hair, etc. Tank tops and booty shorts are the outfit of choice. They spend as much time primping and chattering as they do exercising. Rarely do they break a sweat.

The guys stay on the free weights. Their attire consists of basketball shorts and those "muscle shirts" that basically consist of a neck and waist with a thin strip of material to "cover" chest and back, and which leave their arms and sides, chests & backs completely exposed. Armpit hair exposure is such a lovely, motivating sight. The boys too spend about as much time flexing, adjusting and chattering as exercising. They do walk around a lot more though.

Then there is the group of 40 something men. They also travel in packs of 3 or more. They wear varying combinations of shorts and t-shirts. There seems to be an unwritten rule that to qualify for pack membership one must have either a brown leather back brace or weight lifting gloves or both. Those with the black fabric/Velcro attachment back braces are permitted to skulk around the edges of the pack but are obviously lower ranked.

These men also stick to the free weights but they actually use them. They walk around quite a bit too but at least don't treat everyone to side views of body hair. They grunt a lot as they try to one-up each other and spend their time between sets gossiping just as much as the women. They are constantly looking around at everyone even while lifting the weights. They are hunting.

I have not seen any packs of similarly aged women roaming about. It is possible they do their hunting during the day and not at night when I am here. Most women I see in my age group are alone and fall into the earlier mentioned "get it done" group.

Another group is the "serious" weight lifters. Can you say "steroids"? OK, that is a generalization and quite possibly unfair, but these are the men of all ages whose chests, shoulders, arms and/or legs in varying combinations have reached proportions not intended by nature. They do tend to be the younger guys and their weight lifting involves a lot of jerking and grunting. The grunting I understand because they really stack on the weights, but I think the jerking is probably not good?

Lastly there are 2 very special members. If I could get away with taking pictures I would as I cannot adequately describe them. I shall attempt to do so however.

Both are women. It is quite painfully obvious why the first one is here. She mainly concentrates on the circuit weight machines. Her outfit of choice consists of VERY low rise yoga capris (and she must have a great wax tech in order to wear them!) and a low cut sports bra. Her really long hair is pulled back into a braid, which she tosses a lot. She has to squirm around a lot on the equipment to get her seat just right, or re-adjust the weights - really it is just to squirm. She very obviously does not "notice" that she is being watched while very busily checking out all the guys while gyrating on the machine of choice. She will do maybe 5 sets before having to stop and squirm some more. Then she gets up and goes to the next machine.

But this is not a simple walk from one piece of equipment to the next. The next machine is always the one that is located the absolute farthest away from where she is. And she does not walk. I don't think there is a word to describe what she does. Think of supermodels walking on the catwalk. Multiply that by 10. Her hips roll from side to side. Her bust is thrust forward, shoulders back so for they almost touch. As she walks the shoulders gyrate from side to side, front to back in time and motion with the hips while her lower arms are held slightly away from the body. It is painful to watch. There is so much rolling going on I have to wonder how she manages to walk a straight line & not capsize.

The sad part is she is very pretty & in shape (she has defined abs for pete's sake!) and doesn't need all the shenanigans to attract someone.

The other woman is not quite so obvious. She comes in and gets her workout done without the games. But she, too, tries way too hard. Bleached blond, champion of the tanning booth and the most perfect bosom money can buy. Which she shows off in sports bras a size or more too small so that the entire gym is constantly watching to see if today is the day she pops out (and yes, you do detect some jealousy here LOL!). But to her credit she can whup my backside on the elliptical.

I don't know, maybe if I were 20 again and looked like either of these women I would be the same. Fortunately I am happy with my progress and who I am and am becoming. And know that should I wish and for the right price I, too, could be racked LOL!






Sunday, July 17, 2011
4 letter words were not allowed by my parents when I was growing up. Say one and the punishment was getting your mouth washed out with soap. I don't remember it ever happening to me, although it may have once. One of my younger sisters was a slow learner though and had it done several times before she caught on LOL!

So what 4 letter word have I said lately? Well, I have a mouth like a sailor many times but this blog is not about what I say. I have noticed an incredible number of posts & blogs since I have been on SP that are just filled with a "bad word".

Fail.

This is the consummate 4 letter word.

It is not allowed. If you have said it go eat that soap bar or gargle with the dish soap. I'll wait.

Every day it seems there is another post by someone who has "failed" because he or she gave in to the pressure and ate the "wrong" food, or too much, or didn't exercise, or can't just wake up one morning and go run a marathon or climb a mountain or bike the Tour de France or some other ridiculously high expectation that person had for themselves. And because that person thinks he or she has "failed" for doing or not doing any of these things s/he gets depressed and wants to just give up b/c obviously s/he was not meant to be healthy / skinny / active / fit / whatever.

Bull puckey & horse twaddle. I'm not a patient person by nature & I admit to having a hard time reading about how this person or that one failed. I have little interest in doing so any more.

The only way to fail is not to try at all!

Just by being here every one of us is trying.

No one is perfect. Being fit and healthy is hard work. Losing weight is even harder work. There is no magic pill or drink or prayer or anything that will make us skinny, healthy and fit without effort from us - and believe me I am the first person who wishes it were just that easy!

I'll say it again, louder this time:

NO ONE IS PERFECT! LOSING WEIGHT, BEING FIT & HEALTHY IS HARD WORK!

Overeating happens. Skipping a workout happens. You can't go from couch to marathon just by waking up one morning.

So what if you overate today. Tomorrow is a new day, figure out what happened to cause the overeating and fix the issue, or avoid it until you can fix it. Come up with an alternate plan if you can't fix it or avoid it. DON'T use it as an excuse. No one made you do it and it is not a license to keep on that path.

So what if you skipped your workout. Workout tomorrow. Kick it up a notch. DON'T use it as an excuse to stop exercising.

So what if you ate that candy bar. The world is not going to end. There are no forbidden foods (unless you have a medical issue). Eat more fruits, veggies, grains, whatever at your next meal. Get back on your plan. DON'T think you now have permission to swallow every artificially sweetened over-processed bit of pseudo-food in sight.

The last few weeks I have eaten over my calorie range several times. I've counted gardening as my cardio instead of going running or biking like I said I would. I've avoided doing several of strength training workouts I had planned to do. Today at lunch I had a 2 scoop ice cream cone and I thoroughly enjoyed it. Does that mean I've failed at my nutrition and fitness plans? Does that mean I've failed on my Spark Journey? Does that mean I'm a failure?

NO!!!!!

Look at my ticker. Does it look like I've failed?

Read my monthly recap blogs about my goals. Does it sound like I've failed?

Go check out the Spark Motivators...every one of them has made mistakes, stumbled, had moments of doubt. Are they failures?

So why do you think you have failed because you're not perfect? Have you tried?

Just because you don't succeed 100% of the time only means you are human. Did Edison invent the light bulb on the first try? Did Lincoln win every election? Did Michael Jordan win every game, sink every shot taken? Were they failures?

Repeat after me...

"The only way I can fail is not to try at all." (Fangfacekitty)

"There is no failure except in no longer trying" (Elbert Hubbard)

"Winners lose more than losers. They win and lose more than losers, because they stay in the game." (Terry Paulson)

"No man is ever whipped until he quits - in his own mind." (Napoleon Hill)

"If you have made mistakes, even serious ones, there is always another chance for you. What we call failure is not the falling down, but the staying down." (Mary Pickford)

Repeat as often as necessary.

And say the bad 4 letter word again not only will I have to come kick your butt back in gear...but I'm gonna have to tell your mom on you.





Saturday, July 16, 2011
My new motto: Just do it anyway.

Actually it is "Quit your bitchin' wussy girl, suck it up & get it done." But that is a bit rude and not quite sound bite material lol!

The bunnies have been finding a way into my garden, I have had to chase 2 of them out several days this week. I suspect they get in through the gate, it is hard to keep it closed enough to prevent a gap in the rabbit fencing attached to the bottom. They look at me like "How DARE you chase us out of OUR garden!". At least now that the tree boxes are done & project pictures taken I put fencing around the kiwi trees and they are starting to come back now that the bunnies aren't eating them anymore.

I signed Jacq up for a youth triathlon next month, in Greenville, SC. My parents live about an hour away from Greenville and she will be down there visiting about that time. 200 meter swim, 5 mile bike ride, 1 mile run. So we need to get some pool time in over the next few weeks. Unfortunately the local high school / community pool doesn't post their hours anywhere online that I can find so I'll have to go up there tomorrow & see if they've finally started posting hours on the door. When I was swimming to get ready for summer camp 2 years ago they didn't post hours for whatever reason so we'll see.

My cat Rocky Road has discovered a new protein source. The kids feed her fish flies. Or they let her on the front porch so she can grab them off of the front door herself. Today she also ate a big black ant and a spider she found in the raspberry bushes.

The raspberries are intent on world domination. They are spreading like crazy, even though contained behind the fencing. I'm very glad I put the fencing up last month before they got too big otherwise I wouldn't be able to walk behind the back garage at all right now. I'm getting a bumper crop of berries, they are just at the point where I'll start needing to go picking every day to keep up with them. Fortunately using them up isn't a problem.

According to the doctor I have gallstones & I am "fortunate" that they are "really big". Apparently they are too big to get stuck in one the bile ducts so I have been spared the worst of the pain and therefore my gall bladder isn't inflamed or infected. But it will still have to come out at some point b/c there is no guarantee that I won't get smaller stones that will get stuck. I just need to find time to have it done. I really don't want to have to take the time off work or training. I'd like to save some vacation days to carry over into January for our trip to London for New Year's.

Tomorrow I really have to do some baking, no excuses. I now have 5 jumbo zucchini from the garden this week. Zucchini bread, zucchini carrot muffins, sautéed zucchini, whatever other recipes I can find. 'Cuz more are growing. If only my tomatoes would ripen & my hot peppers would grow really soon now, I am getting impatient. Salsa using only the jalapeños just isn't the same and there are no habaneros in the stores right now.

And I think this is all for tonight, hope everyone had a wonderful day!



First Page
1
2
3
4
5
6
7
8
9
10
11
12
13
14
15
16
17
18
19
20
21
22
23
24
25
26
27
28
29
30
31
32
33
34
35
36
37
38
39
40
41
42
43
44 45 46 47 48 49 50 51 52 53 54 55 56 57 58 59 60 61 62 63 64 65 66 Last Page

Get An Email Alert Each Time FANGFACEKITTY Posts