Wednesday, January 12, 2011
Like many here I've decided to keep a visual history of my progress. This is me today at 195.1 lbs.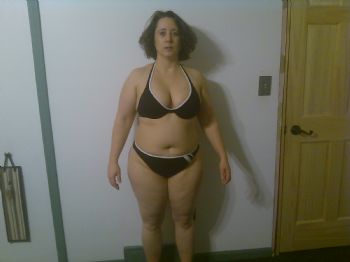 I plan to take another picture after every 10 lbs. lost.

What's scary isn't so much the picture but what it represents. That bathing suit is one I bought many years ago when I weighed 135 lbs. It is a size "Large" according to the tag.

So if a 5'6" woman weighing 135 lbs., which is the lower end of a healthy BMI, is a "Large" where does that put me today at 60 pounds heavier? What kind of message does that send to women, and especially young women & girls, that they are "large" sized when they are perfectly healthy?