| | |
| --- | --- |
| | FAITHFULSTORIES's Recent Blog Entries |




Friday, January 01, 2010
Happy New Year Everyone! I have to say 2009 was a blessed year, and I look forward to 2010 being even better. Goals and me have not always been the best of friends. Sure, I make them, I read them, sometimes I accomplish them, but committed consistency and I tend to dance in the dark too often. Time for that to change! I am beginning 2010 in full disclosure, total honesty and a willingness to work towards a healthier, fitter, better life.

My fitness rocks. I hike a local mountain three-four times a week no matter the weather. I love to walk/run my neighborhood and I've three sons who love to "workout" with me in the weight room. Admittedly, I cannot hold a candle to their teenage bodies, but I do okay for my 43 years :) I'm not one to focus on weight, but I really, really, really want to be healthy for a long, long, long time!

I find weight and exercise closely linked to finances. We are truly blessed in this department, and I"ve been able to be a Stay at home mom for the past 17 years. I am a freelance writer, so I dabble and get paid occassionally, but overall we're one salary.

My mantra for 2010 is NO EXCUSES. I CAN and WILL move faster on my treks, and bring my health up.

And here is the biggest secret of all....as a writer, I long to be an SPmotivational blogger. I want to be the change I want to see in the world, and I want to make a difference. To that end, I will blog a minimum of once a week and share my life with others.

Here's to a terrific 2010. One filled with NO EXCUSES!!!!!!!

Thank you for being a part of my journey.

Always,
Faith





Sunday, December 20, 2009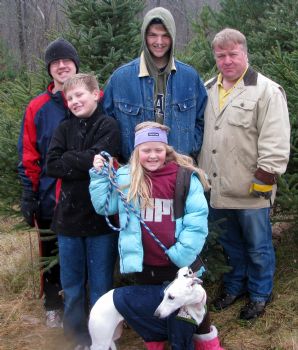 "Oh Christmas tree, Oh Christmas tree, your leaves are so unchanging…" Sing along, you know the words. This is the theme song of our annual trek through the woods. The long awaited day when the six of us pile into the car, saw in hand and rope coiled tight in wait, and find the perfect tree. The one we will forever note as being the best tree we ever had.

It is an annual event dating back to my youngest childhood memories. It doesn't matter how warm or cold it is, we will be wandering the forest in search of the perfect tree. This year is bittersweet as the saw has been handed off to my two oldest sons. No longer are they knee high to their daddy. Now they tower over him wielding the saw with their newly developed muscles prepared to chop down the family centerpiece. Tony will stand by and watch in awe; saddened by his relegation to tree dragger and oh so proud of the newly developed young men standing before him.

We arrive. The day is unseasonably warm; near 50. The car is loaded down with the weight of growing children and the vast emptiness of those who have come and gone before us. We are the third generation of tree choppers and we are on a mission.

With the ebullience of youth, our four children hop from the car and begin running towards the rows and rows of trees. Shouts of this ones perfect, no too fat, no too thin, no too bare begin. Now that the kids are older, their taste in trees is as different as their taste in music. What is a mother to do?

The answer is simple; convince them I will choose the tree. They all get a vote, of course, but I am the final decision maker. The mommy, the one with the power to give them an extra snack in their lunch box or pork chop at dinner; okay, my boys like food and I'm not ashamed to use that to my advantage. Ms. Abigail is not such a fan of food, but she will go with my choice because in her words, "We girls have to stick together!"

Now, with that matter settled we begin our trek. Adam searches for the tall, skinny trees with short needles, Erik likes the short, squat, long- needled trees, Abigail wants a Charlie Brown tree and Ian is happy with anything as long as he gets hot chocolate when this ordeal is over.

"I'll take a chocolate chip cookie too, "he tells me.

Two hours and countless numbers of rejected trees later, Tony puts his foot down.

"If we don't settle on a tree in 15 minutes we are going home without one," he declares.

This sets the troops in motion. They run around to all of the previously tagged trees. All of their hands are bare now as they are using mittens as markers, and they determine that none of the trees are suitable. They know the drill, they've done this for several years and they know things will turn soon and the perfect tree will be found.

Adam, my eldest, nudges me into action.

"Okay mom," he says. "It's time!"

This is my call to action. I stand in the middle of the forest and at the top of my lungs for all to hear I begin to sing "Oh Christmas Tree," and then I wait.

My children have all scattered pretending not to know the crazy singing lady. Then, our tree is found. How do we know? We hear the return refrain being sung softly in the distance. At first it seems that the wind is whistling, but as we follow the sound we discover the source of the refrain. It is the perfect tree! Yes, it's true, in our world; we believe that trees sing of their desire to live with us for the season. We always chop down the one that sings. It's a long standing tradition to spend hours in the woods and bring the singing tree home.

Between you and me, "the singing tree" has a tape recorder or a daddy underneath it softly singing.

With a few quick slices of the saw, the tree falls in place and the menfolk drag it to the car.

It is safely home now, still singing, and by far, the best tree we've ever had.






Saturday, December 05, 2009
So here's what I know for sure...everyone has a story to tell, and most of them define who we are. The question is, are you brave enough to tell your real story? You know, the one that makes you tick and sing and breath heavy when you think about it. That's the story I'm talking about.

As a writer, I hear stories all of the time, and I am always claiming that everyone has a story to tell. If I had my way I'd hang out in nursing homes and hear stories all day. I'm not talking about the lifetime stories, but the soul stories. I want you to start with, "hi, my name is _______ and I was born _______ and then I want you to let go of all preconceived notions about what is appropriate for you to tell and I want to hear your story.

I want to know why you are fearful of heights, what happened? I want to hear about the day you sat in the third row wearing a bright red shirt and the teacher came right up to your face and told you you'd never amount to anything. What did that do to you? How did it make you feel? Who are you today because of that experience? I want to know you SOUL first. I want you to believe that I can be trusted. This is an experiment of sorts, a human friendship test if you will. I want to know what it will take for us all to let go of pretenses and tell our stories.

I have a brilliantly close dear best friend who allowed me this opportuity and it is because she took the time to truly know me that I am who I am today. How many of us open up our souls to the world and share our stories. I believe everyone has a story to tell and I want to hear yours.

Now, you are likely thinking to yourself, that this crazy woman is a nut job, a voyeur wanting to expose you, but I promise you that is not the case. As I lay in bed thinking about this last night ( I awoke with a start hearing the words tell me your stories over and over again), I realized how like Christ this is - after all, he knows our stories. The true ones, the ones that make us who we are and he loves us anyway. I want to be that person. I want to love you anyway.

I have started with my family as I'm not sure I know their stories completely, even though I was here for much if not all of their lives. I want to know the inner workings. The truth because I believe the truth will set you free.

And now with the risk of you all believing I'm insane, I'm going to post this blog and see what happens. Will you tell me your story?


1 2 3 4 5 Last Page

Get An Email Alert Each Time FAITHFULSTORIES Posts