| | |
| --- | --- |
| | EVANSPROUDMAMA's Recent Blog Entries |


Thursday, February 03, 2011
Hi All

Just checking in with you all today. My progress has been steady the past few days, Ive been losing weight fairly quickly this time around probably because I already have all the knowledge and skills that I had to learn last time. Im still maintaing my pescetarian lifestyle and love it! Ive got the eating and water down pat now Im just working on gettting myself back into working out again. I have gone strong and done pilates/yoga three times this week already and have some long walks to the park planned for this weekend :) Today for lunch Im having a black bean graden burger on a thin bagle with ketchup and mustard

yummy and some apple slices......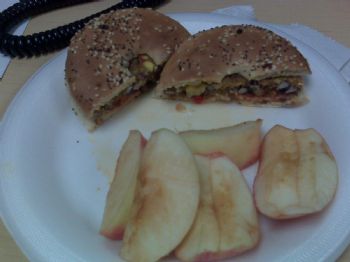 I know it doesnt look that yummy but it is!

Tomorrow I face a bit of a tough day as far as temptation, I work for a Chinese-American bank and since today is Lunar New Year (or Chinese New Year) tomorrow we are having a huge celebration with lots of yummy food :( I opted out of the potlock buy in since they are ordering chicken and other types of meats that I dont eat however I decided to make a nice little meal for myself this evening to enjoy while everyone is eating theres but I know I will be tempted with spring rolls, chow mein and lots of moon cake! But never fear spark is here to help me get past it!

I feel excited this time around, I feel more impowered mostly because I know that I can succede since I did before. As you prob know, I started spark on Sep. 21st and from than till about mid December I lost 23 LBS however I took a brief hiatus from spark because of some personal issue that I chose to let get me down and defeat me. The good news is that I managed to maintain my weight and actually come back with a lose of four pounds!

and am now active again (for three days LOL, hey gotta start somewhere!) and am actually doing very well, Ive managaed to lose another pound in two days and feeling very upbeat and positive. Originally I wanted to be 130 however I moved my first goal up to 140 since i actually dont know what my healthy adult body looks like I am basing my goal weight off of how my body starts to look. WOO HOO here we go again!!! .....



bRi





Tuesday, February 01, 2011
Hi all my

,

I have to start this post off by being honest and stating that since my last blog post (beginning of January) I have done absolutely nothing to better myself and I did not stop drinking as planned HOWEVER some recent events in my life has caused me to take a good hard look at where I am and the kind of person I am inside and out. I have started going to counseling in the attempt to not only transform my body but my soul and mind as well. I started reading books and I am even learning Chinese!
I have adapted a new way of thinking- Live your life and stop focusing on what you dont have an d focus on what you do have. That said I have a whole lot to be grateful about, including a weight loss!

As of today I am at my lowest weight in almost fours years and only 18 LBS to a healthy BMI!!!!! I have maintained my semi vegetarian (Pescetarian) lifestyle for the past month and have now started tracking my meals with spark and working out everyday (I'm on a four day roll!).
I guess my little hiatus from spark has renewed my motivation and seeing the scale this morning helped "a little"

By the way..........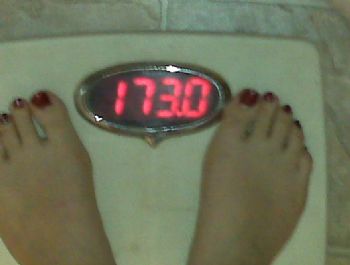 Next step is leaving 170's and heading towards 155 where I was when I met DH and before my DS! I cant explain how good it feels to finally be this close to my weight loss goals, I can see changes in my body and I cant stop putting my hands on my waist because its so SMALL????

Since my theme today is kind of a "Re new and Restart". I am going to take a minute and re list my done statements with some new additions...

I am completely DONE-
*(NEW) With seeing the 180's on my scale! NEVER AGAIN!!!
*(NEW)Having to pull up my pants over my fat roll when I sit down
*(NEW) With the 170's also, I'm moving on down!
*Avoiding my own reflection
*Feeling like I'm bigger than everyone around me
*Having a closet full of cloths that done fit me
*Having to buy bigger pants because the closet full of cloths dont fit me
*Not feeling comfortable wearing my adorable collection of heels because I feel to big
*Having sex with my cloths on because I dont want to gross out my husband
*Looking at other girls and wishing I looked like them
*Being to tired to play with my son after a whole day of not seeing him
*Being completely exhausted every day by 3pm
*Wearing a size that is double digit
*Having a BMI that isnt in a normal range
*Feeling like I'm 50 when I'm 21
*Avoiding pictures!



Bri!! Thank you to all of the amamzing spark friends who have stayed my friends even though I have been out of it and off track lately. I am back! and have a family reunion in July that I would really like to spend most of my time there in a bikini *Gulp*

- Bri's Under Construction for a remodel, Please check back often for updates. -





bRi





Thursday, January 06, 2011
It has been approx. three weeks since I have been completely active to spark and committed to my weight loss journey. In the past three weeks I have been through some life changing experiences and a whole lot of stress. I have not worked out at all and have been eating anything and everything (except meat! I've managed to maintain my new vegetarian lifestyle

) and I have not been drinking my water

....

Well that was than and this is now! I am not going to let myself completely de rail and gain all the weight back that I worked my butt off (literally!) to lose. By the grace of God I have only gained two pounds since I fell off track and that's two pounds to many. I officially ate my last fast food meal last night and drank my last soda also. I am giving up alcohol until Saint Pattys Day (March 17th)

and I am DONE making excuses and letting life get in the way of me being happy! I deserve to feel great and to look equally amazing!

Today is my first day back and I'm thinking positive, I didnt get a chance to work out this morning but I did pack an amazing lunch and snacks, I had yummy oatmeal for breakfast despite the tray of donuts in our conference room and I'm feeling strong and a new sense of renewal in my motivation. I'm ready to finally see something through to the end and to finally feel like I am worth it!

Please formally welcome me back into spark and into my spark teams, To all my amazing spark friends and teams I am sorry that I let you down but I am back and ready to do this!

I just wanted to take a minute to re state my DONE statements and remind myself why I am here(FYI some of these statements may be a little "adult" but we are all adults here so get over it LOL! .....

I am completly DONE-
*Avoiding my own reflection
*Feeling like Im bigger than everyone around me
*Having a closet full of cloths that done fit me
*Having to buy bigger pants because the closet full of cloths dont fit me
*Not feeling comfortable wearing my adorable collection of heels because I feel to big
*Having sex with my cloths on because I dont want to gross out my husband
*Looking at other girls and wishing I looked like them
*Being to tired to play with my son after a whole day of not seeing him
*Being completly exhausted every day by 3pm
*Wearing a size that is double digit
*Having a BMI that isnt in a normal range
*Feeling like im 50 when im 21
*Avoiding pictures!

Im DONE being fat and unhealthy!!!









Tuesday, December 21, 2010
Hi

!!! I really want to start this blog off by saying



to each and every one of you who took the time to read my blog and send me love and support because I really need it! Many of you commented that it was brave of me to post that blog and that means a lot but to be honest I felt like I had no choice but to post that blog! I know many if not all young woman out there are warned about this but many of us (including myself) have never really thought it could happen to us or that we weren't being as careful as we should be so I felt like it was something that I had to do. Writing that blogged also helped me to not feel ashamed or embarrassed about what happened because to be quite honest there is a little part of me inside that feels horrible for what my brother in law and my husband had to go through to take care of me. Part of me feels embarrassed for being tossed out of the bar and for yelling at the doctors, so writing that blog proved to myself that I have nothing to feel embarrassed about! What happened to me was the doing of someone horrible not of my accord and to get it out there helps me to feel stronger, I guess it kind of gives me back some of the control that I lost, if that makes any sense?

Today is day 61 of 70 to the new me and I am not feeling much like a new me, I am still to sore to work out and my body is still doing some weird things(symptoms almost like withdraw), I am still very emotional and every time I start to think about what happened I brake down crying. The hardest part for me is not reimbursing, not knowing where I was or what I was doing and not understanding how it happened. In response to someone comment about the bar having security cameras, I am planning to go over there tonight or tomorrow and speak with the owner to find out if they have cameras and if they would be willing to let me look at the footage. For me at this point its not about catching who did this because I'm okay, but for me it is about knowing what happened and understanding how the night played out. I have always been super in control of everything, my husband stays home and I work so I am very much in control of ever aspect of my life from finances to emotions so for me to have no control over something that has impacted my life and my body in such a harsh way really really bothers me. I still need to speak with my brother in law today also, I have been putting that off because like I said earlier I am feeling a bit of guilt for what he had to go through and I've been told that there where friends of his at the bar that night to so it upsets me that I made him look like an ass with a way to drunk person falling everywhere on him. I know that its not my fault and that I wasn't drunk but not many other people that where there that night know that and that in it self makes me pissed! I am really trying to understand why someone targeted me or why someone would even do something like this to someone. My emotions are all over the place, a mention of the incident or a comment that even hints that someone doesn't believe me really sends me over. One of my co workers over heard me explaining to my boss yesterday and made a joke about "slipping a roofie" in to his drink to party harder and that really pissed me off! Just because I am okay does not mean that I didnt experience trauma and that anyone should joke about giving someone drugs. The whole situation makes me sick to my stomach and just sad. I want to move on from it and I want to forget and just be able to be glad that I am okay but it just doesnt sit right with me that I dont even have a brief story line of the evening to work with. I am hoping that if after I talk to my brother in law that I will have a little better of an idea of the situation and that I will have the closure I need to get past it. I just feel so violated, so taken advantage of and so lonely :(

On the up side of things my DH has pool league tonight- another thing that was completely ruined for me by this happening! I was supposed to join the league but now I'm not to sure if I want to really be in a bar every Tues.- anyway since I'm not feeling like going anywhere near the bar anytime soon I have a special night planned with my little guy! Needless to say I have been very out of it the past few days and havnt really been able to enjoy the beauty and joy of the season with my little guy so tonight we are going to build a ginger bread house!

I am hoping that I will be feeling better and in better spirits by tonight so that I can fully enjoy the love of my life and his sweet face as he builds his first gingerbread house (well actually second my mom did one with him the night I had my incident)

Thank you again for your words of encouragement and support! Please spread the word that this happens still and everyone be careful and take care while your celebrating this holiday season and WATCH YOUR DRINKS!!!



bRi





Monday, December 20, 2010
So Day 58 was NOT a good day! Actually it was a complete nightmare! For all the ladies out there please listen to this and please be cautious when you are out and about especially over this holiday weekend......

It started out nice enough, woke up early with my little man, took him shopping for some last minute christmas gifts and some food for the party that DH and I where attending later in the evening and spent the whole morn. just running errands and spending time with him. In the afternoon the DH took him to my moms house while I got ready for the party and than we attended some close friends first annual christmas party, it was actually very relaxing and nice just to hang out with friends and relax. After the party a few of us decided to head out the the bar and hang out a little since DH and I had a sitter we figured Why not! My sister in law and her man where there and so was DH and my brother in law, everything was nice and I really enjoyed myself... and that's where the happy ends!
Flash forward Sunday morning, I wake up on my brother in laws couch and my body is throbbing. I rolled over and saw my brother in law sitting on the other couch and I'm like why am I so sore and he says you dont remember last night? You dont remember being in the emergency room or me caring you out of the bar? WOW! Stop right there now I'm really freaked out at this point, I have bruises all over my arms and my legs what the hell! So to make a long story short someone put something in my drink at the bar. After my husband left someone must have thought that I was alone and saw a chance when I went to the bathroom and bam my ass is down! If it wasn't for my brother in law being there with me I dont know what would have happened and I spent all Sunday morning crying hysterically just thinking about it! What kind of person does this to someone? My brother in law said that he had to carry me out of the bar and since I'm bigger than he is it was extremely hard and so I spent alot of the time on the sidewalk and I even hit my head when I passed out in the bar. Everyone thought I was wasted but I knew that I wasn't, when I woke up in the morning I kept saying I wasn't drunk I wasn't drunk and when I checked my tab from the bar it was only ten dollars. Now I drink alot and I know that ten dollars worth of beer will not make me pass out and lose time like that. My DH took me to the ER and they confirmed it. Please ladies take this as a warning that this can happen to anyone! I am in some huge pain as I still am bruised all over and it feels like I took a beating but DH said that I pretty much did from all the falling down. I felt like such an asshole that my brother in law had to deal with all that but I am so grateful that he was there and that no one took me off somewhere! DH said that it was like I was unconscious but with my eyes open and looking at him. I couldnt talk and I barely remember being in the ER and the doctor trying to talk to me, I threw up a few times while I was unconscious and DH had to sit me up so I wouldnt choke and die! My brother in law had to carry me in his house and they had to help me to take a shower and wash my hair because I had fallen on the cement so many times and gotten sick.
Apparently from what my brother in law tells me(everything went black for me and I dont remember anything past when my DH left) the bar tenders just thought I was wasted and wanted to call the cops on me because I was passed out in the middle of the bar, lucky for me he knows the bouncers and so one of them helped him to get me outside where I proceeded to fall on the cement a few more times while he struggled to hold me up (in the rain btw) until DH got there. At that point they took me to their moms house (my mother in law) where her husband looked at me (hes a retired sheriff) and said that I needed to be taken to the hospital ASAP because I started foaming at the mouth and I my breathing was irregular.

SO needless to say I am still in alot of pain this AM but am very grateful that I am only dealing with bruises and not something worse! It makes me so mad to think that someone would do this to a complete stranger! I spent most of yesterday crying because I couldnt believe what had happened. I asked my brother in law over and over if I was ever alone or gone for a long period of time but he says that I wasn't so that makes me feel a little bit better. I never left my drink alone but for a second to go to the bathroom and even still my brother in law was right there with it except when he would go to take his shot at the pool table.

This whole experience has really but perspective on alot of things for me. This is why I have decided that I will not have another sip of alcohol and If I do it wont be until May for my birthday. I am a control freak and the fact that I had no control over anything that I did that night scares the hell out of me. I know I wasn't drunk and I know that it wasn't my fault but just something about it makes me not want to drink anymore. I will def. not be going out by myself (actually without a man I can trust) again. Please just use my story as a warning and please be careful when your out there.



bRi



First Page
1
2 3 4 5 6 7 8 9 10 Last Page

Get An Email Alert Each Time EVANSPROUDMAMA Posts