| | |
| --- | --- |
| | EUPHRATES's Recent Blog Entries |


Sunday, August 28, 2011
INSPIRE - WEEK FIVE CHALLENGE - ENDS 09.03.2011
Main Challenge : Whole Grain Challenge for 30 Points or 0 Points: 30 points
BONUS : Fiber Tracking for 10 Points or 0 Points: 10
TOTAL POINTS for WEEK FIVE:
****************************************
MAIN CHALLENGE:
This week, swap out your white refined carbs for whole grains. They will keep you fuller longer, and reduce spikes in your blood sugar since it takes your body more time to digest these.

BONUS:
For the bonus, track your fiber intake daily this week for 10 points. If you are under what spark recommends, try to gradually increase it as the week progresses.

~~~~~~~~~~~~~~~~~~~~~

WRMC Week #5 - August 29 through September 2 (Mon - Fri)
This week will be a five day challenge so it doesn't interfere with anyone's holiday weekend plans.

This coming weekend is Labor Day, and it is traditionally the last Hurrah! Of the summer. This year let's think of ways to celebrate, but still honor our health & fitness journey…..


FOOD: Give yourself 50 points for staying in your calorie range each day this week.
BONUS: 50 more points for sharing in the WR chat thread a recipe or trick you use to make a traditional picnic food more healthy.

M [ 50 ]
T [ 50 ]
W [ 50 ]
Th [ 50 ]
F [ 50 ]
Bonus [ 0 ]


WATER: Drink your magic number each day – whether you use the "8x8" or 1/2 your body weight in ounces or a number given to you by your doctor or nutritionist, hit YOUR number every day! 50 points for each day
BONUS: Make at least one glass this week special. Instead of that ugly plastic water bottle, break out the crystal. Celebrate your water as special by adding a slice of citrus or a few mint leaves. 50 points if you drink from a real glass this week.

M [ 50 ]
T [ 50 ]
W [ 50 ]
Th [ 50 ]
F [ 50 ]
Bonus [0 ]

EXERCISE: Let's keep on moving! Try to get in at least 3 cardio sessions and 2 strength training sessions this week. Give yourself 50 points for every day you accumulate 30 minutes or more of movement. It can be a mixture of strength training and cardio or just cardio or just strength training. You don't have to do all 30 minutes at once. Add together all the INTENTIONAL movement you do in a day and give yourself the points.
BONUS: Recruit a friend. Exercise with a buddy, a significant other, a kid, a virtual friend (make an exercise *date* on line than report back to each other), your pet, a stranger you meet out running (OK that's going a little to far, but you get the idea) Complete one workout with someone else & gain 50 bonus points.

M [ 0 ]
T [ 0 ]
W [ 50 ]
Th [ 50 ]
F [ 50 ]
Bonus [ 50 ]


THE END OF SUMMER: Spend some time outside. You can take a walk, spend time in the garden, sit on the porch swing and read a book. Just soak up a little vitamin D and report it back to the WR Chat thread for 50 points per day.

M [ 50 ]
T [ 0 ]
W [ 0 ]
Th [ 50 ]
F [ 50 ]

WRMC Points Template
FOOD: 50 points/day in calorie range, 50 bonus for picnic food
WATER: 50 points/day for magic number, 50 bonus for a real glass
EXERCISE: 50 points/day for 30 min or more, 50 bonus for a friend
END OF SUMMER: 50 points/day outside with a report

ON-GOING POINTS:
Question Of The Day (QOTD): 20 points for each question answered
M [ 20 ]
T [ 20 ]
W [ 20 ]
Th [ 20 ]
F [ 20 ]


In The Spotlight (ITS): 20 points/question; 500 for being the interviewee
M [ 0 ]
T [ 100 ]
W [ 0 ]
Th [ 0 ]
F [ 0 ]

Huddling on the WR thread: 20 points for huddling twice a day
M [ 20 ]
T [ 20 ]
W [20 ]
Th [ 0 ]
F [ 0 ]

TEAM SPIRIT:
Fill The Pool: post the number of 8-ounce cups of water you drink per week on your WR template: 58 glasses






Wednesday, August 24, 2011
So, having just gotten off the phone with the folks at the Pyramid Collection - I'm SOL regarding the dress I'd originally picked for the handfasting. Having sent the large back, it apparently takes up to 4-6 weeks for them to process returns (though the rep on the phone said right now they've got about a 3 week turnaround), and THEN it would take 5-7 business days to ship me the larger size. 'Yote suggested I go on the site and just order the XL and it'd come quicker, and we could just send the return back again once it gets here...but having gone on the site, it now says XL is not only out of stock but "no longer available".

Okay, so on to other options.

I've had several people suggest that I check out "Holy Clothing", and WOW were they right - HALF the price and there were several styles I liked. One in particular, but now I have a conundrum The Boy can't help me with. So I'm turing to my wonderful spark (and facebook when this crossposts) friends to see if y'all can help me choose what color.

The style I've decided on is the "Belladonna Peasant Bustier Empire Waist Gypsy Boho Corset Dress"

I really like BOTH of these colors, but the one on the left looks more wedding/handfasting-y to me.




My concern is whether I'll look washed out in something that light, or if I should go with the darker color. This picture shows my coloring fairly well (though you don't really see all the silver in my hair that well, but still it'll do):



Okay, this one might be better...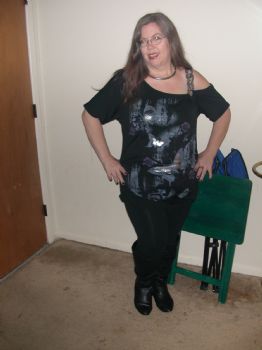 Okay folks...what do you think?
HELP!





Monday, August 22, 2011
Hold up! No seriously...wtf?

cincyhalfmarathon.com/Half%20Maratho
n.htm

Why exactly am I doing the Columbus Marathon on my mate's birthday (thus screwing with not only our usual trip to Con on the Cob for his birthday that weekend, but also a friend's wedding in Cincy on Oct. 15th, BOTH of which conflict with being in Columbus on Oct. 16th) when there's a half marathon right here the following week?

*blink*

*blink blink*

Oh right...there are spark friends doing the half in C-bus. And it was the first race I *ever* did (back when my sister and I were training for Disney, TTES did the relay at Columbus as our first ever race experience, and it was awesome), so it has a certain nostalgic appeal.

But still...

Wonder if I should try both. Or if that's just crazy talk (particularly since I'm thinking about doing the Run Like Hell the following Friday, which is just a 5K but still)...

Crap. More decisions to think about. JUST what I needed.







Sunday, August 21, 2011
So speaking of Yoovie (as I did in my last blog), she wrote a blog last week that really hit home - go check it out if you haven't seen it yet: www.sparkpeople.com/mypage_public_jo
urnal_individual.asp?blog_id=4435211

Here's the important bit:

"If you could go on any physically demanding adventure in the world, within 5 years, what would it be? (and dont wahhhhhhhhh me about I CANT!!!! this is about your freaking imagination, people)

And... how could your next workout feel like the first step?"

One of the things that REALLY struck me about the last season of The Biggest Loser was seeing the contestants face their fears and going on adventures in New Zealand (my blog about that:
www.sparkpeople.com/mypage_public_jo
urnal_individual.asp?blog_id=4169848 )

The answer is in the adventure. Seriously. (FWIW, that's a line from one of my mate's poems...see, there are reasons we're together.)




When I dusted off my sparkpage at the end of May 2010, I had what I considered at the time a pipe dream to do a full marathon before I turned 50. Well, I'm well into training for a half marathon coming up in October, and yep, I'm planning on doing the full Flying Pig Marathon this spring. Which means I'll actually be doing it a full year early (something I wouldn't have believed had you told me that in May 2010). AND I'm doing a Warrior Dash in a little over 2 (!) weeks - which I never in a million years expected to do this soon (no really, I'd thought "maybe in 2012" when I first heard about them).

So...then what?

*blink*

The honest truth is that I don't really see myself as a "runner for life" - I want to do a marathon so I can say "Yeah, I did that - I rawk!" But marathons aren't the end-all and be-all to me (and I suspect once I've finally done one, I don't know that I'll care to repeat the experience). But there are other things. Like hiking mountains, maybe getting back into tennis or learning a whole new sport, or who knows maybe someday I WILL jump off the top of the Space Needle.

If I could go anywhere and do anything...what can I aspire to achieve?

If you can dream it, you can BE it.

What adventure do YOU want to make happen in your life?

Think about it. I know I am.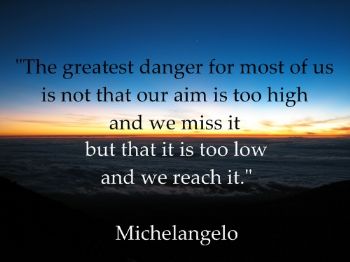 Sunday, August 21, 2011
****************************************
INSPIRE WEEK FOUR CHALLENGE - ENDS 08.27.2011
Main Challenge : Shared Inspiration for 30 Points or 0 Points: 30 points
BONUS : Fresh Iron for 10 Points or 0 Points:
TOTAL POINTS for WEEK FOUR: 30 points
***************************************
MAIN CHALLENGE:
Each of us has many sources we lean on when we need a shot of added inspiration. Be it a book, a magazine article, a podcast, or a friend, we all have different resources that can help us gain perspective or fresh ideas to continue to progress towards our health and fitness goals. Over my time on spark, I've been happy to add fellow spark members to my list of inspirational resources. For the main challenge this week, share links of at least 2 people on another team (or on spark in general) that motivate you, share why they motivate you, and what you can adopt from their plan/approach into your lifestyle. Share this in the ALL-TEAM thread.




BONUS:
For the bonus challenge this week, create a new strength training routine and do it at least 2 times this week. Share your routine in the ALL-TEAM thread as well.
~~~~~~~~~~~~~~~~~~~~~~~~

WRMC Week 4, 22-26 August (Mon-Fri)

NUTRITION: Each goal is worth 25 points a day. MAX: 100 points/day
1. Stay within your Calorie range
2. Stay within your Carbs range
3. Stay within your Fats range
4. Stay within 1,000 – 2,400 mg Sodium

M [ X ] [ X ] [ X ] [ X ] = 100
T [ X ] [ X ] [ X ] [ X ] = 100
W [ X ] [ X ] [ X ] [ X ] = 100
Th [ X ] [ X ] [ X ] [ X ] = 100
F [ X ] [ X ] [ X ] [ X ] = 100

WORKOUT GOALS: 100 points each day you make goal.
3 days of cardio, 30 mins each day (walk, run, dance, aquacise, etc.)

2 days of strength training: Use this Spark video by Coach Nicole to get your S/T points. The video allows you to choose Beginner, Intermediate or Advanced. No dumbbells? No problem! Use two cans of food, full water bottles, or even milk jugs (you choose what you're able to work with – water, sand, gravel – and half full or completely full – half gallon or a full gallon jugs).

www.sparkpeople.com/resource/fitness
_articles.asp?id=656

M [0 ] [0 ] = 0
T [ 0] [0 ] = 0
W [X ] [0 ] = 0
Th [X ] [X ] = 100
F [ X] [- ] = 0



WATER: Are you getting enough water? Read this Mayo Clinic article about how much water you lose each day and how you tell if you're drinking enough. For this WRMC, we're going to aim for "8 x 8," or eight 8-ounce glasses, but if your doctor advocates more or less, then let that be your guide. Can you drink too much water? Yes, but it's rarely done according to the article. Earn 100 points a day if you get "8 x 8" or whatever your doctor has advised.
www.mayoclinic.com/health/water/NU00
283

M [ 100 ]
T [ 100 ]
W [ 100 ]
Th [ 100 ]
F [ 100 ]


DAILY AFFIRMATIONS: Repeat this three times a day:
"I AM STRONG"
"I AM DETERMINED"
"I AM SUCCESSFUL"

100 points/day

M [ 100 ]
T [ 100 ]
W [ 100 ]
Th [ 100 ]
F [ 100 ]


ON-GOING POINTS:
Question Of The Day (QOTD): 20 points for each question answered
M [ 20 ] T [ 20 ] W [ 0 ] Th [0 ] F [0 ]

In The Spotlight (ITS): 20 points/question; 500 for being the interviewee
M [ 80 ] T [ 0 ] W [ 0 ] Th [0 ] F [0 ]

Huddling on the WR thread: 20 points for huddling twice a day
M [ 20 ] T [ 20 ] W [ 20 ] Th [0 ] F [0 ]

TEAM SPIRIT:
Fill The Pool: post the number of 8-ounce cups of water you drink per week on your WR template

56 glasses




First Page
1
2
3
4
5
6
7
8
9
10
11
12
13
14
15
16
17
18
19
20 21 22 23 24 25 26 27 28 29 30 31 32 33 34 35 36 37 38 39 40 41 42 43 44 45 46 47 48 49 50 51 52 53 54 55 56 57 58 59 60 61 62 63 64 65 66 67 68 69 70 71 72 73 74 75 76 77 78 79 80 81 82 83 84 85 86 87 88 89 Last Page

Get An Email Alert Each Time EUPHRATES Posts