| | |
| --- | --- |
| | EUPHRATES's Recent Blog Entries |


Tuesday, May 31, 2011
SKINNYSOON13 is such an instigator! Even more than me! (And that's NOT easy, kids)

Here's the scoop BLC16'ers!

www.sparkpeople.com/mypage_public_jo
urnal_individual.asp?blog_id=4266341

In honor of the insanity, I've spiffied up my page a bit, and added some fun pics.

Check this out - you know that Escher print "Relativity"?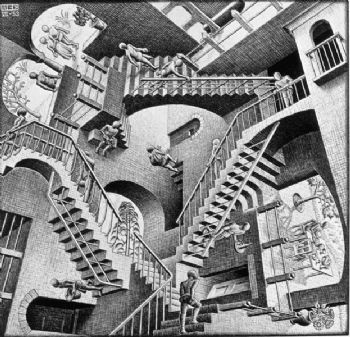 Lookie what I found! Muhahaha - we're SUCH LEGO geeks in our family!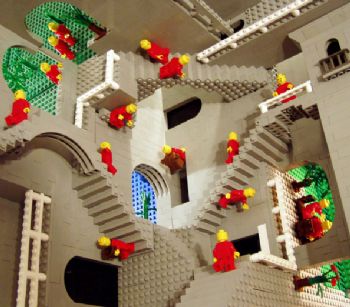 So if you were wondering what that new background is...teehee!

Meanwhile....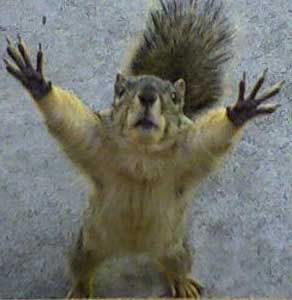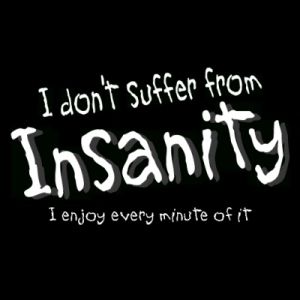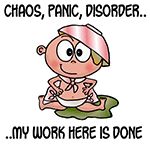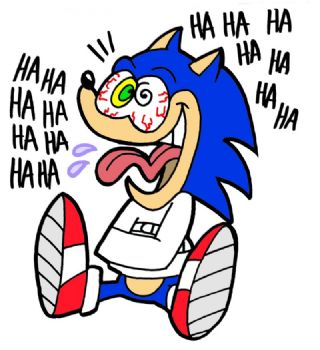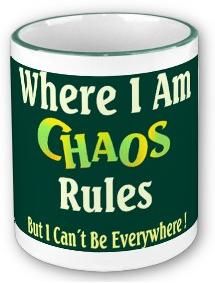 And it wouldn't be insanity without a little ICP. :)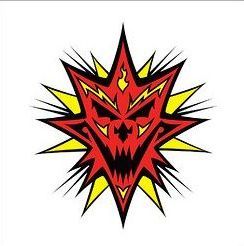 Muhahahahaha!






Sunday, May 29, 2011
You know, the kind that motivates other people to take their lives back, inspires them to new feats of daring and fitness, gets voted a "popular blog post" and garners me requests to tell my story and write more inspirational tidbits for The Daily Spark (and various fitness magazines for money and stuff).

But I suspect that would require spending a lot more time typing and a lot less time DOING, and it's the doing that gets the job done. I've told managers at work before "I can *tell* you about the problem, or I can fix it - your choice" (which I suspect explains why I'll never be management). Same principal applies here, really. And lately, I've been doing a lot of DOING. No really - a LOT. I just (today) crossed 13,000 fitness minutes. Considering where I started (when I started adding in exercise last June), I think that's pretty awesome in and of itself.

Speaking of, here's a link to my original "what got me to log back into Sparkpeople" post from last June. www.sparkpeople.com/mypage_public_jo
urnal_individual.asp?blog_id=3303376

It was fun reading it again, and I think that a year later, I'm doing pretty well at staying true to my original vision.

Healthier foods?




Between my bi-weekly delivery from Green B.E.A.N. organic delivery service and my ongoing love-affair with the Spark Recipes site, we've *definitely* improved our eating habits. I LOVE trying new foods and new recipes, and 'Yote is amazingly tolerant regarding my experiments. Of course, dude does NOT need to lose any more weight his own self (though considering the amount of chocolate he inhumes on a weekly basis, you'd think it wouldn't be tough to keep that from happening). It's an interesting balance to have to hit.

Exercise?




Last June I was happy to just get off the bus a stop earlier on my way home to get in 10 minutes of exercise on the days I'd ride the bus home. Now I'm spending nearly every day I don't work putting in at LEAST 30 minutes (and more often than not closer to 100). Last summer I started walking up the street (and was worried about how I'd keep getting in exercise when the snow made our sidewalks treacherous), now I won't let myself off the treadmill until I've hit 5K (and walk the mile to the gym and then the mile back on days when the weather cooperates). I'm running too - I'm up to 5 runs of 2 1/2 minutes (with 2 1/2 minutes of walking in between). My plan from here is to increase the number of runs until I'm doing the whole 5K alternating running and walking (right now I get to just over 2 miles by the time I'm done with the 5th run), and then I'll start lengthening the runs and decreasing the walking spaces in between. On non-running days I do 30 minutes on the elliptical and the full circuit of all the strength training machines at my gym. I'm in love with Zumba, but the schedule has made it tough to make it to those classes lately - hoping to get more dancing in this summer though, since they have "Salsa on the Square" every Thursday night all summer (and one of the organizers - who happens to be touring with our favorite band at the moment - promised me and 'Yote at yesterday's concert that he'd buy us drinks if we show up - bonus!). And being summer, the opportunities to get in healthy exercise just get better. I'm stoked!

Actual weight loss progress?




If you told me a year ago how far I'd have come after a year of sparking, I'd have been hard-pressed to believe you. And I might have found the information somewhat depressing - here's why. Back in 2003 (the first time I made a serious attempt at weight loss), I lost 65lbs between June 15th and the end of December doing Atkins (low-carb). That's 65lbs in about 6 months. SO, the idea of it taking me a year to lose 60 lbs might have seemed like a set-back and too much work. Happily, I've gotten a LOT of perspective over the course of that year, and I'm really happy with my progress, and how I've done it. This feels sustainable - I'm not cutting out major food groups, in fact I'm not cutting OUT anything at all, I'm just being *smart* about it. If I want ice cream, I have ice cream (but I don't eat my way through an entire Ben & Jerry's carton in one sitting anymore). If I want chocolate, I'll grab one of 'Yote's miniature candy bars and I'm good for the day. If I want pasta (my personal comfort-food-of-choice), I have whole grain pasta - a reasonable portion (not the biggest bowl in my cabinet overflowing with noodles and cheese). And I'm satisfied with that - I don't feel punished, I don't feel deprived, and nine times out of ten my cravings involved salad (or asparagus) instead of junk foods these days.

SO, 60 lbs in a year? Completing several 5Ks? Having the trainers at my gym tell them they are proud of me? (Yep, got that from two separate trainers this past week) Fitting in size 18 jeans and being able to buy OTR shirts in the "ladies" styles (which run small and only go up to 1X)? Feeling energized and proud of myself? Having my mate tell me how proud he is of me every time I come home from the gym? Making plans to do a Warrior Dash in September (the week before our handfasting) and a half marathon on my mate's birthday in October?

I'll totally take that!

A little pictorial evidence:

My "beginning exercising / where I was after 5 months" photo: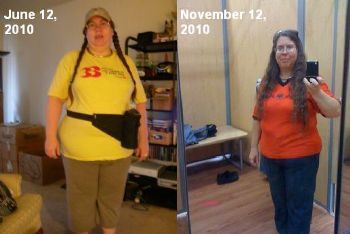 Me this weekend, wearing my spiffy new 1X Psychopathic (aka ICP/Juggalo) t-shirt to Friday night's Over The Rhine concert (yes, the juxtaposition is amusing).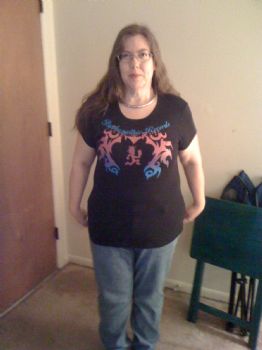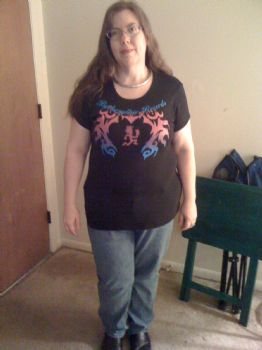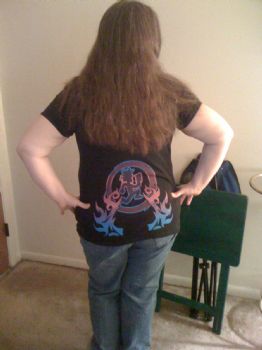 And finally, pictorial evidence of today's run (last summer it would take me an hour to do the 5K route I mapped around our neighborhood - note the "average pace per mile" number in the top right):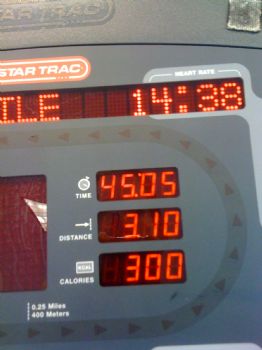 Proud of myself?
You betcha!







Thursday, May 26, 2011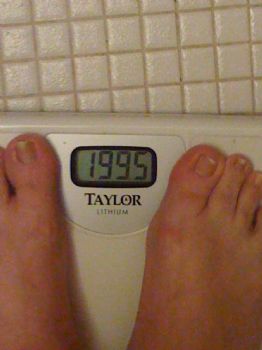 And just TWO days before my one year Sparkversary!

BOOYAH! THAT'S what I'm talkin' about!

*does happy dance around the room*

Here, come join me!
youtu.be/jxsuNcQdtvA





Wednesday, May 25, 2011
I had no idea I hadn't blogged in over two weeks! Sheesh, you'd think I'd been busy or something.

Well, yeah, I kinda have been.




That said, I owe you guys several picture blogs, from seeing the play in Dayton a few weekends ago to my adventures as a newbie Juggalo (yep, I've been assimilated - my very own spiffy new ICP schwag came yesterday! WOOT WOOT!) to the Spark Rally this past weekend. And of course, NONE of those pictures are easily accessible from work. I *could* send the rally pics to myself off my phone, but that just sounds like too much work and it totally deserves it's own blog.

SO, my goal for this weekend (on top of everything ELSE I need to do) is to get those blogs written and posted.

That, and I'll have a One Year Sparkversary blog to post on Saturday. Because yep, it's about that time.




But this is obviously not that blog. THIS is just me feeling sheepish at having let two weeks slip by without realizing it, and now having WAY too much to say and not knowing quite where to start. So I'm going to try and break it up into manageable pieces and individual blogs over the next few days.

Stay tuned!







Monday, May 09, 2011
5/4 (Wednesday) Do something that makes you feel strong.


I started back on E25K, and ran four times at 2 minutes with no real issues. A great way to start the week!

5/5 (Thursday) Do something that makes you feel free.


A dear old friend (someone I've reconnected with since my friend John's suicide, so at least *something* good has come of that - along with me finding a bunch of cousins on facebook in the past week - no more "there's no rush, I can call them some other time" for me anymore) has just started going to massage school, and he asked if I'd mind being a "client" since he needed to do 3 massages before class on Thursday night. Seriously, a free massage? Try and stop me! LOL But the really awesome thing about that is that one of the reasons we'd lost touch a number of years ago had to do with my ex-husband's jealousy issues, and it is SO nice to be living a life where I don't have to watch my back, worry about fall out, or ever worry about doing what is important to me or spending time with people who are important to me, whether my mate shares those interests (or people) or not. There is NOTHING more freeing than knowing you have the trust and support of your partner in everything, and that they know they have it back from you in spades. SO much healthier than my previous relationships. Seriously.

5/6 (Friday) Do something that makes you smell really bad.


More E25K - I pushed it to five runs of 2 minutes. And yeah, I was super smelly after that! :)

5/7 (Saturday) Do something that makes you think hard about your goals.


Saturday was "Mother's Day" for me, since my kids came over and spent the afternoon at my place. It got me thinking about my mom (and The Stroke, and my intention to get healthier to keep from having anything like that happen to me). And THEN my ex (the Red-Headed Dad) mentioned that the Warrior Dash I've signed up for sounds really fun...remember, his very first 5K was the Heartwalk back in March. My daughter has made some references to wanting to be a Blue Valkyrie with us too...so it looks like there may be some red-heads joining in the fun in September! And you know what? Being that kind of example so my KIDS will be healthier, and the people I care about (like my ex) will be healthier - now THERE is some serious motivation.

5/8 (Sunday) Do more than you think you can handle.


Another E25K day...and having done ST on Saturday I hadn't intended to do any on Sunday. BUT, we have this challenge going on with the Wisteria Wolves team and I decided to rack up some more Abs and Arms points, and then what the heck, as long as I was doing some of the machines I did the whole circuit. I'm definitely feeling it now...gods I love that kind of sore, don't you?

Next week's goal breakdown:
5/9 (Monday) Do something to release excess tension/stress/anger.
5/10 (Tuesday) Do something you can brag about later.
5/11 (Wednesday) Do something right for all the wrong reasons.
5/12 (Thursday) Workout at a different time than usual.
5/13 (Friday) Do something that makes you feel like a gladiator.
5/14 (Saturday) Work on your core.
5/15 (Sunday) Surprise yourself.








First Page
1
2
3
4
5
6
7
8
9
10
11
12
13
14
15
16
17
18
19
20
21
22
23
24
25
26
27
28 29 30 31 32 33 34 35 36 37 38 39 40 41 42 43 44 45 46 47 48 49 50 51 52 53 54 55 56 57 58 59 60 61 62 63 64 65 66 67 68 69 70 71 72 73 74 75 76 77 78 79 80 81 82 83 84 85 86 87 88 89 Last Page

Get An Email Alert Each Time EUPHRATES Posts