| | |
| --- | --- |
| | ERUPERTO's Recent Blog Entries |


Monday, December 08, 2008
Lean Machine

Combine yoga and strength training to build sexy muscles with part seven of our 20-Minute Workout Series

MOVE #2



Dog Press


Works core, shoulders, pecs, lats, back, and hamstrings

Stand several feet behind a Bosu. Bend into down­ward dog, placing your palms a few inches apart on the dome and lifting your hips toward the ceiling (A). Place your right hand a few feet in front of the Bosu and place your right knee on it. Follow with your left hand and left knee (B). Do a pushup (C). Step back into downward dog. That's one rep. Do two sets of 8 to 10, resting for 30 seconds between sets.

SETS 3
REPS 12-15
REST 30 secs





Wednesday, November 26, 2008
Compared to other cheesecake stats, I think this one is pretty good!



2/3 cup crushed chocolate wafer cookies (12 to 13 cookies)
1-1/2 tsp. finely shredded orange peel, divided
2 Tbsp. butter, melted
3 8-oz. pkgs. reduced-fat cream cheese (Neufchatel), softened
3/4 cup sugar
2 Tbsp. all-purpose flour
3 eggs, lightly beaten
1/3 cup snipped dried cranberries
1/4 cup low-calorie cranberry juice or fat-free milk
1/2 cup fresh cranberries, coarsely chopped


1. Preheat oven to 375 degrees F. For crust, in bowl combine crushed cookies and 1 teaspoon of the orange peel. Stir in butter. Press crust in bottom of 9-inch springform pan; set aside.

2. In mixing bowl beat cream cheese, sugar, and flour with electric mixer on medium speed for 5 minutes. Mix in eggs and remaining 1/2 tsp. orange peel until combined. Fold in dried cranberries and juice. Pour into crust-lined pan. Sprinkle with fresh cranberries.

3. Bake 35 to 40 minutes or until a 2-1/2-inch area around edges appears set when gently shaken. Cool on wire rack 15 minutes. Using a small sharp knife, loosen edges from sides of pan. Cool for 30 minutes. Remove sides of pan. Cool completely. Cover and refrigerate at least 4 hours before serving.

Nutrition Facts:
Servings Per Recipe 12 to 16 servings
Calories 275, Total Fat (g) 17, Saturated Fat (g) 10, Monounsaturated Fat (g) 5, Polyunsaturated Fat (g) 1, Cholesterol (mg) 101, Sodium (mg) 293, Carbohydrate (g) 23, Total Sugar (g) 18, Fiber (g) 1, Protein (g) 8





Wednesday, November 26, 2008
Lean Machine

*Combine yoga and strength training to build sexy muscles with part seven of our 20-Minute Workout Series


These moves roll yoga and strength into one neat package. They're so effective because every exercise calls on your entire core and requires balance (thanks to the yoga moves), so your whole body--not just the targeted muscle--works through its full range of motion. Tackle the moves two nonconsecutive days a week and you'll notice sleeker definition--and a calmer mindset--within four weeks.


MOVE #1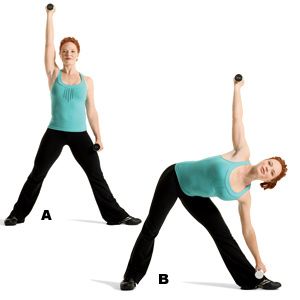 Lateral Bend and Reach

*Works core, shoulders, hamstrings, and inner thighs

Grab a pair of 5- to 10-pound dumbbells and stand with your feet about four feet apart. Turn your left foot out 90 degrees. Raise your right arm straight up above your shoulder, palm facing in (A). Brace your abs and bend to the left, lowering the left dumbbell to your left ankle (B). Rise back up, keeping your right arm overhead. Do 12 to 15 reps, then repeat on the other side. Do three sets, resting for up to 30 seconds between sets.



SETS 3
REPS 12-15
REST 30 secs






Wednesday, November 26, 2008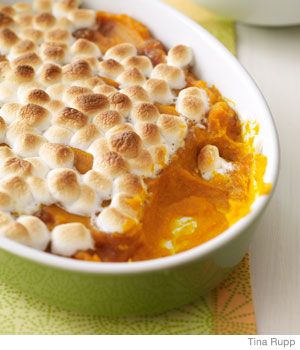 Citrus Squash

PREP: 5 MIN
COOK AND BAKE: 30 MIN
YIELD: 8 SVGS


Cooking spray
3 (12oz) boxes frozen winter squash
2 tbs orange juice concentrate (from 6oz can), thawed
4 tbs brown sugar
2 tbs butter, softened
1/2 tsp cinnamon
1/4 tsp nutmeg
1/2 tsp salt, or to taste
2 cups mini marshmallows

1. Preheat oven to 350F. Coat shallow 2-quart baking dish with cooking spray.
2. Place frozen squash in large microwave-safe bowl, cover, and microwave until thawed, about 15 minutes.
3. Remove squash from the microwave, and stir in orange juice, brown sugar, butter, cinnamon, nutmeg, and salt. Taste, and add extra brown sugar and salt as needed.
4. Transfer to the baking dish and bake about 15 minutes, or until hot. Top with mini-marshmallows, and return to over for about 5 minutes, or until marshmallows are toasty.


PER SERVING:
175 cal, 4g fat, 2g sat fat, 157mg sod, 9mg chol





Tuesday, November 25, 2008
The 'I'm Too Busy to Work Out' Workout

MOVE #10
*This is the final move! Add moves 1-10 for a great workout!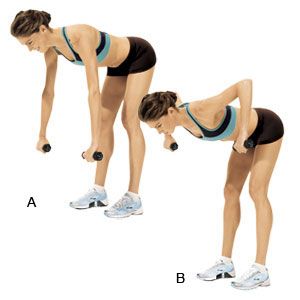 Wide Row

Works biceps, shoulders, and upper back
Grab a 3- to 8-pound dumbbell in each hand. Keep your arms at your sides, palms facing back. Bend forward at the hips (A). Squeeze your shoulder blades together and pull the dumbbells to either side of your ribs (B), then lower them to start.

SETS 1 to maintain strength, 2-3 without rest to build strength
REPS 10-12


First Page
1
2
3
4
5
6
7
8
9
10
11
12
13
14
15
16
17
18
19
20
21
22
23
24
25
26
27
28
29
30
31
32
33
34
35
36
37
38
39
40
41
42
43
44
45
46
47
48
49
50 51 52 53 54 55 56 57 58 59 60 61 62 63 64 65 66 67 68 69 70 71 72 73 74 75 76 77 78 79 80 81 82 83 84 85 86 87 88 89 90 91 92 93 94 95 96 97 98 99 100 101 102 103 104 105 106 107 108 109 110 111 112 113 114 115 116 Last Page

Get An Email Alert Each Time ERUPERTO Posts