Monday, August 04, 2008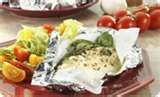 Chicken en Papillote


4 boneless, skinless chicken breast halves (about 1 pound)
pinch of salt
pinch of freshly ground pepper
2 scallions, chopped
1 medium carrot, sliced diagonally
1 small zucchini, cut lengthwise in half, then crosswise into 1/2"
1 tsp. dried tarragon
1/2 tsp. grated orange zest



1. Heat oven to 400F (425F is foil is used). Cut four 2-foot lengths of parchment paper or foil. Fold each in half to make a 1-foot square.
2. Sprinkle the chicken breasts with salt and pepper. Place a breast slightly below the middle of each square of paper.
3. In a small bowl, combine scallions, carrot, zucchini. tarragon, and orange zest. Spoon 1/4 of the vegetable mixture over each chicken breast.
4. Fold the parchment paper or foil over the chicken and crimp the edges together tightly. Bake for 20 minutes on a baking sheet.
5. To serve, cut a X in the top of each packet with scissors and tear open.



SERVES: 4
NUTRITION AT A GLANCE:
144 cal, 27g protein, 4g carbs, 2g fat, 0g sat fat, 86mg sodium, 65mg chol, 1g fiber


* I have had this dish MANY times! It is quick and easy! I have also just made the veggies by themselves to serve with other meals. Great way to get those veggies in.