| | |
| --- | --- |
| | ERRICKER's Recent Blog Entries |


Tuesday, April 23, 2013
Since I'm still technically on "recovery" post half-marathon race this weekend, I didn't do any exercise today, but I am just itching to get back out there as soon as possible. Tomorrow hopefully my muscles will let me do some light elliptical work and strength training before I can get out there and do a real run on Thursday!

However, here's how my meals went today!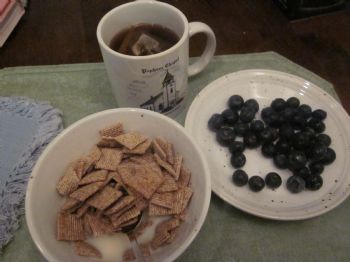 Breakfast - Playlist: 90's One Hit Wonders
6 oz Tea (I chose English Breakfast)
1/2 cup fresh blueberries
3/4 Wheat Waffles cereal
1/2 Cup Soy milk

Lunch
1/2 cucumber
1 Apple
2 tbsp peanut butter
3 small slices Rosemary Sourdough Bread

Snack - TV Show: Castle
Marinated Beets (SP Recipe)
1/4 cup Almonds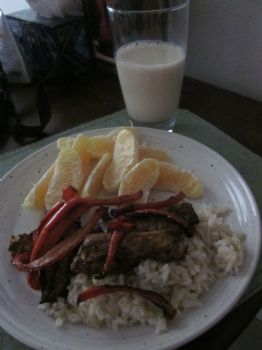 Dinner - Playlist: 'Of Monsters and Men' Pandora Station
3/4 cup Tofu
1/2 Red Pepper
Marinade: 1 tsp Olive Oil, 1 tbsp balsamic vinegar
1/2 cup brown rice
1 orange
1 cup Soy Milk

Phew! I'm knee deep in concert season. I had 3 last week, 4 this week, 6 next week, and 3 the following week. It's a bit stressful, so I'm hoping I don't start stress eating. I thought I was pretty good at managing my stress, but as I think about it, I'm pretty sure that always meant "eat, Eat, EAT!" and really wasn't stress management at all. I need to find better ways to manage my stress.

Are you a stress eater? What do you do to manage your stress?




Monday, April 22, 2013
I'm going to be honest, I was really nervous to start these. I look at these and I think that it looks like barely any food, especially considering I was just training for a half marathon, so I was eating pretty much anything in sight.

But after just 1 day on these meal plans, I'm actually feeling really good! Usually I have 2 snacks during the day, just because of my schedule, but the meal plans only allow for one, so I had to choose today which time I would rather have my snack, and I chose the afternoon. However, considering when I got hungry after breakfast this morning, vs when I got hungry after lunch, I think I'm going to need to move it to the morning time instead.

My meals today consisted of:

A pre-workout snack of 1/2 Grapefruit.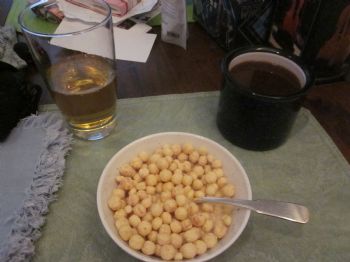 Breakfast Playlist: Songza 90's One Hit Wonders
1 cup of 365 Peanut Butter Balls cereal, with 1/2 cup unsweetened soy milk
1 cup unsweetened Apple Juice
1 cup coffee, with 1 tsp sugar and 2 tbsp unsweetened soy milk.

Lunch Book: A Feast for Crows by George R. R. Martin
Strawberry Salad (2 cups chopped romaine lettuce, .75 oz walnuts, 10 sliced strawberries, 1 tsp olive oil, 1 tbsp balsamic vinegar.)
Siggi's Strawberry Yogurt
3 seeded Multigrain Crackers

Snack TV Show: Mad Men
2 stalks celery
1.5 tbsp Peanut Butter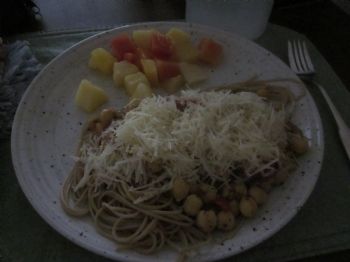 Dinner Playlist: Songza Mellow Indie
1/2 Cup Tropical Fruit cocktail
1/2 cup angel hair pasta topped with: 1/2 cup garbanzo beans, 1 small tomato, 1 clove garlic, basil, thyme, salt, pepper, 1 tsp olive oil, and 3 tbsp shredded parmesan cheese.

On the Fitness side of things, I went for my first run today after my half marathon this weekend. I ran for only 1.3 miles, just around my block. But oh boy, I'm definitely still sore. Going to take it VERY easy for the next few days until my legs and feet stop screaming at me!




Sunday, April 21, 2013
I've decided to try out the SP meal plans. I have never done this before, so I'm interested to see how this affects both weight loss and my energy level. I figure this is about the perfect time to try these out. I just finished my Half Marathon training (knocked 7 minutes off my PR in yesterdays race!) so I won't have such a rigorous workout schedule until August, when I train for my next half marathon.

Of course, I've made a few changes already:
Instead of wheat crackers I got "Seeded Multigrain" crackers.
Instead of Yoplait yogurt, I chose Icelandic "Skyr" yogurt (less sugar, more protein!)
Instead of wheat bread, I got some "Rosemary Sourdough" at Whole Foods.
All milk will be soy milk.
I've decided to forgo using "Cream of Wheat" or any kind of hot cereal, and instead have just cold cereal in addition to whatever else it calls for that morning.

I am very curious to see if I'm eating the right stuff (which presumably these plans consist of the 'right' stuff) if it will be enough for how much I work out. Even though I won't be training for a long race, I will still be running 3x a week, at least 30 minutes each time, and full body strength training 3x a week. I figure this first week will be a trial run. If I find out that I'm constantly hungry, with horrible headaches, then I know I will need to bump up my caloric intake for the following week.

Anyone else tried the SparkPeople meal plans? What has your experience been with them?





Sunday, January 13, 2013
I've decided to plan out my meals for the week. I printed off a sheet of paper and wrote everything down, which is going on my fridge. And I've also already tracked everything in my food tracker for the entire week. I'm hoping this helps keep me on track, otherwise I'd have to go through all the business of removing the planned food and putting in what I really ate, etc.

If I do really well (and follow my plan) I'll be right on, or slightly under my calorie goals for the week. I haven't planned dessert on any of the days, so I'm hoping this means I get to have a little dessert each day. :) Plus, I have a wedding this weekend and who knows what we'll be eating there. Since I'm a vegan though, it's possible I won't be able to to eat anything. Yay for granola bars?

Although I'm a little low on my protein for the week, the rest of the values are all good. And I'll be getting around 6 servings of freggies a day!

In addition to my planned healthy eating, here is this week's fitness plan:

Monday: 30 minutes Elliptical X-Training, and Lower body strength training (20 minutes?)
Tuesday: 2.5 mile easy run, maybe 1-2 fartleks thrown in.
Wednesday: 45 minutes full body strength training (with weights)
Thursday: 35 minute HIIT treadmill workout
Friday: 30 Minutes Elliptical X-training, and upper/core body strength (25 minutes?)
Saturday: 6 Mile run!!

Here's to this week!





Saturday, January 05, 2013
I made TONS of resolutions last year, and really didn't end up keeping much of them. *sigh* So I'm starting off with less so I can have a better success percentage by the end of the year??

1) Run 2 Half-Marathons - I have already signed up and paid for the two I plan to run, so hopefully this will keep me accountable for those. I'm already done with week 1 of training for my first one too!

2) Spend 30 minutes to an hour a day working on my Spanish. I have Rosetta stone on my computer (I know reviews are mixed about the program) all the way up until level 5. I'm currently about halfway through level 2. I'm hoping that when I get done with all 5 levels (or even 4 levels?) that I will be comfortable enough to call up my sister and talk to her in spanish (she's practically fluent).

3) This goal goes hand in hand with the one above. I want to set foot on a new continent this year. I have so far been to North America (DUH), Europe and Asia. If I am comfortable enough in my spanish I would really like to go to Peru. I also would really like to see Australia too. Seeing as though my only time to go is during the summer (or Australia's winter) I want to try and stay as north as possible since it will be warmer. And Northeast Australia just happens to be where the Great Barrier Reef is, which I would really like to see before it disappears.

That's it! I think 3 is a good number, right?



1 2 3 4 5 6 7 8 9 10 11 12 13 14 Last Page

Get An Email Alert Each Time ERRICKER Posts