Thursday, November 04, 2010
Here were my goals from yesterday and whether or not I completed them!
1. Cycle and Sculpt spinning class.


2. Bootcamp on my lunch hour. Goal NOT met as I was honestly way too sore from bootcamp the day before. You know, the kind of sore where you whimper as you have to sit on a toilet and then get back up? Yeah, I think you KWIM :o}
3. Stay in my point range of 20-24 (preferably 22 or under). Goal NOT met. I ended up having 28 points, which was technically still in my points as I built up 6 activity points from my workouts. I just never USE them usually. More explanation as to why I went over below later.
4. Produce an average of 200 lines an hour at work. Goal NOT met. Wow. Three goals in a row not met? This is an eye opener and good for me!
5. Walk the dog for 2 miles total.


6. Play with my daughter for 2 hours at least!


7. Do 1000 crunches after Kaylee goes to bed. Dang. Another goal not met. I was sore, tired, and just wanted to sleep.
8. Go to bed by 9:30 p.m.


9. Be off internet by 9:15 so as to achieve goal #8.



Recap of yesterday: I was SOOOOO sore from the Biggest Loser bootcamp I had done on Monday (well, and probably the running, elliptical, and spinning I did). I went out with my daughter to the local grocery store and Target, and I had some bad food items. I had a small cone from McD's, an Angus mushroom and swiss snack wrap I had oh-so-been craving, and for dessert I had a package of Reese's Peanut Butter Cups and Swedish fish. I had it portion controlled, but WTH? Why was I craving such fatty and sugary food???

And this morning I got my answer. That evil TOM is back. 5 days early! That punk didn't even call to let me know he was showing. Oh, wait....he did send the present of candy, ice cream, and general fattiness ahead of him to warn me! Or maybe he sent the cravings, which I had the choice to make of whether or not to succumb. While I did succumb, I am okay with it since I knew what I was doing, I had the items, and logged it in. If I hadn't succumbed, I am sure I would have been proud of myself but usually I cave at some later time (be it days or weeks off) and have TOO MUCH.

Okay, enough about yesterday. Let's get some goals on for today:
1. Bootcamp on my lunch hour.
2. Take the day off from the gym (this decision was made at 5 a.m. this morning when my cramps made me keel over).
3. Drink LOTS of water to help curtail this bloating.
4. WATCH the sodium intake today.
5. Walk the dog twice for 2 miles total.
6. Productivity at work of 200 lines minimum.
7. Keep points around 22 (buffer zone of 20-24, but shoot for 20-22 since yesterday was higher and there is less exercise today).
8. 1000 crunches after Kaylee's bedtime.
9. Be in bed by 9:30.

The next couple of days will be rough with temptations, so I need to kick it into gear!

Motivation picture of the day for me: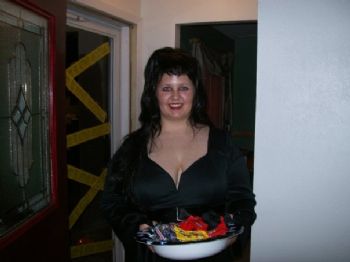 This picture is of me the day I found out I was pregnant at 240 pounds on Halloween of 2008. Never again!





Erin