| | |
| --- | --- |
| | ERINBEAR1876's Recent Blog Entries |


Wednesday, November 03, 2010
My weigh-in went great for WW and for here. I gained a couple of pounds, but considering everything that went on this past week (bad eating, being sick, having to catch up on workouts) I am very happy with this. I am so back in the game, though, and just having fun with it all!

I am just starting up with daily goals (thanks, Anne, for posting yours!). I have been doing this on my daily calendar that I have on my desk, but this way I will have it for accountability with you all! Since I just started up, I will write down here what I did yesterday first before stating today's goals:

~ Spin for 30 minutes:



~ Elliptical machine for 1 hour:



~ Walk the dog twice for a total of 2 miles:



~ Stay within my point range of 20 points for WW:



~ Do Biggest Loser Bootcamp DVD on my lunch hour:



~ Achieve an average of 200 lines an hour of productivity for work: Goal NOT met. I really need to focus on my productivity. And I say that while typing this blog. Nice.

~ Go to WW and weigh-in..face the music!

with a weigh-in of 163.4 (last weigh-in with them was 161). Again, happy with it and had a great meeting.

~ Go to Tuesday Night Running Group and run for at least 4 miles:



My goals for today, November 3, 2010:
1. Cycle and Sculpt spinning class.
2. Bootcamp on my lunch hour.
3. Stay in my point range of 20-24 (preferably 22 or under).
4. Produce an average of 200 lines an hour at work.
5. Walk the dog for 2 miles total.
6. Play with my daughter for 2 hours at least!
7. Do 1000 crunches after Kaylee goes to bed.
8. Go to bed by 9:30 p.m.
9. Be off internet by 9:15 so as to achieve goal #8.

I am SO READY to be at 160 pounds by next Tuesday's weigh-in, and if I don't do it, then it sure won't be for lack of trying!!!





Erin




Tuesday, November 02, 2010
Oh, sweet, sweet November....how full of temptations you ARE!

Before I put down my goals, I need to remind myself of temptation days:
November 4 ~ Best friend's birthday party



November 5 ~ Dad's 55th birthday party

and a Pampered Chef Party



November 6 ~ Bake sale/luncheon with lefse baking at church

, that night going out to dinner and then after for drinks at the club with best friends as they are going to be in Egypt for my birthday.




November 14 ~ My 30th birthday




Yeah. Nuf said.

November 25 ~ Thanksgiving!!





November 26 ~ My husband's birthday



Rough month. But, with planning and preparation, followed by action and follow-through, I can get through it all!

So, here are my goals:



Continue to work on this crazy move and eventually have my belly NOT be in the way.



Continue making drinking water a priority.



Run for at least 2 days a week with the runner's group. Yes, it is getting cold out, but that is what layering is for. I ran in 25-degree weather for 4 miles on Saturday and it was lovely. Remember that. Try to get a third day in here and there, be it on your own outside, or on the dreadmill.



Make sure I get at least 3 days in of strength training. So important, especially now.

Not sure what my weight goal is yet....I want to be 160 by my birthday (which I am about 3 pounds away from right now). But, I do want to continue working on losing weight, but not obsessing about it. It feels weird, but I want to be focus on other things in my life, like my family...and managing my time so I can get extra things in, like those crunches. I plan on continuing to do 500+ crunches a day for at least 5 days a week and work my way up!

My last goal is to set aside a half hour of time to catch up on everything on the internet, which includes Facebook, Daily Mile, my Yahoo email, and this site. This is not a long time, but I am spending way too much extra time on especially this site, which is affecting not only my work performance and productivity, but also my bedtime, which gets pushed back the longer I am online. I need to be in bed by 9 each night since I get up at 5 no matter what for the gym. Lately, I have been in bed about 10. Not good, since sleep is SO important to me!





Erin





Tuesday, November 02, 2010
Hi everyone!

I am doing much better...the sinus infection pretty much slowed down and dissipated on Saturday.

We went out on Saturday night on the town in our costumes (I have the picture of us in our costumes in my last blog). We had a lot of fun, but too many empty calories...I did go on a 4-mile run that morning, so that helped.

Halloween I ate well until that night. I ate candy. I did. I will not put down every little bite, but I know KARVY wouldn't be happy! But, I enjoyed every little piece. And then I sent the rest with DH to work the next morning. I did have 1 slice of Thai Chicken Delite pizza from Papa Murphy's, which was spicy and excellent.

Yesterday, I did spinning for about an hour and the elliptical for 20 minutes (oh, if I only had 2 hours or more at the gym and didn't have to be home so quick! I only get from 5:30 until 7 to work out).

But, I had Chinese buffet last night. I did stay away from the fried foods, and had the Mongolian BBQ with 90% veggies. I did have 1-1/2 plates of food. It was delicious. I haven't had that restaurant's food since I was pregnant. It is one of the places I had "banned" during this journey, and it was just phenomenal. I didn't pig out like I thought I would, though the sodium/water retention is not good this morning.

This morning went pretty darned good so far. 60 minutes of elliptical, 30 minutes of spinning. Oh, and last night I did 500 crunches (combinations to target every part of my abs). I also attempted and actually accomplished that one stupid move where you are lying down and bring your legs over your head and touch the floor above your head? I hate that one, but they do it in this one class and I hate being the only one not able to do it. I need to improve my core! I also did squats and lunges, which again I hate. I do have correct form and posture, but my knees still don't care for it.

So, it seems as though I didn't do great this weekend and yesterday, but I am happier than I have been in a long time. I didn't obsess. I didn't deprive. I did step on the scale this morning, but I always do that so I am not shocked at the weigh-in later on today at Weight Watchers. It looks as though I will be up a couple of pounds from last weigh-in there. I know that is mostly water weight, though a pound of that is probably for reals, and I have to work to get rid of it.

It just feels good...to know that I am for the most part being healthy and doing the right thing, but not freaking out about not being perfect. I always do more exercise, but that isn't because I am obsessed with working out. I just love to work out! I love to get my sweat on! I love peeling my clothes off afterwards and they are just SOAKED! I am SOOO happy that I love doing that. Because if I hated exercise, this journey would not nearly be as fun ;o}

I am part of a couple of challenges on here, but the next 6-7 weeks (depending on when I hit my 160 goal at WW) I have to maintain my weight at 160 for Weight Watchers. Another alternative would be to "waterload" on my weigh-ins for WW on weeks I lose weight so I can just continue to lose weight but have it seem like I am maintaining there...but that seems like cheating. Advice?

Well, here is the picture of my lovely lady: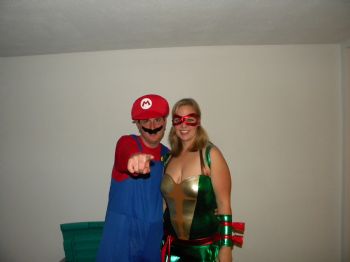 Oops...wrong picture. Here it is!!!: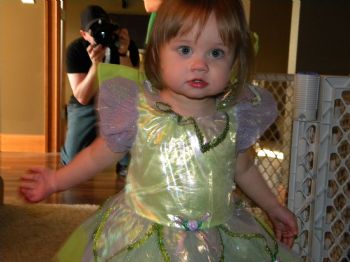 Love you all!





Erin





Sunday, October 31, 2010
Corey and I as Mario and Raphael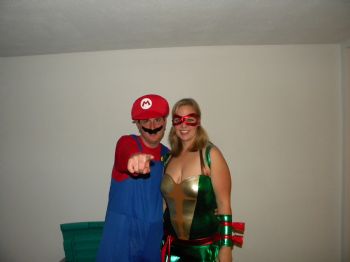 My new Northface jacket from my shopping fun (more pictures later...)




Kaylee and I in one of her many Halloween-themed outfits:




Kaylee in her jammies playing on her favorite chair: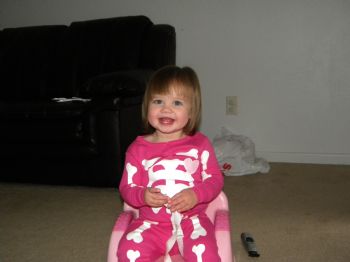 I plan on taking more pictures tonight for trick or treating :o}

Happy Halloween!!!!





Erin





Friday, October 29, 2010
As you can see by my last post, I fell off the wagon a bit. There are so many reasons that I did what I did in the way of my food binge, but the most important being my untreated depression.

After reading a fellow Sparker's blog...it forced me to really evaluate why I did what I did. It's not that what I ate was really THAT bad. It was why I did it. And why I didn't tell my husband about any of it (but for the pizza...).

I used my credit card to pay for the Burger King and for the Subway. And I said NOTHING to him. Not even after my blog the other day. That resembles the behavior that led me to weigh 286 pounds. And that is where I never want to be again. I never want to take that road again...

So, when I read my friend's blog today about her depression, one thing kept resonating in my head. I was so quick to reply that she needed to go see someone to get help, but was I willing to do the same? Am I going to walk the walk??? I did. I called my doctor's office up and have an appointment for Wednesday at 11 a.m. I am not 100% sure how bad my depression is, if it is situational or more chronic, but I am not willing to wait it out anymore to find out. I am not willing to take 5 more steps back in order to realize that I need medication or counseling. To realize that I am not perfect and never will be.

And then I took the most important step that I could take today. When my husband got home from work, I went into the kitchen and told him everything. How I have been feeling this last week, what I ate, how I paid for it, and the various reasons why I did it and how I felt while doing it. I told him that I have a fear of failure, and that I am so close to where I want to be on the scale that I am sabotaging myself. No one else is. I am. I used to have people sabotage me, and now that I no longer allow anyone to do that,....so anyway, I gave him my credit card and we talked more about it. He was completely supportive, not angry, and told me he was happy I told him instead of holding it in and continuing on with this.

And....there have been a few days this week where I felt like a nobody. And that is where my motivation just tanked. My sinus infection? Bah....just an excuse really. I haven't been sick in a LONG time. Sure, a migraine once in a blue moon, but sick sick? Nope. I have been healthy as a horse! Until the last few days.

But....since my blog is going into different directions, I will get back to the point of this post. Am I back on the wagon, so to speak? Yes and no.

Yes, because I am back in the right frame of mind, and I know now what I am going to be doing.

No, because there will be one major difference. I am going to start working on my obsession with the scale/food/exercise. I have been SO hardcore about my eating and exercise and getting on that damned scale EVERY morning, that it is no WONDER I fell down so hard. It may not seem like I did, but if you knew what I have been doing DAY IN AND DAY OUT for the last year to do what I have done weight loss-wise, and fitness-wise, what I have done this last week really felt detrimental to me.

And that is why I need to step back from it. Until January, I need to listen to my body. Listen to my emotions and feelings. Live my LIFE. I need to have fun! I need to eat when I am hungry. I need to feed myself things that will keep me full longer. I need to work out, sure, but for my sanity. I need to go sweat, but not to the point that I am on the verge of another injury, which is another reason I haven't gone to the gym since Tuesday. My shin and calf on my right leg feel like they have split in half. That was after my "Last chance workout" day. Yeah, turns out to be NOT such a great idea. What is the point of a crazy workout like that when it takes you out of action for the next 4 days?

I am going running tomorrow morning at 8 with the group, but other than that I am just going to write down what I am eating, but not worry so much as long as I am not stuffing myself or eating questionable things.

Oh, and I am going out with friends tomorrow night in a costume. I will not be drinking since I volunteered to be the DD (yay!).

Ummm....I do apologize for this blog turning into another novella. I just start talking...and talking. I can't stop!!

Thank you for reading this, and as always, I love you all! You really keep me accountable on this site!!

P.S. I will be taking lots of pictures this weekend including pictures of me in my new clothes/jackets from my recent shopping trip that I promised to post!

P.P.S. I say until January because that is when I start training for my first full marathon in May 2011.




Erin



First Page
1
2
3
4
5
6
7
8
9
10
11
12
13
14
15
16
17
18
19
20
21
22
23
24
25
26
27
28
29
30
31
32
33
34
35
36
37
38
39
40
41
42
43
44
45
46
47
48
49
50
51
52
53
54
55
56
57
58
59
60 61 62 63 64 65 66 67 68 69 70 71 72 73 74 75 76 77 78 79 80 81 82 83 Last Page

Get An Email Alert Each Time ERINBEAR1876 Posts