| | |
| --- | --- |
| | ENUFF81020's Recent Blog Entries |



Sunday, June 12, 2011
Hi all,

I really need a good week in many ways and I have decided that I need to make that for myself. I have been awake for hours because of pain. I realized that my pain patch was missing and that strong medication generally keeps me nestled somewhere in a normal life. Three companies make it and one of them makes it in a way that stays secure for me--however, I haven't been able to get that brand for about 4 months now. The others are smaller and less noticeable, but if they come off, they aren't worth much. Actually, the good news is that my pain levels have been better--I think that the warm weather combines with all of the ways my new doctor is treating my health is all working on my behalf.

Anyway, I am making a commitment to myself this morning, at the beginning of a new week. I am going to take the time I need to do what is best for me. I am going to eat carefully rather than in the rush in my life. I am going to get back to my plan of 6-7 servings of fruits and veggies each day because I feel better when I do that. I am going to stick with 10 glasses of water and daily exercise because I know it helps me. I am also going to work harder at having more than one serving of dairy each day--this is one of those tough things for me because although I love milk and yogurt and cheese, I hate the calories that they involve. I am kind of odd in that although I am a chocolate lover, I have a far bigger issue with cheese than chocolate. It is a trigger food for me along with chocolate chip cookies.


I will work on managing this.

As for stress, I am going to work 4 hours a day--and they will get what I can do. I am not going to overdo things at all. If they want these hours of paperwork, they will have to accept that I won't serve children for four hours. I cannot do everything and I anticipated my summer break to be a break. I anticipated this summer program to be a true summer program with the variety of children who attend each day to be given the opportunities to read and to enjoy literacy events when they are present. That is how summer programs work--they are inconsistent as children have opportunities to do a variety of things. Attendance varies and we just run with activities with who we see. Asking for goals and strategic plans assumes that a child is in attendance each day and that the program is consistent. I can only do what I can do when I am in attendance. As things are, I am having to move all of my teaching materials and books for the summer program from my room to another room in order to work with the custodial work. I also did not sign up to put physical stress on my body.

There are a few other things in my world right now that are adding stress to my life. I am not able to share much about them at the moment, but I am lifting them up to my Lord to deal with. Some issues on earth simply need heavenly interventions. I am glad that I have the Lord in my life to help with the big issues.

The old, often over-used quote about today "being the first day of the rest of" our lives is very true in it's simplicity. This is what I am using for myself on the start of this week in June.

Gentle hugs,
Sylvia





Thursday, June 09, 2011
Hi all,

I envisioned my summer tutoring project as being a time of sharing books, the love of books and skills in reading with children. That is NOT, NOT, NOT what I am getting to do and I am quite frustrated. It has become a nightmare of paperwork and administrative "stuff." A PhD candidate is helping us and has asked for our "strategic plan," "three goals for each of the children," "pre-testing and post-testing," an attendance page, a schedule, etc... It is a 6 week program with me working 4 hours a day during student contact hours ONLY. When am I supposed to do this stuff? Well. one answer to a part of it is the past three days because she/ they decided that we needed a signed permission slip for any child we serve--and they didn't bring them to us to send home with the kids until today. So maybe, just maybe, I can teach tomorrow. Please forgive me for venting but I wanted to do this because I thought it was going to be like my summer reading program and it is far different than that. I am feeling blue because of it and have even considered some "civil disobedience" in not doing all of the extra paperwork.

As for me, I am spending a lot of time with that and getting to the pool to work out. I also have tried to spend some time with my younger kids--they do still need some attention, lol.

Anyway, I am hanging in there--and doing the best that I can with my Spark program. I haven't weighed in in weeks and will do that this week. I will find out then if I have to keep such a tight rein on what I do.

Thanks again for your continued kindness, patience and support. I amy be the most infrequent of your spark friends, but it isn't because I don't care. My life is so hectic and crazy that I do what I can. My work outs take a lot of my spare time and they are so important to me that I won't give them up for anything but important family issues.

You are the best!! Remember that and all of the reasons that you know that makes it so!!

Gentle hugs,
Sylvia





Tuesday, June 07, 2011
Hi all,

I think "missing a beat" describes the past several days for me. The end of the school year is a monumental thing for most teachers--besides weighing in on the year and the children whose lives we touch, there are the far more tangible responsibilities in taking down a classroom for major cleaning. I am going to be providing tutoring for children in the park program that is housed in our school during the first 6 weeks of summer break. This is a ground breaking program, brand new as the result of my work with the church and the drive of our pastor. I want to see it work and be successful for the ids who need it. There are over 100 kids registered at our school, so it is a similar story to the school year with numbers and a job that is looking a bit bigger than life. I will get it sorted out.

Wow, Thursday was the last day of school and I have been busier than busy since then. On Friday, I went to the fitness center to work out, a training session for the summer tutoring program, grocery shopping, errands taking kids to work here and there, and then home to find out we could go pick up a couch for my son's apartment and a cookout in the park with everyone who wasn't at work. We went to a park by the Rock River and it was a bit buggy, but so quiet, beautiful and peaceful!!

Saturday was my workout at the pool before we left to go to my husband's cousin's funeral. I didn't expect all of the people who were there, but I didn't realize that not only did Frank have an excavating business, but he was a member of the village board and a volunteer fireman. We got home in time to work on some laundry and some other household chores. Sunday was all about the warm, sunny weather and working in the yard and moving that couch into our house to replace an older one in the family room. (My son couldn't get it into his upstairs apartment.) I weeded and placed mulch and planted and worked like crazy--and after some 6+ hours of work and a trip to Walmart for some paint and other "stuff," I got home in time to fall asleep as soon as I sat down, missing supper and my spark time. I accomplished a lot, but there is a lot more to do whenever I can find the time.

Monday was about the beginning of the summer park program. I got to school around 9AM and left for a couple of hours for a teacher's meeting, then went back to organize and structure my plans. I worked hard on book baskets with a lot of standing and bending and lifting. I left around 6:30 PM and got home, did a few chores and left for the pool. That wasn't my best workout, but it was really refreshing after such an intense day. My body is pretty sore after the abuse I have been handing it. My physical therapist keeps talking to me about the fact that even though I might be feeling better, I must be careful not to overwork my back and body. I don't know how to judge what I can and should do and what I shouldn't, but it is something amazing to be moving around and doing things that other people do for a change. As I work on my impulsivity in managing my eating and exercise, I have to do the same with my day to day activity.

Take care everyone, stay safe in the heat. (I think that I may be one of the few in the area who is enjoying and embracing the temps we are having and not complaining at all.) I really love the fact that I can be outside and that I can move around. I love the fact that the cold weather that started earlier last November and that made me throb and burn and hurt right through April and part of May is over. This makes me energized and I have no complaints about warm weather--it is easy to find ways to cool down.

Gentle hugs everyone,
Sylvia





Wednesday, June 01, 2011
beginning a summer??










Hi all,
I don't quite know what to say. We have tomorrow left, but it is an hour of student contact time, working on folders and end of the year paperwork, cleaning up rooms, and probably a meeting of some kind. I begin tutoring during the summer park program for four hours a day for four days a week. We have a "training session" for this for 2 hours Friday morning at the fitness center.

After that, I'm going to enjoy the pool and do some working out. This program will be a great deal different than when I have done my own program at the church. My son will be doing some teaching there this summer.









Speaking of my son--he got notified today that he has a position teaching fifth grade next year. His pink slip has been rescinded. Yippee, good news--he seemed to expect this all along. I am so glad for him. He is moving into his own apartment right at this minute and over the course of however long it takes, and I am glad to see him coming into his own. I will miss him, but his apartment is only about 4 blocks from my school so I don't think he'll be too big of a stranger.



Anyway, as I reflect over this school year, I served almost 80 kids and some 30+ got their reading up to grade level. Of those who didn't, the older children have multiple issues and I think need more help than 40 minutes of reading instruction daily to solve them. (One of them was very close...) Of the younger ones who didn't make it, I made two year plans for most of them and most of them are where I thought they would be by now and just need more time. There are a few of them who I also have identified (to myself anyway) as having multiple needs that reading support isn't going to resolve. I have done a lot of good work with children and their families this year. As always, there are a few things I wish I had gotten done, but I think I have done far more than anyone could have asked for or expected this year. My biggest concerns are about my co-workers and the general attitude around me. Again, there is little I can do about this--that issue belongs to the administrators to straighten out and work with. It makes me sad to be in a new building that has this type of problem at the end of its first year.









However, summer break is here. I have the first class in my ELL program in July and a four day out of training during the last week of June. I have a big household job in mind that should result in switched bedrooms and a better use of space around here. The rest of the time is for being in the pool or at the fitness center and in their pool or out camping. I plan to have some rest this summer along with everything else. To wrap this up, I have some photos of the fitness center where I spend so much of my time: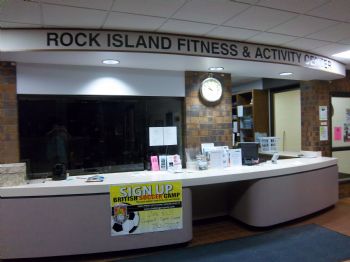 This is the front desk and the place where I swipe my membership card when I come to the pool. Then I usually come in with my swimsuit on under my clothing and if I am not starting out on the bike, I cut through the girl's family locker room and head into the pool.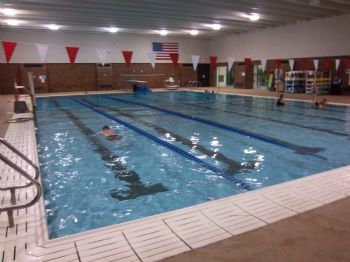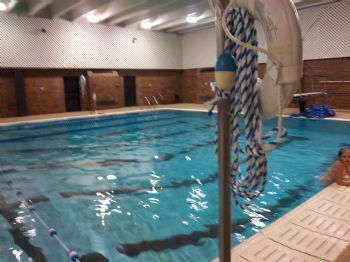 Here are the tools I use when I am working out in the pool: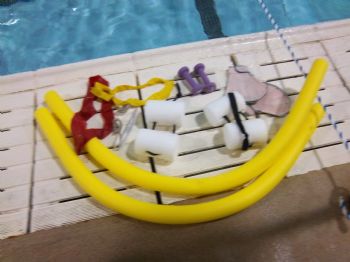 I generally use a band to warm up when I walk. Then I come back and do some squats and some other band and stretching activities before I put on the bubbles and do some kicks. Then I use the weights--particularly on my right side to strengthen my shoulder. I move on to some pushes with the noodles and then some leg lifts with them. I wear my swim gloves to work on my arm extensions and stretches. Then I do some aqua jogging before I do some balance exercises and some knee stretches. I do some walking and then some actual swimming before I do more stretching before I get out and see the following view of the pool.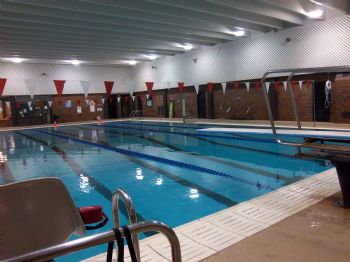 If I don't go to the hot tub, I head to the shower and then the sauna to soak up the dry heat before I get dressed to head to the bikes or home. I have one more photo to share--


This is the sign I got placed to mark the accessible shower for those of us who need it.

I'll share some other fitness center photos in a later blog because 1) this blog is plenty long enough and 2) I am wearing my swim suit and am ready to go for a good workout and some relaxing, soothing pool time. Thanks for hanging in with me. I am kind of all over the place in emotions and well, directions in general. I'll get over all of this soon!!

Gentle hugs,
Sylvia



First Page
1
2
3
4
5
6
7
8
9
10
11
12
13
14
15
16
17
18
19
20
21
22
23
24
25
26
27
28
29
30
31
32
33
34
35
36
37
38
39
40
41
42
43
44
45
46
47
48
49
50
51
52
53
54
55
56
57
58
59
60
61
62
63
64 65 66 67 68 69 70 71 72 73 74 75 76 77 78 79 80 81 82 83 84 85 86 87 88 89 90 91 92 93 94 95 96 97 98 99 100 101 102 103 104 105 106 107 108 109 110 111 112 113 114 115 116 117 118 119 120 121 Last Page

Get An Email Alert Each Time ENUFF81020 Posts