| | |
| --- | --- |
| | EMMABE1's Recent Blog Entries |


Tuesday, June 26, 2012
Sometimes a person's looks, their size, their dress are unimportant - we ALL have something to offer - some gift we can give others - but this made my jaw drop!!
biertijd.com/mediaplayer/?itemid=339
67
Enjoy





Thursday, June 14, 2012
10 days ago my DH had a hip replacement - he came home last Monday, only 5 days post op!! I have been trying to cope with his showering, injections, exercises and everything else that was needed since, and NO - I'm not a trained person!!. At last, from yesterday, I have help to shower him - but only 2 days a week !!
Then on Wednesday - my beautiful Emma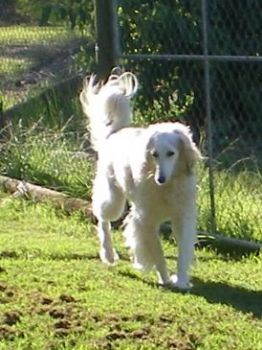 developed an infected wart in her ear - so off to the vet - they took it off, cleaned the ear - and as she is very sensitive to anesthetic they did a few other things - took out 2 back teeth, burnt off 5 other warts, and went to clip her nails - but that was a problem as the nails flake badly and bleed profusely - so they did a test and - immune deficiency!! So that will be treated when she settles from the other work!
She came home last night - and has antibiotic tablets about 1" across and 3 sheets on how I have to look after her - including immersing the feet in Betadene every day for 10 min - My reaction was - that its easy for the vet to say that but keeping her standing in water for 10 min might be next to impossible!!
So now I have 2 invalids to cope with - its all go!!
So if I don't reply to messages from friends - I will get to them - but maybe in a few days!!
Meanwhile - I may not be going to Curves - but I sure am getting exercise and keeping to my eating plan - no excuse there!!






Thursday, May 24, 2012
In my local fruit and vegetable barn yesterday – I happened to see Dragomn Fruit – I had seen them before but never tried them – yesterday the price was reduced so I thought- "lets see what they are like."
I got to the cash desk and we were talking and the owner's son , an Asian lad about 20 years old - saw the Dragon Fruit in my basket – so I asked him how to eat them – he said – "cut them in half lengthwise and scoop out the flesh inside – but the peel is not edible!!" So when I got home I did just that and my DH and I had half each.
They were interesting – a fairly delicate taste – slightly crisp flesh, you eat the seeds but don't notice them, and the flavour is sort of like a pear with maybe a little passionfruit thrown in - but unlike anything else I have ever had – and I have had a lot of different foods.
They are high in antioxydents and low in calories but high in fibre
Read more at:
dragon.fruit.pitaya.fruit.foodlywise
.com/dragon_fruit_health_benefits/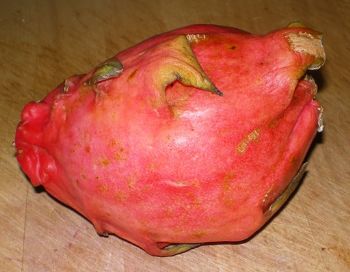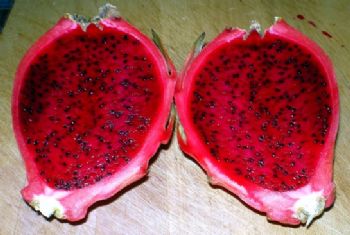 While we were talking about the Dragon Fruit – the lad mentioned – Purple carrots – I kid you not !! I had actually seen them in the last week on the shelf – and he was saying they are really high in antioxydents – anyway he whizzed to the back of the shop and I ended up with a tray of purple carrots!! Well – you should have heard my DH when he saw them!!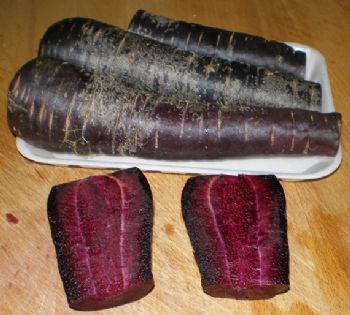 And cut they are really, really purple – and the juice can stain a bit!! They stay purple when cooked and can be treated and eaten exactly the same way as normal carrots. I think they are slightly sweeter, and I liked then raw!! Again they are very very high in antioxydents. A lot of claims are made of their health benefits – and tests are being done.

There are not many vegetables quite as orange as carrots, but carrots date back to the 16th century and back then they were actually purple.
Well, the purple carrot is making a comeback in specialty grocery stores and it's not just because of the presentational value.
The purple carrot is a nutritional powerhouse and it's being hailed as one of the most powerful foods on the planet for its mighty health benefits.
Modern orange carrots have always been known as an excellent source of vitamin A and phytochemicals including carotenoids, phenolics, polyacetylenes, isocoumarins, and sesquiterpenes.
But the ancient purple carrot has double the level of beta-carotene than the orange carrot and contains 28 times more anthocyanins.
Anthocyanins are potent antioxidants that give vegetables their red, blue and purple colours. But more importantly, they capture harmful free radicals in the body, slow blood clotting and act as an anti-inflammatory agent.
Recent studies have shown that these benefits as well as other antimicrobial and anti-carcinogenic activities can help and prevent cancer, heart disease, stroke and diabetes

Read more here:
Miracle Weightloss Vegetable to cure Obesity, Lower risks of Cancer, Heart disease, Stroke and Diabetes.
www.purple-carrots.com/

THEY may sound like something out of Alice in Wonderland but purple carrots are not only real, they're being positioned as the next superfood.
www.theage.com.au/national/purple-ca
rrots-the-next-superfood-20100807-11ph
z.html

My advice is – if you get the chance – try these different foods – see how you like them – and make your own decisions!!






Saturday, May 12, 2012
My weight loss continues to amaze me, the fact that I have actually lost – and will, I hope, continue to lose.
But I thought I might list all the things that have changed for me during my journey:
- Thighs rub less
- Shoes are more comfortable
- Have moved down many clothes sizes
- Snore less (if you can hear yourself snore – LOL!!)
- Sleep better
- Have more energy
- Have more stamina
- More Flexibility
- Easier to breath
- Not as puffed
- That odd irritating dry cough and throat tickle has gone
- Legs, hips, ankles and knees ache less (only if I do too much)
- Everyday walking is easier
- Can prepare and cook a whole meal without sitting down
- Feel more confident in myself, and my body – and thus mix more with others.
- Developed an interest in how I look, dressing more carefully, wearing makeup etc
- Can wear normal sized necklaces that didn't go near fitting before
- Dressing each day – instead of slopping about in nightclothes all day
- Can sit on chairs with ease
- Can get out of bed without rolling
- No longer need an extension strap when flying
- Can fit in a single economy airline seat, instead of having to get 2 seats (and that saves a heap of money) however I still find having 2 economy seats is more comfortable for long haul flights – one seat doesn't give one any too much room!!
- Can slip rings on and off fingers easily
- Have taken watch strap in a couple of holes
- Feel good about what I am doing – (about my weight loss, efforts, the future and life in general)
- No more high blood pressure
- Diabetes (type 2) has "disappeared" – off all meds A1C holding steady at 5.2 (remember that it can reoccur – you need monitoring all your life!!)
- Can buy normal size clothes off the rack
- Can wipe backside
- Can do shoes up
- Can bend over and touch toes
- Can wrap towel round waist and tuck ends together
- Going swimming at a public pool
- Skin looks clear and eyes bright and radiate good health
- More patience with people, more willing to look for ways to solve problems
- Tolerating heat and humidity better
- Balance has improved substantially
- Capable of carrying and manoeuvring heavier, bulky things
- Stomach problems and indigestion have gone
- Bladder and bowels working "normally"
- Self-confidence is so high now
- I can feel firm muscle where there was soft floppy fat – particularly in my thighs
- Can get in and out of small, low cars – no struggling

Though these make my life more wonderful and easier they all pale into insignificance when I realise that:
Before I lost the weight – I was using a scoter – I took a trip by train – had to have a person with me and book my scooter and use it almost completely on town I had 2 seats by myself and help when visiting the loo!! Also 2 people helping me on and off the train!! And we had to stay overnight because I wasn't strong enough to do the 5 hr each way trip in the day.
A year ago I went to Town by train – I was alone- I took a bus to the station then walked to the train and had a single seat, and did the return trip in the day – but more than that – I WAS ON MY FEET!!

Yes- I never even use a walking cane now!! I can go out shopping ALONE – I can go anywhere – alone – I have regained a lot of my independence!!

This to me is ALL IMPORTANT!!

And just yesterday – I had an examination at the hospital as they were getting ready to do knee replacements, (my knees are bone on bone, severe osteoarthritis and collapsed inward quite substantially – I had been listed as urgent!!) and the surgeon examined me –examined my knees –and asked what I had been doing – my answer – exercise – his answer – "I really don't think that at this point I can improve you by doing surgery!!"

I know I can never get rid of the damage but I am almost pain free and I can walk short distances –like round a shopping center!! I am doing this by strengthening my leg muscles – and it HAS to be consistent – and I use machines to do this at Curves – it's a looooooog hard process but its proving possible!! How long it will last is anyone's guess – whether I will eventually need surgery –but the combo of weight loss and exercise is working for now and that's all I ask!!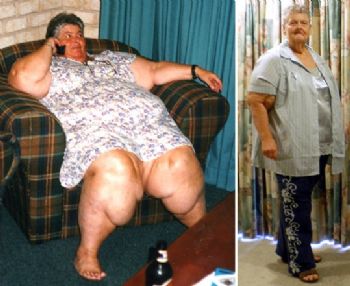 Sunday, May 06, 2012
Since there was a lot of interest in my lunch today - I am posting the link to the recipe and a picture - Feel free to enjoy them yourselves!!
You could use the pastry for a myriad of other dishes too - and make many changes to the filling!!



recipes.sparkpeople.com/recipe-detai
l.asp?recipe=2093084



First Page
1
2
3
4
5
6
7
8
9
10
11
12
13 14 15 16 17 18 19 20 21 22 23 24 25 26 27 28 29 30 31 32 33 34 35 36 37 38 39 40 41 42 43 44 45 46 47 48 49 50 51 52 53 54 55 56 57 58 59 60 61 62 63 64 65 66 67 68 69 70 71 72 73 74 75 76 77 Last Page

Get An Email Alert Each Time EMMABE1 Posts