| | |
| --- | --- |
| | EMMABE1's Recent Blog Entries |


Wednesday, July 13, 2011
I was asked by my Dietician on a recent visit – to explain "what Sparkpeople means to me" as he hasn't met the program and was really interested in it for other clients of his.
I found it hard to answer at that moment – but this is my answer that I will send to him.

What the Sparkpeople program means to me

The main aim is embodied in this quote by Chris Downie – Sparkpeople founder
"We help our members reach their goals by showing them how to truly make a healthy lifestyle change. This helps them keep the weight off AND helps them in other areas of life—from relationships to career and finances"

I have found this to be true – as I have got healthier through lifestyle changes, other things have changed – I have become more confident, I feel younger, I am more alert and can do more – no "nanny naps" or rests between preparing meals. And 1000 other things!!

So – what have I found in the last 2 ˝ years, to be the most important points in the program?
1 – To regard it as a "lifetime" program – so not to be upset if, now and again, the calories go over, or the meals don't always balance as they should, or I get tempted to eat "empty calories" once in a while, or I miss an exercise session. For me – these things are rare as they should be, but I have learnt that there is a clean slate starting the next day – however, as I lose weight very slowly, I will try to get an extra Curves session in to compensate.
2 – Tracking – both food and exercise. By tracking my food – EVERYTHING eaten – I know exactly where I am in calories and balance in the menu – I plan my main meals up to 4 wks ahead – and work menus round them. I always plan meals for the next day on the day before and spend a little time ensuring they are within the calorie and macronutrient allowances SP suggests. I always eat at the lower end of the calorie range, and ensure that I keep to the planned menu – if things go belly up – then I enter the changes in my tracker to check the damage!!
I also track my exercise carefully – since this, as well as my height, and weight enable SP to work out my calorie range and food balance.
Another reason to ensure balance in your menus, apart from the obvious one of ensuring you get all the necessary nutrients for the body to function fully, is that I heard it said that 70% of weight loss is in the food we eat!! Far too often we are overweight because our diet is too heavy in Carbs or fats (often the wrong types of both ) and by balancing up the macronutrients we help the body to lose and to become fully functional.
3 – Portion Control – often an overweight person has a distorted view of portions. In tracking they learn portion control as well – and the three things together (tracking, portion control and macronutrient balance) are the roots of the food side of the program.
4 – Water – It is recommended that we drink at least 2lit water or fluid each day. I have found that – I have to drink at least 2 lit water – pure fresh water – each day – and any other fluids are extra!! For some reason, this is essential – unless I drink 2 lit water, or more, I don't lose weight!!
If plain water is hard to drink try a small squeeze of fresh lemon or lime juice in it!!
5 – Sleep – 8 hrs a night is recommended – as surprisingly, lack of sleep can totally derail all your efforts.
The Sleep and Weight Loss Connection

New research underscores the critical role sleep plays with weight loss and maintaining your weight.

Lack of sleep

- Increases appetite
- Decreases metabolism
- Causes you to store more fat from carbs.

Out of Control Hunger and Lack of Sleep

Several new studies implicate inadequate sleep as a prime culprit with increased hunger. Chronic lack of sleep is directly connected with a higher risk of obesity and diabetes

6 – Exercise – both Strength training and Cardiac or Aerobic exercise are recommended.
It is important to find a form, or several forms of exercise that YOU enjoy and then to build consistency in them. A lot of us find that exercising first thing in the morning, before we get involved with the days happenings, works well
A minimum of 3 cardiac sessions a week, but there is no reason not to do 7 sessions a week!! It is recommended that at least 60 mins moderate exercise a day is attempted, however this 60 mins can be broken into smaller periods – the main aim is to keep moving in some way or another. Remember that a lot of things count as exercise – and it doesn't have to be "formal" exercise necessarily!! Eg – gardening, housework, sweeping the deck, etc, etc.

Strength training – a lot of people think this will turn them into a body builder and bulk up their muscles so they have great bulges!! Nonsense!!
When you lose weight you lose a mixture of body fat and muscle from the body, so this needs replacing and strengthening to prevent excessive loss.
Also, when we live a sedentary life, or even just a very relaxed life the muscles that aren't being used start to lose their strength after only 2 weeks. So we need to build them up again to give us energy and balance and stamina.
By strengthening the muscles we give our body that well toned look and our posture is better, also it is by strength training that any lose skin is taken up – after weight loss which makes you feel and look better. And it is possible, given enough time to shrink those bags on the stomach. Butt and arms right back!!
7 – Improved Self-Image - A lot of overweight people have a very poor self-image. They think they are ugly, and they don't like themselves at all. Often this can be caused by abuse of some type, by a difficult childhood, by a multitude of things. They can use the excess weight to hide behind.
In losing weight,, becoming fitter and gaining health and strength they also gain self confidence and start to realise that they are a person in their own right!! They become a "different " person and they learn to love themselves. This improvement in self image in turn creates its own motivation to continue getting fit and healthy.
8 - Support – It is often said that the more you give, the more you gain back. This is so very true as far as SP is concerned.
The whole program works on the support that one gets from the site, from other members, from team leaders and from the SP staff. Where else can you find support 24/7 ?? It has been proved in studies that people who take part in challenges, and contribute to message boards, and read and leave messages on blogs are the ones who lose weight faster and more easily, so the more you give back to the site, the more you will gain from it!!. I know that in my own case, I give a lot of time to helping members of my other team – the Chair Exercise Team but I get back their love and respect in so many ways, and this in its turn .generates more motivation in me!!
9 – Education – there are a multitude of articles on a myriad of subjects in the site –and they enable you to understand yourself, and the program. By fully understanding YOU and by knowing and understanding the program very well, you will assist yourself towards certain success
10 – Becoming the best person that you can – basically this is the overall aim of the program – to become fit and healthy, so that you can live as full a life as you chose – so that anything is possible!! Believe – and it WILL happen – dream big – and follow those dreams!!

What do you think? Do you agree with me or not??







Thursday, June 30, 2011
This blog is for those of you who were so worried about my jeans falling off – and were so generous as to give me jeans and leather belt goodies!!
I finally buckled – and got new ones!!
The black eye is from cataract surgery earlier this week – ! went 10 rounds with the surgeon – he must have thought I needed the exercise!!




The design on the jeans is a couple of butterflies – representing freedom – from the handicap of excess weight.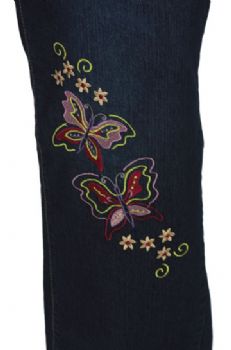 The T-shirt has a butterfly on it too!!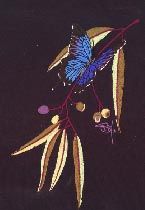 They are reminders of how far I have come and motivation for the rest that is still to go!!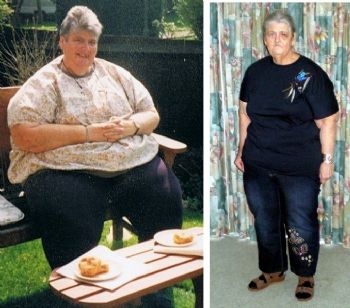 How far have I come? – far enough to begin to wonder if the person in the photos is the same person yet knowing it is
The jeans in the left hand photo were elastic waist – size 34 Aus – about 5x US –
The new ones are size 20 (M)– Australian – I think that is 14/16 US or lg!!

Sorry- I am happy - but its hard to smile with no teeth!! Next time - I'll give you a gummy laugh!!







Wednesday, June 22, 2011
This morning I went to Curves as usual to do a workout – and when I got there one of the trainers pulled me aside. They had been doing some figures – and since it was a year since I started there they thought they would see what the difference was!!
In 12mths – I had lost 4.1kg (9lb) Some might call that disappointing – but combined with loosing - –
6cm (2.5in) off my bust
8cm (3in) off my waist
2cm (0.75in) off my abdomen
9cm (3.5in) off my hips
5cm (2in) off each thigh
3cm (1.25in) off top of each arm
For a total of – 41cm (16in or 1ft 4in)) altogether – well – I can see why my jeans fell off!!

This is the sort of thing that I am talking about when I talk about MOTIVATION – keeping me going.
Just because I haven't lost much weight – that does not mean that I haven't progressed – in fact a total of 1ft 4" off my body – is quite a difference!! It's a difference that I can see – that I can feel and means hitting the credit card yet again for smaller clothes but more importantly it means more strength and mobility and flexibility!! It means that what I am doing is right and that the scales tell such a small part of the story that they are totally unimportant!!

So – if anyone one comes across a foot and a quarter of fat rolling about – it could be mine – but they can have it as I have finished with it for ever!!-







Monday, June 20, 2011
I keep being told I have a lot of patience, and or will power!! Well I had a light bulb moment today – when I was writing to a friend in Sparkmail!!
Actually I guess as she read my mail she was laughing – I was discovering things as I was writing!! This would have been obvious in my mail!!
She had said that weight loss needs patience, because weight loss takes time

To me - its not about patience nor about will power - its about MOTIVATION!!
I think that because its a slow weight loss and everyone these days is expecting instant everything - that people get discouraged and forget there are so many other signs to see - but somehow they don't count those!! If you look – maybe you are getting instant results – but you have to recognise them!! I know I keep turning corners and seeing changes – changes that actas motivation.!!

I actually used to have a lot of red in my hair and I am not and never was known for my patience - but somehow this has become a total way of life - and I have no idea what or how I would change it if I chose to!! I rarely weigh now - but recently I have had some "interesting " and actually very amusing things happen to me that are certainly motivation!!
I am noticing that my thoughts are "growing" with the way my body is allowing me, my ideas and thought processes are changing - its hard to explain!! But to give an example - a Sparkfriend asked me to go to Brisbane in August to meet her - that would mean leaving home by 4,15am – driving to the bus station and getting the connection bus to the train – a 4hr train trip and the same in reverse arriving home by about 10.00pm - and will require heaps of walking as the bus services in the city never go where I want it to!!

For years I used to drive 4hr each way trip up and down regularly – I had friends there and used to think nothing of going to a live theatre performance then driving back overnight - that was ok being heavy - I could drive and park where I needed to go - but now I can't drive that distance as my eyes are bad with cataracts!! Not to mention the road condition has deteriorated badly and there is far more heavy traffic on it these days.
Then in the last 5 years I had given up going as it was tiring and hard on me - and my weight sort of caught up with me!! I had dropped out of mainstream life almost totally In fact since the trip to WA in 2007 we haven't been out of this area and other than going to town for exercise and shopping we actually live a very quiet life. Until this I honestly hadn't realised how quiet our life had become and how my weight was actually subconsciously stopping me doing things I love.

At first I made excuses to her – then it was like a light bulb moment – I thought – why not ?? I can get the return Tilt train, I can cope alone now, I can actually walk a distance – not so far but enough to cope and don't need the scooter so why not??
But even if none of our plans come off – I will go alone – and have a day round the shops in a city – the first time I have been to a city for 4yrs when we were in Perth, but its maybe 12yrs since I have been into the city centre of Brisbane!! Now won't I have fun without DH, in the City shops with my credit card!! LOL!!

Now I am looking forward to going – and then I realised - I need only 1 seat in the train, I have the energy and balance and can do the walking, I can get onto busses, its a whole new ball game!! I don't need anyone to help me – to lug the scooter about or the wheelie walker - I can cope alone again!! And to me- my world has started opening up again!! –I can see the profits from my efforts – amd this is MOTIVATION to get more results!!
And - yes that is about weight loss - but sooooooo much more -its about inches lost, about regaining mobility, strength, flexibility etc - but also about regaining confidence, in myself and my capabilities!! -Me, who hated clothes and threw on what ever - am looking at my wardrobe - planning my clothes for the day!!
Boy!! Am I changing!!

Then this morning in Curves a friend I used to work with 25yrs ago walked in – she didn't recognise me – until I showed her my "fat" photo – then she sort of looked at me – laughed – and drew an hourglass shape in the airby my body – and said "you've got Curves now!!" There were a number of members there as class was about to start – and the whole place just erupted in laughter !! And that is such a great feeling of pride in ones self, of MOTIVATION – I went into the class and worked my butt off!!

Then later today – I have been watching this little art shop with embroidered T-shirts for several years. I dropped in to them several years ago to get sizing – and they wouldn't go near me!! You all know the feeling of let down I'm sure. Anyway I have just kept checking and I thought, and hoped – maybe this year – so I checked again – and sure enough – I can get a T- shirt. I was so elated – they saw I had lost – and asked how much – I told them – so I told them – and they were so amazed – they told me to select my T-shirt design and vest design (they do fleece vests to match – also embroidered ) – and they would give them to me as a gift – they thought I had earned them!! I was thrilled – I'll give you a fashion show later!! – but again –MOTIVATION.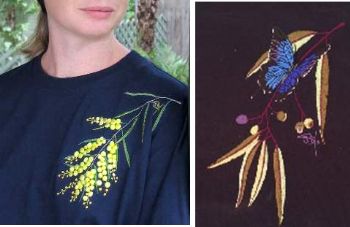 To give an idea – the T-shirt is like on the left – but I have chosen the Ulysses Butterfly on Gum leaves as rhe embroidery



And for the vest – The Blue Wren on Gum leaves!! The vest is a fleece fabric – light but warm. Both T-shirt and vest are a French navy blue fabric. I thought they might go over jeans well.
You will notice they are both native Australia critters!!

This is all about MOTIVATION - to keep going- to lose a bit more , get more freedom, get more reaction!! Its not about patience!! And I am in this position because I kept finding the motivation to do on , in so many things – certainly not in the scales I know its hard to see things sometimes, particularly in ones own body - but it's a case of getting to know your body and then you can recognise small changes!!
And me – I can see my world opening further – and obviously the more I work on improving my strength and mobility the easier things will get!
I know its hard at the start- there are not many changes to see – but as you go on – the changes will become more apparent – and the motivation becomes stronger – and you keep going, over the next hump, looking round the next corner and discover more about yourself and want to discover more – It becomes like a snowball rolling down a hill – getting more and more as time goes on!!

Anyway - if you can understand my rambling - maybe you understand my thoughts







Thursday, June 16, 2011
A couple of weeks ago I put up a picture weight loss blog that raised a large number of responses.
Out of those responses arose number of questions that I am going to try to answer!!
Most were serious – I guess (hope) a couple were asked in jest.
1 – How did you start?
I was 170kg (374lb) when I started – and I started by modifying my diet – but reducing calories and changing toward "healthy" I had not discovered Sparkpeople at this stage – but I had been on many diets in my life to that point – so I used my knowledge and put a few together and tweaked and changed and ended up losing weight!!
It was very "hit and miss" but seemed to work-and was very low calorie at that point too, because I was working on the old idea that the less you eat the more weight you lose!!
Then in 2009 I was pointed towards the Sparkpeople site- I took a while just looking about –decided I needed to at least think about exercise, and then posted on a message board – about difficulty exercising, being then 135kg (297lb) with osteoarthritis in my knees. A kind person told me about Chair Exercise (its not known in Oz) .I got some DVDs from USA – and literally staggered through 1 exercise –but I kept going every day because I thought-this is the last chance – let it at least be a good one so I can say that I tried!!!! I found that it gets easier!! But also I saw inches falling off me

2 – How do you maintain motivation?
I'm in my 10th year of very slow losing!! But I found that the actual losing was motivation – although it wasn't really obvious until exercise came into the equation. But from the first year of just diet control my blood work improved and this was also motivation. As well – we (DH and I) were enjoying the "healthy" food, though it wasn't as "healthy " as it is now!!
I also enjoy cooking and after I got into SP I really tweaked my food program and have enjoyed inventing healthy foods that we enjoy and cooking them – this is a form of motivation too!!
And then there is the responsibility to my Spark friends, some of whom have been cheering me on since I started at SP and to them I am grateful – but there are also the teams I lead!! The fact of accepting a leadership position has put me in a position of power but with that power comes enormous responsibility to the team members – whom I couldn't think of letting down!! I lead by example – I try to be the best I can for them This is motivation too!!
.
3 – Were the photos doctored by "Photoshop"??
Nope!!
Some – I cut the background down a bit – or cut out people with me. A couple I lightened a bit as they were very dark.

4 – How do you cope when you have a lot to lose and the task seems insurmountable?
In my case – I really only looked at the weights as figures – they seemed almost meaningless – but then I saw the photo – and thought maybe one more go – also the fact that I love to travel and buying 2 seats in the plane and carting Herbie and my DH who is older than me, everywhere to handle him was getting hard



Herbie!!

Since I had had so much difficulty losing in the start – I really thought – "maybe I can get just a little weight off" – so I have never looked at it as a complete thing – just at one step at a time!! And because the changes are ones we are happy with they are our way of life –
I never set goals of weight loss – because I never keep them – I am happy when I lose – and I make sure I don't gain!!
But to me its not a finite thing – it's a "whole of life change" - People say I have so much patience to continue so long – but I really don't know what else I would do!! I am living a healthy life, exercising and eating well – my body is happy and I am enjoying life, and as an incidental I am very slowly losing weight – so why would I change?? Therefore where does patience come into it??

5 – How do you cope when the scales don't cooperate ??
This depends- Since it is a lifetime program – I just ignore it if I go over on calories which, for me is rare as I plan my meals for the next day on the day before and keep to my plan – but if the scale starts to go the wrong way- and this has happened only twice in the 10 years – then I clamp down hard and weigh and measure everything very carefully, keep to portions and drink more water and exercise more and harder!!
However – I often have times when the scales sit!! For months – but this is immaterial – I honestly don't bother – why ? because this is a lifetime undertaking, I am grateful for any weight loss but it isn't my primary concern – I don't have to lose by…!! I just get on with my healthy eating plan, and my exercise and know that one day it WILL happen again if my body wants it to – I have long ago discovered that my body has its own addenda, which has no connection with what I want and that when its ready it will show me changes but that I can't speed it up!!
Often these changes can be unexpected, and very small too – but nether the less they are important – they show me I am doing the right thing- maybe my blood work will be that little bit better, maybe my resting heart rate has dropped, , maybe my jeans fall off, maybe I find that I am more able to cope with a hassle, maybe I get less colds or infections, maybe I have more stamina, can do more, can bend better!! The changes can be many and varied – you just have to see and recognise them!!

6 – Why didn't you have weight loss surgery or try weight loss/appetite suppressant drugs?
Many years ago I spent 2wks in hospital being assessed for weight loss surgery – stomach stapling it was then – Both physical and mental assessment – as it was a very complex and dangerous operation – I was rejected!! The reason being that they only did it on people that ate too much – I didn't!! It was actually offered again by my doctor about a year ago – my reaction then was – "If I can lose this much so why can't I lose the rest?" The other thing was I'd have to pay for it – too much for me!!
AS far as drugs – they have never been offered by my Doctor and honestly I have never felt the need

7 – Has your transformation made any difference to the other medication you take?
Yes – I was diagnosed Type 2 diabetes in 1999 but they thought I had actually had it for a substantial time before that. I was put on drugs for that and for high blood pressure. Both my sugar level and blood pressure have returned to normal during my eating and exercise plan – my A1C is holding without any medication at 5.2 and my blood pressure, also with no medication at 125/75. I am taking Celebrex tabs for my knees still but that is all. Except for a Multi-vitamin and a Vit B and Vit C tab!!

8 – What do you do with your "big" clothes??
I wear clothes as long as possible – as you saw from the jeans – and those that are fairly good I then send to an American friend or give to the local Op shop!!

9– What is your final goal weight and how did you decide on it?
This is a question I am often asked – how far will you go – what is your goal?? I have no idea how far I will go – I have gone a lot further than any of the specialists ever thought was possible – and far, far further than I ever believed possible. I am still going – weight loss is very slow – but my balance, strength, flexibility are improving all the time – I feel healthy and am enjoying the journey. My only goal is to continue until I reach a weight at which I am confortable and with which I am comfortable!!

10 – Do you have any regrets?
Of course – who doesn't?
Of what I have done in my life – NO –I had wonderful parents who never tried to restrain me and encouraged me to "fly free" I have been able to do things that would be impossible today, I had so many opportunities and seen so many places, met so many people of all nationalities and it is this that has shaped the person I am today. However – I regret not losing weight when I was younger, though I did make some quite drastic, though unsuccessful efforts – and I regret not knowing the benefits of adding exercise before I did!! However – it was never suggested, and the effect of exercise never reported. SP didn't exist when I was younger, if it had – I wouldn't have had access because it was before home computers. That is the way of life – there will always be further research that discovers new things!!
Now – no regrets – I am in a good place and .fairly satisfied with my lifestyle at present, though of course I am often tweaking and changing things to keep it fresh and to keep my body guessing!!

11- Has your weight loss made any difference to your family relationships?
As far as close family – there is only my DH and I – and he is proud and supportive of me – and even drives me to Curves, and waits patiently in the car while I workout and chat to friends – as my eyes are getting that its better for me not to drive, though I still hold a driving licence!!
As far as rellies – I have a couple in UK and they seem proud and happy for me!!
I am sad that my Parents will never see my weight loss – they were always very supportive of me but would have loved a "normal" daughter, and I'm sure my Mother would have loved to be able to buy clothes for me instead of having to make them all the time as there was nothing that fit!!

I hope that this has answered some of the questions that you want to know!!
Remember little steps, and its not patience, or will power –its motivation that keeps you going
Look at it . as a lifetime change – not as a short time change. and as such weight loss is a secondary consideration – A healthy body, that will allow you to live a good life for as long as possible –that is the aim..

And to finish – a quote from my Father:
As you go through life, always hold your head up high and walk tall, be proud of yourself, of what you have accomplished and what you have yet to accomplish!!

I found this in a notebook my Father left for me - it was the way he lived his life and the way he taught me!! It seems so right here!!




First Page
1
2
3
4
5
6
7
8
9
10
11
12
13
14
15
16
17
18
19
20
21
22
23
24
25
26
27
28 29 30 31 32 33 34 35 36 37 38 39 40 41 42 43 44 45 46 47 48 49 50 51 52 53 54 55 56 57 58 59 60 61 62 63 64 65 66 67 68 69 70 71 72 73 74 75 76 77 78 79 80 Last Page

Get An Email Alert Each Time EMMABE1 Posts