Saturday, June 04, 2011
I have always been a "big" person – from when I was a baby!!
I tried a lot of diets and ways to lose weight – none really worked and although I might lose the occasional couple of pounds – I just got bigger and bigger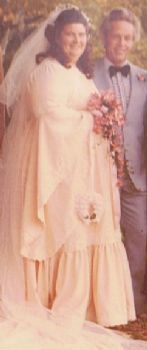 1877(ooops!!) 1977 – at my wedding – just to show that our wedding dresses aren't always our smallest size!! Maybe one day I'll try it on again for fun!!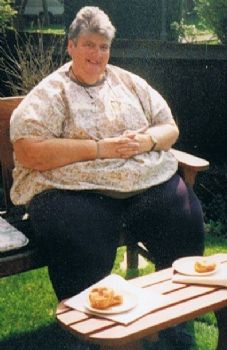 1998 – in UK on holiday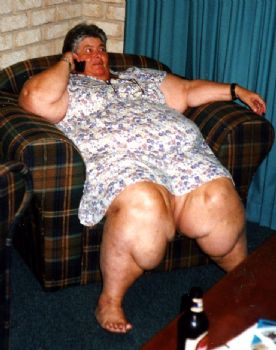 2002 – this was taken in Adelaide on Holiday – and was the photo where I decided I had had enough – time for yet another attempt to lose weight!! I was 170kg here (374lb) and taking size 34 clothes!! This is the first reasonably correct recorded weight I have. I may well have been heavier before but its not on record.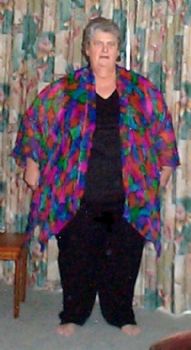 2004 – going veeeerrrryyy slowly!!




2005 – off on vacation – by now I was buying 2 seats on the plane and using a walking stick and walking frame!! I was losing weight very slowly but my health was deteriorating – obesity was taking its toll – on my knees.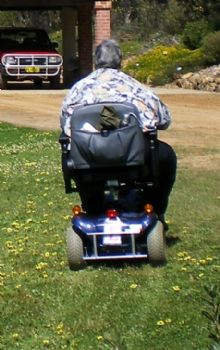 2007 – holiday in West Australia – and scooter came too!! By now I had given up walking much – too much pain and very unstable knees – so I had a scooter – but taking it on holiday is rather like taking everything and the kitchen sink!!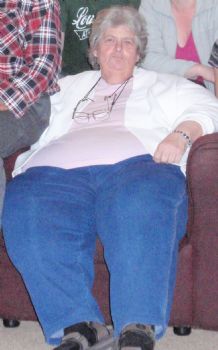 2008 – 35kg gone (77lb) however – still living a totally sedentary life – and still wearing size 34 clothes!! This was a couple of months before I joined Sparkpeople.

In Feb 2009 I joined Sparkpeople – and discovered a hitherto banned word – exercise!! I was already eating a fairly healthy diet – but exercise was the one thing I had never tried!! I started staggering through 1 exercise in a Chair exercise DVD – but kept going – every day – often ending up sobbing with pain and effort – but eventually – .........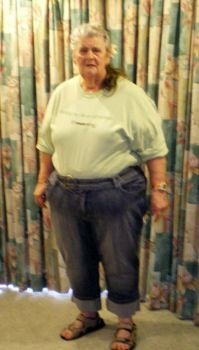 In 2010 – I started seeing changes – the length and intensity of exercise was increasing and I was getting stronger – a bit – my knees still gave some troubles and I was still getting delayed onset muscle pain after starting new exercises or increasing intensity. This was a real motivational picture too – my first ever pair of zip front jeans – goal reached!! They had all been elastic waist band up to now(yes all my life) !! and it was the first time I dared wear a belt and tuck in the shirt!!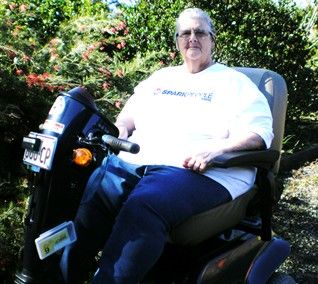 I still used a scooter for most things out side – like shopping – and honestly was being told by the Doctor I always would until I had 2 knee replacements!! Well why wouldn't I believe him??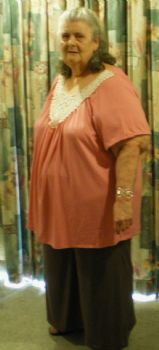 By September 2009 I was really proud of how far I had come – and thought I looked great!! LOL!!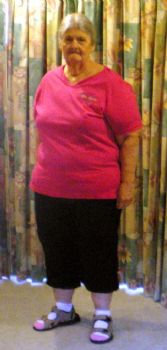 In June 2010 I joined Curves – feeling I wanted and needed to step things up a bit – this was the nearest I came at that time to "gym clothes" I chose Curves because I could sit and exercise at a lot of the machines – taking the stress off my knees!! Also the conventional gyms round here all need one to use a walking machine – an electric walking machine that will persist in throwing me off the back!! They also expect one to get down on the floor to exercise – but they don't have a crane to lift me up!!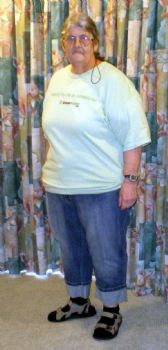 By August 2010 the extra work was paying dividends!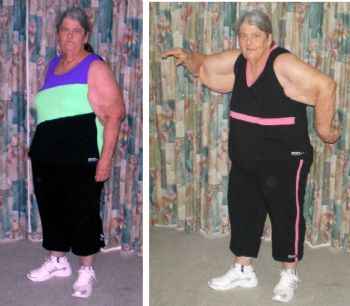 I rewarded myself with some gym clothes and started Zumba!! Not bad forsomeone who was using a scooter a lot of the time - though I do say it myself!!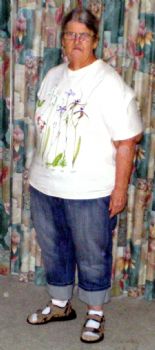 And this is today – 4th June 2011 – a few days from my 67th Birthday – and 106kg (233lb) Its on ongoing thing, this weight loss – and there have been tears and laughter – and it certainly hasn't been easy – but I wouldn't go back to my old self for anything – not all the money in the world!!

For one thing I rarely have pain in my knees, and they are stable now. I occasionally use my poor faithful scooter that is sitting lonely in the garage, for long walks over uneven ground – but maybe one day……!! And my Doctor has stopped talking of knee replacements – now he just wants to know what the latest achievement is!!

And today – I had another "moment" – I undid the leather belt holding my jeans – and the jeans fell down – the snap and zip were still done up!! I thought they had been feeling loose!! Then I put this blog together and discovered why – they are the same jeans I was so proud of in the 2010 picture – my first pair of zip jeans – good heavens!! I must have been poured into them then – but they are so comfortable I just keep wearing them – they are a size 24 though and I am in size 20 now!!

Next reward – new jeans!! Meanwhile – a good strong tight leather belt!!




A work in progress – Aug 2002 – June 2011 – 63kg (141lb) difference and clothes difference from size 34- size 18/20!!
Do you know what I am most proud of?? ..... That I did it without surgical intervention, without medical intervention and without crash diets!! Just good healthy eating in the right portions and a lot of hard, but fun work, exercising!!

I am often asked – how far will you go – what is your goal?? I have no idea how far I will go – I have gone a lot further than any of the specialists ever thought was possible – and far far further than I ever believed possible. I am still going – weight loss is very slow – but my balance, strength, flexibility are improving all the time – I feel healthy and am enjoying the journey. My only goal is to continue until I reach a weight at which I am confortable and with which I am comfortable!!

The other question I am often asked is – its taken so long – don't you get fed up ?? No I don't because it's a way of life – now I couldn't go back to unhealthy eating – and I am enjoying exercise so I honestly would expect this to be a way of life until I die!! Therefore the time taken is irrelevant!!

Is it worth it ??? I'll leave that for you to decide!!