| | |
| --- | --- |
| | EMMABE1's Recent Blog Entries |



Thursday, February 17, 2011
I am taking the somewhat unusual action today of blogging about a team on Sparkpeople. The Chair Exercise Team - – a team for anyone who is interested in an alternative form of exercising.

Why would you do that – you may well ask? Well, to clear up a misconception. I guess a lot of you are thinking - "that's no use for me – its for handicapped people", or maybe " that's what the oldies do in the retirement homes – I'm still young" – But ……hang on a moment - there could be so many reasons, so many situations that Chair Exercise could be of use to you .

Maybe you work in an office and need a way to exercise at lunch time, or while sitting in limited space, maybe you are unable to get outside for some reason, like weather, be it snowing and icy or hot and humid, or perhaps you have a new baby or toddler that needs watching – young family children love to exercise along with you to the music as you Chair Dance. Maybe you simply have no wish to run, or don't even enjoy walking as a form of exercise, maybe you are travelling and need a way to exercise in a hotel room, maybe you just can't get started on an exercise routine, maybe its one of those "do I have to do exercise today" days, because you don't enjoy any form of exercise that you have tried, maybe you are injured or unable to exercise as you normally do either temporarily, and need a way to keep fit during healing and recovery, or have a permanent injury that limits your exercise, maybe you are severely overweight and cannot do mainstream exercise, or maybe you have other physical problems that prevent you doing mainstream exercise, maybe you are embarrassed to go outside to exercise or maybe you have just lost hope that you will ever be able to exercise, or maybe you have found the video links that SP have to be unsuitable for you. Wheelchair bound people are very welcome as well. In fact, anyone and everyone, whatever your reason – you are welcome.

Personally I joined because I was severely overweight and had very bad knees – I used chair exercise as my only form of exercise for about 18mths – but with the exercising, and a healthy diet leading to weight loss, it has proved the ideal stepping stone from sedentary to mainstream exercise. I still do Chair Exercise between my other forms of exercise though. Without it I would still be doing nothing, with it – it saved my life!!.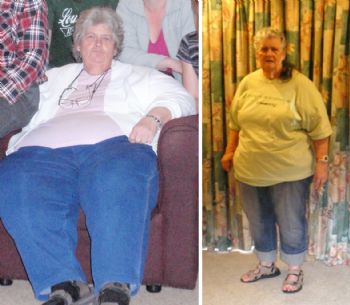 The first picture was taken just before I joined Sparkpeople – no exercise
The second picture was taken in April 2010 – the difference was achieved with Chair Exercise – truly – no other exercise – as at that stage I wasn't able or ready to consider mainstream exercise. Not long after the second photo – I joined Curves – but the Chair exercise had made that possible!!
I show you these pictures to show that exercise done sitting on ones backside is indeed a valuable form of exercise – and to prove to the sceptics, of which I have encountered many, that it really can work. I am sure that going for a walk works too – but there are times that its just not possible – this is a viable alternative.

We have several threads on our team forums comprising a large collection of sitting exercises that are suitable for anyone, including strength, stretches, balance, and even dancing, You can choose between Strength Training and Aerobic exercise – and I can assure you – you may be sitting on your backside but depending on the choice you make and your ability and capability, it is possible to get an extremely aerobic workout, and have fun at the same time!! – we have collected these exercises together and hope by presenting a number there will be some suitable for you – what ever your reason for needing them. whatever your needs and time allowance, or financial position. Some are free video links and some are DVDs to buy.

For about a year I have been a co-leader on this team. We are a very active team, and a growing team, but above all I work with several other great co-leaders who are active and dedicated to helping people. As well we have a variety of great team members and they love to talk to new people and you will find others with similar problems so can discuss and get support.
So if you are interested in a form of exercise that puts no stress on the joints, particularly the legs and feet, or are just curious, or interested in an alternative form of exercise, or need that "something different" to spice up your routine – and believe me, consistent exercise makes a huge difference to weight loss rather than using diet alone, then we would love to see you in the team!!

The Chair Exercise Team –
www.sparkpeople.com/myspark/groups_i
ndividual.asp?gid=32265






Friday, February 11, 2011
It was lovely though a bit overwhelming to receive so many wonderful comments on my 2yr Sparkversary blog I am gradually getting round to leaving everyone my thanks!!
Why overwhelming you might ask? Because I don't believe that I am doing anything out of the ordinary!! I hope that the over-all message that you all took away from that blog is one of hope – that if I can do it – you can do it too!! Its not an impossible dream – it is something that anyone and everyone can achieve.
Often getting started is the hardest thing – that first step – at anything – whether its doing exercise, planning and cooking meals, walking into a gym, or going to the pool for aqua – the first step is the hardest – but so very often that first step opens so many new doors!! Those doors are just sitting there waiting for you – take a deep breath and go – open a few new doors!! See what wonderful thing is just waiting there behind them!!
And if you are one of those who have opened a few doors but seem to have lost the momentum – then make that effort - keep pushing forward one door at a time – open a few more doors and soon that momentum will push you onwards instead of you pushing it!!
Once the first step has been taken, then the rest is easy – all you need is to establish then is consistency and to not let all the hundreds of "more important" things that just have to be done – get in the way!! NOTHING is more important that YOU – and your LIFE!!
I know in my heart that everyone of you can do this – you just have to really want to do it – then to take that first step, open that first door!! Really – its so worthwhile!!







Tuesday, February 08, 2011
In 2 weeks I shall have been with Sparkpeople for 2 yreas!! This is a celebration of those 2 years!!
Maybe it can also help someone else who thinks they will never get to that goal!! I srtill haven't got there finally - but I'm well on the way!!

I started writing this blog about a month ago – there seems so much to say and I need to try to condense it to a reasonable size (which I haven't succeeded in doing!!)!!
I had been overweight all my life, my first visit to a specialist being at 4yrs old – because I was a VERY bonnie babe!! There followed more visits than I can count to a variety of specialists and dieticians, including 2 hospital stays – the first one of 2wks to assess (physically and psychologically) if I was suitable for stomach stapling as it was then – I was rejected as I didn't eat enough to make it worthwhile!! (In those days it was a big and fairly dangerous operation and it was only used as a last resort!!) The second for 3 months when I was literally starved on a fluid diet – which worked – until food was re-introduced!! – but everything failed!! And all the time – tests, tests, tests. I even tried Weight Watchers and Jenny Craig – who threw me out because I put their success figures wrong! – until I put my foot down and said "enough!!"
Therefore with this history I was very sceptical that Sparkpeople would be different!!

Firstly – these last 2 years have changed my life. Totally and completely!! So much so that I have to pinch myself every so often – its so hard to believe that the me of now is the same me of before!! It's a case of having re-claimed my life!!
Although I had been losing weight very slowly before I joined I was still totally sedentary, muddling through on reduced calories and losing no size!!

I actually started losing weight seriously(?) rather than putting it on - in 2002 – having reached 170kg ( 374lb) and in the 7 following years I lost 35kg (77lb) but my life style hadn't changed and I had started using a scooter as my knees, hips and ankles were very painful from severe osteo-arthritis, caused from being severely overweight for far too many years and I was wearing the same clothes as I had been in 2002 – no interest in myself and wondering if it was worth continuing depriving myself of the foods I enjoyed.. Out of interest – I no longer want to eat foods that are not conducive to healthy eating.. Even though I never actually deprive myself of anything!!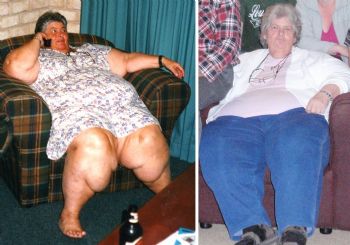 Hummm!! Not much sign of 35kg (77lb)!! Jan 2002 – 170kg (374lb) to July 2008 - 135kg(297lb)



Then, in Feb 2009, I was pointed towards Sparkpeople!! I actually took a couple of weeks looking about before I joined, not very enthusiastically it should be said!! Wow – I was totally overwhelmed by the size and amount of information on the site and got lost several times – nearly throwing the whole thing in a couple of times, basically because I just couldn't be bothered!!
Then I thought – well I have got this far – much further than countless numbers of specialists and dieticians who had tried for the last 60odd years!! Maybe, with a little direction, I can go further!!
I spent time working out the differences from the Sparkpeople ideas to any others I had had!!

EXERCISE was the main thing – ugg!! That meant I had to get off my butt – but then I found I couldn't attempt the exercises on the SP videos!! They caused pain and were way above my level – bearing in mind that standing for 5 mins was beyond me – and walking – well no chance!!

As a result of a plea I put on a message board I was pointed by a member to some Chair Dancing DVDs!! I had to get some sent from USA – but I eventually started on them – one exercise at a time – while tweaking my eating program to include more fresh vegetables, and adjusting my food intake according to the exercise calories burnt!! .

Very recently I realised that I have learnt to enjoy exercise . Aggh!! Did I just admit that I LIKE exercise – now that is a definite worry – maybe the real me is living in a parallel universe or something!! – I have hated it for ever – but I persisted – I started by staggering through 1 exercise – having been introduced to Chair Exercise so that I could at least sit to exercise!! From that first exercise and the pain my muscles (or what was left of them) inflicted on me – I persevered – and gradually, very gradually, things got easier – I started Chair Dancing – and flung myself about to the extent I actually wrecked a chair – doing Chair Salsa!!
Without the Chair Exercises and the encouragement of a wonderful, friendly and very active The Chair Exercise Team I would still be living my sedentary life – saying "I can't exercise, my knees are too painful" or "I'm too heavy " or similar!! They enabled me to get to the stage I could progress. I still do them on days I don't go to Curves – and often as a longer stretch when I have had a hard workout at Curves!!

The key was to do a very little every day – and gradually I did more and more – until in the middle of last year I was able, both mentally and physically to join Curves – I was petrified when I walked through that door and I was doing only a few machines to start – I persevered – and now do all except one machine – working in Curves Smart – against the computer and regularly increasing strength and ability!!
With Curves. I also do Pump classes – 30 min aerobic exercise (yep – 30 min on my feet!!) which I do straight after a double circuit of machines, and I recently started Super Strength Class – increasing the effort on the machines!!(the original Torture Class - LOL!!) And last week – I started Zumba!! WooHoo!!

As well I have started Water aerobics – doing 2 classes a week in a pubic pool – Aqua Strength and Aqua Aerobics.

So – the obvious changes over these last 2 yrs – which are best shown in photographs



Obviously I shrunk – from 2008 to 2009 to 2010 - down in clothes size from 34 to 18/20 - but I have changed in so many other ways, and as my Doctor pointed out, all totally without any form of medical intervention (no stomach banding and no diet pills etc)!! All this has been accomplished with a healthy diet and exercise only!! I am often asked if it is possible without medical intervention of some form – YES it is!!
So what difference has all this made to me (apart from me becoming a totally different person – who has become outgoing and totally comfortable in my own body!!)
The easiest way is to list the differences – and there have been so many – I know I have forgotten some – but here is my list – to date!!

- Thighs rub less
- Shoes are more comfortable
- Have moved down many clothes sizes
- Snore less (if you can hear yourself snore – LOL!!)
- Sleep better
- Have more energy
- Have more stamina
- More Flexibility
- Easier to breath
- Not as puffed
- That odd irritating dry cough and throat tickle has gone
- Legs, hips, ankles and knees ache less (only if I do too much)
- Everyday walking is easier
- Can prepare and cook a whole meal without sitting down
- Feel more confident in myself, and my body – and thus mix more with others.
- Developed an interest in how I look, dressing more carefully, wearing makeup etc
- Can wear normal sized necklaces that didn't go near fitting before
- Dressing each day – instead of slopping about in nightclothes all day
- Can sit on chairs with ease
- Can get out of bed without rolling
- No longer need an extension strap when flying
- Can fit in a single economy airline seat, instead of having to get 2 seats (and that saves a heap of money) however I still find having 2 economy seats is more comfortable for long haul flights – one seat doesn't give one any too much room!!
- Can slip rings on and off fingers easily
- Have taken watch strap in a couple of holes
- Feel good about what I am doing – (about my weight loss, efforts, the future and life in general)
- No more high blood pressure
- Diabetes (type 2) has "disappeared" – off all meds (remember that it can reoccur – you need monitoring all your life!!)
- Can buy normal size clothes off the rack
- Can wipe backside
- Can do shoes up
- Can bend over and touch toes
- Can wrap towel round waist and tuck ends together
- Going swimming at a public pool
- Skin looks clear and eyes bright and radiate good health
- More patience with people, more willing to look for ways to solve problems
- Tolerating heat and humidity better
- Balance has improved substantially
- Capable of carrying and manoeuvring heavier, bulky things
- Stomach problems and indigestion have gone
- Bladder and bowels working "normally"
- Self confidence is so high now
- I can feel firm muscle where there was soft floppy fat – particularly in my thighs
- Can get in and out of small, low cars – no struggling
-
I am proud of myself too – proud that I have succeeded where so many specialists have failed!! This pride acts as a very strong motivation to continue – and along with the support from SP, and the weight loss itself and all the changes that have occurred – I have been fortunate that my motivation hasn't wavered much in the last 2 years.
I could so easily have said "I can't" but I didn't, and look at what I gained – and I am so very happy about that, and Yes! Proud of myself too


I still have a ways to go! I have "trophies" from my "fat life" – my arms are very slowly shrinking but they are my trophies – reminders of where I have come from!! And the osteo-arthritis in my leg joints, particularly my knees will never actually go – but in these last 2 years I have lost a total of …29kg (63.8lb), but more than that – my whole life has changed out of all recognition!!
This is the latest photo!! Lookout Zumba here I come!!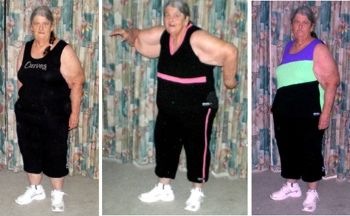 There have been sacrifices, physical pain, frustration, glitches, hard work, exhaustion, and elation. I have run the gamut of my emotions – from the highs to the lows, but in the long run this life changing experience has all been so very worthwhile. Looking back on all the positive changes I have made my one regret is that I didn't do it many years ago!! …..
However, without the encouragement from all of YOU, without the wonderful information on the Sparkpeople site – I would still be sitting on my backside, hiding away – doing sweet fanny ……!!
Therefore – although I have done the hard work, the success is yours, and I owe you more than I can ever say!!
Thank you – Sparkpeople Staff for the wonderful site and Thank you – all of you – the wonderful members who give so generously of your time to support and encourage!!






Saturday, February 05, 2011
Ouch - I'm sore!!
OK - so its my own fault!! But it was fun!!

After all the chaos recently here I managed to get back to my water classes yesterday!!
It was 31C (87.8F) bright sun and the water was like a warm bath!!
I did 2 x 1hr classes - the first was Aqua-strength which was a deep water class!! So I spent 1hr using my legs to keep me in place, using my core muscles to try to keep me from doing my cork impersonation and using dumb bells with the arms to get strength there!! Hard work!!
Then after only a 10 min break I had water aerobics - another 1hr class which was so full the ones of us who were confident in the water went to the deeper water!! Result - another 1hr using legs and core muscles - and towards the end fighting a losing battle with the "popping up!!"
I drank during class, and during yesterday but I was definitely dehydrated this morning - something that one tends not to realise, or think about - that even in water one sweats and loses body water and still can get dehydrated!!
I also slathered myself with 50+ sports, waterproof 4hr sun block!! It worked and although I have a slight redness I am certainly not burnt!!
But last night I was woken with pain - in my hamstrings - which is normal for me after new or very hard exercise, and in my feet (the muscles of the feet)!!
I was tired an felt heavy while shopping this morning and my legs and feet were still sore - so - OK - I know my body now, rest is not the answer - more exercise, even gentle exercise works much better to get rid of stiffness!! - when I got home I did a 48 min stretching and core DVD!! That seems to have, along with lots more water, made things much better!!
By mid-afternoon today I am back to normal - rareing to go on Monday for Super Strength at Curves!!
I have every intention of going back on Friday next - to repeat the exercise - after all in the end it really was FUN!!






Wednesday, February 02, 2011


Cyclone Yasi
Landfall – near Mission Beach, south of Innisfail – early morning Feb 3rd 2011
Storm Surge: Cardwell – 5m above normal (16ft)
Rainfall: so far up to 800mm in some places
Damage: Buildings devastated in Mission Beach, Tully, and Cardwell
Death Toll : so far None reported
Wind 290kph
Size 600km wide
Eye: 35km wide



Hurricane Katrina

Landfall: Louisiana Mississippi, Florida, August 2005
Storm Surge: Florida – 8.2m, Louisiana – St Tammany Parish – 4.9m, Mississippi – 8.2m
Rainfall: Louisiana – 380mm, Florida – 350mm, Mississippi – 250mm
Damage: Approx US$ 91 billion repair bill, rebuilding is ongoing
Death Toll: 1836
Wind: 280kph
Size: 640km wide
Eye: 51km wide!!

So the two cyclones seem comparable!! To me – that really brings things into perspective, and will bring back memories to a lot of Americans too, I'm sure!! All I can say is – I'm thankful I was 1000miles away – thought my thoughts are with the people affected in both areas – since I was fortunate enough to have been in New Orleans before Katrina!!

A few more pictures – but you have seen it from Katrina – lets hope there are no more cyclones/hurricanes anywhere to compare!!
These are from Cardwell – right on the sea front – the marina was full of luxury boats – the marina is no-more!!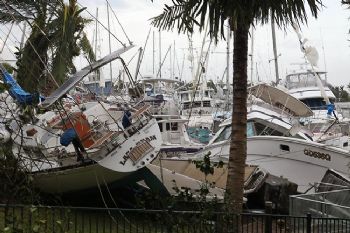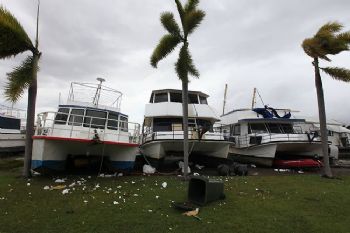 They used to be moored in the Marina – in water!!
One problem was that they only knew about 3hrs before it hit that it would hit there - it was expected to hit gurther North in the Cairns area!! As Cyclones are wont to do - it drifted slightly south at the last minute!!
A Banana Farm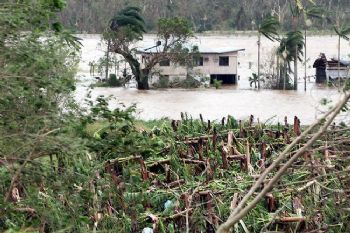 Storm Surge in Townville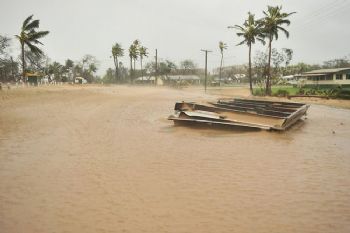 First Page
1
2
3
4
5
6
7
8
9
10
11
12
13
14
15
16
17
18
19
20
21
22
23
24
25
26
27
28
29
30
31
32
33 34 35 36 37 38 39 40 41 42 43 44 45 46 47 48 49 50 51 52 53 54 55 56 57 58 59 60 61 62 63 64 65 66 67 68 69 70 71 72 73 74 75 76 77 Last Page

Get An Email Alert Each Time EMMABE1 Posts