| | |
| --- | --- |
| | EMMABE1's Recent Blog Entries |


Saturday, July 24, 2010
At the start of 2002, 8 ½ years ago – I weighed 170kg. Now that sounds a lot – but then it had been creeping on for years and I honestly wasn't aware that I weighed that much!! Obviously I knew I was big – I made a lot of my own clothes as I couldn't buy them unless they were from a mail order shop specialising in large sizes, and charging equally large prices.
We had just finished extending our house – that was very stressful, living in 2 rooms while the rest was remodelled round us!! At Easter that year I flew to Adelaide, using Business class as I was using my Frequent Flier points, and found I was squashed even in those larger seats!! I picked up a hire car, and met some relatives who had flown from UK for a holiday and we drove back to home, taking 2 weeks and showing them some of the spectacular sights Australia has.
I remember that I had problems walking round for as long as they did – and we had to use taxis in Sydney as I refuse to drive in the CBD!! We stayed at Manley and I had to get a taxi to get the 500m to the ferry (but I would still have to do that!!)
After that holiday they sent me a few photos!!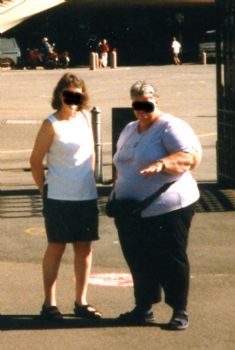 While we were travelling I had actually lost weight (a little) and maybe it was this or the photos or I finally got fed up with the inconveniences, the lack of mobility, flexibility the increasingly sore legs, the exhaustion, the easily running out of breath etc, etc--- well I really don't know that it was any single thing but something triggered me to continue losing, however it really wasn't a conscious decision..
Now I look back at that 8 ½ years I can honestly say I only put weight on twice in that time – sometime between 2003 and 2005 (5kg) and 500g about 4 wks ago!!
Its just been a deadly slow process!!

Graph showing weight loss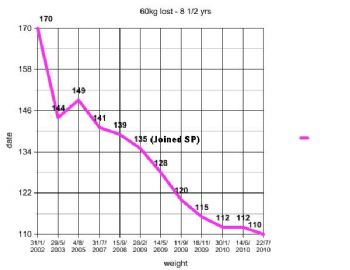 I have been asked many times how on earth I kept my motivation for that time – the answer is – I didn't really!! I just ate as I had been because it had become a habit – and I didn't do any formal exercise until April 2009!! Possibly that is why I didn't realise I was losing weight, my clothes didn't get looser and I only knew what my weight was once a year when my Doctor weighed me for my annual diabetic review.. In other words I wasn't consciously on a diet – I have always believed in eating what I want if I really want it – so nothing is forbidden, BUT normally I ate about 1200 – 1400 calories, because that was what I was used to!!
Since I have joined SP I have made a few changes – I now eat more fresh fruits and fresh vegetables than I used to. The grocery bill used to be about A$210 for the fortnights groceries that included mostly frozen and a few canned vegetables and a bit of fresh fruit all from the supermarket as it was easier to shop in the one store. I was using a scooter by then and we had to take it to the shops and find a parking spot, DH had to unload it – and since the town here is very spread, that would have meant loading and unloading between each shop, driving the car between shops!! So one shop it was!!
These days I walk in the shops, with a cane . This morning I got about A$110 groceries in the supermarket, for the fortnight and then we drove to the fruit and vege barn and I got A$35 of fresh fruit and fresh veges (lg bunch silverbeet,(Swiss Chard) lg cauli, 750g Brussels sprouts, bunch celery, lg butternut pumpkin, 1kg sweet potatoes, mushrooms 1kg, 4 lg avocados, 2kg tomatoes, 2 kg carrots, mandarines, pineapple, 2 lg apples (not my favoutite fruit but I will grate them and use in Bircher Muesli for a couple of breakfasts, bananas, 500g strawberries, 2 loaves wholemeal bread, 2 doz eggs that will last the week for the 2 of us (except the eggs that will last 2 wks!!)
We also eat less meat (only chicken and Kangaroo) and more fish than before – mostly canned tuna and salmon, since fresh fish is expensive!! I've had great fun working up a number of recipes for the canned fish to make it more palatable!!
When planning the menus I try to make every calorie count – I consciously look for the best, most healthy choices in foods and try to vary the foods – though I often make enough for 2 or 3 days and we have the same 3 days running. We eat our main meal at lunch time as I find I can digest it better then rather than at night.
Most of our meals are light, we don't eat potatoes or pasta (through choice), but do eat sweet potato and a couple of slices of whole meal bread in a day!! I am very rarely hungry,

And there have been other changes
Blood pressure. Has dropped to 123/81 at last check
Knee pain, is better, though leg muscle pain has come back since starting at Curves, bt its gradually getting better (I think)
clothes bought anywhere, = I can buy clothes from cheap stores now!!
mobility has substantially increased ( to an extent since my damaged knees will never change),, flexibility, has greatly increased making personal hygiene far easier
balance. Is a bit better, but affected permanently by my knees!!
Stamina, has increased by leaps and bounds
I no longer get sores in body creases, that used to make life very painful in hot humid weather
I an not afraid to go shopping – don't need scooter now, so its soooo much easier. I still use the scooter at times if I need to walk a great distance – but DH is getting older (he's 81 now) and for him to load and unload is difficult
I am still that size 24 that I went into in about March of this year, having had a huge standstill of weight loss– but recently I got a size 22 nighty and size 22 undies!! Maybe the inches are dropping again, or maybe I'm redistributing!!
I have a droopy butt, droopy arms, wrinkled stomach,, can't see that changing at my age, my skin has lost a lot of elasticity!!
I drink a lot more water – 7 x 400ml glasses - I got lucky this week – got given a number of beautiful tree ripened limes – so will add a very small amount to my water – and use them in curries.
,I have gained an understanding of my body (to an extent) learning why something feels like it does, what it likes or doesn't.
My resting pulse rate has dropped from 84 to 64,
Mentally, though I have always been self confident, I am far more so now!!
However I am still "morbidly obese" according to the classifications!!
I've lost 36.25% of my total weight that equates to 75.95% of the weight I had to lose!!
The difference its made is surprisingly hard to write down - its so huge!!

There are a few down sides though
My knees – they will never return to normal and were caused by carrying too much weight for too long
One result of several years of undiagnosed Type 2 diabetes (I showed none of the usual signs) is that I had severe gum disease and have only one tooth left – and an 8 yr wait for false teeth – but that doesn't mean I can't eat – the only thing I have found a problem are whole nuts and natural nut butters solve that!!
Also its expensive – even though my grocery bill has dropped I need clothes and keeping up with the size change got hard for a time – is slowed now!!
And my Curves membership coasts as well (as would any gym membership) and I also bought dumbbells and DVDs to use at home!!

And there are far more changes - enough to say - its been sooooo worthwhile, despite the time and patience its taken and will probably continue to take!!

Next goal – 100kg (220lb)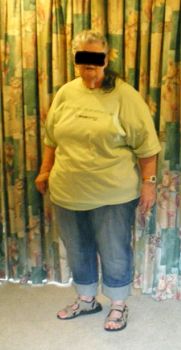 March 2010 but I haven't changed since!!





Friday, July 23, 2010
I started my weight loss journey – this time – when the scales reached 170kg (374lb) It is not, by a long way, my first attempt at weight loss!!
I was first taken to hospital in UK by my Mother because I was a very bonnie War time baby at 3 yrs old!! I was on a restricted diet through to my teens, when tests were done since I had continued to pile on the weight. The tests came up blank!!
However I was leading a "normal" life and very active, far more so than I had a right to be with my weight!!
I was fairly fed up by then with being prodded and poked so I restricted my food when I felt like it – and lived a great life, doing more things than most people even dream of doing. And the weight crept on!!
Fast forward to the 1970's when I moved to Australia. My weight started really increasing for no obvious reason – so again I was put into hospital for tests – they showed nothing again!! At the same time I was assessed for stomach banding – but it was deemed to be unsuitable since I only ate about 1200 – 1400 calories and therefore it wouldn't have stopped me over eating!!
So then they put me into a different hospital for 3 mths under an eminent dietician who put me on a 400cal liquid diet. That worked – for a time – and during the days I did physical therapy and saw a psychologist!! Then they introduced food as it wouldn't be safe to stay on such a low cal diet in normal life!! As soon as I started eating again my weight went up – they accused me of cheating (how could I in the hospital with someone with me all the time ?!!) and threw me out!!
So I came home and after a time joined Jenny Craig!! I stayed a bit but they asked me to leave since I was putting their figures out by not losing weight.!! I also tried Weight Watchers with no success!!
So again I went back onto a 1300cal diet and carried on with my life!!
In 1997 I was diagnosed Type 2 diabetic, (A1C above 20) so I changed my diet to drop my blood sugar level in 4 yrs to A1C of 6.1
However I continued to stack on weight!! I hit my top weight of 170kg (374lb) in 2002 – but my A1C was still dropping, slowly. At the last check (June this year) it was 5.4
I decided to gradually reduce my weight – after all 170kg(374lb) was a bit excessive – but I still was living a normal life – though not an active one!! I cut my food to 1200cal a day – often dropping to 1000cal!!

Over the next 6 ½ yrs I lost 35kg (77lb) – this through diet alone – since I did no exercise!! Interestingly I lost weight but not inches – my clothes still fitted as they had at 170kg (374lb) even though I was now 135kg.(297lb)
In 2009 I was referred to Sparkpeople. I was by now extremely sceptical of all forms of weight loss. But decided I'd look at the site!!

I looked – I read and I got interested – I made a few changes to my diet!! I plan, as I have always, my own diet since I have lots of experience and I was trained in a certain amount of nutrition, I needed to in many of the places I have lived in!!. I also updated a lot of my nutrition knowledge!!
Then I thought – OK the main difference is exercise!! I was NOT impressed by this idea!!

By now I was very badly handicapped by osteo-arthitis in both legs– so with some help since they don't seem to haven even heard of this form of exercise in Australia, I was able to get onto some Chair Exercise DVDs, both strength and aerobic that I have gradually worked into doing every day!! At the start I could just manage 1 exercise – by mid-June this year I was doing 21 strength exercises with all parts of my body using 2.5kg weights and 45 min Chair Dancing as well, 6 days a week (all seated!!)

By mid June I was sitting at 111kg (244lb) as I had been since January. I had lost a lot of inches though, changing from size 34 slax to size 24 jeans!! But I was getting frustrated with the weight not dropping!! Then I saw my Doctor for a check up and he was very unhappy that the scales hadn't dropped, no matter the other losses!!

Maybe that was my trigger, I don't know but I decided to take a leap!! I went round the local gyms – and investigated other exercise options. I discovered the choices were very limited in this area!! Eventually I decided the best option was Curves – which I have been going to 3 times a week for the last 5 weeks.

Its been a huge leap from Chair exercise to a gym situation, one that I'm not sure my body was ready for, however I felt that, if I didn't make it my weight wouldn't ever go lower!! My weight has started dropping again – and I reached my first goal of losing 60 kg yesterday. This really proves what I thought – that unless I continue to push my boundaries, to work my self to exhaustion I won't lose weight – unfortunately there is a high chance this will cause even more damage to my knees!! This is my choice – so I don't know how much I will continue to take this chance!! At present weight loss is addictive!!

As far as weight – what the future holds is out of my hands – but I have set the next goal at 100kg (220lb) – 10kg (22lb) only!! As a longer term goal I would like to lose at least another 25kg (55lb) – we will see!! No one has the slightest idea what my ideal weight should be, so time will tell. In my dreams I think that losing 100kg (220lb) would be a nice neat amount – but …………….!!.

Don't feel sorry for me, please, I certainly don't feel sorry for me!! – we all have our own problems – mine just happens to be very friendly fat, and an unco-operative body!! I accepted these problems years ago – it's the doctors that feel they MUST be able to fix it!! Meanwhile I live a good life, I'm happy and a lot healthier than I was – and its actually quite fun leaving the specialists scratching their heads!!

Well its taken so long giving a potted history of my weight loss that I will have to do another blog on the changes that 60kg loss has made – which are many and varied!!






Wednesday, July 21, 2010
Today I passed a huge milestone - I stepped on those scales and they read - 110kg!! (242lb)
This may not seem much to some - but to me it means I have lost 60kg (132lb) as I started this journey on 31st Jan 2002 weighing 170kg. (374lb)
Not all has been with Spark people - in fact did Sparkpeople exist in 2002?
Since joining Sparkpeople on 28th Feb 2009, I have lost 25kg (55lb)

It has taken 8 1/2 yrs to lose that 60kg - and towards the end its been very hard work - I haven't lost weight from January this year until a couple of weeks ago - the milestone was just out of reach!! But I have got there!!

I can't say I never gave up - but over all I was sure I would get there - as sure as I am now that I will lose the next 25kg (55lb)
However the betting is open as to how long it will take!!

But for today - you will excuse me if I am a bit excited that I have got this far!! Mind you - I am not deviating from my eating or exercise program!!

NEVER GIVE UP - the results are worth the effort.











Tuesday, July 20, 2010
I have had several people ask how I am getting on with my exercise venture into Curves!!

My thoughts before I started this were that I was fed up with not having lost weight (though I had lost 2 sizes in clothes) – since January!! I had done all I could in changing exercise within my supplies of Chair Exercise DVDs and had played with my diet also, all to no avail!! So I decided to take a step up in exercise. It has turned out to be a very big leap actually – though I'm still surviving!!

My idea of exercise is that its like medicine – it has to be taken however it doesn't have to be, and often isn't, enjoyable!!

Having seen what was on offer locally I settled on Curves – as they were willing to let me do it on my terms. I go 3 times a week – Mon, Wed, and Friday. I also like the relaxed ladies only environment and that you are at home wearing anything – no pink lycra here, actually no lycra here!!

I try to go when its quieter and I actually prefer that I can be free to take my time without the feeling that others want to use the machine etc. Having said that, no one has ever criticised me for being slow – they just go round with a kind or encouraging word. Also there are at least 4 other disabled people there as well as myself.

I have been there 5 weeks now – and have worked out a circuit that works for me!!

The principal is a circuit with machines that are basically Strength and between each a padded recovery board where one runs on the spot or jiggles up and down or dances to the music or what ever – but this is the aerobic section!! The machines are mostly done seated but not the recovery, warm up, cool down or their stretch circuit.
One is SUPPOSED to move on every 30sec, and some enthusiastic ones do – but I take my time and it takes me time to get in and out of the machines so I sort of go at least half the speed round – but that doesn't mean I slack off!! Twice round the machines that I do – and warm up, cool down and stretches takes me about 45 min – and in that time I burn on average 370 cal and can raise my heart rate from resting – 64 to a top of 117 – so I am definitely in an aerobic zone!! Those readings from my own Heart Rate Monitor.
I have found, with my legs being so bad that I can only do one leg machine but I do all the upper body machines quite happily!!
Surprisingly I can also cope with some quite active movement on the recovery boards!!
I have found that using their Stretch circuit is too severe for me – so I have been grabbing a chair and doing my own stretches that are from the Stretch DVD I have. This caused great interest when I started and now a few others use the same method!!

At the start I tried all the machines just to assess my capabilities – but then only did the ones I can comfortably do – I have had a lot of pain in my legs though – I get pain at night rather than after the workout!! I tried drinking more water – this helped a bit as does rubbing, but its hard to reach as its my hamstrings that are causing problems. This pain is starting to go over a bit now – you ask why I stood it as long? Well I remember what it was like for me starting even the gentle chair exercises – and that took weeks for the pain to go!! As well I've started to lose weight again – so I have motivation!!
They have a total program for weight loss – with an eating program which is actually quite good but I am not using it as its low carb and I need to go higher carb to try to alleviate a dehydration problem caused by the extra exercise !! It is a reasonably good plan though and easy to follow. They also do classes on that and on other nutritional and motivational things.

Will I ever be able to do the other machines – I honestly don't know but I live in hope that I can strengthen the muscles enough to be able to..
How long will I be prepared to trade off pain for weight loss – again I don't know but for now I am going, and I also accept that having been doing only chair exercise before this is a huge step up – getting acclimatised will take time. Doing extra stretches on my days between helps too – I am hoping the day will come I can do Chair aerobic exercise between my Curves days. I do not however believe that its true that "No pain = no gain".

For anyone wishing to try Curves – They give a free 1 week trial – the staff I've met are helpful and friendly and I think that in USA you get a discount through SP!!






Monday, July 05, 2010
After my hassles of last Tuesday (see the previous blog) I got my blood results today.

Great!! That is the only word to describe them – especially as I was expecting problems after Tuesday!!

My A1C was – 5.4

My cholesterol was 4.2
And, because of the problems on Tuesday – the Doctor had them do a full work up – and everything is "normal"

In Dec 1996 I was diagnosed Type 2 diabetes – with a BG (Blood Glucose level) of 18 (324) I was put on Diaformin tablets, causing a violent reaction to my bowels!! This reaction lasted about 5 years, despite being assured the reaction would clear "soon"!!
Obviously, as with most diagnosed Type 2 s – I had had high BGs for some time before diagnosis.
This was a wake up call – I attended classes to find out how to control it. I ate sensibly.
I did not restrict myself though in what I did, seeing it as more of a challenge than a problem. – at Easter 1997 I took a trip to Europe, USA and Fiji. I watched what I ate, within reason as I was staying in hotels and therefore was limited in my food choices. This trip was quite fun as I need a toilet very frequently – but I managed and enjoyed myself too!!
During that trip my BG started gradually to fall.
I have made several other trips to Europe and within Australia since, always watching what I ate as far as possible, all involving long plane trips and hotel stays...
By 2004 my BG had come down to round 6 (108) Since then it has dropped gently but steadily.
3 years ago my tablets were reduced to ½ tab twice a day. And a year ago that was removed. I was medication free, and have remained so for the past year!!
Since I have included regular exercise in my program (the last 16mths only – until then I had controlled it by food and gradual weight loss only) my BG has dropped further, a year ago it was 5.6
6 mths ago – 5.5
And Tuesday last – 5.4

So – to anyone reading this – it CAN be done – weight loss, food control and exercise. And I can assure you that it worth the effort – I now only get tested every 6 or less months (actually its when my doctor can catch me!!) and I don't have to test every day. I have energy and don't get as tired – but I do still have regular eye tests – as once a diabetic, always a diabetic – the BG can rise by itself as one gets older, though I will do my darndest to prevent that.

Woohoo!!




First Page
1
2
3
4
5
6
7
8
9
10
11
12
13
14
15
16
17
18
19
20
21
22
23
24
25
26
27
28
29
30
31
32
33
34
35
36
37
38
39
40 41 42 43 44 45 46 47 48 49 50 51 52 53 54 55 56 57 58 59 60 61 62 63 64 65 66 67 68 69 70 71 72 73 Last Page

Get An Email Alert Each Time EMMABE1 Posts