| | |
| --- | --- |
| | EMMABE1's Recent Blog Entries |


Wednesday, July 21, 2010
Today I passed a huge milestone - I stepped on those scales and they read - 110kg!! (242lb)
This may not seem much to some - but to me it means I have lost 60kg (132lb) as I started this journey on 31st Jan 2002 weighing 170kg. (374lb)
Not all has been with Spark people - in fact did Sparkpeople exist in 2002?
Since joining Sparkpeople on 28th Feb 2009, I have lost 25kg (55lb)

It has taken 8 1/2 yrs to lose that 60kg - and towards the end its been very hard work - I haven't lost weight from January this year until a couple of weeks ago - the milestone was just out of reach!! But I have got there!!

I can't say I never gave up - but over all I was sure I would get there - as sure as I am now that I will lose the next 25kg (55lb)
However the betting is open as to how long it will take!!

But for today - you will excuse me if I am a bit excited that I have got this far!! Mind you - I am not deviating from my eating or exercise program!!

NEVER GIVE UP - the results are worth the effort.











Tuesday, July 20, 2010
I have had several people ask how I am getting on with my exercise venture into Curves!!

My thoughts before I started this were that I was fed up with not having lost weight (though I had lost 2 sizes in clothes) – since January!! I had done all I could in changing exercise within my supplies of Chair Exercise DVDs and had played with my diet also, all to no avail!! So I decided to take a step up in exercise. It has turned out to be a very big leap actually – though I'm still surviving!!

My idea of exercise is that its like medicine – it has to be taken however it doesn't have to be, and often isn't, enjoyable!!

Having seen what was on offer locally I settled on Curves – as they were willing to let me do it on my terms. I go 3 times a week – Mon, Wed, and Friday. I also like the relaxed ladies only environment and that you are at home wearing anything – no pink lycra here, actually no lycra here!!

I try to go when its quieter and I actually prefer that I can be free to take my time without the feeling that others want to use the machine etc. Having said that, no one has ever criticised me for being slow – they just go round with a kind or encouraging word. Also there are at least 4 other disabled people there as well as myself.

I have been there 5 weeks now – and have worked out a circuit that works for me!!

The principal is a circuit with machines that are basically Strength and between each a padded recovery board where one runs on the spot or jiggles up and down or dances to the music or what ever – but this is the aerobic section!! The machines are mostly done seated but not the recovery, warm up, cool down or their stretch circuit.
One is SUPPOSED to move on every 30sec, and some enthusiastic ones do – but I take my time and it takes me time to get in and out of the machines so I sort of go at least half the speed round – but that doesn't mean I slack off!! Twice round the machines that I do – and warm up, cool down and stretches takes me about 45 min – and in that time I burn on average 370 cal and can raise my heart rate from resting – 64 to a top of 117 – so I am definitely in an aerobic zone!! Those readings from my own Heart Rate Monitor.
I have found, with my legs being so bad that I can only do one leg machine but I do all the upper body machines quite happily!!
Surprisingly I can also cope with some quite active movement on the recovery boards!!
I have found that using their Stretch circuit is too severe for me – so I have been grabbing a chair and doing my own stretches that are from the Stretch DVD I have. This caused great interest when I started and now a few others use the same method!!

At the start I tried all the machines just to assess my capabilities – but then only did the ones I can comfortably do – I have had a lot of pain in my legs though – I get pain at night rather than after the workout!! I tried drinking more water – this helped a bit as does rubbing, but its hard to reach as its my hamstrings that are causing problems. This pain is starting to go over a bit now – you ask why I stood it as long? Well I remember what it was like for me starting even the gentle chair exercises – and that took weeks for the pain to go!! As well I've started to lose weight again – so I have motivation!!
They have a total program for weight loss – with an eating program which is actually quite good but I am not using it as its low carb and I need to go higher carb to try to alleviate a dehydration problem caused by the extra exercise !! It is a reasonably good plan though and easy to follow. They also do classes on that and on other nutritional and motivational things.

Will I ever be able to do the other machines – I honestly don't know but I live in hope that I can strengthen the muscles enough to be able to..
How long will I be prepared to trade off pain for weight loss – again I don't know but for now I am going, and I also accept that having been doing only chair exercise before this is a huge step up – getting acclimatised will take time. Doing extra stretches on my days between helps too – I am hoping the day will come I can do Chair aerobic exercise between my Curves days. I do not however believe that its true that "No pain = no gain".

For anyone wishing to try Curves – They give a free 1 week trial – the staff I've met are helpful and friendly and I think that in USA you get a discount through SP!!






Monday, July 05, 2010
After my hassles of last Tuesday (see the previous blog) I got my blood results today.

Great!! That is the only word to describe them – especially as I was expecting problems after Tuesday!!

My A1C was – 5.4

My cholesterol was 4.2
And, because of the problems on Tuesday – the Doctor had them do a full work up – and everything is "normal"

In Dec 1996 I was diagnosed Type 2 diabetes – with a BG (Blood Glucose level) of 18 (324) I was put on Diaformin tablets, causing a violent reaction to my bowels!! This reaction lasted about 5 years, despite being assured the reaction would clear "soon"!!
Obviously, as with most diagnosed Type 2 s – I had had high BGs for some time before diagnosis.
This was a wake up call – I attended classes to find out how to control it. I ate sensibly.
I did not restrict myself though in what I did, seeing it as more of a challenge than a problem. – at Easter 1997 I took a trip to Europe, USA and Fiji. I watched what I ate, within reason as I was staying in hotels and therefore was limited in my food choices. This trip was quite fun as I need a toilet very frequently – but I managed and enjoyed myself too!!
During that trip my BG started gradually to fall.
I have made several other trips to Europe and within Australia since, always watching what I ate as far as possible, all involving long plane trips and hotel stays...
By 2004 my BG had come down to round 6 (108) Since then it has dropped gently but steadily.
3 years ago my tablets were reduced to ½ tab twice a day. And a year ago that was removed. I was medication free, and have remained so for the past year!!
Since I have included regular exercise in my program (the last 16mths only – until then I had controlled it by food and gradual weight loss only) my BG has dropped further, a year ago it was 5.6
6 mths ago – 5.5
And Tuesday last – 5.4

So – to anyone reading this – it CAN be done – weight loss, food control and exercise. And I can assure you that it worth the effort – I now only get tested every 6 or less months (actually its when my doctor can catch me!!) and I don't have to test every day. I have energy and don't get as tired – but I do still have regular eye tests – as once a diabetic, always a diabetic – the BG can rise by itself as one gets older, though I will do my darndest to prevent that.

Woohoo!!






Tuesday, June 29, 2010
This morning I had an appointment with the dietician for an electronic test to check if my muscle mass had increased and my body fat decreased – but before that I had a blood test done as part of the regular monitoring of a diabetic!!
When they take blood usually I have no problems – big veins that jump out and nice easy flowing blood. Today the blood flow stopped half way through!! So it was a cold morning – we thought little of it – until they had to get a syringe and pull the blood out – "your dehydrated" said the nurse – "how can I be I drink at least 2 lit water each day as well as tea." "Yes but its not getting into the cells!!" "Oh!" Said me!!
Then I went up to the dietician and we talked and it slipped my mind to ask him, but I really didn't think it was a problem!!
Then he did the electronic test!! Oooh!! Bad results!! So bad he repeated them because he did'nt believe them!!
Basically it showed that my body fat had gone up – my muscle mass decreased and that I had only 34% fluid in my body instead of the recommended 45% yet I have faithfully followed my eating program and continued my exercise program, recently extending it to include Curves.
OK – so why – when I hadn't lost weight but had only gained 1lb – and my body size is the same – I feel great, and have energy but I do tend to run out of energy fast!! I drink 2 lit + water a day!! There were none of the normal signs that one associates with dehydration.
There are 2 essential nutrients in the body that are important for fluid retention and its transportation to the cells. One is potassium – and I get plenty of that and the second is carbohydrates!! I have been restricting my carbohydrates in my diet to about 130g a day!! This is not excessively low but is low!! And the protein has been high at round 115g a day. Again not excessive but enough!!
This has to be the cause!! We decided that I need to increase the carbs to round 150g and drop the protein to round 80g /day.
Why??
Carbs are stored as gycogen in the liver and muscles and that is how we get energy to move, but more, how our muscles can burn our body fat during exercise. If there are not sufficient carbs in the body to keep the glycogen stores in the liver and muscles they will become depleted and dehydration will occur.
This has happened since I was last tested 3 months ago – and may even have happened very recently, since I started Curves!! In fact that is likely since there are no real signs of being dehydrated, only of muscle tiredness with my getting Delayed Onset Muscle Pain.
This is an unusual thing – the dietician has never met it before – and if the carb increase doesn't fix it I need to see the Doctor for ….. well we have no idea what!!
It also does show that care and regular monitoring is necessary on a low carb/high protein diet.






Monday, June 28, 2010
Ufortunately this isn't me - it was sent through email by a friend!!
Prepare to say "Awwwwwwwwwwwwwwwwwww!!"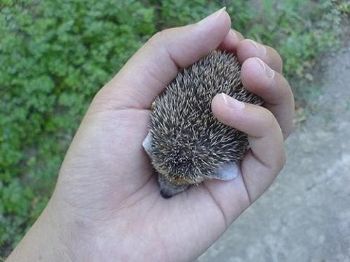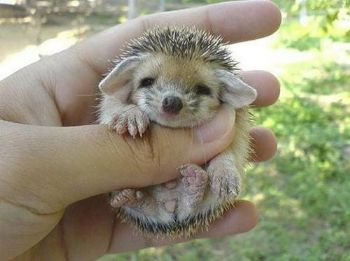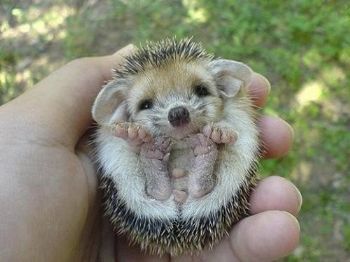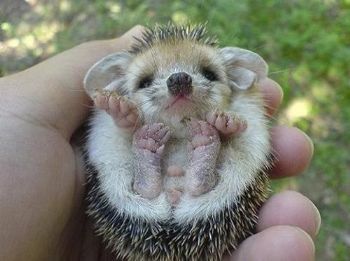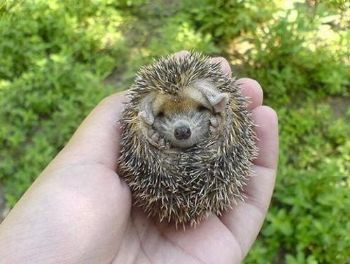 Edit!!
Apparently I have been told this is a hedgehog - not an echidna!! Though they are very different animals it would be hard for the average person to tell the difference at this age!!
Thank you for correcting me - Big_Scots_Lass!!



First Page
1
2
3
4
5
6
7
8
9
10
11
12
13
14
15
16
17
18
19
20
21
22
23
24
25
26
27
28
29
30
31
32
33
34
35
36
37
38
39
40
41
42
43
44
45
46
47
48 49 50 51 52 53 54 55 56 57 58 59 60 61 62 63 64 65 66 67 68 69 70 71 72 73 74 75 76 77 78 79 80 81 Last Page

Get An Email Alert Each Time EMMABE1 Posts