| | |
| --- | --- |
| | EMMABE1's Recent Blog Entries |


Monday, July 05, 2010
After my hassles of last Tuesday (see the previous blog) I got my blood results today.

Great!! That is the only word to describe them – especially as I was expecting problems after Tuesday!!

My A1C was – 5.4

My cholesterol was 4.2
And, because of the problems on Tuesday – the Doctor had them do a full work up – and everything is "normal"

In Dec 1996 I was diagnosed Type 2 diabetes – with a BG (Blood Glucose level) of 18 (324) I was put on Diaformin tablets, causing a violent reaction to my bowels!! This reaction lasted about 5 years, despite being assured the reaction would clear "soon"!!
Obviously, as with most diagnosed Type 2 s – I had had high BGs for some time before diagnosis.
This was a wake up call – I attended classes to find out how to control it. I ate sensibly.
I did not restrict myself though in what I did, seeing it as more of a challenge than a problem. – at Easter 1997 I took a trip to Europe, USA and Fiji. I watched what I ate, within reason as I was staying in hotels and therefore was limited in my food choices. This trip was quite fun as I need a toilet very frequently – but I managed and enjoyed myself too!!
During that trip my BG started gradually to fall.
I have made several other trips to Europe and within Australia since, always watching what I ate as far as possible, all involving long plane trips and hotel stays...
By 2004 my BG had come down to round 6 (108) Since then it has dropped gently but steadily.
3 years ago my tablets were reduced to ½ tab twice a day. And a year ago that was removed. I was medication free, and have remained so for the past year!!
Since I have included regular exercise in my program (the last 16mths only – until then I had controlled it by food and gradual weight loss only) my BG has dropped further, a year ago it was 5.6
6 mths ago – 5.5
And Tuesday last – 5.4

So – to anyone reading this – it CAN be done – weight loss, food control and exercise. And I can assure you that it worth the effort – I now only get tested every 6 or less months (actually its when my doctor can catch me!!) and I don't have to test every day. I have energy and don't get as tired – but I do still have regular eye tests – as once a diabetic, always a diabetic – the BG can rise by itself as one gets older, though I will do my darndest to prevent that.

Woohoo!!






Tuesday, June 29, 2010
This morning I had an appointment with the dietician for an electronic test to check if my muscle mass had increased and my body fat decreased – but before that I had a blood test done as part of the regular monitoring of a diabetic!!
When they take blood usually I have no problems – big veins that jump out and nice easy flowing blood. Today the blood flow stopped half way through!! So it was a cold morning – we thought little of it – until they had to get a syringe and pull the blood out – "your dehydrated" said the nurse – "how can I be I drink at least 2 lit water each day as well as tea." "Yes but its not getting into the cells!!" "Oh!" Said me!!
Then I went up to the dietician and we talked and it slipped my mind to ask him, but I really didn't think it was a problem!!
Then he did the electronic test!! Oooh!! Bad results!! So bad he repeated them because he did'nt believe them!!
Basically it showed that my body fat had gone up – my muscle mass decreased and that I had only 34% fluid in my body instead of the recommended 45% yet I have faithfully followed my eating program and continued my exercise program, recently extending it to include Curves.
OK – so why – when I hadn't lost weight but had only gained 1lb – and my body size is the same – I feel great, and have energy but I do tend to run out of energy fast!! I drink 2 lit + water a day!! There were none of the normal signs that one associates with dehydration.
There are 2 essential nutrients in the body that are important for fluid retention and its transportation to the cells. One is potassium – and I get plenty of that and the second is carbohydrates!! I have been restricting my carbohydrates in my diet to about 130g a day!! This is not excessively low but is low!! And the protein has been high at round 115g a day. Again not excessive but enough!!
This has to be the cause!! We decided that I need to increase the carbs to round 150g and drop the protein to round 80g /day.
Why??
Carbs are stored as gycogen in the liver and muscles and that is how we get energy to move, but more, how our muscles can burn our body fat during exercise. If there are not sufficient carbs in the body to keep the glycogen stores in the liver and muscles they will become depleted and dehydration will occur.
This has happened since I was last tested 3 months ago – and may even have happened very recently, since I started Curves!! In fact that is likely since there are no real signs of being dehydrated, only of muscle tiredness with my getting Delayed Onset Muscle Pain.
This is an unusual thing – the dietician has never met it before – and if the carb increase doesn't fix it I need to see the Doctor for ….. well we have no idea what!!
It also does show that care and regular monitoring is necessary on a low carb/high protein diet.






Monday, June 28, 2010
Ufortunately this isn't me - it was sent through email by a friend!!
Prepare to say "Awwwwwwwwwwwwwwwwwww!!"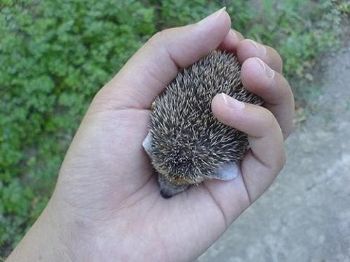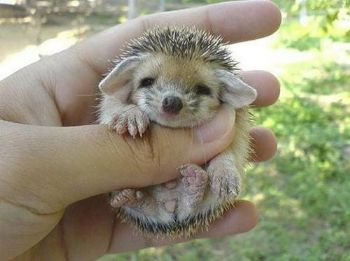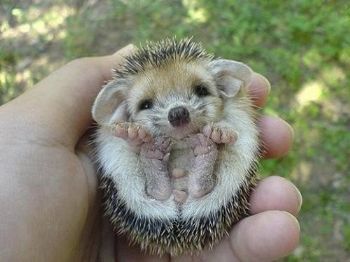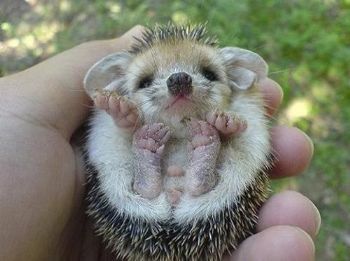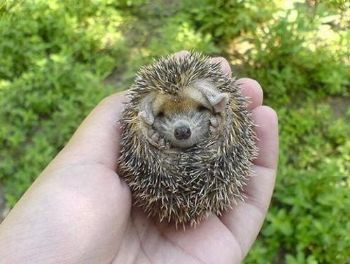 Edit!!
Apparently I have been told this is a hedgehog - not an echidna!! Though they are very different animals it would be hard for the average person to tell the difference at this age!!
Thank you for correcting me - Big_Scots_Lass!!





Wednesday, June 23, 2010
A couple of days ago I asked Anne Burnell a question that had been niggling at me for a few days – I thought her answer was worth posting for others to see – particularly for those who are mobility challenged and finding holding stretches for the advised time difficult even painful – as I was!!

Anne Burnell' s qualifications

I am Faculty Presenter for the National Council on Aging and an Education Provider with the American Council on Exercise, the Aerobics & Fitness Association of America, the Aquatic Exercise Association, and Stott™ Pilates.

As an Instructor Trainer worldwide for Stott™ Pilates I am involved in certifying personal trainers, many of whom work with Seniors. Other certifications include: Seniors Group Instruction, Nia Technique (Black Belt), Kickboxing, Cycling, Aquatics, Pre & Postnatal exercise.

Seniors institutions across the country are practicing the Stronger Seniors® Chair Exercise Program, which I developed in 2003.

I teach at Northwestern Memorial Hospital and the University of Illinois at Chicago, The Center for Older Adults, the Peninsula Spa, , Core Pilates, and Elements in Motion, a Stott™ Pilates Certification Center Chicago

Question

On stretches - the Curves staff state that stretches should be held for 15 - 30 sec until the slight discomfort goes and you feel that slight release in the muscle (not tear!!)
SP states that stretches need holding for 15 or so sec
But in your "Stretch" DVD you only spend a very short time (3 - 5 sec) on each stretch, then repeat the stretch 3 times!! When I do the DVD at the speed you do - I'm fine and this week that has worked well to sort out the pain from my muscles!!
But what is correct - or is it - whatever works??

Answer

There is lots of debate over stretching, and of course the experts disagree.

Whether it is wise to try and change the resting length of a muscle,
or to relieve tension that is held. The rule of 15-30 seconds is due
to protective tendons that relax after about 8-10 seconds and allow
muscles to stretch. The 15-30 second stretch will not really change
the length of a muscle.

When you repeat a stretch as in our video, muscles and tendons
have a kind of memory of how far they went before,
and upon repitition they can release further. It's like your body
knows it's safe, so it allows more range of motion. We use this
moving stretch, rather than static or held stretches in our videos.
It is my opinion, it causes less micro tearing in the muscle and is
actually an active way for you to increase range of motion.

There is no single opinion on this subject. Listen to your body and stretch with an objective.

I would add a proviso here to this – as was pointed out by another friend -

but always be cautioned against "bouncing." It is unsafe to "bounce" into a stretch. ex = some people cannot bend & touch their toes with their fingertips, so they will "bounce" into it to gain distance - - - this is NOT a stretch & can harm delicate muscle groups by yanking them all at once beyond their comfort zones.

The trick is to gently but regularly stretch the muscles and they will begin to respond more & more as each exercise session is followed up by others. Within a month one could really be doing good stretches - - - and then, if you wanted to lengthen them a bit, that would be ok. HOWEVER, the best part of a stretch (and an exercise move as well) is to HOLD it slightly and in good form to get the full benefit.






Tuesday, June 22, 2010
This week I have , as some of my readers will know, been trying Curves out!! They gave me a week trial, but I felt I needed longer before signing a contract and paying, what seems to me, a lot of money!! So I suggested a month trial off contract they have agreed!!
I am happy because I feel ready to make this change however it is a huge leap from the sedentary, handicapped 65yr old of 16 mths ago!!

OK – so what is the history to this??

Some of you will know that I joined SP 16mths ago as a totally sedentary person – one who hated exercise and would not even move unless it was necessary. This had been going on for several years.
I read a lot of SP's ideas and decided that maybe a little movement would be good – so I tried a couple of the exercise videos!! No go!!
I have severe osteoarthritis in my knees and signs of it developing in hips and ankles of both legs!! In case you doubt this – I will tell you I have NO cartilage in my knees, just bone grating on bone and both knees have collapsed inward giving walking and stability problems!! I was also on strong pain killers.
My doctor suggests a 2 leg transplant!!
This makes exercise difficult – however not impossible.
I could find no suitable water class in the area – nor gym work – so where to go next??
Fortunately a friend from SP recommended Chair Dancing – I got the DVDs and tried – only doing 1 exercise at the start, then working up to the whole 20 min DVD.
Then the warm up from the aerobic DVD and so on – and now I sail through 45 min Chair dancing, use 3kg weights for strength – and have a DVD library of 12 or so that I rotate.

You will gather I knew NOTHING of exercise – had no idea about Warm up and cool down or stretches and their importance to the body!!
And I suffered – I was so sore at the start – but I didn't give up – I actually decided that either the exercise would kill me or the weight I was carrying would kill me!!

This week I have started a totally different form of exercise at Curves – far harder on my muscles, but I needed the challenge that it has bought. I was getting stale – my Spark was getting dimmer!!
And I have been sore!! But this time it was different – I knew why – I knew that I had made mistakes and I knew how to correct this mistakes!! And best of all – I knew it was just muscle soreness from different work – that it WILL go over and that I can, hopefully, work through it!!
Wow!! From knowing NOTHING about exercise 16mths ago to knowing that I need a longer warm up, cool down and stretch session, and to being able to feel my body to know that I am not doing any injury but that I will probably be able to work through the pain!!
I have done 3 days there now and yesterday I put the ideas into practice, I did a longer warm up (15 mins), and then repeated the machines at full pace, but taking my time on each machine that I did and taking care over technique, then I did a longer cool down on the recovery station, 3 periods at least – I don't worry about the call to move on – I go at MY pace, then I spent 15 mins stretching – doing the stretch circuit 2 times!! and was fine, and no one said "boo" to me – they didn't try to rush me – they let me do it at my own pace!! – I also came home and spent 45 min doing extra stretching.
I have learnt that stretching is sooooo important – that proper stretching increases the effect of the exercise by 29%
Even Arnold Schwarzenegger, long before he became Governor of California, when he was known for his body building said something like: ALWAYS REMEMBER TO STRETCH - - before AND after - - and if you do not have time to do the exercise, at least do the stretching. The stretching is the key to full benefiting of the exercise – this was told to me by a dear friend this week when I said how valuable I was finding stretching!!

Today I did 45 min stretching and only get pain if I stand for an extended time in one place – so things are getting better!!


That is a quantum leap!!
However I should add that I still don't enjoy exercise – but that I acknowledge that it is an essential part of sensible weight loss!!
Not only of sensible weight loss but of regaining flexibility and mobility and best of all – of being pain free in my legs – as I was before I started the different exercise, and am almost again now!!.




First Page
1
2
3
4
5
6
7
8
9
10
11
12
13
14
15
16
17
18
19
20
21
22
23
24
25
26
27
28
29
30
31
32
33
34
35
36
37
38
39
40
41
42
43
44
45
46
47
48
49 50 51 52 53 54 55 56 57 58 59 60 61 62 63 64 65 66 67 68 69 70 71 72 73 74 75 76 77 78 79 80 81 Last Page

Get An Email Alert Each Time EMMABE1 Posts