| | |
| --- | --- |
| | EMARIE777's Recent Blog Entries |


Monday, April 04, 2011
Hey all! :) Yes, I'm jumping on the band wagon too. lol I'm hoping this will help me to blog more, and be consistent in logging in.

So here goes!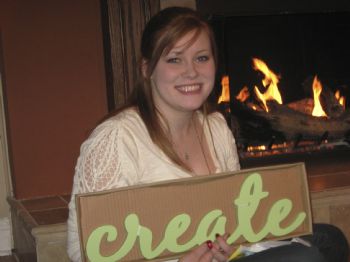 Day 01- A recent picture of yourself
*This is me on my birthday :) My sister bought me this sign to decorate my new room at my new house! It perfectly describes me.
Day 02 - A picture of you and the person you have been closest with the longest
Day 03 - A picture of your inspiration for weight loss
Day 04 - A picture of the cast of your favorite TV show
Day 05 - A picture of your favorite animal
Day 06 - A picture of a person you'd love to trade places with for a day
Day 07 - A picture of your most treasured item
Day 08 - A picture of your favorite color
Day 09 – A picture that motivates you to do more
Day 10 - A picture of your closest friend
Day 11 - A picture of your IPOD or other music playing device on shuffle, and then list the first 10 songs that play.
Day 12 – A picture that defines you
Day 13 - A picture of your favorite band or artist
Day 14 – A picture of you now
Day 15 - A picture of something you want to do before you die
Day 16 - A picture of someone who inspires you
Day 17 - A picture of something that has made a huge impact on your life recently
Day 18 - A picture of your biggest insecurity, and the reasons why it is the biggest
Day 19 - A picture of your nicknames you have; why do you have them.
Day 20 - A picture of somewhere you'd love to travel
Day 21 – A picture of an exercise you can't do, but would like to try (and then try it if you want to)
Day 22 - A picture of something you wish you were better at
Day 23 - A picture of your favorite book; why is it your favorite?
Day 24 - A picture of what I would find in your bag
Day 25 - A picture of your favorite super hero and why
Day 26 - A picture of something that means a lot to you
Day 27 - A picture of yourself and a family member
Day 28 - A picture of something you're afraid of
Day 29 - A picture that can always make you smile
Day 30 - A picture of you last year and now, how have you changed since then?




Sunday, April 03, 2011
Hey everyone!
Last week was CRAZY! I had a paper due Wednesday night, and a test Wednesday night too so I was crazy busy! Things finally settled down around Wednesday morning at 3 am when I finished the paper, and then I dropped my class that the test was in because I changed my minor and no longer needed the course. lol
Around the last time I was on, I had shot up to 173 and was consistently staying there. Who knows if it was due to my crazy schedule or if I was really being careful...But last week I was minimally snacking in between meals, and eating healthy meals too! :) I weighed myself Thursday (3/31/11), which was the first time since my trip to the "nutritionist," and found I was at 170.6! I couldn't believe I actually lost weight! I haven't weighed myself since, but I've still be fairly consistent in my eating, and even walked around campus on Friday so I'm hoping that I stayed at 170.
ALSO, I just signed up for Weight Watchers online today! I know that the program is a lot like SP, but I needed something that was going to teach me to eat and also provide guidelines that I can easily follow. I'm really excited to see where it takes me! I wrote that my weight was 170, and my first goal is set at losing 5% of my body weight (target = 161.8). I will be SO happy to be back in the low 160s! My jeans will fit a bit better, and hopefully sooner than later they will fit completely right or be falling off! (not in public though! EEK! lol)
Okay well I just wanted to make a quick update! I'll be starting off my week amazingly by getting up at 7 am to workout tomorrow! :) I cannot wait!

Have a great week everyone!
Emily




Wednesday, March 23, 2011
Hello all!
So the past few days have been filled with basically no exercise combined with little eating control. It's been bumpy, but at least I'm still here ready to fix what I need to! I just got done with a mini yoga workout, which kicked my butt! haha I'm hoping that I can eventually get through the video with more grace.
Yesterday I visited a local weight loss clinic to see what they may be able to offer me. I was shocked by how expensive everything was so I guess I'm just ignorant. lol Also, it was interesting how they said that their biggest goal was to change your "normal" to a different normal when you are through with the program. However, their biggest money maker...I mean program...calls for 6 weeks of their snack bars, shakes, and "soups" for EVERY meal in those 6 weeks. It's also an 800 cal program, but the Dr. was saying that there is so much nutrition packed into everything you eat that your body doesn't suffer. Question: How does this help you to change your normal??? They did have 2 other programs, but she made it clear that they don't have many people who do the program with none of their products included.
Sometime this week I'll be looking into another weight loss program because I feel like I really need the help of a dietitian or nutritionist to stay on track. My mom and I have also been talking about finding a physical trainer for me so that I can get some help in that area if I don't find someone to help me with my eating.
So I've got a lot of decision making to do.




Saturday, March 19, 2011
Okay so today I don't really have much to talk about, but I thought I would post a yummy spring/summer time side for any meal or occasion. It's my very own Cucumber, Tomato, and Onion Salad!!! :)

2 Cucumbers (peeled or unpeeled)
5 Roma Tomatoes
1 Med. Onion (I use red onion)
1/4 Cup Olive Oil
2 Tbsp. Lime Juice
2 Tbsp. Sugar (I use Stevia though)
2 Tbsp. Chopped Cilantro
1 Tspn. Salt
1/2 Tspn. Pepper

Finely slice cucumber, dice tomato, slice onion, and chop cilantro
Mix olive oil, lime juice, sugar, cilantro, salt and pepper
Pour mixture over vegetables and mix so that everything is coated
Marinate in fridge for at least 2 hours
Serve and Enjoy!

Serves approx. 10 - 12 with serving size at 1 cup

This is also posted on the sparkrecipes.com page. I was planning on making it tonight, but I forgot to buy cilantro. :( I can't wait to make some up thought because it lasts me for forever! Hope you all enjoy (whoever actually makes this)...

-Em





Friday, March 18, 2011
Today has been an okay day filled with okay decisions lol
Breakfast was a good healthy meal of grains, low-fat yogurt and fruit. Lunch was a healthy sandwich and wonderful snap peas. Dinner was a bit of a misfortune with a cheeseburger, fries and ice cream.

Good Things:
1) I made sure to walk to the photo lab on campus, which got me 20 min cardio. YAY!
2) I turned off the TV and did the homework I needed to do today.
3) I avoided pop at dinner and opted for tea.

Tomorrow I will be aiming for an early morning workout of the yoga dvds again, which I am feeling today so I know it's working! lol I can't wait to see what happens with those videos.
Happy Friday! :)
Emily


1 2 3 4 5 6 7 8 9 10 11 12 13 14 15 Last Page

Get An Email Alert Each Time EMARIE777 Posts