| | |
| --- | --- |
| | ELSEEBEE's Recent Blog Entries |


Wednesday, April 27, 2011
Okay, everyone has been commenting on my comment yesterday about buying black petunias. So,, here's the proof. Yes, they are really a deep, deep purple, but it's hard to see the purple. The first photo is a variety called "Phantom" which has yellow stripes to contrast with the black.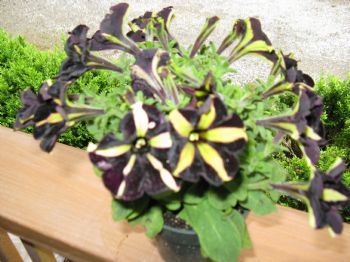 I was thrilled to see these and then I found "Black Velvet"....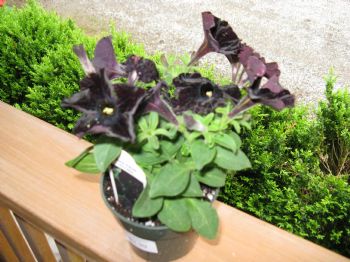 At this time of year I spend all my extra dollars on plants. They just make you feel so darn good!





Saturday, April 02, 2011
Well, I know spring is finally here (despite the chilly temps). I had ramps for dinner- woohoo! When I moved to the mountains 5 years ago I had never heard of ramps. The friend who gave me my first ones warned me to open the windows before I prepared them and he sure was right! I've also heard that in the "old days" when kids ate ramps on their way to school, the teacher would make them stand outside the classroom window and wouldn't allow them in the room. (Couldn't get away with that today!) For those of you who don't know what ramps are, they are a member of the onion/garlic family, look like a small green onion, and are VERY pungent!

To me, ramps have become my indicator that it's time to put my sweaters away, let go of those heavy winter comfort foods, and move on out into spring. It's going to be time to work in the garden before long and exercise will be much easier to get going. The past week I've developed some type of stomach/intestinal problem (IBS? ulcer?) It's no wonder, with the renovations dragging on despite the contractor's efforts to get it done, the stress around here has been piling up. Who knew we'd find so many problems as we started? The contractor is ready to get out of here and I'm ready to get my house back. Once that happens, I think the stomach problems will disappear. (But I will be seeing my doc soon any way.) And those lovely ramps? Well, it's time to find out just how medicinal they are. There are a lot of thoughts out there about them being so healthy for you, but I'm already a believer!





Wednesday, March 02, 2011
We've all seen a lot written here on Spark about the benefits of ST (strength training). We know that it is an important part of a healthy lifestyle, especially for those of us who are in the "senior" category. But this week I learned of a new benefit from all that weight lifting I've been doing.

All my life I've dreaded blood tests, IVs, whatever involved a needle having to be put into my vein. Often when I go in for a test or procedure, I ask the person assigned to insert the needle how good they are. I always tell them I'm not trying to be ugly, but I've had nurses almost in tears because they couldn't get a needle in me. The last CT-scan I had, the technicians had to go over to surgery and bring back one of their nurses to find someone who could get the dye into me. My "record" is 3 different people at one procedure trying to get a needle in me. And, of course, by the time the procedure is over, I usually have a large bruise at the site.

Last week I had a check up with my oncologist and the first step is always- yup, pull a few vials of blood to test for evidence of cancer. For once, I didn't apologize to the nurse for being so "difficult" and before you know it, the needle was out, no signs of bleeding, and plenty of blood for the sample. The next day- for the first time in my 64 years, no bruise! That's when I realized that all these Spark exercises I've been doing have had a "hidden" benefit. My blood vessels have obviously expanded and gotten stronger as the surrounding muscles have gained. So, if exercise has been the part of Spark you've been dragging your feet on (figuratively and literally), get moving- you may find some hidden benefits you never dreamed would happen!





Wednesday, February 23, 2011
Well, being chosen a Spark motivator has been a wonderful experience. I've "met" so many new folks on the site and made many, many new friends. So with my name now listed on the Spark Motivators page, I'm going to try really hard to see some positive in what's happening today.

When you have a house full of renovating crews and all the problems they uncover when they start working, I knew this would be a stressful month. But I made a plan early on that I would make sure to get in my workouts every morning (no crews admitted to house before 9 AM) and to deal with the stresses the projects would bring. Even though I knew I'd be frazzled at the end of the day from all the dust and noise, I made a plan to continue cooking and eating healthy.

Then our heat went out. We have a water to air heat pump and DH finally figured out the pressure tank (which was old) had failed. After some delays we got a new one installed and thought we could turn our attention back full time to checking on missing plumbing orders, etc. At 4 AM today I woke up to cool air, not heat, blowing on my face. Then when I went to get a glass of water before my workout- nothing. Now the well pump has failed. You really don't want to know how addicted I am to a morning shower after my workout! When I had my check-up with the oncologist yesterday (which was a positive report!!!!! sigh, smiles!), my BP was up quite a bit. I knew all the stress had put a couple of pounds on me, so I wasn't surprised to see the BP up either. With this much disruption to my nice, quiet retired life in the mountains, it is not surprising.

My morning started with near tears and I could feel a big black cloud of depression descending. I decided to stay off the treadmill (which can be boring) and told DH that he could stay home to answer calls from the well company and I headed up the mountain with Harley and his girlfriend, Seamus (the neighbor's dog) . They were a little confused at first that I was hiking the mountain with them solo, but they were happy to be going. And you know what? After a few minutes of climbing the first steep grade (15%!), we reached the top and just enjoyed all the sights (for me) and smells (for them) and the glories of nature. I came back down the mountain with a much better attitude. And after this blog to vent I feel a whole lot better. If you've read all the way to the end of this, thank you for listening. OOOOH, the well guy just called and he's headed up from town right now! Yeaaah! Maybe a shower is in sight!






Thursday, January 13, 2011
I just have to share my latest "spreading the Spark" experience. DH and I were walking down the aisle in Wal-mart, he in front of my cart. I saw a woman sitting along the side of the aisle speak to him. When I caught up, she repeated for me what she said. With a twinkle in her eye she said, "I told your husband that I hoped sitting on these is all I need." That's when I noticed she was sitting on stacks of Slim-fast! She went on to explain that Wal-mart had removed all the benches in the nearby pharmacy section and being overweight and with a "blown-out knee", she was unable to stand and wait for her husband to return with their cart. It was one of those instant rapport moments when two strangers start telling each other personal things. She said her doctor is after her to lose weight, but he just doesn't understand how hard that was for her with the knee problem.

Now I don't normally say to complete strangers that they need to lose weight. But the opportunity was too good to pass up. I told her how I had lost weight and really changed my lifestyle since my cancer experience a few years ago. Then I reached into my purse and pulled out one of my Spark "business" cards. Her face just lit up as I explained what Spark was- and that it was all free! It was just one of those moments when two people meet and strike an instant rapport. What a delightful person with such a wonderful outlook on life! She said she would get online tonight and check out the website. (Hope she's reading this!) I told her to check out my page and let me know how I can help her in her journey. A few minutes later when DH and I were standing in the check-out lane I noticed ONE copy of the People magazine with the photo of the Spark gal (Christina Cores) on it a few lanes away. I sprinted over and grabbed it, dashed back through the store until I found the lady again, and showed her the photo. I told her that we will meet again next year in Wal-mart and we'll both look like that! She said, "Can I have two years?" What a sense of humor!

I don't believe in coincidences. It was just one of those moments when the world puts someone on your path that you need. The woman's husband said he'd been held up in another part of the store talking to a fellow vet who needed help in getting his benefits. We agreed that my meeting his wife was an example of paying it forward for his kindness and willingness to take a few minutes to help a stranger. So, the next time you're in Wal-mart and you have a chance to talk to a stranger, tell them about Spark. It'll make you more sure of what you're doing on your Spark journey. And if you don't see a stranger to help- try sitting on a stack of Slim-fast!



First Page
1
2
3 4 5 6 7 8 9 10 11 12 Last Page

Get An Email Alert Each Time ELSEEBEE Posts