| | |
| --- | --- |
| | ELECTRICBODY's Recent Blog Entries |




Tuesday, May 25, 2010
Finally.

There's a bit of normalcy again; normalcy being my ability to communicate, be around again. ;) Today has been a day full of inspiration, a day full of love, warmth, encouragement, and getting in touch with friends old and new. Heavenly Father, I am so thankful to be embraced in this positivity! Glad to be on the Spark again! Round 2 has begun, babies!

Yeah, the end of Round 1 got really tough. I didn't do my best, I will admit. Still learning how to think positively, even when times are really dark. The illnesses took a lot out of me, and somehow, I'd managed to wander onto that path of depression again. I'm so stubborn-- I often refuse to talk about my problems in detail, and seem bent on fighting all my demons on my own. My mentor once told me that 'no man is an island'. He's always encouraged me to feel free to talk with him. Pride is a foolish and destructive thing. It's almost June, and my unintentionally selfish sabbatical will be over soon.

But today was a new day, the beginning of a new round. The new me doesn't sit around and feel sorry for herself anymore; she dusts herself off and gets back on the horse! Took measurements, weighed myself, and took some new pics! :D It's not where I want to be, but WAY better than where I was 5 months ago~!

When I first got my kelly green bikini, I wouldn't dare try it on because I knew it was much too small. Today, I felt the curiosity to do so, wondering what size I wear now. Lately, I've been wearing clothes that haven't fit in 10 years, so sure, why not? I tried it on, and much to my delight, it kinda fit! Glad to see all the progress! I'll be taking all my results pics in it for this round :D Still got a way to go, though, but I'll share them with you anyway ;)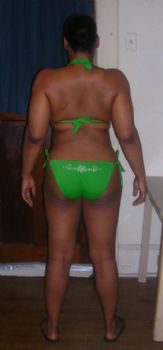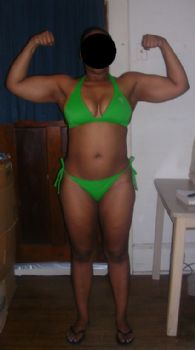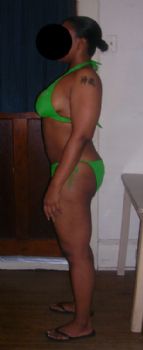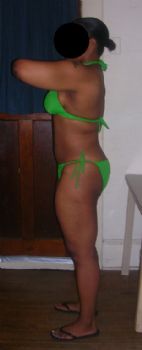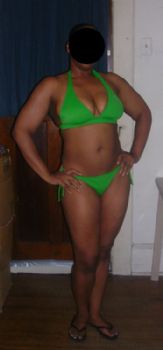 And my personal favorite, V for Victory + Round 2!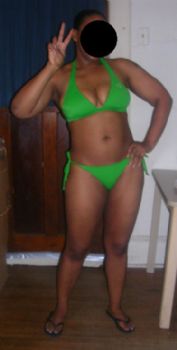 I can't wait to push play tomorrow! BRING IT!!




Monday, April 19, 2010
Greetings SparkBabies! I'm ba-ack!

YES! I've been back home for about a week now; I returned from my big sis' house sicker than a dog from a chocolate overdose. I had an awful cold plus allergies that had me bed-ridden for a few days-- but I'm back to 90% now!

Things didn't quite go as I'd planned when I was in Douglasville, and I lost all my steam for a while. One of my resistance bands broke, all the pollen out there had me choked up, and I gained 5 lbs back. I was a sad panda.

However, once I got home, those 5 lbs disappeared within a few days! I fell off the wagon with my nutrition, but it's been better recently. I haven't been pressing play, but I was DETERMINED to do it today-- and whaddaya know, the determination REALLY paid off!

I could tell it had been a while since I pressed play (two weeks to my shame), but on the plus side, I killed that first round of pushups today! Instead of starting off on my knees, I was able to push many of them out on my toes (initially, then I had to go to the knees, lol) and I was SO proud. ANY progress is GOOD progress in this case! My body, especially my arms and my core, feel a lot stronger, and I'm so happy! Even though I was dog tired after Chest & Back, I still soldiered through Ab Ripper X, where I REALLY notice I've lost a lot of steam. BUT I'm not beating myself up about it. I'll get stronger and stronger still. I'm gonna get back on it, for the sake of those two adorable bikinis (and an upcoming trip to a beach later on this summer-- EEEEEEE!!!) and better-fitting clothing to look forward to!

Goodness, pressing play today resulted in an endorphine rush something serious... I MISSED THE HECK OUT OF THIS!!! Not to mention, I've been missing all my lovely Spark Friends! Thank you guys for checking up on me and sending me such caring messages. You helped give me the boost to really do it today! I'm sharing my computer now, so it'll take a while for me to reply to your messages, but I promise I will, and your girl is now back on track!

Silly silly me... I will admit that I was apprehensive, even downright afraid to press play today, because I didn't want to see anywhere that I may have gotten weaker. But fear is not of GOD, therefore, it shouldn't be of me. I'm so thankful for the strength to NOT feel sorry for myself and press play anyway-- what a boost in confidence! I've gotten SO many compliments from people who haven't seen me in a while. It's awesome to see the looks, and how surprised they are when they say 'Wow, have you lost weight? You're looking good~!'

Thankful to be so motivated and blessed after such a stagnant period!! Thankful to have motivated other people, and I hope to continue doing such. We're all in this together, and we're doing big things for ourselves and our future.

What an awesome workout and an awesome day!

You can bet your sweet kumquats I'll be pressing play tomorrow! I used to fear Plyometrics-- but with the way I'm feeling, I say BRING IT ON!! I got goals to accomplish!!





Thursday, April 01, 2010
In lieu of being out here at my big sister's house, I've decided to put my P90X workouts on hold until I return home.

We went to the gym yesterday and worked out nicely, then played around in the pool for a couple of hours. I've never learned how to swim, and there was an instructor there who was kind enough to give me a few beginning pointers to get me on my way. I have always had a fear of large bodies of water and drowning, so getting my head underwater was a great accomplishment for me. We will be going back today and I can't wait to splash around in the pool some more :D

Seeing as I have pride issues, I don't like using other peoples' property too much, so I won't be back to regular blogging until I return home. I hope that all of my Spark Buddies are doing well. I really miss you all!





1 2 3 4 5 6 7 8 9 10 11 Last Page

Get An Email Alert Each Time ELECTRICBODY Posts