| | |
| --- | --- |
| | ELBALL's Recent Blog Entries |




Friday, July 29, 2011
I'm not a big believer in covering vegetables with heavy sauces and dressings. I think vegetables have plenty of flavor and those flavors don't need to be masked. That said, I'm also a big fan of Tzatziki; it's awesome! Of course the lowest calorie way to eat tzatziki is on raw veggies. Dilemma.

Of course, another part of the problem is that most recipes for tzatziki call for sour cream, which is fairly calorie dense. Because I'm not willing to trade chemicals for fat, I use regular sour cream, adding even more calories with every dunk. What's a weight-losing girl to do?

This weekend I made a lovely light tzatziki-style dip with lowfat plain yogurt (6 oz), minced garlic (one clove), dried dill weed (1/2 to 1 tsp), and a little S&P. Yum! Yum! Yummy! I think the secret is to use a tangy yogurt. So many of the plain yogurts on the market today are bland, bland, bland. With a tangy yogurt, you don't need to add sour cream and its extra calories to the mix.

As I am a hypocrite, I dipped and dipped and dipped raw veggies into the yogurt dip and now it's almost all gone. I didn't miss the sour cream one bit.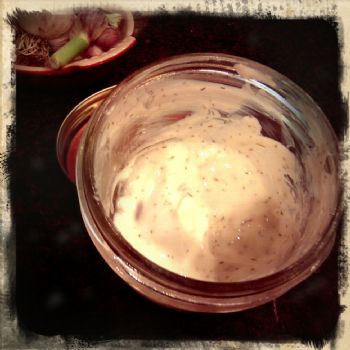 Variations:

Add in some chopped, peeled, seeded cucumber. I would have added this if I had some on hand.

Try different plain yogurts -- Lowfat or nonfat, regular or greek. Look for something with a little tang. (Do NOT make this with Tillamook's new plain, lowfat yogurt. That stuff tastes like thick milk -- no tang whatsoever. Not even a hint of a tang.)

Add in some minced mint or substitute mint for dill.

~~~~~

I would write more, but my dog has repeatedly told me it's time for her daily walk.

TTFN!




Monday, July 18, 2011
In 2005, I participated in the Seattle 3-Day for the Cure. That's right, I walked 60 miles in the fight against breast cancer. It was such an amazing experience that I served on the Crew in 2006 and again in 2010. What that also means is that I've spent 9 days (3x3) using porta-potties, AKA santi-cans and honey buckets. Thank goodness for the mobile showers with hot running water.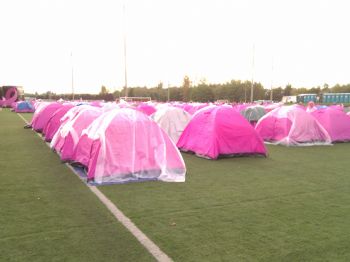 Behind the pink tents is one of the many lines of porta-potties you'll see at the 3-Day.

This year, I'm gearing up to do it AGAIN! Yes, that's right -- three more days of porta-potties! Woo hoo! I'm serving on the Lunch Crew this year -- the best crew ever. I'll be cheering on more than 2,500 walkers as they replenish their systems and rest their feet.

And you can support them too by making a donation to help me reach my fundraising goal! A donation of any size is greatly appreciated. bit.ly/qLxvgA

The net proceeds from the event go to Susan G. Komen for the Cure and help the organization fund vital breast cancer research and community programs. These programs include funding research into life-saving drugs, as well as education and support programs throughout the US.

My apologies if you consider this to be spam, even if it's a blog and not an email. As I know several walkers this year, I'm finding that I need to cast my net even further and ask people I normally wouldn't ask for donations.

What fundraisers are near and dear to your heart? What fundraising events are you involved in year after year?




Friday, July 15, 2011
You know you might be in need of a new wardrobe when your significant other starts online window shopping for you. "Honey, I really think you'd look great in clothes like this, this, and this." And "Honey, don't you think it's time you donated some shoes and bought new ones like these?" Oh my goodness gracious.

The more I look in my closet lately, the more frustrated I become with everything in it. Needless to say, I've had something against buying trendy or interesting clothes. For years, I wanted to define my style as classic -- pieces that are well-made and don't go out of style. This means lots of solid colored tops, a few vertical stripes and the rare patterned piece. I'm happy to be at a point where I can wear my smaller tops, but I'm also disappointed that they're basically twins of what I had in larger sizes. (Seriously, I have the same shirt in the same color or a slight variation in two different sizes.) I'm so bored looking at my closet that I could honestly fall asleep.

On July 5, I realized that I only have one cute summer skirt that fits. I put "cute casual skirt" on my shopping list. Next on July 6, I got dressed in my suit skirt and a nice dress shirt and headed to a career fair. Well my skirt was so big that my shirt (which finally fits correctly in the bosom) kept getting untucked. And my old pumps killed my feet. On the way home, I stopped at a mall and quickly found a new black skirt, khaki shorts, and a cute denim skirt (for $5 -- how could I say no?). I went into a shoe store, but could not persuade my feet to try pumps. I walked out of that store with some comfy slippers. My feet thanked me.

I got home from the mall to find my husband was home from work early. He proceeded to tell me that he thinks I need new shoes, and then he emailed me a list of pumps that he thought I might like. Did I tell him that I was going shopping on my way home? No, I did not. Did I tell him that I went shopping for pumps? No, I did not. Yet there he was with a list of pumps.

I tell him about my shopping trip and my search for more skirts. He then started to do some more online browsing for me to find me some skirts that I would look good in. Apparently, he too hasn't been thrilled with my wardrobe lately. He thinks I'm beautiful, but that I don't always dress to show people that. What's a girl to do? Yes, that's right -- go shopping.

Taking some of his suggestions, I headed to a nicer mall on Saturday, one with a real Nordstrom and not a Nordstrom Rack. I started by searching for a new pair of pumps. After visiting several stores, I found a pair at Clarks, along with a cute pair of patent leather flats -- both on sale.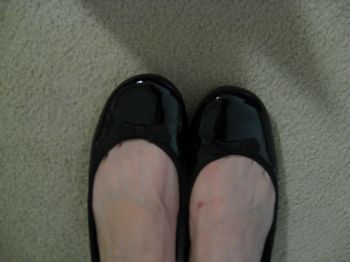 Note the pink mark on my right foot from my old pumps. (I would show you a picture of my new pumps, but I'm still waiting for my special order to arrive.)

On a side note ... The strangest thing happened to me at the Clarks store. The saleswoman measured my feet and told me that I'm a size 6 - 6.5, even though for years I've worn sizes 7.5 and 8. Confused, I thought "Has vanity sizing now moved to shoes? Are women upset when you tell them they have a large shoe size?" Those thoughts were quickly dismissed when I couldn't fit into anything smaller than a size 7. Hah! Take that shoe/foot measurement apparatus!

Okay, back to shopping, I walked out of the shoe store and a skirt in a nearby store window caught my eye. Now it was in one of the stores that I had never been in -- White House, Black Market. I'm not sure what intimated me about the store, but it just looks so expensive and chic when you walk by. It must be the white and black color scheme; they specialize in black and white clothing, with only hints of other colors mixed in. The skirt was similar to the ones my husband kept showing me; I had to go in and check the price.

I should pause here and mention that I was at a mall that has a handful of expensive shops, mixed in with the regular shops. So I didn't know if the skirt was going to $75 or $300. It was $90 -- a little steep for a skirt when I still have 15 lbs to lose. I told this to the saleswoman who helped me find the price tag, which was well hidden. Then she showed me a similar skirt on the sale rack and started to pull other pieces for me as I was invited to browse the rest of the store. I don't go into shops where salespeople do that. Cash register noises started ringing in my head. But I decided to go with the flow. "Try on these six outfits you selected for me? Sure, why not? What have I got to lose but the shirt on my back? I don't like it that much anyway."

At the dressing room, I was introduced to my personal stylist who would work with me "to build a complete outfit." (More cash register noises) The stylist won me over by congratulating me on my weight loss. It made me pause and reflect on how much I've lost - 20 pounds. I don't always do that as I'm so focused on losing more, reaching my goal weight. But 20 pounds is enough to make me feel normal again. In my head the normal me is between 165 to 175 lbs; right now I'm 175 lbs or so -- normalcy is returning.

Although I heard cash register noises the entire time -- an outfit isn't complete without shoes (ca-ching) and jewelry (ca-ching ca-ching), it was a great experience. Everything I tried on looked amazing on me. Even the clothes that I didn't like or weren't my style looked great on me. I have never gone into a store and had everything fit so well. They must be designing for women built the same way I am. That was great considering I always walk out of stores feeling that I'm built wrong, instead of the clothes being designed for someone else -- and we all know it's really the clothes. I am looking forward to going back to that store when I reach my goal weight. Or maybe I'll go back sooner and start replacing some of my boring tops.

What I liked best about the experience was that I successfully took a chance and stepped out of my comfort zone. Next time I go to the nicer mall, I'm definitely walking into several of the stores I normally pass because they have too many prints or they look like they might be expensive. I don't know what I'm missing unless I actually take a chance and look around. You never know what I might find.

I didn't come out of the store with "a complete outfit," like they had hoped. I came out with a skirt and a top (both on sale) that don't work together. However, the ruffled skirt goes well with any plain black top. And the super-cute ruffled top goes well with any plain bottom. And since I am the queen of plain clothing, I had no trouble finding existing pieces to match them with.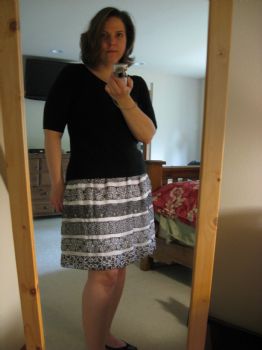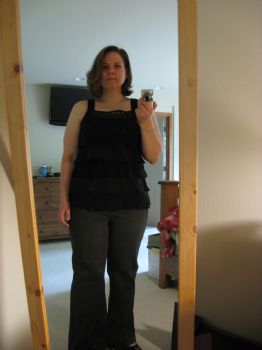 Hope you have an enjoyable shopping experience soon!



1 2 3 4 Last Page

Get An Email Alert Each Time ELBALL Posts