| | |
| --- | --- |
| | EJOY-EVELYN's Recent Blog Entries |


Monday, July 18, 2011
I am often blessed by the beauty of nature.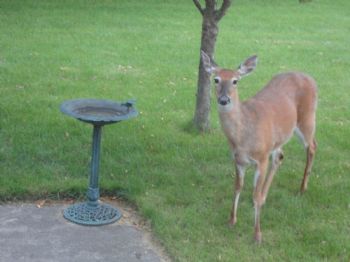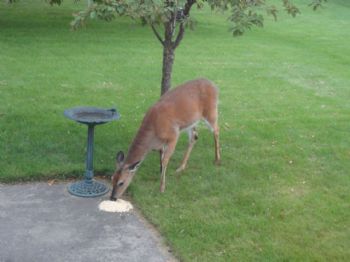 "He makes my feet like the feet of a deer; he causes me to stand on the heights." (2 Samuel 22:34)

Ahh . . . so happy! Apparently, the doe finds this a safe haven, by bringing her two nursing babies the next day.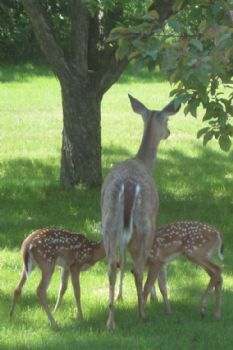 In the 5% Challenge, because of the reputation we have in our slogan, "Teddy Bears Rock!" . . . I managed to work in my full fitness minutes with quality walks and Tai Chi (Qigong for Cleansing). Please keep posting those fitness miles (minutes) and Living the Good Life points for tracking and staying within range. As of 5 pm Eastern Time Zone, we were only 178 and 185 miles ahead of the Spirited Underdogs and Firecrackers respectively. Let's hope no one on our team decides to hibernate early (unless for medical reasons). We need to remain active, even moderately active is fine throughout the week in order to keep one of the top three positions so we can get first class tour guide accommodations to see the World Fair Grounds of New York. As of 12 pm (EDT) tonight, we were only 2766 miles away from our destination. We could do this before the entire team calls it a night Monday night for a healthy sleep!

My goals continue to remain in sight. For two days, I successfully met all seven nutrient ranges and completed a prayer shawl to be given by the church to a wedding couple:



Calories


Fat


Carbohydrates


Protein


Calcium


Sodium, and


Fiber


Prayer Shawl (church wedding gift)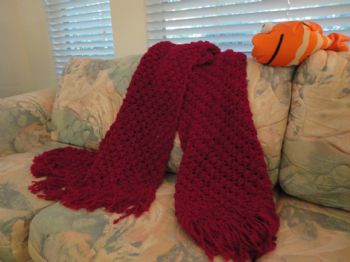 Reach 100-lb Weight Loss Goal

Now that I'm in maintenance, I suppose I should be adding 200-300 calories to my daily nutritional goals. I'm having trouble wrapping my mindset around this one, but I'll have to revise my Spark Goals. I hope you're meeting your goals.






Sunday, July 17, 2011
Moving more, while not necessarily breaking all speed records, is a must if we want to make great headway in achieving our goals.

I was so amazingly overwhelmed by the unbelievable response to my Reaching Goal with a100-lb Weight Loss blog. I find myself so blessed to have a blog featured while in the company of so many of my friends who most recently include BigOleDiva, NorthwoodsMom8, and TheShelbster.

Put your mind to excelling at whatever you do. Join a challenge, eat better, move more and achieve your immediate goals. Your results will come through for you when you stay the course.

I love to take photos, so here's a few more from my fabulous day yesterday. Amnicon Falls is glorious:




"Blessed is the man who trusts in the Lord and whose trust is the Lord. For he will be like a tree planted by the water, that extends its roots by a stream and will not fear when the heat comes; But its leaves will be green, and it will not be anxious in a year of drought nor cease to yield fruit." Jeremiah 17:7,8

Dinner with friends makes the celebration that much more meaningful.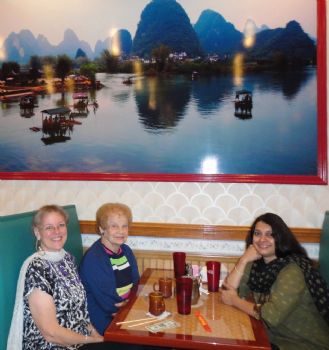 I'm so happy to read all the encouraging blogs from my team mates who are excelling at reaching their goals! WooHoo! Make your goals count!






Thursday, July 14, 2011
Today I heard those magical words, after 266 weeks (that's 5 years, 6 weeks) that I was down an unbelievable three pounds this week and reached my 100-lb weight loss goal! WooHoo!

The first people sharing in my celebration were my Weight Watcher class. My instructor, Kathy presented me with a one-hundred pound charm for my keychain and the Certificate of Accomplishment that I hold below. She's been a good friend to me and some of my international friends. She truly shares in my success. While I can be a s-l-o-w learner at times, I'm a very good student! I have developed a few very good quality friendships through the framework of this organization, while continuing to track, these past four years, within the SparkPeople.com nutritional standards.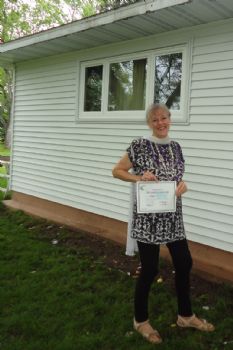 Afterwards, I celebrated with the owners of my favorite Vietnamese/Chinese/American restaurant where I enjoyed a light Pho lunch and provided assistance to a new missionary for Christ by helping her raise some of the needed funds to be a part of the Campus Crusades missionary effort to begin with an internship in their headquarters city in the Orlando area.

It is now that I celebrate with you . . . my wonderful SparkFriends! Through your encouragement, support, and great network of teams, I thank you for helping me become the healthy individual God intended me to be.

I was in this journey to lose 100 lbs for the long haul . . . a lot like Spark's very own Slowest Loser. My mindset told me that if I took my time while on this journey, I might better implement the healthier eating habits needed to maintain. I always understood that the work begins at maintenance, but in actuality, the work is wherever you are in the here and now.

My goal was in terms of sticks of butter.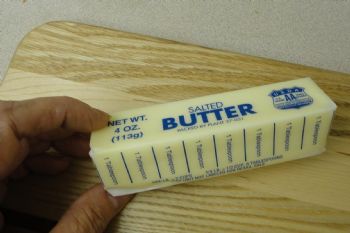 I wanted to lose at least one stick (1/4 lb) each week. I'm glad to say that I averaged a little more by losing an average of .37 lbs a week throughout this journey. Just as I was about to resort to the fact that I might be on the 10-year plan -- meaning that I might only average an eighth stick of butter a week -- Land o' Lakes began offering a new 8-stick pound packaging. Yikes! Then I met Shelley who got me to join the Spark Peeps and Ceri invited me to join in on the 5% challenges. My move to losing weight went right back into the fast lane allowing me to lose the last 50 lbs without even one plateau! That's not normal without the determination and persistence I'm able to provide in meeting both my goals and that of the team to travel to some pretty cool cities, while making new SparkFriends.

While I work the minutes (with many 120+ minute days), I work at a much more relaxed and enjoyable pace through tai chi, walking, marching in place, dancing, and hiking in the woods (with camera). I praise God for the strength and power of this new-found diligence and loyalty to stay the course and go beyond even my team's expectations. I also praise God for the joy found while on this journey. It's all about the blessings. Blessings to others have a glorious way of coming right back to becoming blessings to us.

After I finish here, I'll go out to Amnicon Falls and enjoy some of God's greatest creations in nature. Afterwards, I will go out with my cousin and celebrate one more time with a light dinner.

What a glorious day today is! Thank you, God, for the many encouragers you placed along my path to success. May success continue to be yours on this fine day, week, month, and year!






Wednesday, July 13, 2011
When the 5% Summer Challenge invited us to write about our trigger foods, all the normally loves came to mind. After reading a few other people talk about their trigger foods, a revelation came to me: Let's face it, I see food and I begin to salivate. I can so relate to the classical conditioning theory that Ivan Pavlov showcased through dogs salivating when he rang the bell.

When it came time to lose weight, I would teasingly say I wanted to do the seafood diet, only it should have been spelled the way it was meant to be: Seefood Diet.




Here I am at a Sri Lankan buffet. I am so in my element with a good buffet! Asian cooking offers so many better food options than the typical comfort foods most Americans enjoy. Other than a higher salt content, I really do fare rather well at buffets and often stay within my calorie range. Just writing this sounds weird. Weight Watchers and the new food pyramid/plate have taught me well about core foods that leave us feeling the most satisfied . . . and naturally, I love them all! How else do you think I can average more than 20 servings of freggies daily over a two-week period when two of my challenges concentrated on eating fruits and vegetables?

I have a reality to face up to. I know I can master food, but it won't be without its trials. I'm nearly at goal (97 lbs gone). I've learned how to eat much healthier, but I still love my food and am very aware that if I don't keep this in check, it could get out of hand all too easily. If getting a few extra bags or wrinkles is the side effect of losing this much weight later in life, then I guess that's a small price to pay for this one very happy and blessed child of God. I pray that I can continue to make improvements and can now begin to concentrate on other areas of my life while working to stay fit and healthy.

May you know your weaknesses and find effective ways to change course when needed.





Monday, July 11, 2011
Pre-challenge #4 for our Summer 5% Challenge asks us to define our trigger foods. Successfully making the best of these situations has meant a relatively long learning curve, and will likely remain part of a life-time of learning in how to deal with these and new triggers.

My weaknesses happen to be:

1) Ice cream. I'm now a convert to frozen yogurt or low-fat ice cream or McDonald's like custard soft serve . . . and I no longer need an ice cream treat every night! I've come a long way, as I may have only enjoyed two or three frozen treats this week. This is major success! You see enough pictures of me, so here's one of my partner in crime (snicker, snicker) while I was touring India last summer and visiting McDonald's for a cone.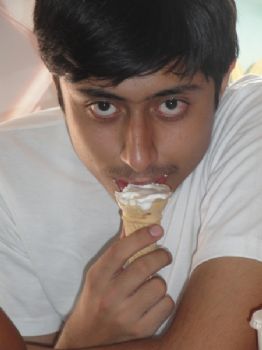 2) Fresh Bread. Publix makes the best Italian bread. When I do buy it, I pick up the super-thin sliced bakery breads to make light BLTs, light French toast or grilled cheeses. I also now enjoy more whole grain English Muffins, Arnold's sandwich thins, and lower calorie tortillas.

3) Salt. Love salty snacks (over sugary ones): crackers, nuts, popcorn, cheese and Chinese! For the most part, I have to pass by the Better Cheddars, Triscuits, and the like quickly and not even let them into the house. All too often, a 7-9 serving box would only last an hour or two, or perhaps a day or two (under due diligence), if I was lucky. I primarily buy unsalted almonds for their flavor and healthy properties and unsalted cashews (a little less often) for one of my favorite curries. However, more recently, I've picked up the Planter's deluxe mixed nuts at Sam's Club. I'm began keeping the serving sizes reasonable and within my calorie and salt ranges, then I had a couple instances where I just couldn't keep my mitts off opening this tasty jar of treats! . . . This has become my newest "trigger food"! I've been hot-air popping my popcorn for more than ten years. Don't even want that fat-laden movie popcorn any more. I've also learned how to eat healthier at the buffet, but the sodium there will likely always put me over the top . . . these are times I drink more water to flush my system. Apparently, what I'm doing works, because my sodium intake is currently on the low end of normal.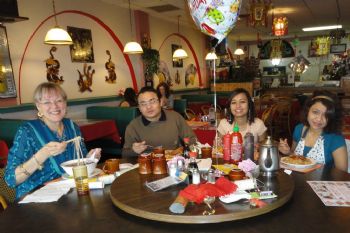 4) Cheesy Pizza with the works! I no longer want to even waste my Weight Watcher (WW) points with commercial pizza anymore because I can make it so much tastier, healthier, and lower in calorie. Before the new WW PointsPlus, I regularly enjoyed making "One Point" pizza slice using whole grain (light) English Muffins . . . making the six-point slices in most pizza pies a whole lot less appealing. Today, with the onset of a terrific variety of flatbreads, super thin crusts, and high-fiber tortillas, the pizza market is doing a much better job in bringing us lighter options. This has made eating out and shopping for new ingredients much more enjoyable. I've come to enjoy the veggie pizzas even more than the heavy meat and cheese laden ones. I find that the flavorful cheese serves quite nicely when used as "garnish" (vs the fat-laden entrées of old). I can now even eat within my calorie range at Cici's Pizza! Their thin crust pizza is only 190 for two slices! WooHoo!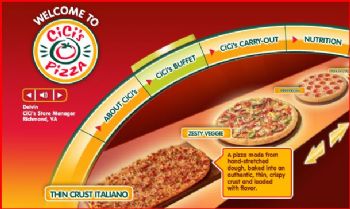 5) Fried clams, onion rings, and French fries. I've learned that denial is not the answer, but eating in moderation and with a lot less frequently seems to do the trick in satisfying my appetite for these foods. I only order onion rings where three or more onion ring lovers are gathered – this strategy has served me well. I also can share the seafood platter at Perkins quite nicely. I'm still waiting to give my Hungry Girl onion ring recipe a try.

I'm looking forward to reading how you handle your trigger foods?




First Page
1
2
3
4
5
6
7
8
9
10
11
12
13
14
15 16 17 18 19 20 21 22 23 24 25 26 27 28 29 30 31 32 33 34 35 36 37 38 39 40 41 42 Last Page

Get An Email Alert Each Time EJOY-EVELYN Posts