Thursday, April 14, 2011
Sri Lankans make something very similar to Flan or Crème Brulee: a wonderfully sweet egg custard. While I had the honor to serve up the delightfully tasting custard, I only had one taste.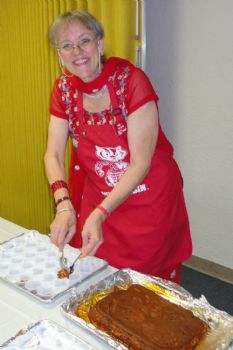 John 16:24 -- Up to this time you have not asked a [single] thing in My Name [as presenting all that I AM]; but now ask and keep on asking and you will receive, so that your joy (gladness, delight) may be full and complete.

I can remember a time about eight years ago when a parent of one of our finest Sri Lankan students made me a whole pan of egg custard . . . not once, but twice! Oh, what delight! No wonder I got to be a hundred pounds overweight.

While I still have a voluptuous appetite, I choose to pick filling foods that fit much better into the nutritional ranges SparkPeople recommends. Weight Watchers calls these Power Foods: Fruits, vegetables, whole grains, non-fat dairy and dairy substitutes, lean proteins, plus more.

Because of my love for food, I will likely always have an eating problem that needs to remain in check. Fortunately, I now eat much healthier and am happy to report that I am just one pound away from the high-end of a normal body mass index (BMI).

I hope you're making progress on your goals today.