Friday, September 04, 2009
I'm motivated by other positive people. SparkPeople is a great resource for finding the most positive pe0ple I know. Do you have a favorite activity, visual, scent, or word(s) that help you stay 0n track towards that healthier lifestyle you've come to know? If so, please share. Thanks!

# # #

Healthy Habit #8: Stay Young at Heart!

This is more about a frame of mind we carry in life and how we treat other people than any one beauty secret we may hold tight to. Special thanks to the 5% challenges where my Teddy Bear Team is one of eleven supportive teams that encourage each other to live the healthy habits we practice during the weekly challenges.

What is it that you do that brings a sparkle to your eyes or that special glow to your smile? It's that activity, when combined with healthy habits I incorporate in my daily faith, family, friends, food, fitness, and fun that bring the abundant joy to my life.

Just last weekend, during one of our summer-like days of Spring, I enjoyed the company of my alma mater's World Student Association to a tour of Wisconsin Point. Everyone joined me for an optional top at my favorite Amnicon Falls and we all absolutely loved it:








Remember that if you make right choices, your emotions will eventually come in line with your decisions. -- Joyce Meyer

Faith: I've begun supporting a new (third) prayer shawl ministry. My girlfriend crochets, while I knit:






My newest prayer shawl pattern:





My Tuesday Missions group prepared to raise funds for the local food shelves while coordinating a community concert:





"She looks well to how things go in her household, and the bread of idleness (gossip, discontent, and self-pity) she will not eat." (Prov 31:27)

Fitness and Fun: Amnicon is pretty all year round, as is walking the Lake Walk:





Friends and Fun: May the time we spend with friends also glorify God. I taught a good friend how to make fun fur scarves.






Celebrating an International Night with friends and great food:







Family and Fun:

My Dad continues to be a special part of my life as he makes the transition from assisted living to full nursing care. We enjoy life together through the activities we share: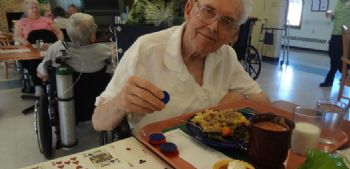 Food and Freggies:

I continue to love my freggies and any new way I can prepare them. My best woman loves to put an apple in her coleslaw. Yum!





"Above all, love each other deeply, because love covers over a multitude of sins." (1 Peter 4:8)

May you find that spark in your step and smile in your heart that allows the spirit of your youthfulness shine through. May our love be deep and authentic so that we treat others with patience, forbearance, and kindness. Stay young at heart!