| | |
| --- | --- |
| | EGANZER's Recent Blog Entries |


Friday, November 11, 2011
Recently I have been trying to make more raw meals. I am by no means 100% raw all the time, cause I still enjoy things like rice and quinoa and so on. Tonight I decided to make myself some raw-violi because I saw some recipes online and they sounded delicious. Well, it was just that.....DELICIOUS! My husband (100% cooked and meat eater, lol) decided to try my dinner tonight, and he said it was really good. His dinner consisted of quinoa pasta with pesto, and asparagus with a parmesan sauce, and here is the kicker.....he liked the raw-violi best!

It's great when you can change someone's perspective of what should taste good and what doesnt. It's all about the right combinations, not whether it is cooked, has cheese, or meat for that matter.




Sunday, October 30, 2011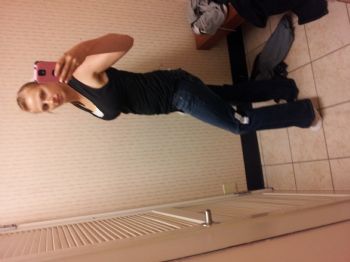 Losing weight is no small mountain to climb (sometimes literally), and today definatly is one of those days where I feel the climb is 100% worth it.

Now I know that we all do this to all feel healthy, and believe me I feel like a whole new person from a year ago, but today paid me success in another way.....SIZE 4!!!!! When setting my goals, I never expected to hit a size 4, but my jeans I have been wearing and the jeans at the store do not lie. On top of it, the day after going to a friends show, 2 guys asked my friend about me. Although I am happily married and would never act on that, it is extremely flattering that someone other than my husband would find me attractive.

Guess it's time to get a workout in, see ya!





Friday, June 03, 2011
Everyday I love my vitamix more and more. That blender is definitely one of my favorite appliances in my kitchen right now.

I have never been a big breakfast person. Growing up I would always feel sick after breakfast, only to realize 2 years ago that it was because I was lactose intolerant and was always having milk and cereal. But the years of misery after breakfast and then for much of my high school life and on, I gave up eating breakfast, I just don't like eating breakfast anymore.

So when all my reading says that one of the best things you can do for your metabolism and weight loss is have a hearty wholesome breakfast....I cringe. Que my vitamix.

For the past couple weeks, I have been making breakfast smoothies made of fruits, sometimes veggies and protein powder. But it was still low calorie and not a "hearty" breakfast. Now
I discovered you can add things like oats, rice, quinoa and any other grain to your breakfast smoothie to bulk it up. Seriously awesomeness!!!! The past 2 days, my smoothies have tasted fantastic, and they meet the wholesome breakfast requirements (grains, seeds/nuts, milk/milk sub, and fruit). Here are the recipes for today and yesterday:

Breakfast (sugarless) Horchata Smoothie

1 Apple
.25 cups whole almonds (soaked overnight)
6 oz Soy milk (or milk of choice)
.25 cup cooked brown rice
.5 - 1 tbsp cinnamon
1.5 cups ice

Cut up apple in quarters and cut off stem and seeds. Toss all ingredients into vitamix (or other high power blender) and run on high till smooth (about 2 minutes). I had to use the tamper to help break up almonds and the apple. Entire recipe is 418 calories, and 18 grams of protein. This makes alot and could be split in half


Banana Quinoa Breakfast Shake

1 Banana
1.5 cups Pineapple
4 oz Soy milk (or milk of choice)
10 grams Protein powder of choice (I used soy)
1 tbsp Flaxseed (I used whole, but you can use ground as well)
.5 cups cooked Quinoa
.5 - 1 tbsp Cinnamon
1.5 cups ice

Toss it all in vitamix (or high power blender) and turn on high till smooth (about 1 - 2 minutes). 472 calories, and 22 grams of protein in the entire shake but it makes alot and could be split in 2.

These smoothies are very filling. I drink the whole batch because I am trying to have about 400 - 500 calories for breakfast, 300 - 400 calories for lunch, 250 calories or less for dinner and the rest in snacks. This is supposed to be very good for your metabolism and losing weight since you use most of your calories during the day as opposed to night time.

I hope everyone is having a great week and happy friday!





Monday, May 23, 2011
The past few days, I have been making some awesome vegan food. The day before last, I was craving lasagna and I made a pretty killer vegan lasagna and didnt even miss the cheese! Tonight I made some vegan mac n cheese and that also was killer and once again...didnt need the cheese.

I love cooking vegan meals, and I have to give vegan chefs props for their creativity. Yeah it is easy to toss some cheese with noodles and call it an entree, but vegans have to figure out how to make the cheese and also have to prove that it can be just as good as the real thing.

It seems you can eat more food with fewer calories this way. I guess I dont have meat and dairy hogging all my calories anymore. Then again, I have also cut out sugar and junk food which would also clutter your day with empty calories. You can see the calorie and fat difference from vegan to meat. For instance, yesterday my husband was really wanting hot dogs for dinner. So he got his hot dogs, and I got my veggie dogs. When looking at the label, there was 100 calorie difference and 11 gram difference in fat. Incredible right? So while my husband had 500 calories with just 2 hot dogs and buns before veggies and toppings, my entire dinner was under 400 calories with 2 hot dogs (although I declined on 2 buns), veggies and toppings. Now I can see why people say going vegan is the best diet around. I do usually try to limit my meat substitutes to one or twice a week, otherwise it would be to expensive to eat like this.

All I can really say is, so far I am so glad I have made this change. I feel more energetic, and it gives me a challenge everyday. ITS FUN TO BE VEGAN!!! :)



1 2 Last Page

Get An Email Alert Each Time EGANZER Posts